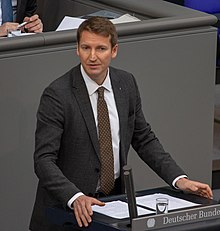 Peter Senburg (photo by Olaf Kosinsky)
Here are some items related to the Munich Security Conference:
MSC 2023 closes with call for more German defense spending

February 19, 2023

the 2023 Munich Security Conference, … concluded … Sunday afternoon in Bavaria.

Highlights from the final day, which focused on the future of the European security infrastructure, included:

MSC chairman Christoph Heusgen calling for European and German defense spending increases
Poland's Andrzej Duda saying the main impediment to 'recovering a sense of order and predictability' in European security structures was Russia
Estonia's prime minister recommending European countries pool their spending to combat ammunition shortages …

"European and German defense spending has to go up," Heusgen said, adding that this message had been "very strong" during the event. …

Swedish Prime Minister Ulf Kristersson said during a panel discussion that in his view, Europe already had a security architecture.

"It makes more sense to talk about using it than changing it," he said. https://www.dw.com/en/msc-2023-closes-with-call-for-more-german-defense-spending/a-64754585

February 19, 2023

Europe's leaders committed to investing more in weapons.

European Commission President Ursula von der Leyen said member states must work together with the defense industry to scale up the production of munitions … https://www.npr.org/2023/02/19/1158184942/4-takeaways-from-this-years-important-munich-security-conference
Two readers sent me a link to the following:
Germany's ability to defend itself is at risk unless it reintroduces compulsory military service, Patrick Sensburg, the leader of the Bundeswehr Reservist Association, told local outlet Neue Osnabruecker Zeitung on Thursday.

The task of national defense "requires different material and a lot more staff" than the Bundeswehr currently commands, Sensburg said, arguing that even the most well-intentioned government efforts to fill in the gaps "will not work without conscription."

He suggested that an active force of 350,000 soldiers and 1.2 million reservists would be required to adequately protect Germany. The country currently commands just over 183,000 soldiers, down from 317,000 two decades ago, and 100,000 reservists – 30,000 of whom train regularly.

"Germany needs a strong military that is well-trained but also has many reservists from all walks of life," Sensburg told Deutsche Welle earlier this month. "We can only ensure that if we have compulsory military service." …

Alternative for Germany (AfD) MP Ruediger Lucassen agreed with the reservist leader, telling German outlet Junge Freiheit on Thursday that the Bundeswehr was "not capable of national defense because of its lack of personnel." Those comments came after the AfD parliamentary group proposed a motion to discuss reintroducing conscription in the Bundestag next month. 02/17/23 https://www.rt.com/news/571663-german-reservist-military-conscription-understaffed/
As far as the Alternative for Germany (AfD) party goes, it is increasing in political influence in Germany (watch AfD: Prelude to a Hitler Beast?).
As far as the mood, etc. by Germany, consider that Politico posted the following:
It's the end of the world as we know it — and Munich feels nervous

If even the Germans are worried about the world's perils, this could well be the moment to really start worrying.

MUNICH — Cut through the haze of hoary proclamations emanating from the main stage of the Munich Security Conference about Western solidarity and common purpose this weekend, and one can't help but notice more than a hint of foreboding just beneath the surface. …

Germany, which in recent years perfected the art of explaining away its failure to meet its NATO defense spending commitment, promised to reverse course. Indeed, German officials appeared to be trying to outdo one another to prove just how hawkish they've become. …

Germany's new defense minister, Boris Pistorius, a Social Democrat like Scholz, called for even more, saying that "it will not be possible to fulfill the tasks that lie ahead of us with barely two percent." … if even the Germans have woken up to the perils of the world's current geopolitical state, this could well be the moment to really start worrying. 02/18/23 https://www.politico.eu/article/munich-security-conference-ukraine-russia-war-china-wang-yi-nato/
Well, there is a shift going on–and once Europe puts down the USA and its British-descended allies, yes, it will be the end of the world as we know it (though Jesus will insure that the world does not get totally destroyed per His statements in Matthew 24:21-22).
The shift is that Germany, France, and most of the other nations in Europe have decided that they will support a bigger and stronger military.
The Bible teaches that the coming European King of the North will have a "great army" (Daniel 11:25) and "many ships" (Daniel 11:40).
German and other European calls to increase the number of European troops and European military spending are consistent with helping to set the stage for those prophecies to be fulfilled.
Once the European Beast power uses his forces to fulfill prophecies, such as are in Daniel 11:39-43, the world will marvel because it thought that Europe was basically dead from a military perspective:
1 Then I stood on the sand of the sea. And I saw a beast rising up out of the sea, having seven heads and ten horns, and on his horns ten crowns, and on his heads a blasphemous name. 2 Now the beast which I saw was like a leopard, his feet were like the feet of a bear, and his mouth like the mouth of a lion. The dragon gave him his power, his throne, and great authority. 3 And I saw one of his heads as if it had been mortally wounded, and his deadly wound was healed. And all the world marveled and followed the beast. 4 So they worshiped the dragon who gave authority to the beast; and they worshiped the beast, saying, "Who is like the beast? Who is able to make war with him?" (Revelation 13:1-4)
Let me add that it has been my published view for 14 years that technology will be key for Europe to do this.
Yes, Europe has been taking steps, prior to the Russia-Ukraine conflict.
One step was the formation of something called Permanent Structured Cooperation, commonly called PESCO. PESCO is a multi-national European military alliance.
A while back, the Continuing Church of God (CCOG) put out the following video on our Bible News Prophecy YouTube channel:

15:25

In November 2018, French President Macron called for a "true European army" because of China, Russia, and the USA. Some others in Europe have echoed that sentiment. On November 9, 2018, US President Donald Trump called that an insult, but the next day said that the USA wanted "a very strong Europe." Emmanuel Macron referred to Donald Trump as "my friend" and indicated a desire to strengthen Europe's military spending. In December 2017, 25 European nations agreed to be part of a military alliance called PESCO. Europe also has NATO and IEI. Will Europe end up with "a great army"? Has Donald Trump's announcement to withdraw from the 1987 Intermediate-Range Nuclear Forces Treaty gotten some to say that Europe must rebel against the USA? Is the idea of a United States of Europe and a European army a "paranoid fantasy" or a biblical reality? Will the USA regret Europe becoming a stronger military power? Will the USA be betrayed by "friends" such as its continental European allies? Does the Bible teach any or all of this? Are there connections to the Beast of Revelation or the King of the North of Daniel 11? Dr. Thiel addresses these matters in this video.
Here is a link to the sermonette video: PESCO and a Great European Army.
Almost all EU nations are part of PESCO.
And, PESCO has been funding a variety of technological projects and wants to fund more.
The German-European plan is for Europe to be a strong military power independent of the USA. And one that the Bible shows will ultimately defeat the USA (Daniel 11:39; see also USA in Prophecy: The Strongest Fortresses).
Although many in the USA and elsewhere act like that is not possible, those of us who understand certain aspects of biblical prophecy realize that the Bible shows that:
39 Thus he shall act against the strongest fortresses with a foreign god, which he shall acknowledge, and advance its glory; and he shall cause them to rule over many, and divide the land for gain. (Daniel 11:39)
The "he" above is the European King of the North. In the 21st century, the "strongest fortresses" belong to the USA and its British-descended allies (cf. Daniel 8:24-25; Isaiah 17:3)–and notice that the Bible says that the power with the strongest fortresses will be defeated.
Steps to create a great European army are being taken now, with plans to do more in the future.
Of course some believe, that despite WWI, WWII, and previous massive wars, that Europe would never start WWIII. Yet, this overlooks a biblical prophecy related to a people that now dominate central Europe (see Germany's Assyrian Roots Throughout History):
5 O Assyrian, the rod of mine anger, and the staff in their hand is mine indignation. 6 I will send him against an hypocritical nation, and against the people of my wrath will I give him a charge, to take the spoil, and to take the prey, and to tread them down like the mire of the streets.

7 Howbeit he meaneth not so, neither doth his heart think so; but it is in his heart to destroy and cut off nations not a few.

8 For he saith, Are not my princes altogether kings? 9 Is not Calno as Carchemish? is not Hamath as Arpad? is not Samaria as Damascus? 10 As my hand hath found the kingdoms of the idols, and whose graven images did excel them of Jerusalem and of Samaria; 11 Shall I not, as I have done unto Samaria and her idols, so do to Jerusalem and her idols? (Isaiah 10:5-11, KJV)
The USA is sometimes prophetically referred to as Samaria (and sometimes as Manasseh) in biblical prophecy (for details, watch USA in Prophecy: Samaria). So, even though Germanic-led Europe (referred to as Assyria above) does not seem to wish to do this (Isaiah 10:7), according to biblical prophecy it will come to pass. The USA will be defeated (cf. Daniel 11:39; see also USA in Prophecy: The Strongest Fortresses) as will the UK (which is often referred to as Ephraim in biblical prophecies such as Isaiah 17:3). Notice also:
9 The children of Ephraim, being armed and carrying bows,
Turned back in the day of battle.
10 They did not keep the covenant of God;
They refused to walk in His law,
11 And forgot His works
And His wonders that He had shown them. (Psalm 78:9-11)

9 All the people will know —
Ephraim and the inhabitant of Samaria —
Who say in pride and arrogance of heart:
10 'The bricks have fallen down,
But we will rebuild with hewn stones;
The sycamores are cut down,
But we will replace them with cedars."
11 Therefore the Lord shall set up
The adversaries of Rezin against him,
And spur his enemies on,
12 The Syrians before and the Philistines behind;
And they shall devour Israel with an open mouth.

For all this His anger is not turned away,
But His hand is stretched out still.

13 For the people do not turn to Him who strikes them,
Nor do they seek the Lord of hosts.
14 Therefore the Lord will cut off head and tail from Israel,
Palm branch and bulrush in one day. (Isaiah 9:9-14)
The European Beast army will be very destructive.
The Bible tells of a coming time of massive devastation:
23 'The whole land is brimstone, salt, and burning; it is not sown, nor does it bear, nor does any grass grow there, like the overthrow of Sodom and Gomorrah, Admah, and Zeboiim, which the Lord overthrew in His anger and His wrath.' (Deuteronomy 29:23-24)

19 Through the wrath of the LORD of hosts
The land is burned up,
And the people shall be as fuel for the fire; No man shall spare his brother.
20 And he shall snatch on the right hand
And be hungry;
He shall devour on the left hand
And not be satisfied; Every man shall eat the flesh of his own arm. 21 Manasseh shall devour Ephraim, and Ephraim Manasseh; Together they shall be against Judah (Isaiah 9:19-21).
The above descriptions are consistent with a nuclear or similar attack. Manasseh represents the USA and Ephraim its British-descended allies (see Anglo – America in Prophecy & the Lost Tribes of Israel). THIS HAS NOT YET HAPPENED IN HISTORY AND IS A PROPHECY FOR OUR TIME.
It is my view that Europe will likely attack the USA and/or the UK under the guise of a NATO (or some other defense treaty) exercise and use nuclear bombers. And yes, German-dominated Europe would be willing to use USA nuclear bombs against the USA, UK, and Canada!
While now is not the time–"the end it not yet" (Matthew 24:6; see also When Will the Great Tribulation Begin?)–the Germans and others in Europe have access to nuclear weaponry and other technology, to make this come to pass.
We have video related to this:

15:27

It is reported that the Germans are looking for a new bomber to be able to be used to deliver US B61-12 atomic bombs. Does Germany already have access to American nuclear weapons it can now use? What about Belgium, Italy, and the Netherlands? Has there been increased interest in more independent European nuclear capacity since the election of US President Donald Trump? What has Berthold Kohler, Herbert W. Armstrong, Nigel Farage, Jean-Claude Juncker, and Maximilian Terhalle said about Europe's militaristic ambitions? What about Bible prophecy? Could the Great Tribulation begin with a thermonuclear strike? What has Time, NTI, and Global Research reported about European nuclear weapons available to European nations? Is a nuclear attack consistent with prophecies? Might the coming Beast use nuclear weapons against the USA? Dr. Thiel addresses these issues and more.
Here is a link to the sermonette video: Nuclear bombers for the Beast?
Many want Europe to become a major military power. The USA is making the Europeans nervous. An unintended consequence of Trump Administration policies has been to get the Europeans to look seriously at being a military power independent of the USA.
Europe is now seriously looking to do so.
This will not end well for the USA (cf. Daniel 11:39) nor its British-descended allies (cf. Daniel 8:24-25; Isaiah 17:3).
Some items of possibly related interest may include:
Who is the King of the North? Is there one? Do biblical and Roman Catholic prophecies for the Great Monarch point to the same leader? Should he be followed? Who will be the King of the North discussed in Daniel 11? Is a nuclear attack prophesied to happen to the English-speaking peoples of the United States, Great Britain, Canada, Australia, and New Zealand? When do the 1335 days, 1290 days, and 1260 days (the time, times, and half a time) of Daniel 12 begin? When does the Bible show that economic collapse will affect the United States? In the Spanish language check out ¿Quién es el Rey del Norte? Here are links to three related videos: The King of the North is Alive: What to Look Out For. The Future King of the North, and Rise of the Prophesied King of the North.
The Great Monarch: Biblical and Greco-Roman Catholic Prophecies Is the 'Great Monarch' of Greco-Roman Catholic prophecies endorsed or condemned by the Bible? Two sermons of related interest are also available: Great Monarch: Messiah or False Christ? and Great Monarch in 50+ Beast Prophecies.
Europa, the Beast, and Revelation Where did Europe get its name? What might Europe have to do with the Book of Revelation? What about "the Beast"? Is an emerging European power "the daughter of Babylon"? What is ahead for Europe? Here is a link to a video titled: Can You Prove that the Beast to Come is European?
European Technology and the Beast of Revelation Will the coming European Beast power would use and develop technology that will result in the taking over of the USA and its Anglo-Saxon allies? Is this possible? What does the Bible teach? Here is a related YouTube video: Military Technology and the Beast of Revelation.
World War III: Steps in Progress Are there surprising actions going on now that are leading to WWIII? Might a nuclear attack be expected? Does the Bible promise protection to all or only some Christians? How can you be part of those that will be protected? A related video would be Is World War III About to Begin? Can You Escape?
Might German Baron Karl-Theodor zu Guttenberg become the King of the North? Is the former German Defense Minister (who is also the former German Minister for Economics and Technology) one to watch? What do Greco-Roman Catholic, Byzantine, and biblical prophecies suggest? A video of related interest would be: Karl-Theodor zu Guttenberg and Europe's Future. A shorter video is also available: The Middle East, Prophecy, and Karl Theodor zu Guttenberg.
Germany's Assyrian Roots Throughout History Are the Germanic peoples descended from Asshur of the Bible? Have there been real Christians in Germanic history? What about the "Holy Roman Empire"? There is also a You-Tube video sermon on this titled Germany's Biblical Origins.
Germany in Biblical and Roman Catholic Prophecy Does Assyria in the Bible equate to an end time power inhabiting the area of the old Roman Empire? What does prophecy say Germany will do and what does it say will happen to most of the German people? Here is a version of the article in the Spanish language: Alemania en la profecía bíblic. Here are links to two English language sermon videos Germany in Bible Prophecy and The Rise of the Germanic Beast Power of Prophecy. Here is one in the Spanish language: Alemania en profecía Biblica.
USA in Prophecy: The Strongest Fortresses Can you point to scriptures, like Daniel 11:39, that point to the USA in the 21st century? This article does. Two related sermon are available: Identifying the USA and its Destruction in Prophecy and Do these 7 prophesies point to the end of the USA?
Who is the King of the West? Why is there no Final End-Time King of the West in Bible Prophecy? Is the United States the King of the West? Here is a version in the Spanish language: ¿Quién es el Rey del Occidente? ¿Por qué no hay un Rey del Occidente en la profecía del tiempo del fin? A related sermon is also available: The Bible, the USA, and the King of the West.
Lost Tribes and Prophecies: What will happen to Australia, the British Isles, Canada, Europe, New Zealand and the United States of America? Where did those people come from? Can you totally rely on DNA? What about other peoples? Do you really know what will happen to Europe and the English-speaking peoples? What about Africa, Asia, South America, and the Islands? This free online book provides scriptural, scientific, historical references, and commentary to address those matters. Here are links to related sermons: Lost tribes, the Bible, and DNA; Lost tribes, prophecies, and identifications; 11 Tribes, 144,000, and Multitudes; Israel, Jeremiah, Tea Tephi, and British Royalty; Gentile European Beast; Royal Succession, Samaria, and Prophecies; Asia, Islands, Latin America, Africa, and Armageddon;  When Will the End of the Age Come?;  Rise of the Prophesied King of the North; Christian Persecution from the Beast; WWIII and the Coming New World Order; and Woes, WWIV, and the Good News of the Kingdom of God.