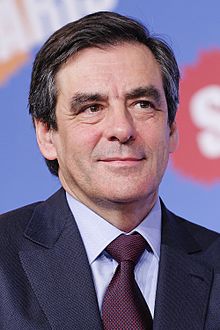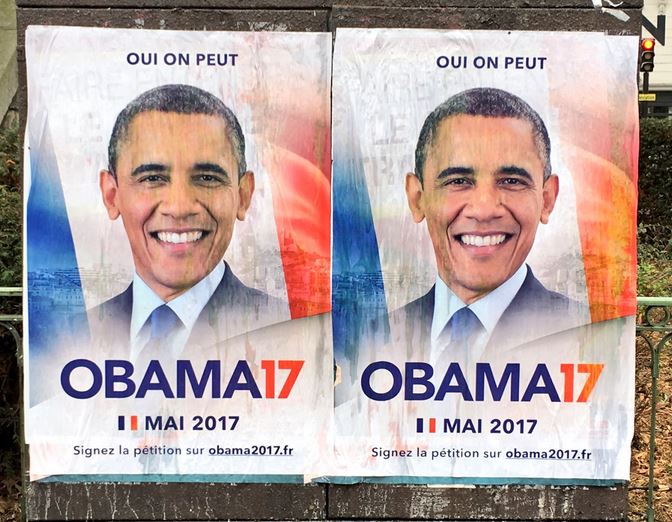 François Fillon and Barack Obama posters

Some in France are looking towards former US President Barack Obama:
February 24, 2017
As French voters look set to make a massive swing to the right in their upcoming presidential election (see our notes on the topic here and here), a group of frightened liberal protesters have decided to back a relatively surprising, if impossible, presidential candidate in 2017, Barack Obama.

And, lest you think this is a joke, a quick walk around Paris even reveals campaign posters for "Obama17" plastered all around the city. http://www.zerohedge.com/news/2017-02-23/group-french-protesters-call-obama-run-president-give-french-people-hope

February 24, 2017

(CNN) Could France elect Barack Obama president? Not really — but that's not stopping the organizers of Obama17, a guerrilla campaign trying to entice the former U.S. president to head to Paris.

"It's totally crazy, but the cool thing is that once you get past that, you start thinking that maybe it's possible. Who cares that he's not French? He's Barack Obama," one of the campaign organizers told CNN. …"We want to show that people are fed up with the politicians here. People are tired about it and they like this joke. It gives people a little fun amid all these scandals," he said. French voters go to the polls April 23 in the first round of voting for a new president. If no one gets more than 50% of the vote, the top two finishers go to a runoff on May 7. 

http://www.cnn.com/2017/02/24/europe/france-obama-17-president-trnd/

February 24, 2017

A French magistrate is to investigate payments made to the family of centre-right presidential candidate Francois Fillon, prosecutors say.

It is a step up from what was until now a preliminary inquiry. The judge can still decide to drop the case.

The inquiry does not mention directly Mr Fillon, who is suspected of paying his wife and children for "fake jobs".

He denies wrongdoing, but has said he would quit the presidential race if placed under formal investigation.

The BBC's Hugh Schofield in Paris says the latest decision gives Mr Fillon breathing space but his promise to quit the race could be tested.

There is every expectation now that the examining magistrate will at some point decide there is enough evidence to start a criminal investigation, our correspondent adds.

Until recently, Mr Fillon, the Republican candidate, was the favourite to win the elections in April and May.

But the former prime minister has now slipped behind far-right leader Marine Le Pen and lies neck-and-neck with centrist Emmanuel Macron. http://www.bbc.com/news/world-europe-39084865

February 24, 2017

Emmanuel Macron, the maverick presidential candidate who created his own political movement less than a year ago, got a pickup in the polls from his new centrist alliance to move 2 percentage points ahead of his main rival.

Macron jumped 3.5 points in Ifop's daily tracking poll on Thursday to reach 22.5 percent, the first to incorporate reactions to his pact with one-time rival for the political center ground, Francois Bayrou. Republican Francois Fillon also gained from Bayrou's decision to stay out of the race, rising 1.5 points to 20.5 percent, his highest score with Ifop in nearly three weeks.

With exactly two months to go until the first round of voting in a topsy-turvy race, the 39-year-old Macron is vying with Fillion, a former prime minister, for the second slot in the May 7 run-off. The nationalist Marine Le Pen is favorite to win the first round — Ifop projected she'll get 26 percent — but she's also tipped to lose heavily in the final ballot. https://www.bloomberg.com/news/articles/2017-02-23/macron-gets-a-boost-from-french-pact-opening-gap-ahead-of-fillon
Many in France are concerned that Marine Le Pen is doing so well in the polls. She was pro-Brexit and is basically pro-Donald Trump. Pointing to Barack Obama is probably a way to remind the French that most would not want her.
What is ahead for the French?
Troubles, economic growth, and disaster.
3 Now as He sat on the Mount of Olives opposite the temple, Peter, James, John, and Andrew asked Him privately, 4 "Tell us, when will these things be? And what will be the sign when all these things will be fulfilled?"

5 And Jesus, answering them, began to say: "Take heed that no one deceives you. 6 For many will come in My name, saying, 'I am He,' and will deceive many. 7 But when you hear of wars and rumors of wars, do not be troubled; for such things must happen, but the end is not yet. 8 For nation will rise against nation, and kingdom against kingdom. And there will be earthquakes in various places, and there will be famines and troubles. These are the beginnings of sorrows. (Mark 13:3-8)
It is likely that troubles for the French will include violent civil unrest.
The late evangelist Dibar Apartian taught:
a political UNION of TEN nations or governments-which the Bible calls "the beast"-will rise in Europe in the end time. This union of ten European nations will MAKE WAR with the descendants of Jacob, particularly the two sons of Joseph, Ephraim and Manasseh, whose modern descendants are the peoples of the BRITISH COMMONWEALTH and the UNITED STATES OF AMERICA.

This soon-coming union of ten nations or governments prophetically represents the last "head" of the resurrected "beast"-the revival of the "Holy Roman Empire" (Rev. 17 :9- 1 2). But contrary to what you may think, it will NOT consist only of Gentile nations. It will INCLUDE a group of ISRAELITISH nations. "Come out of her , my people," says God in Revelation 18:4. "My people" means Israelites in Bible prophecy. Yes, once again, Joseph' s own brothers will sell him to the Gentiles!

Once again REUBEN (the first-born of Jacob who anciently conspired with his brothers, will "act" in terms of saving him, but end · up by compromising with his brothers to send him into CAPTIVITY.

Ever since the early days of American history, the French have been on our side. There exists a brotherly link among all the ISRAELITISH nations. Nevertheless, by uniting politically with the "beast," some of the modern Israelites will be instrumental in conquering the United States and Great Britain.

So says YOUR Bible! (Apartian D. De Gaulle and the Next World War. Plain Truth, September 1964, p. 11)

What then will be the future of France? What will be her role just before the second coming of Jesus Christ? In the 17th chapter of Revelation, we read of TEN KINGS (or Kingdoms) that will rise in Europe during the last days just prior to Christ's rerum. The prophecy shows they will war against the British and the American peoples.

"And the ten horns which thou sawest are TEN kings (kingdoms), which have received no kingdom as yet; but receive power as kings one hour with the BEAST" (Rev. 17:12).

France REPRESENTS today one of these 10 Kings. This Union of 10 Kingdoms is already in formation in Europe. In fact, France is at present one of its key members. As this prophecy reveals, this union will receive authority "for one hour" only-that is, a short time-because it is like "iron mixed with miry clay" (Dan. 2:43) …

Ask any average Frenchman what he thinks of his country's union with Germany. He is utterly puzzled at the idea that economic and political barriers are gradually falling between France and Germany. This union for him is unreal but demanded by the circumstances in which France today finds herself. It is a creation of the leaders of the two nations who blindly believe in its destiny. (Apartian D. Prophecy Reveals the Future of France. Plain Truth, August 1963, p. 19)

During the last two WORLD WARS France was at the side of her natural allies, the Anglo-Saxons. They are, indeed, her natural allies because the French people, in turn, are the modern DESCENDANTS of one of the twelve tribes of Israel, namely REUBEN! The situation, however, will be quite different during the next WORLD WAR, France will no longer fight at the side of her former allies; she will turn AGAINST them. The descendants of Reuben will play their part in selling into slavery their brother Joseph – just as Reuben did some 3700 years ago. You are now beginning to see why the relations between the United States of America and France are gradually deteriorating. (Apartian D. France: The Enigma of our Time. Plain Truth, August 1966, pp. 11-12)

(Gen. 37:18-20). Notice well what took place. The brothers CONSPIRED against Joseph; filled with jealousy, they wanted to KILL him. Afterwards, they would LIE to their father, telling him that a wild beast had devoured Joseph. What about the next two verses, some may argue? Well, let's once again examine them in the light of the Biblical account, and let US not be misled by our human reasoning.

"And Reuben heard it [the plot to kill Joseph], and he delivered him out of their hands; and said, Let us not kill him. And Reuben said unto them, Shed no blood, but cast him into this pit that is in the wilderness, and lay no hand Upon him; that he might rid him out of their hands, to deliver him to his father again (verses 21, 22).

At first glance, it may seem, indeed , as though Reuben acted well. He proposed an alternative to deliver Joseph out of his brothers' hands. This sounds good to our human mind, to our carnal way of thinking. But is that what was expected of Reuben? Is that all he could do- he, the firstborn? Was his duty to compromise with his brothers over whom he had authority? According to the Bible, a firstborn in Israel had certain privileges his brothers did not have. His heritage was bigger and he received the greater portion of the blessings. He was next to his father in power and authority. Therefore, as the leader of his brothers, Reuben was actually RESPONSIBLE for what happened to Joseph. He should have acted the way Jacob, his father, would have acted had he been there- and not have compromised with them. Many overlook this important point when they read this story. Consequently, they don't see where Reuben failed. No, Reuben did NOT act with courage and dignity. He was afraid of his brothers; he FEARED for his own life if he tried to stop them by force. COMPROMISE is all he could think of – but compromise is a very poor substitute for one's own duties and responsibilities. …

A Striking Parallel

There may be a striking parallel between Reuben's behavior in the past and that of France today. Indeed, in a few years, Reuben's modern descendants will be at the side of the prophesied "beast" of Revelation when the Anglo-Saxons (the descendants of Joseph) are taken captive. France, like her forefather Reuben, will probably seek a compromise to prevent her former allies – the very SONS of Joseph – from being taken captive by the enemy. But what good will that really do? What good did it do to Joseph?

A compromise never relieves one from one's own responsibilities. Without a doubt, Reuben loved his brother; he exerted himself in his own ways, through his own human reasoning, to save him. But the fact remains that he ended up by acting like a foe! France today also likes her "kin," her natural allies. But, unless she repents, France will end up BEING a foe! (Apartian D. France: The Enigma of our Time. Plain Truth, August 1966, p. 32)

Like all nations today, France has turned away from God. Catholic by faith, 9 out of 10 Frenchmen have never read their Bible, nor do they believe that, in its entirety, it represents the WORD OF GOD. What then will happen to France? Will she win the next WAR? She is presently a member of the "Common Market" which is already becoming a POLITICAL union. It will eventually include TEN nations or kingdoms.

Will this union win the third WORLD WAR?

God says that though He will allow it for a short while to conquer the descendants of Joseph (the BRITISH and AMERICAN peoples), He Himself will intervene to deliver His people. Jesus Christ, at His second coming, will fight and destroy those nations who rebel against Him (Rev. 17 : -14). (Apartian D. De Gaulle and the Next World War. Plain Truth, September 1964, p. 41)

At the second coming of Jesus Christ, the TEN KINGS or KINGDOMS-including France-will be of "one mind, and shall give their power and strength unto the beast" (Rev. 17:13).

"These shall make war with the Lamb , (Jesus Christ, and the lamb shall overcome them; for he is LORD of lords, and KING of kings: and they that are with Him are called, and chosen, and faithful" (Rev. 17:14).

This is the infallible prophecy of the Bible. Unless France wakes up and repents, she and the other nations will fight the Lord at His coming. They will be punished by sword, by famine and pestilence-by the plagues of Almighty God! (Apartian D. Prophecy Reveals the Future of France. Plain Truth, August 1963, p. 22)
So, unlike some, Dibar Apartian realized that some of the Israelitish nations would be part of the Beast and will betray the sons of Joseph (Ephraim and Manasseh; for more on that and what will happen to France from the Beast, see also Anglo – America in Prophecy & the Lost Tribes of Israel).
The late Herbert W. Armstrong agreed that France would be part of the initial Beast power:
Poland, and as you know Romania is not really very enthusiastic with the Soviet, and neither is Yugoslavia. And I can begin to see some of those nations breaking loose from the Russian orbit and going in.

Instead of the Scandinavian nations, they will go in with France and Germany; and with Spain and Portugal and Italy, and form the ten … with the Roman…and that will be the same territory that was occupied by the old Roman Empire. That is coming along. (Armstrong HW. Beasts of Daniel and Revelation. Bible Study, Date: November 8, 1980)
Perhaps it should to be pointed out that several of the "Israelite nations' are ethnically mixed (per Davidiy Y. The Tribes, 4th edition. Russell-David Publishers, 2011 and other sources) and it may take them some time for the actual Israelites to separate out. Including some of Reuben.
While the Bible shows that Europe will have problems with unity (Daniel 2:41-43)–and may very well split various ways–it also shows that it will end up with a "great army" (Daniel 11:25), reorganize and unify under the Beast (Revelation 17:12-13), and one-day successfully invade the USA and divide its lands for gain (Daniel 11:39).
We will see what the election in France will bring.
Even if Barack Obama could run for the French presidency, he is not the answer for France. The Kingdom of God is the Solution.
Some items of possibly related interest may include:
USA in Prophecy: The Strongest Fortresses Can you point to scriptures, like Daniel 11:39, that point to the USA in the 21st century? This article does. A related sermon is titled: Do these 7 prophesies point to the end of the USA?
Who is the King of the West? Why is there no Final End-Time King of the West in Bible Prophecy? Is the United States the King of the West? Here is a version in the Spanish language: ¿Quién es el Rey del Occidente? ¿Por qué no hay un Rey del Occidente en la profecía del tiempo del fin?
Anglo – America in Prophecy & the Lost Tribes of Israel Are the Americans, Canadians, English, Scottish, Welsh, Australians, Anglo-Saxon (non-Dutch) Southern Africans, and New Zealanders descendants of Joseph? Where are the lost ten-tribes of Israel? Who are the lost tribes of Israel? What will happen to Jerusalem and the Jews in Israel? Will God punish the U.S.A., Canada, United Kingdom, and other Anglo-Saxon nations? Why might God allow them to be punished first? Here is a link to the Spanish version of this article: Anglo-América & las Tribus Perdidas de Israel. Information is also in the YouTube sermons titled Where are the Ten Lost Tribes? Why does it matter? and British are the Covenant People. A short YouTube of prophetic interest may be: Are Chinese threats against Australia for real?
Will the Anglo-Saxon Nations be Divided and Have People Taken as Slaves? Will the lands of the United States, United Kingdom, Canada, Australia, and New Zealand be divided? What about Jerusalem? What does Bible prophecy teach? Are there non-biblical prophecies that support this idea? Who will divide those lands? Who will end up with the lands and the people? Here is a link to a video titled Will the USA and other Anglo-nations be Divided and Their People Made Slaves? Here is a related item in the Spanish language ¿Serán divididas las naciones anglosajonas?
Who is the King of the North? Is there one? Do biblical and Roman Catholic prophecies for the Great Monarch point to the same leader? Should he be followed? Who will be the King of the North discussed in Daniel 11? Is a nuclear attack prophesied to happen to the English-speaking peoples of the United States, Great Britain, Canada, Australia, and New Zealand? When do the 1335 days, 1290 days, and 1260 days (the time, times, and half a time) of Daniel 12 begin? When does the Bible show that economic collapse will affect the United States? In the Spanish language check out ¿Quién es el Rey del Norte? Here is a link to a video titled: The Future King of the North.
Europa, the Beast, and Revelation Where did Europe get its name? What might Europe have to do with the Book of Revelation? What about "the Beast"? Is an emerging European power "the daughter of Babylon"? What is ahead for Europe? Here is a link to a video titled: Can You Prove that the Beast to Come is European?
European Technology and the Beast of Revelation Will the coming European Beast power would use and develop technology that will result in the taking over of the USA and its Anglo-Saxon allies? Is this possible? What does the Bible teach? Here is a related YouTube video: Military Technology and the Beast of Revelation.
The Large Hadron Collider has Military Potential Some say this European project is only peaceful. So why is it working on capturing antimatter? Here is a link to a related video: Could the Large Hadron Collider lead to destruction?
Must the Ten Kings of Revelation 17:12 Rule over Ten Currently Existing Nations? Some claim that these passages refer to a gathering of 10 currently existing nations together, while one group teaches that this is referring to 11 nations getting together. Is that what Revelation 17:12-13 refers to? The ramifications of misunderstanding this are enormous. A related sermon is titled Ten Kings of Revelation and the Great Tribulation.
The Gospel of the Kingdom of God This free online pdf booklet has answers many questions people have about the Gospel of the Kingdom of God and explains why it is the solution to the issues the world is facing. Here are links to three related sermons: The World's False Gospel, The Gospel of the Kingdom: From the New and Old Testaments, and The Kingdom of God is the Solution.
The 'Lost Tribe' of Reuben: France in Prophecy? What is the origin of this in France? What is prophesied to happen to them? A two-part sermon related to history and prophecy is available online: The 'Lost Tribe' of Reuben and France and Prophecy.
Ten clues tying Belgium and Luxembourg with the tribe of Asher Who did some in Belgium and Luxembourg descend from?
Ten clues tying Zebulun with the Dutch Who did some in the Netherlands descend from?
Post Brexit Prophecy On June 23, 2016, the voters of the United Kingdom of Great Britain and Northern Ireland (UK) chose to leave the European Union. Now with this BRitish EXIT (Brexit) vote, what is prophesied to happen to the UK? Will the UK do well or be taken over and made slaves? Dr. Thiel explains from biblical prophecies what is ahead for the UK, Europe, and even the USA, Canada, Australia, and New Zealand.
Donald Trump in Prophecy Prophecy, Donald Trump? Are there prophecies that Donald Trump may fulfill?  Are there any prophecies that he has already helped fulfill?  Could a Donald Trump presidency be apocalyptic?  A related video is titled: Donald: 'Trump of God' or Apocalyptic?
Donald Trump and America's Apocalypse This 188 page book is for people truly interested in prophecies related to Donald Trump and the United States, including learning about several that have already been fulfilled and those that will be fulfilled in the future. The physical book can be purchased at Amazon for $12.99 from the following link: Donald Trump and America's Apocalypse.
Donald Trump and America's Apocalypse-Kindle Edition This electronic version of the 188 page print edition is available for only US$3.99. And you do not need an actual Kindle device to read it. Why? Amazon will allow you to download it to almost any device: Please click HERE to download one of Amazon s Free Reader Apps. After you go to for your free Kindle reader and then go to Donald Trump and America's Apocalypse-Kindle Edition.
Does God Have a 6,000 Year Plan? What Year Does the 6,000 Years End? Was a 6000 year time allowed for humans to rule followed by a literal thousand year reign of Christ on Earth taught by the early Christians? Does God have 7,000 year plan? What year may the six thousand years of human rule end? When will Jesus return? 2025 or 20xx? There is also a video titled The 6000 Year Plan: Is the end of humanity's reign almost up? Here is a link to the article in Spanish: ¿Tiene Dios un plan de 6,000 años?
When Will the Great Tribulation Begin? 2017, 2018, or 2019? Can the Great Tribulation begin today? What happens before the Great Tribulation in the "beginning of sorrows"? What happens in the Great Tribulation and the Day of the Lord? Is this the time of the Gentiles? When is the earliest that the Great Tribulation can begin? What is the Day of the Lord? Who are the 144,000? Here is a version of the article in the Spanish language: ¿Puede comenzar la Gran Tribulación en 2016 o 2017? ¿Es el Tiempo de los Gentiles? You can also see the English language sermon videos: The Great Tribulation from the Mount of Olives and Can the Great Tribulation begin before 2020? A shorter video is: Will the Great Tribulation Start in 2017?