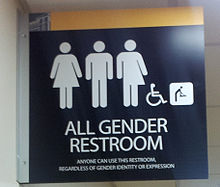 The 'transgender agenda' is affecting churches. A church in Iowa it suing to try to stop it:
July 15, 2016

A church sued over Iowa's state transgender policy when officials asserted they had authority to control the content of pastor's sermons.

Now the church has filed a request for an immediate protective order in response to the state's claim of authority to define what is religious.

The case is over the aggressive actions by the Iowa Civil Rights Commission, which has published guidelines for handling transgender issues in church gatherings that are "open to the public."

The lawsuit filed by the Alliance Defending Freedom on behalf of Fort Des Moines Church of Christ aims "to stop the commissioners and the executive director of the Iowa Civil Rights Commission, the Iowa attorney general, and the city of Des Moines from compelling an Iowa church to communicate government messages to which it objects and from forcing the church to use its building in violation of its religious beliefs."

It explained the commission believes its interpretation of state law allows it "to force churches to allow individuals access to church restrooms, shower facilities, and changing rooms based on his or her gender identity, irrespective of biological sex."

At issue in the Iowa case are state mandates that protect "transgender rights." Among them are allowing men to enter women's shower rooms, dressing rooms and restrooms if they say they are women and banning statements in meetings "open to the public" that "might cause individuals to believe that they are unwelcome because of their perceived gender identity"

The lawsuit charges the mandates violate the U.S. Constitution's protections of free speech, religion, expressive association, due process and peaceably assembly. http://www.wnd.com/2016/07/state-doubles-down-wants-to-define-whats-religious/#OzxLl4BWUHeoZO0b.99
July 14, 2016
An Iowa church has asked a federal judge to stop the Iowa Civil Rights Commission from applying portions of a state policy that the church says could force it to abide by rules permitting transgender persons to use public bathrooms and muzzle ministers who may want to preach against transgender or gay individuals.

The nonprofit religious legal defense organization Alliance Defending Freedom filed a motion Wednesday.

The group represents the Fort Des Moines Church of Christ, which says Iowa's anti-discrimination law that prohibits public accommodation discrimination based on sexual orientation and gender identity violates a church's rights to free speech and free exercise of religion.

The commission says that it never has enforced the law against churches and has made it clear that churches are generally exempt. http://www.desmoinesregister.com/story/news/crime-and-courts/2016/07/14/transgender-public-bathroom-rules-church-injunction-motion/87105894/
Notice that the commission says that churches are 'generally exempt.' But not all on the LGBT side see it that way.
The LGBT community wants not only transgender restrooms, but wishes to define statements that are anti-homosexual as 'hate speech.'
This absurdity was easy to predict because of what is happening with the gender confusion that many governments in the USA are promoting. Actually, I brought the point up that the transgender agenda could devastate girls' sports when I did the short video a few weeks ago titled: USA pushing gender confusion. And this is starting to happen.
The transgender agenda is evil, but many leaders in the USA are promoting it.
The Bible warns:
20 Woe to those who call evil good, and good evil; (Isaiah 5:20)
Many, if not most, transgender people 'cross-dress,' yet that is condemned as an abomination in the Bible:
5 A woman shall not wear anything that pertains to a man, nor shall a man put on a woman's garment, for all who do so are an abomination to the Lord your God. (Deuteronomy 22:5)
The Bible clearly condemns cross-dressing. The Bible also condemns males acting effeminate:
9 Know ye not that the unrighteous shall not inherit the kingdom of God? Be not deceived: neither fornicators, nor idolaters, nor adulterers, nor effeminate, nor abusers of themselves with mankind, 10 Nor thieves, nor covetous, nor drunkards, nor revilers, nor extortioners, shall inherit the kingdom of God. (1 Corinthians 6:9-10, KJV)
Males are not to act like they are female.
Perhaps it should be added that it is getting to be considered wrong by various government officials for someone to call a male a boy if he wants to be considered as a girl. While 'truth' is supposed to be a defense for speech, those associated with the transgender agenda have also redefined truth to mean what they say. And they will ignore biological truth to do so.
Religious rights on this matter are under attack.
As I have written for years, the time will come when the USA, and likely some private companies, will apparently stop the efforts of websites like this one to tell the biblical truth of various matters (see also Preparing for the 'Short Work' and The Famine of the Word).
Consider the following prophecy:
13 Therefore the prudent keep silent at that time, For it is an evil time. (Amos 5:13)
The above indicates that even those that are doing nothing wrong will need to be silent at the coming of a more evil time.
Yet, currently, it is still time to:
1 Cry aloud, spare not;
Lift up your voice like a trumpet;
Tell My people their transgression,
And the house of Jacob their sins. (Isaiah 58:1)
Which is what we in the Continuing Church of God are doing.
The Bible warns against not only sexual immorality, but approving it:
20 For since the creation of the world His invisible attributes are clearly seen, being understood by the things that are made, even His eternal power and Godhead, so that they are without excuse, 21 because, although they knew God, they did not glorify Him as God, nor were thankful, but became futile in their thoughts, and their foolish hearts were darkened. 22 Professing to be wise, they became fools, 23 and changed the glory of the incorruptible God into an image made like corruptible man — and birds and four-footed animals and creeping things.

24 Therefore God also gave them up to uncleanness, in the lusts of their hearts, to dishonor their bodies among themselves, 25 who exchanged the truth of God for the lie, and worshiped and served the creature rather than the Creator, who is blessed forever. Amen.

26 For this reason God gave them up to vile passions. For even their women exchanged the natural use for what is against nature. 27 Likewise also the men, leaving the natural use of the woman, burned in their lust for one another, men with men committing what is shameful, and receiving in themselves the penalty of their error which was due.

28 And even as they did not like to retain God in their knowledge, God gave them over to a debased mind, to do those things which are not fitting; 29 being filled with all unrighteousness, sexual immorality, wickedness, covetousness, maliciousness; full of envy, murder, strife, deceit, evil-mindedness; they are whisperers, 30 backbiters, haters of God, violent, proud, boasters, inventors of evil things, disobedient to parents, 31 undiscerning, untrustworthy, unloving, unforgiving, unmerciful; 32 who, knowing the righteous judgment of God, that those who practice such things are deserving of death, not only do the same but also approve of those who practice them. (Romans 1:20-32)
The State of Iowa, nor the rest of the USA, is benefiting from homosexuality or the transgender agenda. This will not end well for the USA and its Anglo-Saxon descended allies (cf. Daniel 11:39) nor the rest of the West (cf. Daniel 11:44-45).
God made humans male and female:
27 So God created man in His own image; in the image of God He created him; male and female He created them. (Genesis 1:27)
Nowhere in the Bible is any human considered to be any sex/gender other than male and female. And those who act otherwise are warned against (Deuteronomy 22:5; 1 Corinthians 6:10-12; Romans 1:18-32). One is not a different gender than their actual genitalia.
But now the USA government and various others have their own, antibiblical ideas. Yet:
33 God is not the author of confusion (1 Corinthians 14:33)
The transgender agenda encourages and exploits confusion. It is NOT good for those who consider themselves transgendered.
Sadly, freedom of religion and freedom of speech, both part of the Bill of Rights of the USA, are under attack.  While hopefully the church in Iowa will be successful in getting churches exempted from the Iowa transgender law, the time will come when the USA will not allow the truth to be told on many matters–and that will come right before its final destruction.
As the Bible says:
8 Pride goes before destruction,
And a haughty spirit before a fall. (Proverbs 16:18)
The LGBT movement is big on 'pride,' and even calls its parades, 'pride parades.' This will not end well (cf. Romans 1:32)
Some items of possibly related interest may include:
USA pushing gender confusion On May 13, 2016, the Obama Administration sent notices to school districts around the USA on how it wants them to deal with toilets, lockers, sports, and other issues of interest to the LGBT crowd. The Obama Administration has redefined the word 'sex' as written in the 1964 Civil Rights Act as expanded in 1972. Does the Bible teach transgenderism? Are accommodations for those considering themselves transgendered helpful or evil? What does the Bible teach about cross-dressing and other transgender issues? Does the Bible warn of terrible consequences for those who merely approve the LBGT agenda? This is a video.
Cross-dressing and other assaults against your children. What should you do? Is there an agenda to turn your children and/or grandchildren away from biblical morality and towards practices promoted by homosexuals? What does the Bible teach about cross-dressing? What should parents do? If there is an agenda, what has been going on? There are also two YouTube videos related to this, titled Transgender 'Woe to those who call evil good' and Cross dressing and Other Assaults Against Your Children.
Pornography: A scourge on society Is pornography harmless fun? Does the Bible teach anything about it? What are the views of some involved with it? A related sermons is titled: Pornography, False Comfort, and False Religion. Here a shorter YouTube video Pornography: Harmless Fun or a Scourge on Society?
The Bible Condemns Homosexuality "Same-sex marriage" for "gays" and lesbians is becoming more acceptable to many. What does the Bible teach about homosexuality? Can homosexuals change? A related video sermon is titled: What Does the Bible Really Teach about Homosexuality?
Making Your Marriage Work Marriage is not always easy, but it pictures a divine relationship. How can you make your marriage work? Here is a link to the video sermon: You Can Make YOUR Marriage Work.
Love, Marriage, and Sex It is important to get them in the right order.
Husbands Love Your Wives An article written by the late Selmer Hegvold.
Preparing for the 'Short Work' and The Famine of the Word What is the 'short work' of Romans 9:28? Who is preparing for it? Here is a link to a related video sermon titled: The Short Work.
The Final Phase of the Work What is the final phase of the work? Who will lead it? Do you have the courage to support it? Here is a related YouTube video titled The Final Phase of the Work. The written article has been translated into Spanish La Fase Final de la Obra.
When Will the Great Tribulation Begin? 2016, 2017, or 2018? Can the Great Tribulation begin today? What happens before the Great Tribulation in the "beginning of sorrows"? What happens in the Great Tribulation and the Day of the Lord? Is this the time of the Gentiles? When is the earliest that the Great Tribulation can begin? What is the Day of the Lord? Who are the 144,000? Here is a version of the article in the Spanish language: ¿Puede comenzar la Gran Tribulación en 2016 o 2017? ¿Es el Tiempo de los Gentiles? You can also see the English language sermon videos: The Great Tribulation from the Mount of Olives and Can the Great Tribulation begin before 2020? A shorter video is: Can the Great Tribulation Start in 2016?
Anglo – America in Prophecy & the Lost Tribes of Israel Are the Americans, Canadians, English, Scottish, Welsh, Australians, Anglo-Saxon (non-Dutch) Southern Africans, and New Zealanders descendants of Joseph? Where are the lost ten-tribes of Israel? Who are the lost tribes of Israel? What will happen to Jerusalem and the Jews in Israel? Will God punish the U.S.A., Canada, United Kingdom, and other Anglo-Saxon nations? Why might God allow them to be punished first? Here is a link to the Spanish version of this article: Anglo-América & las Tribus Perdidas de Israel. Information is also in the YouTube sermons titled Where are the Ten Lost Tribes? Why does it matter? and British are the Covenant People. A short YouTube of prophetic interest may be Barack Obama and the State of the Apocalypse.
Will the Anglo-Saxon Nations be Divided and Have People Taken as Slaves? Will the lands of the United States, United Kingdom, Canada, Australia, and New Zealand be divided? What about Jerusalem? What does Bible prophecy teach? Are there non-biblical prophecies that support this idea? Who will divide those lands? Who will end up with the lands and the people? Here is a link to a video titled Will the USA and other Anglo-nations be Divided and Their People Made Slaves? Here is a related item in the Spanish language ¿Serán divididas las naciones anglosajonas?
Who is the King of the West? Why is there no End-Time King of the West in Bible Prophecy? Is the United States the King of the West?
Prophecies of Barack Obama? Reasons why Barack Obama is apocalyptic and reasons why Barack Obama is not the Antichrist. This article includes many biblical and non-biblical prophecies, from around the world, that seem to discuss Barack Obama. Did Nostradamus predict Barack Obama dealing with the Antichrist?  Might Barack Obama set the stage for the kings of the North and South as at least one Shiite prophecy suggests?  Read it and decide for yourself if President Obama seems to be fulfilling various prophecies. Watch also the YouTube Barack Obama and the State of the Apocalypse.
Donald Trump in Prophecy Prophecy, Donald Trump? Are there prophecies that Donald Trump may fulfill?  Are there any prophecies that he has already helped fulfill?  Could a Donald Trump presidency be apocalyptic?  A related video is titled Could Donald Trump be Apocalyptic?
Hillary Clinton in Prophecy  Prophecy, Hillary Clinton? Are there prophecies that Hillary Clinton may fulfill?  Are there any prophecies that she has already helped fulfill?  Could Hillary Clinton be apocalyptic?  Could Hillary Clinton be the final Antichrist? A video of related interest is titled Hillary Clinton and Bible Prophecy.