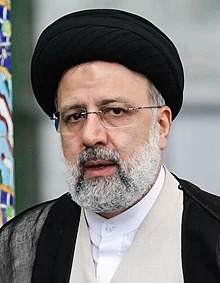 Iranian President Ebrahim Raisi
(Photo by Mehr News Agency)

Iran is taking military steps:
April 19, 2022

Members of Iran's paramilitary Revolutionary Guard train on Russian surface-to-air missile systems and aircraft. Hard-line President Ebrahim Raisi visited Russian President Vladimir Putin on one of his first trips abroad. https://apnews.com/article/russia-ukraine-putin-iran-moscow-tehran-5438506fba2505fbcd227f93c533e86d
Iranian President Ebrahim Raisi issued a warning to Israel:
Raisi: Iran Will Target Heart of Israel if it Acts Against Iranian Nation

April 18, 2022

Iran's armed forces will target Israel's heart if it makes "the slightest move" against the Islamic Republic, President Ebrahim Raisi told a military parade on Monday, amid stalled talks between Tehran and world powers to revive a 2015 nuclear pact.

Israel, widely believed to have the Middle East's only atomic arsenal, says it will not be bound by any Iran nuclear deal and could eventually take unilateral action against Iranian nuclear sites.

"The Zionist regime [Israel], you should know that … if you take the slightest move against our nation, our armed forces will target the heart of the Zionist regime" Raisi said in a televised speech at a military parade to mark the national Army Day. …

Israel, which the Islamic Republic refuses to recognize, says it will not accept the Islamic Republic as "a nuclear threshold state." https://www.voanews.com/a/raisi-says-iran-will-target-heart-of-israel-if-it-acts-against-iranian-nation-/6533943.html
Since Jerusalem is Israel's capital as well as where its government is headquartered, that sounds like a threat from Iran against Jerusalem.
Iran has the ability to cause "great damage" to Israel, Notice something that the prophet Isaiah was inspired to write:
6 Elam bore the quiver With chariots of men and horsemen, And Kir uncovered the shield. 7 It shall come to pass that your choicest valleys Shall be full of chariots,And the horsemen shall set themselves in array at the gate.

8 He removed the protection of Judah. You looked in that day to the armor of the House of the Forest; 9 You also saw the damage to the city of David, That it was great; And you gathered together the waters of the lower pool. 10 You numbered the houses of Jerusalem, And the houses you broke down To fortify the wall. 11 You also made a reservoir between the two walls For the water of the old pool. But you did not look to its Maker, Nor did you have respect for Him who fashioned it long ago. (Isaiah 22:8-11 NKJV)
Elam is a reference to at least some in Iran. The old Worldwide Church of God published the following:
Iranians comprise nearly 70 percent of the country. Iranians, though Islamic, are totally distinct from the neighboring Arab peoples of the Middle East. They are a mixed people of the remnants of Media and Elam and other ancestors of Semitic and Hamitic stock. (Stump K. South Asia in Prophecy. Plain Truth, July/August 1986, p. 5)
Kir is of interest as it has several possibilities. One is that the Bible tells that after Tiglath-Pileser king of Assyria took over Damascus, he moved Syrians to Kir. While this does not mean that Kir must (or must only) be a reference to Syria, the fact that Syria is an ally of Iran is interesting. Some believe Kir is an area in the south of Iran, while others suggest closer to the Black Sea. God's word has the expression "the Syrians from Kir" (Amos 9:7), which is basically confirmation that Kir of Isaiah 22 would include Syrians. The Bible also tells of a time when Kir will be destroyed (Isaiah 15:1b) and also says that Syria's capital Damascus will be destroyed (Isaiah 17:1). Since Syria is Iran's closest ally, military cooperation between the two of them against Israel looks consistent with the prophecy in Isaiah 22.
In Isaiah 22: 8, "Judah" is a reference to those in the land commonly called Israel–God will allow Israel to be attacked! In Isaiah 22:9, consider that "the damage to the city of David" is a reference to at least part of Jerusalem–which is basically the heart of Israel. Further notice that the damage will be great. Also notice part of the reason will be because Israel will not truly look to "its Maker." Just relying on its own military will not be enough.
I have long believed that we may very well see a regional war as Israel has 1) taken preemptive actions in the past and 2) has said it would do so in the future to prevent Iran from getting a nuclear bomb.
Such a regional war could trigger the deal of Daniel 9:27 and trigger the final 3 1/2 year countdown until the start of the Great Tribulation Jesus spoke of in Matthew 24:21.
Actual and perceived threats from Israel are likely to trigger Iran (as well as Syria) to attack.
There also looks to be another reason. Consider the following:
The Odds Of A Nuclear Deal With Iran Are Shrinking Every Day

The odds of a new nuclear deal with Iran are shrinking. The ongoing discussions, which have been lauded several times by participants to have almost reached a solution, are still hanging like a boxer on the ropes.

While the knockout blow hasn't yet been landed, Tehran's hope to get the U.S. and its European partners to sign a deal with regard to the global oil supply deficit is increasingly unrealistic.  The current discussions are hitting a brick wall as the Iranian position on several key issues is preventing a breakthrough. Since the latest negotiations started over a year ago, Tehran has been actively engaged in finding new ways to get its hands on nuclear weapons technology. The new hardline government of president Raisi, backed fully by the Islamic Revolutionary Guards (IRGC), the extremist military force ruling Iran, is not willing to back down at all. A new agreement according to Iran, cant be signed if sanctions are not removed on the IRGC. The latter is a no-go area at present for U.S. president Biden, as he does not have enough support to put this through Congress.

Removing the IRGC from the list of terrorist organizations is not just being opposed by a majority of US Democrats and Republicans in the House but also in the Senate. 04/17/22 https://oilprice.com/Geopolitics/Middle-East/The-Odds-Of-A-Nuclear-Deal-With-Iran-Are-Shrinking-Every-Day.html
Now, notice something from my book Biden-Harris: Prophecies and Destruction related to Iran: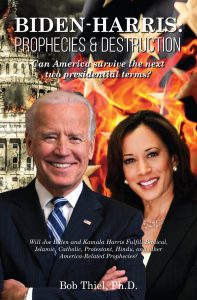 Iran and Prophecy

Joe Biden wants to have the U.S.A. rejoin the nuclear deal with Iran …

Despite its posturing and relative military strength, Iran will be somehow effectively neutralized (cf. Ezekiel 32:24). This could perhaps be from an attack involving Israel and/or internal civil unrest — this could also include electromagnetic (EMP) or similar weapons used against Iran (Jeremiah 49:34-39).

It is of prophetic interest to note that the small nation of Israel is prophesied to one day be attacked by some that seem to have connection to Iran and its ally Syria (Isaiah 22:1-14). …

In January 2021, it was reported, "Iranian lawmakers have submitted a bill seeking the government by law to commit to Israel's destruction by the year 2040, Iranian state media ISNA reported."

Iran may decide to strike out against Israel, and likely Jerusalem (cf. Isaiah 22:7-8) if it determines that it should. If it is frustrated with the Biden-Harris Administration policies or delays, that may very well be a factor in it taking prophesied military action.

Iran has weapons that can cause damage. Furthermore, the U.S.A. itself, as well as the State of Israel, are vulnerable to EMP type attacks and even items such as biological weapons, chemical weapons, terrorism, nuclear weapons, dirty bombs, etc. because of a conflict involving Iran, Syria, and/or others.

But should this attack occur, this would NOT be the final destruction of the U.S.A. Prophetically, Iran would not end up faring well (cf. Ezekiel 32:24-25). (Thiel B. Biden-Harris: Prophecies and Destruction. Nazarene Books, January 2021)
Enough delays to the nuclear deal may lead Iran to conclude that a regional war is the best way to deal with domestic and international pressures.
Such a war is consistent with prophesies such as are in Isaiah 22–and may be a factor leading to the 'peace deal' of Daniel 9:27.
A regional war will come to the Middle East and it could be relatively soon.
Violent conflict is something Iran must be considering.
Some items of possibly related interest may include:
Biden-Harris: Prophecies and Destruction Can the USA survive two full presidential terms? In what ways are Joe Biden and Kamala Harris apocalyptic? This book has hundreds of prophecies and scriptures to provide details. A Kindle version is also available and you do not need an actual Kindle device to read it. Why? Amazon will allow you to download it to almost any device: Please click HERE to download one of Amazon s Free Reader Apps. After you go to your free Kindle reader app (or if you already have one or a Kindle), you can go to: Biden-Harris: Prophecies and Destruction (Kindle) to get the book in seconds.
The 'Peace Deal' of Daniel 9:27 This prophecy could give up to 3 1/2 years advance notice of the coming Great Tribulation. Will most ignore or misunderstand its fulfillment? Here is a link to a related sermon video Daniel 9:27 and the Start of the Great Tribulation. A short video is also available titled Trump's Deal of the Century and Daniel 9 27? Here is a link to something related in the Spanish language: Estados Árabes emiratos unidos y el tratado de paz en el medio este.
Does God Have a 6,000 Year Plan? What Year Does the 6,000 Years End? Was a 6000 year time allowed for humans to rule followed by a literal thousand year reign of Christ on Earth taught by the early Christians? Does God have 7,000 year plan? What year may the six thousand years of human rule end? When will Jesus return? 2029 or or 2031 or 20xx? There is also a video titled 6000 Years: When will God's Kingdom Come? Here is a link to the article in Spanish: ¿Tiene Dios un plan de 6,000 años?
Might the U.S.A. Be Gone by 2028? Are there prophetic reasons to believe that the USA will not last two complete presidential terms? Yes. There is a tradition attributed to the Hebrew prophet Elijah that humanity had 6,000 years to live before being replaced by God's Kingdom. There are scriptures, writings in the Talmud, early Christian teachings that support this. Also, even certain Hindu writings support it. Here is a link to a related video: Is the USA prophesied to be destroyed by 2028?
The Great Tribulation: What Happens First? What events have happened? What are some events that are now happening? And what events need to happen for the Great Tribulation to start? Here is a link to a related sermon video: Counting Down to the Great Tribulation.
When Will the Great Tribulation Begin? 2022, 2023, or 2024? Can the Great Tribulation begin today? What happens before the Great Tribulation in the "beginning of sorrows"? What happens in the Great Tribulation and the Day of the Lord? Is this the time of the Gentiles? When is the earliest that the Great Tribulation can begin? What is the Day of the Lord? Who are the 144,000? Here is a version of the article in the Spanish language: ¿Puede la Gran Tribulación comenzar en el 2020 o 2021? ¿Es el Tiempo de los Gentiles? A related video is: Great Tribulation: 2026 or 2027? A shorter video is: Can the Great Tribulation start in 2022 or 2023? Here is a video in the Spanish language: Es El 2021 el año  de La Gran Tribulación o el Grande Reseteo Financiero.
USA in Prophecy: The Strongest Fortresses Can you point to scriptures, like Daniel 11:39, that point to the USA in the 21st century? This article does. Two related sermon are available: Identifying the USA and its Destruction in Prophecy and Do these 7 prophesies point to the end of the USA?
Who is the King of the West? Why is there no Final End-Time King of the West in Bible Prophecy? Is the United States the King of the West? Here is a version in the Spanish language: ¿Quién es el Rey del Occidente? ¿Por qué no hay un Rey del Occidente en la profecía del tiempo del fin? A related sermon is also available: The Bible, the USA, and the King of the West.
Who is the King of the North? Is there one? Do biblical and Roman Catholic prophecies for the Great Monarch point to the same leader? Should he be followed? Who will be the King of the North discussed in Daniel 11? Is a nuclear attack prophesied to happen to the English-speaking peoples of the United States, Great Britain, Canada, Australia, and New Zealand? When do the 1335 days, 1290 days, and 1260 days (the time, times, and half a time) of Daniel 12 begin? When does the Bible show that economic collapse will affect the United States? In the Spanish language check out ¿Quién es el Rey del Norte? Here are links to two related videos: The King of the North is Alive: What to Look Out For and The Future King of the North.
The Great Monarch: Biblical and Catholic Prophecies Is the 'Great Monarch' of Catholic prophecies endorsed or condemned by the Bible? Two sermons of related interest are also available: Great Monarch: Messiah or False Christ? and Great Monarch in 50+ Beast Prophecies.
Jesus Returning, David's Throne, and the Stone of Destiny Will Jesus return to the throne of David? What about the Stone of Scone? Here is a link to a related video: Stone of Destiny and Jesus' Return.
Is the Future King of the South Rising Up? Some no longer believe there needs to be a future King of the South. Might Egypt, Islam, Iran, Arabs, or Ethiopia be involved? Might this King be called the Mahdi or Caliph? What does the Bible say? A YouTube video of related interest may be: The Future King of the South is Rising. Here is a version the Spanish language: ¿Esta Surgiendo el Rey Del Sur?
Iran in Prophecy Is Iran in Bible prophecy? If so, what does the Bible teach? What names, other than Persia, may be used to describe Iran? There is also a related YouTube video titled Iran In Prophecy.