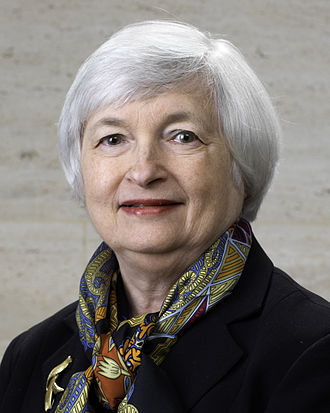 Janet Yellen

About a year and a half ago, the then head of US Federal Reserve said it was possible that there would be no more financial crises "in our lifetimes:"
June 28, 2017
Responding to a question on financial system stability, Yellen said post-crisis regulations (and $2.5 trillion in excess reserves which just happen to be fungible and give the banks the impression that they are safe) had made financial institutions much "safer and sounder."

"Will I say there will never, ever be another financial crisis? No, probably that would be going too far. But I do think we're much safer and I hope that it will not be in our lifetimes and I don't believe it will."

Some were quick to compare this statement to Neville Chamberlain infamous – and very, very wrong – 1938 prediction of "peace in our time."

Others drew comparisons to a similar bold prediction by Ben Bernanke, who in 2014 predicted during one of his $250,000/hour speeches that "rates would not normalize during my lifetime."

Yet others, who noted Janet Yellen's 70 years of age, asked her to "define our lifetime." http://www.zerohedge.com/news/2017-06-27/yellen-i-dont-believe-we-will-see-another-crisis-our-lifetime
I disagreed then and wrote the following:
We are NOT much safer. While it is possible that Janet Yellen will die before the start of the Great Tribulation, her implication is that the Federal Reserve knows enough now and has enough financial controls to prevent financial crises for at least the next sixteen years (I said sixteen years because the normal life expectancy for a 70 year old white female in the USA is 16.4 additional years per http://life-span.healthgrove.com/l/71/70). But if she meant her audience, then it may be she is asserting that she does not believe a financial crisis can happen for several decades. This is an arrogant belief.

The Bible teaches:

18 Pride goes before destruction, And a haughty spirit before a fall. (Proverbs 16:18)

It is prideful arrogance that gets humans to think that they can essentially completely control the economy. They cannot. Weather, political events, diseases, wars, morality, technology, and other factors play a role.

Plus, there is also the matter of debt accumulation by the USA and biblical prophecy. (Thiel B. Janet Yellen does not believe that there will be another financial crisis 'in our lifetimes'. COGwriter, June 28, 2017)
Anyway, Janet Yellen seems to have modified her views as the following recent report shows:
Yellen warns of another potential financial crisis: 'Gigantic holes in the system'

Former Federal Reserve Chair Janet Yellen told a New York audience she fears there could be another financial crisis because banking regulators have seen reductions in their authority to address panics and because of the current push to deregulate.

"I think things have improved, but then I think there are gigantic holes in the system," Yellen said Monday night in a discussion moderated by New York Times columnist Paul Krugman at CUNY. "The tools that are available to deal with emerging problems are not great in the United States."

Yellen cited leverage loans as an area of concern, something also mentioned by the current Fed leadership.  https://www.cnbc.com/2018/12/11/yellen-warns-of-another-potential-financial-crisis.html
It is not just leveraged loans that are a problem, US deficits and debts are a huge problem.
December 15, 2018

Washington D.C. just keeps right on spending.

The U.S. federal government ran a $204.9 billion deficit in November, according to the most recent Treasury Department report. That set a record for the month of November.

The November deficit came in $66.4 billion higher than last year's imbalance. Although $44 billion of that figure reflects December benefits that were paid out in November this year because Dec. 1 fell on Saturday, that still represents a $22 billion year-on-year increase.

And November's budget shortfall follows on the heels of a $100.5 billion deficit in October. Through the first two months of the 2019 budget year, the deficit totaled $305.4 billion. That's a 51.4% increase over the first two months of fiscal 2018.

So far in fiscal 2019, revenues are up 3.4% over last year, coming in at $458.7 billion. But Uncle Sam has spent $764 billion over that last two months, an 18.4% increase over a year ago.  …

Although the economy is supposedly in the midst of a boom, US government borrowing looks more like we're in the midst of a deep recession. https://schiffgold.com/key-gold-news/uncle-sam-runs-record-205-billion-deficit-in-november/
As far as debt and a future economic crisis, consider an end-time prophecy given to the prophet Habakkuk by God over 2600 years ago:
2 And the Lord answered me:

"Write the vision;
make it plain on tablets,
so he may run who reads it.
3 For still the vision awaits its appointed time;
it hastens to the end—it will not lie.
If it seems slow, wait for it;
it will surely come; it will not delay.

4 "Behold, his soul is puffed up; it is not upright within him,
but the righteous shall live by his faith.

5 "Moreover, wine is a traitor,
an arrogant man who is never at rest.
His greed is as wide as Sheol;
like death he has never enough.
He gathers for himself all nations
and collects as his own all peoples."

6 Shall not all these take up their taunt against him, with scoffing and riddles for him, and say,

"Woe to him who heaps up what is not his own—
for how long?—
and loads himself with pledges!"
7 Will not your debtors suddenly arise,
and those awake who will make you tremble?
Then you will be spoil for them.
8 Because you have plundered many nations,
all the remnant of the peoples shall plunder you,
for the blood of man and violence to the earth,
to cities and all who dwell in them. (Habakkuk 2:2-8; English Standard Version)
The USA is the most indebted nation in the history of humanity and those in it should try to understand this prophecy. Perhaps it should be noted that the United Kingdom seems to have the second highest amount of total debt (about 1/2 that of the USA).
The Anglo-American world order will come to an end. Accumulation of debt, and then having to pay historically 'normal' interest rates will strain the national economies of the USA and UK more than almost anyone will believe. It will be a financial crisis beyond what Janet Yellen would consider possible.
Those who think the current world order with the USA's dollar on top will last several decades are in error.
Those who will believe the Bible will take the words that God spoke to the prophet Habakkuk seriously.
But looking past Janet Yellen, is Donald Trump the answer?
Well, although he sometimes espouses sounder economic policies than some other politicians, the simple answer is no.
Here is something from my book Donald Trump and America's Apocalypse:
Like many politicians, Donald Trump does not meet the following:

21 Moreover you shall select from all the people able men, such as fear God, men of truth, hating covetousness; (Exodus 18:19)

3 The God of Israel said, The Rock of Israel spoke to me: 'He who rules over men must be just, Ruling in the fear of God. (2 Samuel 23:3)

This does not bode well for the U.S.A.

Furthermore, the Bible warns against the type of moral decline that is occurring in the U.S.A.:

12 Therefore thus says the Holy One of Israel: "Because you despise this word, And trust in oppression and perversity, And rely on them, 13 Therefore this iniquity shall be to you Like a breach ready to fall, A bulge in a high wall, Whose breaking comes suddenly, in an instant. (Isaiah 30:12-13)

But how can this happen to the USA? It will likely happen with a combination of events. Notice:

5 "Moreover the multitude of your foes Shall be like fine dust, And the multitude of the terrible ones Like chaff that passes away; Yes, it shall be in an instant, suddenly. 6 You will be punished by the Lord of hosts With thunder and earthquake and great noise, With storm and tempest And the flame of devouring fire. (Isaiah 29:5-6)

The debt situation of the U.S.A. is putting it at risk of being unable to recover should it be hit by weather problems, terrorist acts, war, riots, solar flares, severe earthquakes, civil unrest, devastation of their genetically-modified food supplies, food shortages, and/or various pestilences–an intensity of "sorrows" such as Jesus discussed in Matthew 24:4-8 leading up to the time of the Great Tribulation. Political issues, climate change, trade policies, communication's deals, and other events are pushing the U.S.A. to a position that will encourage its takeover someday. Disasters, especially if there is an ElectroMagnetic Pulse (EMP) attack or a severe solar flare storm, could be part of a so-called "perfect storm" of events that could set the USA for destruction.

Many sorrows that the U.S.A. will face, like severe weather problems, diseases and earthquakes, will happen in the future, irrespective of who is in the White House (Amos 4:7-10; Luke 21:11). Donald Trump (and some others), however, may hasten or delay the day of destruction.
Irrespective of what one thinks of Janet Yellen or Donald Trump, neither can stop weather problems, earthquakes, Yellowstone issues, or the prophecies in Matthew 24:4-8 that will lead up to the time of the Great Tribulation. Do not believe that there will not be anymore financial crises.
There will be.
And one is coming to the USA and its Anglo-Saxon descended allies that is far worse than Janet Yellen and most politicians believe is possible.
Repentance is needed. The USA and its Anglo-Saxon allies will not last to the end of this century.
Some items of possibly related interest include the following:
The End of US Dollar Dominance Is the USA losing its economic status? What about the petro-gold-yuan? A related video is also available: US Dollar being challenged by Gold-Petro-Yuan.
Financial Reset by 2022?  Euro Pacific Capital CEO says the US economy is about to crash because of debt. US National Security Adviser John Bolton declared debt as a threat to society. Forbes writer John Mauldin says that a financial reset is expected in the 2020s, as does Willem Middelkoop. Morgan Stanley believes the end of the current economic cycle may be in 2021. MIT pointed to changes in the 2020s. How debt does the USA add daily? Does any of this tie in with biblical prophecies? Does Habakkuk 2 have applicability to the USA? Is it wise to try to discount debt and not pay it back in full? In this video, Dr. Thiel addresses these issues in the light of scripture in this video.
Collapse of the Euro and Dollar? War in 2020? Larry Edelson of Money and Markets described aspects of current economic difficulties and explained why he felt matters would get a lot worse. He said war, like World War III, could break out as early as 2020. What did he call the 'granddaddy of all cycles"? Will matters go as he said? What does the Bible teach? Dr. Thiel provides biblical insights that secular sources often miss. This is a video.
End of the Anglo-American Order In mid-2017, BBC ran an article under the headline of "End of the Anglo-American order?" Is that really a question or the biblical reality? After the Brexit vote, the election of US President Donald Trump, and US rejection of the Paris accords on climate change, is the world really going to put in a different order? Some are claiming that Europe or Germany will head up this new world order–an order that sounds eerily similar to one essentially proposed and approved by the United Nation in 2015. Is the UN's "Agenda 2030" a false gospel? How will this end for the USA, UK, Australia, Canada, and New Zealand? Will there later be something better to replace it? Dr. Thiel addresses these issues and more. This is a video.
Is God Calling You? This booklet discusses topics including calling, election, and selection. If God is calling you, how will you respond? Here is a link to a related sermon: Could God be Calling You?
Christian Repentance Do you know what repentance is? Is it really necessary for salvation? A related sermon is also available titled: Real Christian Repentance.
Just What Do You Mean — Repentance? Do you know what repentance is? Have you truly repented? Repented of what? Herbert W. Armstrong wrote this as a booklet on this important subject.
When You Sin: Do You Really Repent? This is an article by Charles F. Hunting. A related sermon is Confess to God and truly repent.
Anglo – America in Prophecy & the Lost Tribes of Israel Are the Americans, Canadians, English, Scottish, Welsh, Australians, Anglo-Saxon (non-Dutch) Southern Africans, and New Zealanders descendants of Joseph? Where are the lost ten-tribes of Israel? Who are the lost tribes of Israel? What will happen to Jerusalem and the Jews in Israel? Will God punish the U.S.A., Canada, United Kingdom, and other Anglo-Saxon nations? Why might God allow them to be punished first? Here is a link to the Spanish version of this article: Anglo-América & las Tribus Perdidas de Israel. Information is also in the YouTube sermons titled Where are the Ten Lost Tribes? Why does it matter? and British are the Covenant People. A short YouTube of prophetic interest may be: Are Chinese threats against Australia for real?
Will the Anglo-Saxon Nations be Divided and Have People Taken as Slaves? Will the lands of the United States, United Kingdom, Canada, Australia, and New Zealand be divided? What about Jerusalem? What does Bible prophecy teach? Are there non-biblical prophecies that support this idea? Who will divide those lands? Who will end up with the lands and the people? Here is a link to a video titled Will the USA and other Anglo-nations be Divided and Their People Made Slaves? Here is a related item in the Spanish language ¿Serán divididas las naciones anglosajonas?
British are the Covenant People What do 'British' and 'Britain' mean in Hebrew? Are the descendants of the Anglo-Saxons people of the covenant? Does the British royal family connect to the throne of David? What does the Bible teach? What does history show us? Is there any DNA evidence related to British-Israelism? When did Christianity make it to the British Isles? Could Jeremiah have made it to the British Isles? What type of Christians made it to the British Isles? Did the last King of England believe in British Israelism?
USA in Prophecy: The Strongest Fortresses Can you point to scriptures, like Daniel 11:39, that point to the USA in the 21st century? This article does. A related sermon is titled: Do these 7 prophesies point to the end of the USA?
When Will the Great Tribulation Begin? 2019, 2020, or 2021? Can the Great Tribulation begin today? What happens before the Great Tribulation in the "beginning of sorrows"? What happens in the Great Tribulation and the Day of the Lord? Is this the time of the Gentiles? When is the earliest that the Great Tribulation can begin? What is the Day of the Lord? Who are the 144,000? Here is a version of the article in the Spanish language: ¿Puede comenzar la Gran Tribulación en 2018 o 2019? ¿Es el Tiempo de los Gentiles? You can also see the English language sermon videos: The Great Tribulation from the Mount of Olives and Can the Great Tribulation begin before 2020? A shorter and newer video is: Might the Great Tribulation start in 2019?
The Times of the Gentiles Has there been more than one time of the Gentiles? Are we in it now or in the time of Anglo-America? What will the final time of the Gentiles be like? A related sermon is available and is titled: The Times of the Gentiles.
Physical Preparation Scriptures for Christians. We all know the Bible prophecies famines. Should we do something? Here is a version in the Spanish language Escrituras sobre Preparación física para los Cristianos. Here is a link to a related sermon: Physical preparedness for Christians.
The Plain Truth About Gold in Prophecy. How Should a Christian View Gold? What do economists and the Bible teach about gold? Gold and silver may drop in value. Inflation/deflation? What do Christians need to know about gold? A video of related interest may be: Germany, Gold, and the US Dollar.
Who is the King of the North? Is there one? Do biblical and Roman Catholic prophecies for the Great Monarch point to the same leader? Should he be followed? Who will be the King of the North discussed in Daniel 11? Is a nuclear attack prophesied to happen to the English-speaking peoples of the United States, Great Britain, Canada, Australia, and New Zealand? When do the 1335 days, 1290 days, and 1260 days (the time, times, and half a time) of Daniel 12 begin? When does the Bible show that economic collapse will affect the United States? Here is a link to a video titled: The Future King of the North.
The Gospel of the Kingdom of God This free online pdf booklet has answers many questions people have about the Gospel of the Kingdom of God and explains why it is the solution to the issues the world is facing. Here are links to three related sermons: The World's False Gospel, The Gospel of the Kingdom: From the New and Old Testaments, and The Kingdom of God is the Solution.
Donald Trump in Prophecy Prophecy, Donald Trump? Are there prophecies that Donald Trump may fulfill?  Are there any prophecies that he has already helped fulfill?  Is a Donald Trump presidency proving to be apocalyptic?  Two related videos are available: Donald: 'Trump of God' or Apocalyptic? and Donald Trump's Prophetic Presidency.
Trump Presidency Magic 8 Ball or Bible Prophecy? BBC reported that one might as well use a 'Magic Eight-Ball' to try to predict what will happen in the remaining time of Donald Trump's presidency. What is a 'Magic Eight-Ball'? Dr. Thiel not only explains that, but also briefly goes over 10 biblically-based warnings he wrote would happen if Donald Trump were elected that have already began to come to pass. He also goes over something he wrote back in 2008 that the Trump presidency is also helping lead to fulfillment. Should you trust Bible prophecy or not? Dr. Thiel says that Bible prophecy can be trusted, despite the view of skeptics and others that either overlook or despise the Bible. This is a video.
Donald Trump and America's Apocalypse This 188 page book is for people truly interested in prophecies related to Donald Trump and the United States, including learning about several that have already been fulfilled and those that will be fulfilled in the future. The physical book can be purchased at Amazon for $12.99 from the following link: Donald Trump and America's Apocalypse.
Donald Trump and America's Apocalypse-Kindle Edition This electronic version of the 188 page print edition is available for only US$3.99. And you do not need an actual Kindle device to read it. Why? Amazon will allow you to download it to almost any device: Please click HERE to download one of Amazon s Free Reader Apps. After you go to for your free Kindle reader and then go to Donald Trump and America's Apocalypse-Kindle Edition.
Who is the King of the West? Why is there no End-Time King of the West in Bible Prophecy? Is the United States the King of the West?