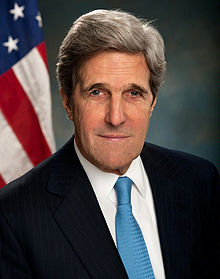 John Kerry, Official Portrait

The US Secretary of State was in Kiev yesterday and is to meet with Russia's Foreign Minister Sergei Lavrov today:
March 5, 2014
Russian Foreign Minister Sergei Lavrov is meeting U.S. Secretary of State John Kerry later in the day in Paris, where they and other foreign ministers are attending a conference on Lebanon.

Speaking in Madrid where he met earlier with his Spanish counterpart, Lavrov said the West set a "bad example" by supporting Ukrainian protesters that Russia has accused of an "unconstitutional" coup.

However, Lavrov said Wednesday that Russia cannot order pro-Russian armed forces in Crimea, which he described as "self-defense" forces, back to bases, because they are not Russian forces. He said Russia's Black Sea fleet personnel are in their normal positions.

He also said allowing international monitors into Crimea is not Russia's decision, but the decision of Ukrainian and Crimean authorities.

Claims by Moscow that the forces in Crimea are local "self-defense" forces have been challenged both by the U.S. and in Ukraine. Kerry has condemned events in Crimea as an "act of aggression" on the part of Russia. In her remarks to the U.N. Security Council on Monday U.S. Ambassador to the U.N. Samantha Power clearly spoke of Russian forces engaging beyond the limits of their base in Sevastopol. And, Ukrainian media has circulated images of hardware and weapons used by uniformed men outside the base which it says are only issued only to regular Russian service personnel.

The uniforms worn and vehicles driven by what Russia calls local defense forces in Crimea bear no visible insignia…
U.S. Secretary of State John Kerry says the United States would prefer to de-escalate tensions with Russia over Ukraine.

During a visit to Kyiv Tuesday, Kerry met Ukraine's interim leaders and announced a $1 billion economic package and technical assistance for the new government.

He also condemned the presence of Russian troops in Crimea as an "act of aggression."

Meeting with reporters while in Kyiv, Kerry said diplomacy and respect for sovereignty, not unilateral force, can best resolve the dispute over Ukraine.

"We are not seeking confrontation," he said. "There is a better way for Russia to pursue its legitimate interests in Ukraine."

Kerry said if Russia does not choose to de-escalate the situation through diplomatic means, the U.S. and its partners will have no choice but to isolate Russia politically and economically.   http://www.voanews.com/content/russia-china-agree-on-ukraine-g7-condemns-russian-violation/1862761.html
I should add that there is little doubt that most of those without insignia in Crimea would listen to Russian orders.  But it is also interesting how quickly the USA has been backing protesters over elected presidents within the past year.
The following is also of interest:
March 5, 2014

Russian President Vladimir Putin said on Wednesday he did not want political tension to detract from economic cooperation with Russia's "traditional partners", signalling he hopes to avoid spillover from a bitter dispute with the West over Ukraine, Reuters reported.

"We are seeing known political tension, it should not affect our current economic cooperation," Putin told cabinet members. "It's not necessary to add to the difficult situation, we need to cooperate with all our traditional partners – while providing for our own interests, of course," he said. "It is not necessary to whip things up and place political considerations on top of issues of economic cooperation."  http://www.voanews.com/content/russia-china-agree-on-ukraine-g7-condemns-russian-violation/1862761.html

March 5, 2014

The European Union is proposing to provide Ukraine a $15 billion aid package in loans and grants over the coming years, the head of the bloc's executive arm said Wednesday, as it prepared to freeze the financial assets of 18 people held responsible of misusing state funds…

The United States announced a $1 billion aid package in energy subsidies Tuesday. Kiev estimates it needs $35 billion in international rescue loans over the next two years. The International Monetary Fund is expected to play a key role in providing those bailout loans…

Coincidentally, the headline figure of $15 billion for the EU's assistance package is the same amount that Russia was prepared to grant Ukraine in loans until the government of President Viktor Yanukovich was ousted last month.  http://www.foxnews.com/world/2014/03/05/eu-to-provide-ukraine-15-billion-aid-package-in-loans-and-grants/
I would add here that I do not believe that the $15 billion figure from the European Union is a coincidence.  It was most likely believed to be the minimum amount to try to show the Ukrainians that the European Union has at least as much financial interest in Ukraine as Russia does.  This $15 billion aid package could stress the European Union's budget.  At some time, the European Union may itself need a bailout from the Vatican (cf. Revelation 17).  I believe this is something that Pope Francis might even suggest in the future.  If not him, someone else there.
Both the European Union and Vladimir Putin's Eurasian Union want Ukraine.  Russia has the military might to get it, but it seems that most of the people in Ukraine prefer the European Union.  Russia's incursion into Crimea has unsettled a lot of Ukrainians, including many of those who have had leanings towards Russia. So, Russia is trying to figure out what it will do.
At this instant, Russia may be satisfied if the area of Crimea can vote to become independent of Ukraine.  We will see.  Since some of the biblical Medes live in part of Ukraine, at least part of that land will ultimately align with Russia and destroy the final European Babylonian empire that will rise up (Jeremiah 51:11-33), even if all or part will support the European Union for a time.
The Bible shows that the Babylonian power, referred to as the horn that opposes the daily sacrifice below, will extend to the south and to the east, and as Ukraine is south and east of where the initial Benelux confederation took place (and is still south and east of Brussels), we may see some Ukrainian involvement in the European Union:
9 And out of one of them came a little horn which grew exceedingly great toward the south, toward the east, and toward the Glorious Land.  10 And it grew up to the host of heaven; and it cast down some of the host and some of the stars to the ground, and trampled them. 11 He even exalted himself as high as the Prince of the host; and by him the daily sacrifices were taken away, and the place of His sanctuary was cast down. 12 Because of transgression, an army was given over to the horn to oppose the daily sacrifices; and he cast truth down to the ground. He did all this and prospered.  (Daniel 8:9-12)
The daily sacrifice is stopped, according to Daniel 9:27 and 11:31 by the final King of the North, which is the final European Beast power.  Ukraine may well get tangled up with this.  Watch (cf. Mark 13:37).
Some items of related interest may include the following:
Russia and Ukraine: Origins and Prophesied Future Where do the Russians come from? What about those in the Ukraine? What is prophesied for Russia and its allies? What will they do to the Europeans that supported the Beast in the end?  You can also watch the new video Ukraine in Prophecy?
The Eurasian Union, the Kings of the East, and Bible Prophecy Is there a Eurasian union that will be formed? Is one being formed right now? Are any leaders working on that in the 21st century? Does the Bible teach that there will be a Eurasian union? If some type of Eurasian union is formed, who might it benefit and who will it destroy? A related video would be Is The Eurasian Union Rising?
Is Russia the King of the North? Some claim it is. But what does the Bible teach? Here is a link to a video, also titled Is Russia the King of the North?
Some Similarities and Differences Between the Eastern Orthodox Church and the Continuing Church of God Both groups claim to be the original church, but both groups have differing ways to claim it. Both groups have some amazing similarities and some major differences. Do you know what they are?
Europa, the Beast, and Revelation Where did Europe get its name? What might Europe have to do with the Book of Revelation? What about "the Beast"? Is an emerging European power "the daughter of Babylon"? What is ahead for Europe? Here is a link to a video titled: Can You Prove that the Beast to Come is European?
Who is the King of the North? Is there one? Do biblical and Roman Catholic prophecies for the Great Monarch point to the same leader? Should he be followed? Who will be the King of the North discussed in Daniel 11? Is a nuclear attack prophesied to happen to the English-speaking peoples of the United States, Great Britain, Canada, Australia, and New Zealand? When do the 1335 days, 1290 days, and 1260 days (the time, times, and half a time) of Daniel 12 begin? When does the Bible show that economic collapse will affect the United States? In the Spanish language check out ¿Quién es el Rey del Norte? Here is a link to a video titled: The Future King of the North.
WTO/TTIP and the Babylonian Beast Will international trade agreements like WTO/TTIP/CETA lead to the fulfillment of end time prophecies concerning the Babylonian Beast power that the Book of Revelation warns against? What does the Bible teach? A related video would be WTO Trade Deal and the Rise of the European Beast Power.
Barack Obama, Prophecy, and the Destruction of the United States-Second Edition for Second Obama Term This is a 160 page book for people truly interested in prophecies related to Barack Obama and the United States, including learning about many that have already been fulfilled (which the book documents in detail) and those that will be fulfilled in the future. It also has a chapter about a Republican choice. This book is available to order at www.barackobamaprophecy.com. The physical book can also be purchased at Amazon from the following link: Barack Obama, Prophecy, and the Destruction of the United States: Is Barack Obama Fulfilling Biblical, Islamic Catholic, Kenyan, and other America-Related Prophecies? What About Republican Leaders? Second Edition for Second Obama Term.
Barack Obama, Prophecy, and the Destruction of the United States-Second Term-Amazon Kindle edition. This electronic version is available for only US$2.99. And you do not need an actual Kindle device to read it. Why? Amazon will allow you to download it to almost any device: Please click HERE to download one of Amazon s Free Reader Apps. After you go to for your free Kindle reader and then go to Barack Obama, Prophecy, and the Destruction of the United States-Second Term-Amazon Kindle edition.