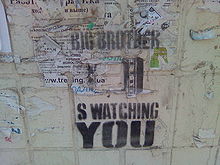 Ukrainian poster (Борис У.)
Voice of America (VOA), a U.S. government news agency, reported the following:
WASHINGTON—A growing number of nations are increasingly censoring parts of the Internet and passing laws to allow for greater surveillance of what people do and say online, according to a new report issued by Freedom House.The report released Thursday and titled "Freedom of the Net 2014," is an annual survey of 65 governments and their policies regarding the filtering or censoring of online content. It also looks at the types of electronic surveillance they conduct and how they may punish citizens whose online activities they disapprove of.

"The most dramatic declines were in Russia, Turkey and Ukraine," said Laura Reed, a Freedom House research analyst and co-author of the report. "And similar to past reports, the countries that really rated the worst overall again are Iran, Syria and China."

Of the 65 nations surveyed, 36 were rated lower on measures of Internet freedom than in the previous year, while only 12 saw their measures of freedom tick upward.

Among those nations seen to be doing better were Myanmar, Tunisia, Cuba, and India. Iran also was rated marginally more free because of a slight easing of censored content, despite the author's conclusions that Iran remains one of the worst offenders globally of violating users' free expression and privacy.

Nations deemed to be less free than previously include chronic rights offenders such as Saudi Arabia, Zimbabwe and Vietnam, as well as the United States, where the report authors charted minor increases in "limits of content" and "violation of user rights." …

Asia and the Middle East were generally rated in the study as significantly less free than the Americas and Europe, with Africa presenting a mixed bag of both offenders, such as Ethiopia and Sudan, as well as nations with relatively free online expression, such as Kenya and South Africa.

Among the new and more worrisome trends in this year's report is a notable increase in the number of arrests of people for their online activities, particularly in the Middle East and North Africa, where arrests increased in 10 of 11 countries studied.
The government of the United States simply does not believe that anyone has privacy rights on the Internet.
For Europe, Karl-Theodor zu Guttenberg has been a consultant on these matters.  He is one that I have been watching for a number of years as one who could become the final Beast leader of Revelation 13:1-10, the final King of the North of Daniel 11, or a least a supporter of that leader.  He also has been involved in the promotion of some type of digital currency which could be easily monitored (watch the video (Six Financial Steps Leading to 666?).
The upcoming Beast power will soon have what it needs to fulfill various prophecies such as the following:
15 He was granted power to give breath to the image of the beast, that the image of the beast should both speak and cause as many as would not worship the image of the beast to be killed. 16 He causes all, both small and great, rich and poor, free and slave, to receive a mark on their right hand or on their foreheads, 17 and that no one may buy or sell except one who has the mark or the name of the beast, or the number of his name.

18 Here is wisdom. Let him who has understanding calculate the number of the beast, for it is the number of a man: His number is 666. (Revelation 13:15-18, NKJV)

23 'And in the latter end of their kingdom, about the perfecting of the transgressors, stand up doth a king, fierce of face, and understanding hidden things; (Daniel 8:23, Young's Literal Translation)
It would seem to take computers and other technology to aid in the fulfillment of the above scriptures, as well as various forms cyber-spying/monitoring. And that is something that the U.S.A. has been engaged in and that technology is being shared now with the Europeans.
Anyway, as more and more governments get involved with Internet monitoring, it will become more and more accepted throughout the world, so when the Beast power does more of it, it will likely point to the precedents of the U.S.A. and other nations as proof that this is something that reasonably needs to be done.
Each year, more and more governments want more control over the Internet and what their citizens do on it.  At some point in time, a famine of the word of God will happen (Amos 8:11), and governmental Internet controls/interference will almost certainly have to be used to do that.
Some items of possibly related interest may include: