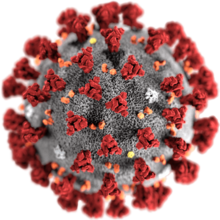 Coronavirus (CDC)

There are more people reported to be infected with the coronavirus:
February 13, 2020

The World Health Organization (WHO) says it's too early to make any predictions on when the novel coronavirus will be contained.

"We don't know exactly where this outbreak will go. It can go either way," WHO spokesperson Tarik Jasarevic told CNN's John Berman on New Day Thursday.

"One of the reasons why it's difficult to predict is we still don't know much about the virus."

China reported 15,000 new cases of coronavirus Thursday, and Jasarevic explained the dramatic spike is a result of how cases are being tallied.

"Now not only people who are confirmed by laboratory testing are being reported but also people who presented clinical symptoms and have been diagnosed clinically without going through testing," said Jasarevic. https://www.cnn.com/asia/live-news/coronavirus-outbreak-02-13-20-intl-hnk/index.html
A couple of days ago, the WHO renamed the Wuhan novel 2019 coronavirus as COVID-19–meaning Coronavirus Disease 2019 (one source defined it as meaning Coronavirus Discovered in 2019).
Some suspect it may have been intentionally created, but accidentally released:
A little more than one week ago, the mainstream press branded the notion that nCoV might have originated as a bioweapon developed in a secretive Wuhan lab as a deranged conspiracy theory, with zero conclusive evidence to support it (despite the mountain of coincidences have been reported by Zero Hedge and others).

And they also might be interested to hear that over the last two days, two mainstream financial media organizations and a prominent Republican Senator have all raised questions about the virus's provenance, suggesting that the bioweapons theory isn't so far-fetched after all.

Is it merely a coincidence that the Canadian scientist at the center of a bio-espionage probe was recently found dead in Africa, as we reported last week? Or that a doctor who helped draft a critical international bioweapons convention has said that the virus might be tied to "biological warfare?"

Or an Israeli bioweapons expert?

Apparently, Arkansas Sen. Tom Cotton believes Beijing needs to address these questions, particularly after China's ambassador to the US Cui Tiankai accused him of "xenophobia" against Chinese people by even suggesting that the virus could have been engineered as a bioweapon.

"I think it's true that a lot is still unknown and our scientists, Chinese scientists, American scientists, scientists of other countries, are doing their best to learn more about the virus, but it's very harmful, it's very dangerous, to stir up suspicion, rumors and spread them among the people," he said.

"For one thing, this will create panic," Cui said, adding that it could also foment xenophobia and racist discrimination.

"There are all kinds of speculation and rumors," he added, noting that there were also conspiracy theories about the virus originating in the United States. "How can we believe all these crazy things?"

On another note, when asked about Chen Qiushi, a citizen journalist who disappeared after covering the outbreak in Wuhan, Cui responded "I have never heard of this guy, so I don't have any information to share with you." 02/11/20 https://www.zerohedge.com/geopolitical/tom-cotton-demands-beijing-prove-ncov-isnt-bioweapon-another-conspiracy-theory-goes
Let me again state that I do NOT believe that the Chinese government intentionally released this virus. But the fact that there is a biological pathogen research laboratory in Wuhan does allow for the possibility that some type of accidental release is possible.
Notice also the following:
An Executive Order Has Initiated 'Department Of Defense Global Campaign Plan For Pandemic Influenza And Infectious Diseases 3551-13'

It appears that the U.S. military is taking this coronavirus outbreak extremely seriously. An executive order has been issued which has initiated the implementation of "the Department of Defense Global Campaign plan for Pandemic Influenza and Infectious Diseases 3551-13". We don't know all of the details of the plan, but we do know that it instructs U.S. military officials "to prepare for widespread outbreaks". Many in the mainstream media continue to try to convince us that this virus is not much more dangerous than the common flu, but if that is true then why is our military taking such a dramatic step? http://endoftheamericandream.com/archives/an-executive-order-has-initiated-department-of-defense-global-campaign-plan-for-pandemic-influenza-and-infectious-diseases-3551-13

February 13, 2020

U.S. Northern Command is executing plans to prepare for a potential pandemic of the novel coronavirus, now called COVID19, according to Navy and Marine Corps service-wide messages issued this week.

An executive order issued by the Joint Staff and approved by Defense Secretary Mark Esper this month directed Northern Command and geographic combatant commanders to initiate pandemic plans, which include ordering commanders to prepare for widespread outbreaks and confining service members with a history of travel to China.

The Navy and Marine Corps messages, issued Tuesday and Wednesday, respectively, reference an executive order directing U.S. Northern Command to implement the Department of Defense Global Campaign plan for Pandemic Influenza and Infectious Diseases 3551-13. https://www.militarytimes.com/news/your-military/2020/02/13/us-military-prepping-for-coronavirus-pandemic/
We will see if COVID-19 continues to spread or if it will essentially just run a short course.
As regular long-time readers of this COGwriter Church of God News page are aware, I specifically warned about risks associated with the coronavirus in 2013 (see Coronavirus: A new risk for humans? and Saudi Arabia warning visitors to Mecca about coronavirus risk) and 2014 (see Saudi Arabia, MERS, and Missiles and Infection-gate: A dangerous scandal hitting the USA?). Additionally, I have also warned also about human engineered pathogens without mentioning the coronavirus in 2018 (see DARPA to weaponize insects to spread viruses across the population… sinister plans exposed by team of scientists) and 2019 (see DARPA: 'Militarized Microbes' To Spread GMO Bacteria). Humans messing around with viruses, like what was being officially done in Wuhan, poses risks. And I have warned about those risks, including research involving the coronavirus for years.
Pretty much every day, I pray and ask God to assist me choosing topics to write about. And a few times in the past, that has specifically included the coronavirus.
We also recently put together a video for our Bible News Prophecy program that has to do with the coronavirus and other pathogens:
Is biological warfare possible? Was it prophesied? Scientists have long warned that pathogenic organisms like the coronavirus could be weaponized. Furthermore, back in 2017, there were concerns that the biological research facility being constructed in Wuhan, China was risky and that a coronavirus from it could be released. On January 25, 2020, China's President Xi Jinping publicly stated that the situation with the Wuhan-related strain of the coronavirus was grave. Did Church of God writers like the late evangelist Raymond McNair warn that engineered viruses (the "Doomsday bug") were consistent with prophecies from Jesus? Did a warning from CCOG leader Bob Thiel warn about risks of genetically-modified (GMO) mosquitoes come to pass? Could human research and/or the consumption of biblically-unclean animals such as bats and snakes be a factor in current outbreaks or coming future pestilences? What about famines? How devastating have pestilences been? How devastating are the prophesied ones going to be? Dr. Thiel addresses these issues and more.
Here is a link to our video: Biological Warfare and Prophecy.
I did a podcast on Monday with a holistic doctor in Washington related to the coronavirus and may be filmed today as part of a segment for a future secular television program covering physical preparations and options related to the coronavirus.
There are issues, beyond the coronavirus to prepare for. But hopefully, understanding that situations can quickly change will help motivate YOU to make the right spiritual preparations today.
Some items of related interest may include:
Fourth Horseman of the Apocalypse What is the pale horse of death and pestilences? What will it bring and when? Some related videos may include Amphibian Apocalypse: Threat to Humans?, Zombie Deer Disease is Here! Are the 10 Plagues on Egypt Coming?, and Biological Warfare and Prophecy. Here is a version of the article in Spanish: El cuarto jinete de Apocalipsis, el caballo pálido de muerte y pestilencia.
China, Its Biblical Past and Future, Part 1: Genesis and Chinese Characters Where did the Chinese people come from? Japeth, Javan, Magog? Is there evidence that the Chinese peoples must have known about various accounts in the Book of Genesis up until their dispersion after the Tower of Babel? What do Chinese writings and characters help show? What about the Garden of Eden, Noah's Flood, and the Tower of Babel? Here is a link to a version of this article in Spanish: ¿Prueban los caracteres chinos la exactitud de la Biblia? A related sermon is also available: China's biblical past and prophetic actions.
China, Its Biblical Past and Future, Part 2: The Sabbath and Some of God's Witness in China When did Christianity first come to China? What about the Apostle Thomas? Did Confucius say anything to get the Chinese to possibly consider Christianity? Is there early evidence that they observed the seventh day sabbath? What about the Ten Commandments? What type of Church of God witness has there been to China? What has been happening with China that ties it together with prophecies in Revelation? What about the 200 million man army and Armageddon? What about the Belt and Road Initiative and end time Babylon the Great? A related sermon is also available: China's biblical past and prophetic actions. Watch also China's Silk Road and Babylon the Great.
Asia in Prophecy What is Ahead for Asia? Who are the "Kings of the East"? What will happen to nearly all the Chinese, Russians, Indians, and others of Asia? China in prophecy, where? Who has the 200,000,000 man army related to Armageddon? Two YouTube video are Is China THE Threat to the United States of America? and China: A King of the East.
Physical Preparation Scriptures for Christians. We all know the Bible prophecies famines. Should we do something? Here is a version in the Spanish language Escrituras sobre Preparación física para los Cristianos. Here is a link to a related sermon: Physical preparedness for Christians.
The Plain Truth About Gold in Prophecy. How Should a Christian View Gold? What do economists and the Bible teach about gold? Gold and silver may drop in value. Inflation/deflation? What do Christians need to know about gold? A video of related interest may be: Germany, Gold, and the US Dollar.
There is a Place of Safety for the Philadelphians. Why it May Be Near Petra This article discusses a biblical 'place of safety' and includes quotes from the Bible and Herbert W. Armstrong on this subject–thus, there is a biblically supported alternative to the rapture theory. There is also a video on the subject: Might Petra be the Place of Safety? Here is something related in the Spanish language: Hay un lugar de seguridad para los Filadelfinos. ¿Puede ser Petra?
This is PETRA! This is a 1962 Good News article by the late Dr. Hoeh.
When Will the Great Tribulation Begin? 2020, 2021, or 2022? Can the Great Tribulation begin today? What happens before the Great Tribulation in the "beginning of sorrows"? What happens in the Great Tribulation and the Day of the Lord? Is this the time of the Gentiles? When is the earliest that the Great Tribulation can begin? What is the Day of the Lord? Who are the 144,000? Here is a version of the article in the Spanish language: ¿Puede la Gran Tribulación comenzar en el 2020 o 2021? ¿Es el Tiempo de los Gentiles? You can also see the English language sermon videos: The Great Tribulation from the Mount of Olives and Can the Great Tribulation begin before 2020? A shorter and newer video is: Could the Great Tribulation Begin in 2020?
The Times of the Gentiles Has there been more than one time of the Gentiles? Are we in it now or in the time of Anglo-America? What will the final time of the Gentiles be like? A related sermon is available and is titled: The Times of the Gentiles.
Armageddon Who is involved and when will this gathering happen? Here is also a video from Dr. Thiel, from Tel Megiddo in Israel: Armageddon. Other videos include: Armageddon Will it come on Trump's watch?, Iraq, Armageddon, & Prophecy, Freemasonry, Armageddon, and Rome, Is China paving roads to Armageddon?, and Jordan, Petra, and Armageddon.
The Gospel of the Kingdom of God This free online pdf booklet has answers many questions people have about the Gospel of the Kingdom of God and explains why it is the solution to the issues the world is facing. Here are links to three related sermons: The World's False Gospel, The Gospel of the Kingdom: From the New and Old Testaments, and The Kingdom of God is the Solution.
6. The Philadelphia Church Era was predominant circa 1933 A.D. to 1986 A.D. The old Radio Church of God and old Worldwide Church of God, now the remnant of that era is basically the most faithful in the Church of God, like who hold to the beliefs and practices of the Continuing Church of God.
7. The Laodicean Church Era has been predominant circa 1986 A.D. to present. The Laodiceans are non-Philadelphians who mainly descended from the old WCG or its offshoots. They do not properly understand the work or biblical prophecies and will face the Great Tribul