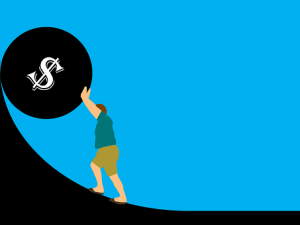 Republican Donald Trump made another debt deal with the Democrats:
July 23, 2019
While the media has, in general, applauded this, this will ultimately lead to a massive disaster.
Related to the deal, Michael Snyder posted the following:
It's Over: The Democrats And The Republicans Are Both Conspiring To Bankrupt America And Destroy Our Future

Both major political parties are working together to destroy America's financial future, and most Americans don't seem to care.  Once upon a time, the Republicans were considered to be "the party of fiscal responsibility", but now they are just as bad as the "free spending" Democrats. … a "compromise" budget deal was just reached which will dramatically increase federal spending and will suspend the federal debt limit until after the next election.  In other words, both sides are conspiring to make our debt problem much, much worse over the next year and a half, and this should be causing howls of outrage all across America. …

When Barack Obama was inaugurated on January 20th, 2009, the U.S. national debt was sitting at a grand total of $10,626,877,048,913.08.

Of course we proceeded to go on the greatest debt binge in the history of our nation, and when Obama's two terms ended the U.S. national debt had risen to $19,947,304,555,212.49.

Then Donald Trump took office, and we have continued to rack up debt at a staggering pace.  In fact, at this moment the U.S. national debt is $22,023,119,533,123.43. …

This debt is an existential threat to our republic, and even without all of our other very serious problems it would be enough to bring us down all by itself. …

It is the largest debt that any government has ever accumulated in the history of the world, …

In the end, the only thing that can be done is to keep increasing the size of the bubble until it inevitably bursts and the entire global economic system goes down in flames.

The borrower is the servant of the lender, and debt is being used to literally enslave the entire planet. 07/22/19 http://endoftheamericandream.com//archives/its-over-the-democrats-and-the-republicans-are-both-conspiring-to-bankrupt-america-and-destroy-our-future
Yes, the debt is an existential threat to the USA. Even US National Security Advisor John Bolton acknowledged that last year (see John Bolton says national debt a "threat to the society"), but the situation continues to worsen.
And yes, the time will come when, partially because of the debt, the USA will be taken over (cf. Habakkuk 2:6-8).
US government officials will not be able to stop it.
Notice also the following:
Americans Say Distrust in Government, Other People Frustrating Efforts to Solve Biggest Problems

July 23, 2019

Most Americans think that tanking levels of distrust in the government and in other people are hindering efforts to solve pervasive, persistent issues, ranging from immigration and racism to healthcare, taxes and voting rights. Pew Research Center released results for the poll on Monday. It was conducted from November to December 2018 and included over 10,000 adults.

"Many people no longer think the federal government can actually be a force for good or change in their lives," Pew quoted one survey participant as saying. "This kind of apathy and disengagement will lead to an even worse and less representative government."

Nearly 70% of Americans say the federal government purposely withholds information that it could safely release, and a further 64% say that when elected officials speak, it's hard to tell what's true and what isn't.

Public confidence in government, which dipped in the 60s and 70s, made a recovery in the 80s and early 2000s, according to an April Pew poll. Now, at 17%, the American populace's trust in government is near historic lows.

And a large majority of people think this distrust is justified, with 75% answering that the government shouldn't have more public confidence than it does.

Republicans and Republican-leaning respondents were more likely to pin the blame for distrust on corruption and poor government performance, while their Democrat and Democrat-leaning counterparts were more likely to point at U.S. President Donald Trump's performance.

Confidence in other people has dropped too, but most prominently when politics come into the mix. https://www.voanews.com/usa/americans-say-distrust-government-other-people-frustrating-efforts-solve-biggest-problems
The government debt will not be repaid.
21 The wicked borrows and does not repay, But the righteous shows mercy and gives. (Psalms 37:21)
Shortly after becoming US President, Barack Obama said that the levels of deficit spending that the USA was engaging in was "unsustainable." Something that is unsustainable cannot continue indefinitely. The rise of USA debt is unsustainable, and this seems to also be the case for the Canadians.
The rise of US debt was listed by me as number 11 of 19 items to prophetically watch in 2019 (here is a link to a related sermon: 19 items to watch in 2019).
Rising debt is one factor pushing countries to look to bypass the US dollar.
JPMorgan Chase put out following earlier this month:
The U.S. dollar could lose its status as the world's dominant currency. How does this affect investors?

July 10, 2019

The U.S. dollar (USD) has been the world's dominant reserve currency for almost a century. As such, many investors today, even outside the United States, have built and become comfortable with sizable USD overweights in their portfolios. However, we believe the dollar could lose its status as the world's dominant currency (which could see it depreciate over the medium term) due to structural reasons as well as cyclical impediments.  …

There is nothing to suggest that the dollar dominance should remain in perpetuity. … the USD will likely lose value compared to a basket of other currencies, including precious commodities like gold. …

Dollar's declining role already under way?

Recent data on currency reserve holdings among global central banks suggests this shift may already be under way.  As a share of overall central bank reserves, the USD's role has been declining ever since the Great Recession …

Trade Wars have long-term consequences

The current U.S. administration has called into question agreements with nearly all of its largest partners—tariffs on China, Mexico and the European Union, renegotiating NAFTA, as well as abandoning the Trans Pacific Partnership. A more adversarial U.S. administration could also encourage countries to reduce their reliance on USD in trade. Currently 85% of all currency transactions involve the USD despite the U.S. accounting for only roughly 25% of global GDP.

Countries around the world are already developing payment mechanisms that would avoid using the dollar. These systems are small and still developing but this is likely to be a structural story that will extend beyond one particular administration. In a recent speech on the international role of the euro, Bank for International Settlements Chief Economist Claudio Borio brought up the benefits of pricing oil in the euro saying, "Trading and settling oil in the euro would move payments from dollars to euros and thereby shift ultimate settlement to the euro's TARGET2 system. This could limit the reach of U.S. foreign policy insofar as it leverages dollar payments."

The European Central Bank also alluded to this theme in a recent report saying that "growing concerns about the impact of international trade tensions and challenges to multilateralism, including the imposition of unilateral sanctions seem to have lent support to the euro's global standing." …

Given the persistent—and rising—deficits in the United States (in both fiscal and trade), we believe the U.S. dollar could become vulnerable to a loss of value relative to a more diversified basket of currencies, including gold. https://privatebank.jpmorgan.com/gl/en/insights/investing/is-the-dollar-s-exorbitant-privilege-coming-to-an-end. https://privatebank.jpmorgan.com/gl/en/insights/investing/is-the-dollar-s-exorbitant-privilege-coming-to-an-end
Well, the US dollar will one day lose its reserve currency status. And yes, sanctions, trade policies, and US debt will be contributing factors. Plus the fact that many nations are currently accumulating gold as part of an effort to push the US dollar aside for international trade.
More US debt will continue this trend away from the dollar. Continually increasing debt is not good–biblically it is considered as a curse.
Notice:
15 "But it shall come to pass, if you do not obey the voice of the Lord your God, to observe carefully all His commandments and His statutes which I command you today, that all these curses will come upon you and overtake you: (Deuteronomy 28:15)

43 "The alien who is among you shall rise higher and higher above you, and you shall come down lower and lower. 44 He shall lend to you, but you shall not lend to him; he shall be the head, and you shall be the tail.

45 "Moreover all these curses shall come upon you and pursue and overtake you, until you are destroyed, because you did not obey the voice of the Lord your God, to keep His commandments and His statutes which He commanded you. 46 And they shall be upon you for a sign and a wonder, and on your descendants forever.

47 "Because you did not serve the Lord your God with joy and gladness of heart, for the abundance of everything, 48 therefore you shall serve your enemies, whom the Lord will send against you, in hunger, in thirst, in nakedness, and in need of everything; and He will put a yoke of iron on your neck until He has destroyed you. 49 The Lord will bring a nation against you from afar, from the end of the earth, as swift as the eagle flies, a nation whose language you will not understand, 50 a nation of fierce countenance, which does not respect the elderly nor show favor to the young. 51 And they shall eat the increase of your livestock and the produce of your land, until you are destroyed; they shall not leave you grain or new wine or oil, or the increase of your cattle or the offspring of your flocks, until they have destroyed you. (Deuteronomy 28:43-51)
The end result of the coming massive financial crisis will be the END OF THE USA!
On average, the government of the USA is increasing its debt by about $3,000,000,000 per day and some think a 'reset' will have to be implemented:
Another Day Older and Deeper in Debt

October 24, 2018

Official US national debt exceeds $21 trillion. National debt increases over $3 billion per day.

Another day older and $3 billion deeper in debt!

The U.S. government pays the interest by issuing new debt. But that new debt increases total debt and (eventually) drives up interest rates, which requires more borrowing to pay the annual interest payments. Another year older and deeper in debt! A reset will occur when the debt load becomes too heavy. …

Our economy runs on low interest rates, credit and ever-increasing debt – auto loans, corporate loans, credit cards, mortgages, etc. Most retail transactions use plastic cards. The banking cartel takes their cut. Confidence holds the game together. But rising interest rates cut profits, increase debt service, and bankrupt marginal companies and households! https://www.sgtreport.com/2018/10/another-day-older-and-deeper-in-debt/
What is a financial reset?
Basically, some type of revaluation of currency and/or different type of currency according to various ones.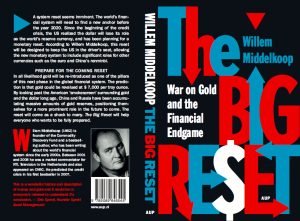 Here is one view from Willem Middelkoop, author of The Big Reset:
A system reset seems imminent. The world's financial system will need to find a new anchor around 2020. Since the beginning of the credit crisis, the US realized the dollar will lose its role as the world's reserve currency, and has been planning for a monetary reset. This reset will be designed to keep the US in the driver's seat, allowing the new monetary system to include significant roles for other currencies such as the euro and China's renminbi. Gold could well be re-introduced as one of the pillars of the new global financial system. By looking past the American 'smokescreen' surrounding gold and the dollar long ago, China and Russia have been accumulating massive amounts of gold reserves, positioning themselves for this more prominent monetary role for gold in the future. The reset will come as a shock to many. The Big Reset will help everyone who wants to be fully prepared. accessed 10/24/18 http://www.thebigresetblog.com/index.php/the-book/
Banks presumably would be closed for a time and there would be panic among many.
But simply a reset will not solve the problems.
Russia, China, the EU, and other nations in the world see what the USA is doing and are taking steps.
Russian President Vladimir Putin even tried to give the USA some financial advice, which if heeded, could have extended its existence.
But no, the politicians of the USA have not listened.
Nor have they listened to the Bible.
The Bible teaches:
18 Pride goes before destruction, And a haughty spirit before a fall. (Proverbs 16:18)
It is prideful arrogance that gets humans to think that they can essentially completely control the economy and just borrow and print up money. They cannot. Weather, political events, diseases, wars, morality, technology, and other factors play a role.
The Anglo-American world order will come to an end. Accumulation of debt, and then having to pay historically 'normal' interest rates will strain the national economies of the USA and Canada more than almost anyone will believe. It will be a financial crisis beyond what most pundits have imagined.
Those who think the current world order with the USA's dollar on top, with the Canadian economy soundly next to it, will last several decades are in error.
Repentance is needed. The USA and its Anglo-Saxon allies will not last to the end of this century (watch also End of the Anglo-American Order).
Some items of possibly related interest include the following:
Should a Christian Vote? This article gives some of the Biblical rationale on this subject. Would Jesus vote for president/prime minister? Is voting in the Bible? This is a subject Christians need to understand. A video of related interest is available titled: Should Christians Vote? Another video is Sorry state of the 2020 presidential campaign.
The End of US Dollar Dominance Is the USA losing its economic status? What about the petro-gold-yuan? A related video is also available: US Dollar being challenged by Gold-Petro-Yuan.
19 items to prophetically watch in 2019 Much is happening. Dr. Thiel points to 19 items to watch (cf. Mark 13:37), plus another, in this article. Here is a link to a related sermon: 19 items to watch in 2019.
End of the Anglo-American Order In mid-2017, BBC ran an article under the headline of "End of the Anglo-American order?" Is that really a question or the biblical reality? After the Brexit vote, the election of US President Donald Trump, and US rejection of the Paris accords on climate change, is the world really going to put in a different order? Some are claiming that Europe or Germany will head up this new world order–an order that sounds eerily similar to one essentially proposed and approved by the United Nation in 2015. Is the UN's "Agenda 2030" a false gospel? How will this end for the USA, UK, Australia, Canada, and New Zealand? Will there later be something better to replace it? Dr. Thiel addresses these issues and more. This is a video.
Is God Calling You? This is a draft booklet discussing calling, election, and selection. If God is calling you, how will you respond?
Christians: Ambassadors for the Kingdom of God, Biblical instructions on living as a Christian This is a scripture-filled booklet for those wishing to live as a real Christian.
Christian Repentance Do you know what repentance is? Is it really necessary for salvation? A related sermon is also available titled: Real Christian Repentance.
When You Sin: Do You Really Repent? This is an article by Charles F. Hunting. A related sermon is Confess to God and truly repent.
Anglo – America in Prophecy & the Lost Tribes of Israel Are the Americans, Canadians, English, Scottish, Welsh, Australians, Anglo-Saxon (non-Dutch) Southern Africans, and New Zealanders descendants of Joseph? Where are the lost ten-tribes of Israel? Who are the lost tribes of Israel? What will happen to Jerusalem and the Jews in Israel? Will God punish the U.S.A., Canada, United Kingdom, and other Anglo-Saxon nations? Why might God allow them to be punished first? Here is a link to the Spanish version of this article: Anglo-América & las Tribus Perdidas de Israel. Information is also in the YouTube sermons titled Where are the Ten Lost Tribes? Why does it matter? and British are the Covenant People. A short YouTube of prophetic interest may be: Are Chinese threats against Australia for real?
Will the Anglo-Saxon Nations be Divided and Have People Taken as Slaves? Will the lands of the United States, United Kingdom, Canada, Australia, and New Zealand be divided? What about Jerusalem? What does Bible prophecy teach? Are there non-biblical prophecies that support this idea? Who will divide those lands? Who will end up with the lands and the people? Here is a link to a video titled Will the USA and other Anglo-nations be Divided and Their People Made Slaves? Here is a related item in the Spanish language ¿Serán divididas las naciones anglosajonas?
British are the Covenant People What do 'British' and 'Britain' mean in Hebrew? Are the descendants of the Anglo-Saxons people of the covenant? Does the British royal family connect to the throne of David? What does the Bible teach? What does history show us? Is there any DNA evidence related to British-Israelism? When did Christianity make it to the British Isles? Could Jeremiah have made it to the British Isles? What type of Christians made it to the British Isles? Did the last King of England believe in British Israelism?
Canada in Prophecy: What Does Bible Prophecy, Catholic Prophecy, and other Predictions Suggest About the Future of Canada? There are prophecies that suggest involvement with Canada. And many are not positive about its future.
USA in Prophecy: The Strongest Fortresses Can you point to scriptures, like Daniel 11:39, that point to the USA in the 21st century? This article does. A related sermon is titled: Do these 7 prophesies point to the end of the USA?
Does God Have a 6,000 Year Plan? What Year Does the 6,000 Years End? Was a 6000 year time allowed for humans to rule followed by a literal thousand year reign of Christ on Earth taught by the early Christians? Does God have 7,000 year plan? What year may the six thousand years of human rule end? When will Jesus return? 2027 or 20xx? There is also a video titled 6000 Years: When will God's Kingdom Come? Here is a link to the article in Spanish: ¿Tiene Dios un plan de 6,000 años?
When Will the Great Tribulation Begin? 2019, 2020, or 2021? Can the Great Tribulation begin today? What happens before the Great Tribulation in the "beginning of sorrows"? What happens in the Great Tribulation and the Day of the Lord? Is this the time of the Gentiles? When is the earliest that the Great Tribulation can begin? What is the Day of the Lord? Who are the 144,000? Here is a version of the article in the Spanish language: ¿Puede comenzar la Gran Tribulación en 2018 o 2019? ¿Es el Tiempo de los Gentiles? You can also see the English language sermon videos: The Great Tribulation from the Mount of Olives and Can the Great Tribulation begin before 2020? A shorter and newer video is: Might the Great Tribulation start in 2019?
The Times of the Gentiles Has there been more than one time of the Gentiles? Are we in it now or in the time of Anglo-America? What will the final time of the Gentiles be like? A related sermon is available and is titled: The Times of the Gentiles.
Armageddon Who is involved and when will this gathering happen? Here is also a video from Dr. Thiel, from Tel Megiddo in Israel: Armageddon. Other videos include: Armageddon Will it come on Trump's watch?, Iraq, Armageddon, & Prophecy, Freemasonry, Armageddon, and Rome, Is China paving roads to Armageddon?, and Jordan, Petra, and Armageddon.
Protestant and Church of God views of the United States in Bible Prophecy Is the USA mentioned in Bible prophecy? Some Protestants say yes, while others say no. What does the Bible really teach? Learn the truth about this. There is also a video available: Is The United States Mentioned In Bible Prophecy?
Physical Preparation Scriptures for Christians. We all know the Bible prophecies famines. Should we do something? Here is a version in the Spanish language Escrituras sobre Preparación física para los Cristianos. Here is a link to a related sermon: Physical preparedness for Christians.
The Plain Truth About Gold in Prophecy. How Should a Christian View Gold? What do economists and the Bible teach about gold? Gold and silver may drop in value. Inflation/deflation? What do Christians need to know about gold?
Who is the King of the North? Is there one? Do biblical and Roman Catholic prophecies for the Great Monarch point to the same leader? Should he be followed? Who will be the King of the North discussed in Daniel 11? Is a nuclear attack prophesied to happen to the English-speaking peoples of the United States, Great Britain, Canada, Australia, and New Zealand? When do the 1335 days, 1290 days, and 1260 days (the time, times, and half a time) of Daniel 12 begin? When does the Bible show that economic collapse will affect the United States? Here is a link to a video titled: The Future King of the North.
The Gospel of the Kingdom of God This free online pdf booklet has answers many questions people have about the Gospel of the Kingdom of God and explains why it is the solution to the issues the world is facing. Here are links to three related sermons: The World's False Gospel, The Gospel of the Kingdom: From the New and Old Testaments, and The Kingdom of God is the Solution.
Donald Trump in Prophecy Prophecy, Donald Trump? Are there prophecies that Donald Trump may fulfill? Are there any prophecies that he has already helped fulfill? Is a Donald Trump presidency proving to be apocalyptic? Two related videos are available: Donald: 'Trump of God' or Apocalyptic? and Donald Trump's Prophetic Presidency.
Trump Presidency Magic 8 Ball or Bible Prophecy? BBC reported that one might as well use a 'Magic Eight-Ball' to try to predict what will happen in the remaining time of Donald Trump's presidency. What is a 'Magic Eight-Ball'? Dr. Thiel not only explains that, but also briefly goes over 10 biblically-based warnings he wrote would happen if Donald Trump were elected that have already began to come to pass. He also goes over something he wrote back in 2008 that the Trump presidency is also helping lead to fulfillment. Should you trust Bible prophecy or not? Dr. Thiel says that Bible prophecy can be trusted, despite the view of skeptics and others that either overlook or despise the Bible. This is a video.
Donald Trump and America's Apocalypse This 188 page book is for people truly interested in prophecies related to Donald Trump and the United States, including learning about several that have already been fulfilled and those that will be fulfilled in the future. The physical book can be purchased at Amazon for $12.99 from the following link: Donald Trump and America's Apocalypse.
Donald Trump and America's Apocalypse-Kindle Edition This electronic version of the 188 page print edition is available for only US$3.99. And you do not need an actual Kindle device to read it. Why? Amazon will allow you to download it to almost any device: Please click HERE to download one of Amazon s Free Reader Apps. After you go to for your free Kindle reader and then go to Donald Trump and America's Apocalypse-Kindle Edition.
Who is the King of the West? Why is there no End-Time King of the West in Bible Prophecy? Is the United States the King of the West?