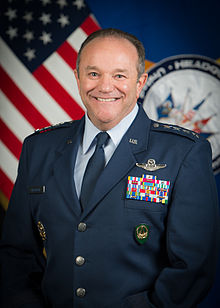 NATO Commander Philip Breedlove

NATO and Kiev are is concerned that Russia is moving military equipment into eastern Ukraine:
November 12, 2014

Nato has seen columns of Russian military equipment and Russian combat troops entering Ukraine this week, its top commander said.

"Russian tanks, Russian artillery, Russian air defence systems and Russian combat troops" were sighted, US Gen Philip Breedlove said in Bulgaria.

Russia has consistently denied sending troops into eastern Ukraine to bolster pro-Russian separatist rebels there.

However, the rebels have admitted being helped by "volunteers" from Russia.

Heavy artillery fire rocked the east Ukrainian city of Donetsk, the industrial hub held by pro-Russian separatist rebels, on Wednesday morning.

It was unclear whether the fire came from besieging government forces or the rebels themselves, or both.

There were also reports of fighting near the rebel-held city of Luhansk. One Ukrainian soldier was killed and another injured north of Luhansk, when rebels fired on government positions near the village of Schastya, Ukrainian security forces said.

Unmarked convoysThe Organization for Security and Cooperation in Europe (OSCE) has reported seeing unmarked convoys in the region in recent days.  http://www.bbc.com/news/world-europe-30025138

November 12, 2014Ukraine's defense minister, Stepan Poltorak, says Kyiv's forces are redeploying in preparation for a possible new offensive by pro-Russian separatists in eastern Ukraine.

"We are repositioning armed forces to react to unexpected actions of armed groups located on territories that are not under our control," Poltorak told a government meeting Wednesday, adding that the rebels have received reinforcements. He said his main task is "to prepare for military action."

"We observe and know about the reinforcement of terrorist groups, and from the side of the Russian Federation. But we tightly follow their movements. We know their locations," he said. "And we surely expect unexpected actions from them. How to react to their unexpected actions? I see it the main task to prepare for military actions."

Ukrainian Prime Minister Arseniy Yatsenyuk called for international engagement to establish peace in Ukraine and in the world.  Yatsenyuk said Ukraine is doing its utmost, but its "powers are limited," especially when facing a nuclear power.

"The country, Ukraine, needs peace. In order to establish this peace, the whole world must act as one united civilized democratic institution which is fighting for peace in Ukraine and in the whole world," he said. "We are doing everything within our power. Though our powers are not unlimited – especially when it comes to confrontation with a nuclear state which is armed to teeth."

There has been recent sporadic violence in eastern Ukraine despite a September 5 cease-fire agreement between Kyiv and the separatists.

Russian military equipment, artillery

NATO says it has observed columns of Russian military equipment including tanks, artillery and combat troops entering eastern Ukraine in the past two days.

Russia's Defense Minister denies that Russian soldiers have entered Ukraine, Reuters reported.

On Tuesday, the NATO commander U.S. Air Force General Philip Breedlove said at least 250-300 Russian troops remain inside eastern Ukraine helping the separatists. He also said that eight Russian battalions remain on Russia's border with Ukraine, and that Moscow is moving forces capable of using nuclear weapons into Crimea, which it annexed from Ukraine in March.

Moscow has repeatedly denied any official military involvement in Ukraine, and has described Russian troops fighting alongside rebels as volunteers.

Organization for Security and Cooperation in Europe (OSCE) monitors in eastern Ukraine reported Tuesday seeing a convoy of unmarked green military trucks, with tarpaulin covers, just outside of Donetsk moving toward the city center. The monitors said five of the trucks were each towing 120 millimeter howitzer artillery pieces, while another five were each towing partly-covered multi-launch rocket systems.

Also Tuesday, Ukrainian military spokesman Andriy Lysenko said that what he called "Russian mercenaries" are "strengthening and reinforcing" rebel forces in the immediate vicinity of the "line of confrontation."  http://www.voanews.com/content/ukraine-defense-minister-warns-of-possible-new-rebel-offensive/2517011.html
All this is happening while US President Obama and Russian President Vladimir Putin are in Asia, having attended the Asia-Pacific summit.  Here is a report about that:
November 12, 2014

At the Asia-Pacific summit in China, Russian President Vladimir Putin did his best to appear relaxed, even playful. As his country faces some of its biggest international challenges in the post-Soviet era, he is showing an incredible levity. There are two ways to interpret that: as a subtle attempt at intimidation, or a sign that he thinks his relationship with the West can still be repaired.

During the summit, Western leaders only appeared willing to talk with Putin for a few minutes. His three encounters with President Barack Obama lasted a total of 20 minutes; his lone meeting with Australian Prime Minister Tony Abbott was equally brief. Still, Putin tried to make small talk with Obama, smiled and even clapped the U.S. leader on the back. From Obama's stiff reaction, it looked as if it took him some effort not to recoil. …

Russian commentator Alexander Baunov, himself a former diplomat, called Putin's behavior "a hint at his power," as if he was saying: "You Western politicians are held back by a thousand rules and barriers because your opposition and journalists will punish you for every false step. You can't afford this, but I can. I am the independent master of an independent country, so there you are." …

Amid all the anti-American, anti-Western rhetoric, Putin always leaves the door open to a resumption of dialogue. In remarks after the Valdai speech, he said:

We are not going to fence ourselves off from anyone. It's a fact that attempts are made to isolate, to fence off Russia. What's there to talk about? Everything speaks to that. Your leaders say it publicly: We will punish Russia, it will pay dearly, it will be an outcast and so on. But how will they solve global problems with such an outcome, it's not clear, and they probably understand themselves that it's impossible.

It's even possible that Putin's behavior is a mixture of intimidating swagger and a craving for the restoration of normal, pre-Crimea relations with his Western "friends and partners," as he likes to call them. It's only prudent to react to Putin's threats by shoring up defenses, but it might be smart for the West to exploit his apparent desire to be given a place at the table again. http://www.bloombergview.com/articles/2014-11-12/putins-playful-streak
While I agree that Vladimir Putin wants to be on better terms with the West and does not want sanctions, I believe he mainly wants better terms so that he can attain as much of the territory of the old Soviet Union as he possibly can.
Those in Kiev, the Baltic states, and many of the countries in eastern Europe understand this.
And Vladimir Putin has shown a willingness to use his military to accomplish this.  The fact that NATO has stated that it will NOT fight Russia in Ukraine is something that Vladimir Putin realizes.  Hence, I do not doubt NATO reports that Russia is moving tanks and other military equipment into eastern Ukraine.
NATO is concerned that Russia has military power, Russia is displaying military power, and that Russia is willing to use military power. This is not going the way USA President Barack Obama or the leaders of the European Union want. So, Europe will likely decide it has to 'up its game,' which will mean that it will look more into developing its own military deterrents to Russia and others in the future.
Some items of possibly related interest may include:
Russia and Ukraine: Their Origins and Prophesied Future Russia in prophecy. Where do the Russians come from? What about those in the Ukraine? What is prophesied for Russia and its allies? What will they do to the Europeans that supported the Beast in the end? There is also a video sermon available: Russia in the Bible and in Prophecy and a video sermonette available: Ukraine in Prophecy?
Is Russia the King of the North? Some claim it is. But what does the Bible teach? Here is a link to a video, also titled Is Russia the King of the North?
Ezekiel 38: For Russia & Iran in Our Day? Is Ezekiel 38 about to be fulfilled? A related video is available titled Ezekiel 38: For Russia, Ukraine, & Iran Now?
Islands and Bible Prophecy What's ahead for islands? What does the Bible prophesy about them?
Anglo – America in Prophecy & the Lost Tribes of Israel Are the Americans, Canadians, English, Scottish, Welsh, Australians, Anglo-Saxon (non-Dutch) Southern Africans, and New Zealanders descendants of Joseph? Where are the lost ten-tribes of Israel? Who are the lost tribes of Israel? What will happen to Jerusalem and the Jews in Israel? Will God punish the U.S.A., Canada, United Kingdom, and other Anglo-Saxon nations? Why might God allow them to be punished first? Here is a link to the Spanish version of this article: Anglo-América & las Tribus Perdidas de Israel. Information is also in the YouTube sermons titled Where are the Ten Lost Tribes? Why does it matter? and British are the Covenant People. A short YouTube of prophetic interest may be Barack Obama and the State of the Apocalypse.
Will the Anglo-Saxon Nations be Divided and Have People Taken as Slaves? Will the lands of the United States, United Kingdom, Canada, Australia, and New Zealand be divided? What about Jerusalem? What does Bible prophecy teach? Are there non-biblical prophecies that support this idea? Who will divide those lands? Who will end up with the lands and the people? Here is a link to a video titled Will the USA and other Anglo-nations be Divided and Their People Made Slaves? Here is a related item in the Spanish language ¿Serán divididas las naciones anglosajonas?
British are the Covenant People What do 'British' and 'Britain' mean in Hebrew? Are the descendants of the Anglo-Saxons people of the covenant? Does the British royal family connect to the throne of David? What does the Bible teach? What does history show us? Is there any DNA evidence related to British-Israelism? When did Christianity make it to the British Isles? Could Jeremiah have made it to the British Isles? What type of Christians made it to the British Isles? Did the last King of England believe in British Israelism?
WTO/TTIP and the Babylonian Beast Will international trade agreements like WTO/TTIP/CETA lead to the fulfillment of end time prophecies concerning the Babylonian Beast power that the Book of Revelation warns against? What does the Bible teach? A related video would be WTO Trade Deal and the Rise of the European Beast Power.
Can those in the USA/UK see the Handwriting on the Wall? Is everything fine in the USA/UK or is it like the days of Noah? Can we learn from the handwriting that appeared on a wall thousands of years ago? Here is a link to a related YouTube video Can you see the 'Handwriting on the Wall'?
When Will the Great Tribulation Begin? 2014, 2015, or 2016? Can the Great Tribulation begin today? What happens before the Great Tribulation in the "beginning of sorrows"? What happens in the Great Tribulation and the Day of the Lord? Is this the time of the Gentiles? When is the earliest that the Great Tribulation can begin? What is the Day of the Lord? Who are the 144,000? Here is a version of the article in the Spanish language: ¿Puede comenzar la Gran Tribulación en 2014 o 2015? ¿Es el Tiempo de los Gentiles? You can also see the English language sermon video: The Great Tribulation from the Mount of Olives.
World War III: Steps in Progress Are there surprising actions going on now that are leading to WWIII? Might a nuclear attack be expected? Does the Bible promise protection to all or only some Christians? How can you be part of those that will be protected? A related video would be Is World War III About to Begin? Can You Escape?
Barack Obama, Prophecy, and the Destruction of the United States-Second Edition for Second Obama Term This is a 160 page book for people truly interested in prophecies related to Barack Obama and the United States, including learning about many that have already been fulfilled (which the book documents in detail) and those that will be fulfilled in the future. It also has a chapter about a Republican choice. This book is available to order at www.barackobamaprophecy.com. The physical book can also be purchased at Amazon from the following link: Barack Obama, Prophecy, and the Destruction of the United States: Is Barack Obama Fulfilling Biblical, Islamic Catholic, Kenyan, and other America-Related Prophecies? What About Republican Leaders? Second Edition for Second Obama Term.
Barack Obama, Prophecy, and the Destruction of the United States-Second Term-Amazon Kindle edition. This electronic version is available for only US$2.99. And you do not need an actual Kindle device to read it. Why? Amazon will allow you to download it to almost any device: Please click HERE to download one of Amazon s Free Reader Apps. After you go to for your free Kindle reader and then go to Barack Obama, Prophecy, and the Destruction of the United States-Second Term-Amazon Kindle edition.