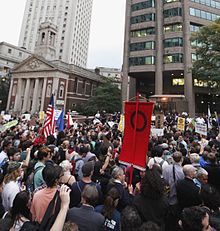 A Texas judge made some disturbing comments as to what he believes may happen if Barack Obama is re-elected to be USA President:
23 August 2012

(CNN) — An elected county judge in Texas is warning that the nation could descend into civil war if President Barack Obama is re-elected, and is calling for a trained, well-equipped force to battle the United Nations troops he says Obama would bring in.
The comments by Lubbock County Judge Tom Head, who oversees emergency planning efforts, were broadcast by CNN affiliate KJTV…
Obama, Head said, will "try to give the sovereignty of the United States away to the United Nations. What do you think the public's going to do when that happens? We are talking civil unrest, civil disobedience, possibly, possibly civil war … I'm not talking just talking riots here and there. I'm talking Lexington, Concord, take up arms, get rid of the dictator. OK, what do you think he is going to do when that happens? He is going to call in the U.N. troops, personnel carriers, tanks and whatever."  http://www.cnn.com/2012/08/23/us/texas-judge-warning/index.html
I would add here that major civil unrest is coming to the USA and its Anglo-allies and this will happen if Mitt Romney or anyone else wins instead.
Of course, while following the example of the last Bush Administration, Barack Obama has increased policed state powers.  Many of which lately seem targeted towards private financial companies and individuals who are successful and/or who work internationally, or those who hold religious views that he has concerns about.  US President Barack Obama, in my view, has repeatedly encouraged class warfare through his rhetoric.  And I believe that this is part of his re-election strategy.  Whether he is or is not re-elected, there remains a good chance that the USA will see protests turning increasingly violent in the future.
Hunger and joblessness may be factors in civil and other protests.  Notice the following:
22 August 2012

Cheryl Preston knows that others are worse off. But she's still hungry…In the last three years, she hasn't been able to replace a $500 loss in monthly income. Her husband's job can't always guarantee 40 hours a week; his second job lasted only through Christmas. So mealtime suffers: Her family eats in one day what they used to eat at one meal…

Eighteen percent of Americans say there have been times this year that they couldn't afford the food they needed, according to a Gallup poll released Tuesday. In particularly hard-hit regions of the United States, like the South, at least one in five didn't have enough money for food. In Preston's Virginia, 15.2 percent of state residents are affected.  http://news.yahoo.com/blogs/lookout/going-hungry-america-distressing-humbling-scary-011618014.html
The price of many foods is beginning to rise. What will happen if food prices go up dramatically?  More people will be hungry and less will be able to afford meals.
.
Hungry and hopeless people are more inclined to protest and be involved in civil unrest.
.
And civil unrest will not be limited to the USA.  Australia, Canada, the UK, and New Zealand will see this as well (though not necessarily all at the same time).  The end-time sorrows and troubles in society are still in the beginning stages (Matthew 24:5-8), and will get much worse according to the Bible (Matthew 24:21-22). I believe that class warfare and other protests will escalate and help weaken the USA, Canada, and their other Anglo-nations and likely will also be a factor in them being vulnerable to real warfare: invasion by the final
Beast power
that the Bible warns about (Revelation 13; Daniel 11:39).
Some articles of possibly related interest may include:
Can the Great Tribulation Begin in 2012 or 2013? Can the Great Tribulation begin today? What is the "beginning of sorrows"? When is the earliest that the Great Tribulation can begin? What is the Day of the Lord?
Military Service and the Churches of God: Do Real Christians Participate in Carnal Warfare? Here are current and historical perspectives on a matter which show the beliefs of the true church on military participation. Is war proper for Christians?
The Gospel of the Kingdom of God was the Emphasis of Jesus and the Early Church Did you know that? Do you even know what the gospel of the kingdom is all about? True religion should be based upon the true gospel.
Did The Early Church Teach Millenarianism? Was the millennium (sometimes called chiliasm) taught by early Christians? Who condemned it. Will Jesus literally reign for 1000 years on the earth? Is this time near?
Does God Have a 6,000 Year Plan? What Year Does the 6,000 Years End? Was a 6000 year time allowed for humans to rule followed by a literal thousand year reign of Christ on Earth taught by the early Christians? What year may the six thousand years of human rule end? When will Jesus return? 2018 or 2019?
Anglo – America in Prophecy & the Lost Tribes of Israel Are the Americans, Canadians, British, Scottish, Welsh, Australians, Anglo-Southern Africans, and New Zealanders descendants of Joseph? Where are the lost ten-tribes of Israel? Who are the lost tribes of Israel? What will happen to the Jews in Israel? Will God punish the U.S.A., Canada, United Kingdom, and other Anglo nations? Why might God allow them to be punished first?
Will the Anglo-Nations be Divided and Have People Taken as Slaves? Will the lands of the United States, United Kingdom, Canada, Australia, and New Zealand be divided? What does Bible prophecy teach? Are there non-biblical prophecies that support this idea? Who will divide those lands? Who will end up with the lands and the people?
Prophecies of Barack Obama? Eight reasons why Barack Obama is apocalyptic and eight reasons why Barack Obama is not the Antichrist. This article includes many biblical and non-biblical prophecies, from around the world, that seem to discuss Barack Obama. Did Nostradamus predict Barack Obama dealing with the Antichrist? Might Barack Obama set the stage for the kings of the North and South as at least one Shiite prophecy suggests? This is the longest and most complete article on this page on Barack Obama prophecies. Read it and decide for yourself if President Obama seems to be fulfilling various prophecies.
Barack Obama, Prophecy, and the Destruction of the United States Some claim that Barack Obama is the prophesied "son of Kenya", based up an early 20th century writing.
Canada in Prophecy: What Does Bible Prophecy, Catholic Prophecy, and other Predictions Suggest About the Future of Canada? There are prophecies that suggest involvement with Canada. And many are not positive about its future.
Who is the King of the West? Why is there no End-Time King of the West in Bible Prophecy? Is the United States the King of the West? If so, what does that really mean for the USA and its Anglo allies.
Is Tony Blair Apocalyptic? The former Prime Minister of the United Kingdom converted to Catholicism shortly after leaving his office and has been active in European affairs. What role might he play?