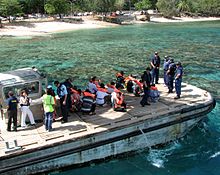 Rescued Afghans wanting asylum in  Australia on boat (DIAC images)

Many in Australia have concerns about accepting more refugees:
November 5, 2016

Hundreds of people rallied in Melbourne, Australia, on Saturday after a proposal to house refugees locally drew people both for and against the measure.

Protesters belonging to anti-Islam groups said they were against a plan to settle 120 refugees from Syria and Iraq at a senior housing facility in the Eltham neighborhood.

Anti-immigration demonstrators carried Australian flags and marched near the Eltham's Andrew Park. Police presence kept groups separated to avoid clashes.

Pro-refugee supporters, part of the group "Welcome to Eltham," carried colorful signs that read "Eltham says yes to refugees."

"Most people sort of, keep to themselves. A lot of them are in their eighties and nineties and yes, they just keep to themselves. They are a bit concerned about it but they will just wait and see," John Conroy, resident of Saint Vincent's Care Services, said.

The Sydney Morning Herald reported that locals were discussing the idea to settle refugees in the St. Vincent's facility, but mostly they were not happy that people from other areas were flooding to Eltham to demonstrate. …

In 2015, the Australian government announced a one-time proposal to accept 12,000 refugees who were running away from areas of conflict such as Iraq and Syria.

But last week, officials announced a plan to permanently ban asylum seekers who try to reach the continent by boat from entering under any visa category.

Meanwhile in Sydney others decided to rally for the closing of detention centers—places that have been heavily criticized by human rights groups.

"The detention centers are no suitable environments for the health of all detainees, but the effects on children are far worse," Brian Owler, president of the Australian Medical Association, said in a statement.

According to immigration figures as of August 31, there are close to 1,589 asylum-seekers among them 1,382 men, 114 women and 93 children being held on Manus Island and Nauru.

Australian Immigration Minister Peter Dutton said the government is maintaining a dialogue with other countries, such as the Philippines, to settle refugees. http://www.voanews.com/a/in-melbourne-australia-people-rallied-for-and-agaisnt-welcoming-refugees/3582525.html
How many Islamic refugees will stay in Australia is unclear.
But what is clear is that the Bible has prophecies of terrorism:
14 'But if you do not obey Me, and do not observe all these commandments, 15 and if you despise My statutes, or if your soul abhors My judgments, so that you do not perform all My commandments, but break My covenant, 16 I also will do this to you: I will even appoint terror over you, wasting disease and fever which shall consume the eyes and cause sorrow of heart. And you shall sow your seed in vain, for your enemies shall eat it. 17 I will set My face against you, and you shall be defeated by your enemies. Those who hate you shall reign over you, and you shall flee when no one pursues you. (Leviticus 26:14-17)

25 The sword shall destroy outside; There shall be terror within (Deuteronomy 32:25)

12 "Cry and wail, son of man; For it will be against My people, Against all the princes of Israel. Terrors including the sword will be against My people; Therefore strike your thigh. (Ezekiel 21:12)

12 Behold, these are the ungodly,Who are always at ease; They increase in riches…19 Oh, how they are brought to desolation, as in a moment! They are utterly consumed with terrors. (Psalms 73:12,19)

25 Because you disdained all my counsel, And would have none of my rebuke, 26 I also will laugh at your calamity; I will mock when your terror comes, 27 When your terror comes like a storm, And your destruction comes like a whirlwind, When distress and anguish come upon you. (Proverbs 1:25-27)

5 Also they are afraid of height, And of terrors in the way (Ecclesiastes 12:5).
The Bible also shows that Palestinians, apparently along with some Syrians, are prophesied to be involved in war, and apparently a terroristic one:
8 The Lord sent a word against Jacob, And it has fallen on Israel. 9 All the people will know — Ephraim and the inhabitant of Samaria — Who say in pride and arrogance of heart: 10 'The bricks have fallen down, But we will rebuild with hewn stones; The sycamores are cut down, But we will replace them with cedars." 11 Therefore the Lord shall set up The adversaries of Rezin against him, And spur his enemies on, 12 The Syrians before and the Philistines behind; And they shall devour Israel with an open mouth. (Isaiah 9:8-12)
Since the above prophecy involves Ephraim and Samaria, this is indicative that their descendants in Australia, Canada, UK, New Zealand,  and USA will be attacked (see Anglo – America in Prophecy & the Lost Tribes of Israel). The devouring of them before and behind is consistent with terrorist actions. Psalm 83 also points to a terrorist plot to affect the USA and the Anglo-Saxon descended peoples.
Earlier this year, the Islamic State publication Dabiq had an article titled Why We Hate You & Why We Fight You, it give six reasons why:
1. We hate you, first and foremost, because you are disbelievers; you reject the oneness of Allah – whether you realize it or not – by making partners for Him in worship, you blaspheme against Him, claiming that He has a son, you fabricate lies against His prophets and messengers, and you indulge in all manner of devilish practices. …

2. We hate you because your secular, liberal societies permit the very things that Allah has prohibited while banning many of the things He has permitted, a matter that doesn't concern you because you Christian disbelief and paganism separate between religion and state, thereby granting supreme authority to your whims and desires via the legislators you vote into power. In doing so, you desire to rob Allah of His right to be obeyed and you wish to usurp that right for yourselves. "Legislation is not but for Allah" (Yusuf 40). Your secular liberalism has led you to tolerate and even support "gay rights," to allow alcohol, drugs, fornication, gambling, and usury to become widespread, and to encourage the people to mock those who denounce these filthy sins and vices. As such, we wage war against you to stop you from spreading your disbelief and debauchery – your secularism and nationalism, your perverted liberal values, your Christianity and atheism – and all the depravity and corruption they entail. …

3. In the case of the atheist fringe, we hate you and wage war against you because you disbelieve in the existence of your Lord and Creator. You witness the extraordinarily complex makeup of created beings, and the astonishing and inexplicably precise physical laws that govern the entire universe, but insist that they all came about through randomness and that one should be faulted, mocked, and ostracized for recognizing that the astonishing signs we witness day after day are the creation of the Wise, All-Knowing Creator and not the result of accidental occurrence. …

4. We hate you for your crimes against Islam and wage war against you to punish you for your transgressions against our religion. As long as your subjects continue to mock our faith, insult the prophets of Allah – including Noah, Abraham, Moses, Jesus, and Muhammad  – burn the Quran, and openly vilify the laws of the Shari'ah, we will continue to retaliate, not with slogans and placards, but with bullets and knives. …
5. We hate you for your crimes against the Muslims; your drones and fighter jets bomb, kill, and maim our people around the world, and your puppets in the usurped lands of the Muslims oppress, torture, and wage war against anyone who calls to the truth. As such, we fight you to stop you from killing our men, women, and children, to liberate those of them whom you imprison and torture, and to take revenge for the countless Muslims who've suffered as a result of your deeds.

6. We hate you for invading our lands and fight you to repel you and drive you out. As long as there is an inch of territory left for us to reclaim, jihad will continue to be a personal obligation on every single Muslim. …

we will never stop hating you until you embrace Islam
The Islamic State considers that Islam is a religion of war (watch also Why does the Islamic State kill and terrorize?). They consider that the people of Australia are westerners that have supported actions against Islam. Those who think that the refugees getting refuge Australia will always be grateful and none will turn to terroristic acts ignore what many in Islam believe.
Oh yes, it is true I was quoting an article from the radical fringe of Islam, but even generally accepted Islamic writings promote war and terrorism.
Without national repentance, Australia is doomed.  Protests for or against refugees will not change that.
The same holds true for the USA , UK, Canada, and New Zealand as well.
Some items of possibly related interest may include:
Why Terrorism? Is Terrorism Prophesied? What does the Bible teach? Which nations may be affected? Here is a link to a related sermon: Terrorism, Christianity, and Islam. Watch also Why does the Islamic State kill and terrorize?
Is the USA now an Evil Empire? Dr. Thiel gives many reasons to consider. A related video is also available: Is the USA an Evil Empire?
USA in Prophecy: The Strongest Fortresses Can you point to scriptures, like Daniel 11:39, that point to the USA in the 21st century? This article does. A related sermon is titled: Do these 7 prophesies point to the end of the USA?
Anglo – America in Prophecy & the Lost Tribes of Israel Are the Americans, Canadians, English, Scottish, Welsh, Australians, Anglo-Saxon (non-Dutch) Southern Africans, and New Zealanders descendants of Joseph? Where are the lost ten-tribes of Israel? Who are the lost tribes of Israel? What will happen to Jerusalem and the Jews in Israel? Will God punish the U.S.A., Canada, United Kingdom, and other Anglo-Saxon nations? Why might God allow them to be punished first? Here is a link to the Spanish version of this article: Anglo-América & las Tribus Perdidas de Israel. Information is also in the YouTube sermons titled Where are the Ten Lost Tribes? Why does it matter? and British are the Covenant People. A short YouTube of prophetic interest may be Barack Obama and the State of the Apocalypse.
Will the Anglo-Saxon Nations be Divided and Have People Taken as Slaves? Will the lands of the United States, United Kingdom, Canada, Australia, and New Zealand be divided? What about Jerusalem? What does Bible prophecy teach? Are there non-biblical prophecies that support this idea? Who will divide those lands? Who will end up with the lands and the people? Here is a link to a video titled Will the USA and other Anglo-nations be Divided and Their People Made Slaves? Here is a related item in the Spanish language ¿Serán divididas las naciones anglosajonas?
British are the Covenant People What do 'British' and 'Britain' mean in Hebrew? Are the descendants of the Anglo-Saxons people of the covenant? Does the British royal family connect to the throne of David? What does the Bible teach? What does history show us? Is there any DNA evidence related to British-Israelism? When did Christianity make it to the British Isles? Could Jeremiah have made it to the British Isles? What type of Christians made it to the British Isles? Did the last King of England believe in British Israelism?
Canada in Prophecy: What Does Bible Prophecy, Catholic Prophecy, and other Predictions Suggest About the Future of Canada? There are prophecies that suggest involvement with Canada. And many are not positive about its future.
Who is the King of the West? Why is there no End-Time King of the West in Bible Prophecy? Is the United States the King of the West?
What is the Meaning of Life? Who does God say is happy? What is your ultimate destiny? Do you really know? Does God actually have a plan for YOU personally? There is also a video titled What is the meaning of your life?
Christian Repentance Do you know what repentance is? Is it really necessary for salvation?  A related sermon is Confess to God and truly repent.
God's Grace is For All Is being Jewish a hindrance to salvation? What about not being a descendant of Israel? What does the Bible really teach? Here is a link to a related sermon titled Race and Grace; Do you view race as God does?
Iraq, the King of the South, Armageddon, and Prophecy What will happen to Iraq? Is it the prophesied Mystery Babylon? What is Armageddon and how does that have to do with Iraq? Here is a related video Iraq, Armageddon, & Prophecy.
The Prophesied 'Islamic' Confederation Where is an Islamic caliphate prophesied? Will one happen? Should you be concerned about it? Here is a link to a related video video: Will an Arabic Calphiphate Destroy the West?
The Arab and Islamic World In the Bible, History, and Prophecy The Bible discusses the origins of the Arab world and discusses the Middle East in prophecy. What is ahead for the Middle East and those who follow Islam? What about the Imam Mahdi? What lies ahead for Turkey, Iran, and the other non-Arabic Muslims? An item of possibly related interest in the Spanish language would be: Líderes iraníes condenan la hipocresía de Occidente y declaran que ahora es tiempo para prepararse para el Armagedón, la guerra, y el Imán Mahdi.between these groups will put them in position to be part of the final end time Babylon that the Bible warns against as well as require improper compromise.
Gaza and the Palestinians in Bible Prophecy What does the Bible teach about Gaza and the fate of the Palestinians? Here is a link to a related video: Gaza and Palestine in Prophecy.
Libya, Algeria, Morocco, and Tunisia in Prophecy What is ahead for North Africa? What does the Bible teach?
Damascus and Syria in Prophecy Will Bashar Assad hold power as he has it? Does the Bible show that Damascus, the capital of Syria, will be destroyed? What will happen to Syria? Will the Syrians support the final King of the South that the Bible tells will rise up? Which scriptures discuss the rise and fall of an Arabic confederation? Does Islamic prophecy predict the destruction of Syria. This is a YouTube video.
The 'Peace Deal' of Daniel 9:27 This prophecy could give up to 3 1/2 years advance notice of the coming Great Tribulation. Will most ignore or misunderstand its fulfillment? Here is a link to a related sermon video Daniel 9:27 and the Start of the Great Tribulation.
Iran in Prophecy Is Iran in Bible prophecy? If so, what does the Bible teach? What names, other than Persia, may be used to describe Iran? There is also a YouTube video titled Iran in Prophecy. Here is a related video Iran In Prophecy.
Is the Future King of the South Rising Up? Some no longer believe there needs to be a future King of the South. Might Egypt, Islam, Iran, Arabs, or Ethiopia be involved? Might this King be called the Mahdi or Caliph? What does the Bible say? A YouTube video of related interest may be: The Future King of the South is Rising. The Muslim Brotherhood and the Rise of the King of the South The Bible tells of the formation of a power of nations that are in the Middle East and North Africa that are part of the final "King of the South" (Daniel 11:40-43) The Muslim Brotherhood wishes to have an Islamic empire with basically the same nations. This YouTube video explains what to expect from such a confederation.
When Will the Great Tribulation Begin? 2016, 2017, or 2018? Can the Great Tribulation begin today? What happens before the Great Tribulation in the "beginning of sorrows"? What happens in the Great Tribulation and the Day of the Lord? Is this the time of the Gentiles? When is the earliest that the Great Tribulation can begin? What is the Day of the Lord? Who are the 144,000? Here is a version of the article in the Spanish language: ¿Puede comenzar la Gran Tribulación en 2016 o 2017? ¿Es el Tiempo de los Gentiles? You can also see the English language sermon videos: The Great Tribulation from the Mount of Olives and Can the Great Tribulation begin before 2020? A shorter video is: Can the Great Tribulation Start in 2016?
World War III: Steps in Progress Are there surprising actions going on now that are leading to WWIII? Might a nuclear attack be expected? Does the Bible promise protection to all or only some Christians? How can you be part of those that will be protected? A related video would be Is World War III About to Begin? Can You Escape?
Wars, rumors of wars, and the Apocalypse Jesus foretold a time before the end where there would be wars and rumors of wars. The Apocalypse (the Book of Revelation) warns of the red horseman of war. Now, even secular writers, like Larry Edelson, are worried that wars and rumors of war are the most menacing problem that now haunts the earth? Are they right? What is the solution? This is a sermonette-length video.
Prophecies of Barack Obama? Reasons why Barack Obama is apocalyptic and reasons why Barack Obama is not the Antichrist. This article includes many biblical and non-biblical prophecies, from around the world, that seem to discuss Barack Obama. Did Nostradamus predict Barack Obama dealing with the Antichrist? Might Barack Obama set the stage for the kings of the North and South as at least one Shiite prophecy suggests? Read it and decide for yourself if President Obama seems to be fulfilling various prophecies. Watch also the YouTube Barack Obama and the State of the Apocalypse.
Donald Trump in Prophecy Prophecy, Donald Trump? Are there prophecies that Donald Trump may fulfill? Are there any prophecies that he has already helped fulfill? Could a Donald Trump presidency be apocalyptic? A related video is titled Could Donald Trump be Apocalyptic? Another video is 10 Reasons Not to Vote for Donald Trump or Hillary Clinton.
Hillary Clinton in Prophecy Prophecy, Hillary Clinton? Are there prophecies that Hillary Clinton may fulfill? Are there any prophecies that she has already helped fulfill? Could Hillary Clinton be apocalyptic? Could Hillary Clinton be the final Antichrist? A video of related interest is titled Hillary Clinton and Bible Prophecy. Another video is 10 Reasons Not to Vote for Donald Trump or Hillary Clinton.