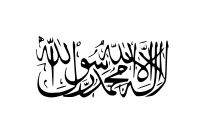 Flag of the Taliban
About two years ago, the Al-Qaeda linked Taliban threatened France with an attack (see Taliban Threatens France).  Now, the Saudis are warning France that they have learned that Al-Qaeda is planning to attack Europe, and possibly France itself:
PARIS — Saudi intelligence officials have informed France that Al Qaeda's affiliate in Yemen may be planning an attack in France or Europe, the French interior minister said Sunday.  http://www.nytimes.com/2010/10/18/world/europe/18france.html?partner=rss&emc=rss
One area that many Protestant prophecy watchers have overlooked is the fact that the Bible indicates that the end-time Muslim and European powers will cooperate for a while (Daniel 11:27).
Islamic prophecy also tells of a similar deal–a deal that the Europeans will apparently break (cf. Daniel 9:27) .
So, events where the Muslims cooperate with the Europeans are consistent with such prophecies.  And we may expect to see more such cooperation.
Some articles of possibly related interest may include:
Europa, the Beast, and Revelation Where did Europe get its name? What might Europe have to do with the Book of Revelation? What about "the Beast"? What is ahead for Europe?
Who is the King of the North? Is there one? Do biblical and Roman Catholic prophecies point to the same leader? Should he be followed? Who will be the King of the North discussed in Daniel 11? Is a nuclear attack prophesied to happen to the English-speaking peoples of the United States, Great Britain, Canada, Australia, and New Zealand? When do the 1335 days, 1290 days, and 1260 days (the time, times, and half a time) of Daniel 12 begin? When does the Bible show that economic collapse will affect the United States?
Is There A Future King of the South? Some no longer believe there needs to be. Might Egypt, Islam, Iran, Arabs, or Ethiopia be involved? Might this King be called the Mahdi? What does the Bible say?
The Arab and Islamic World In the Bible, History, and Prophecy The Bible discusses the origins of the Arab world and discusses the Middle East in prophecy. What is ahead for the Middle East and those who follow Islam? What about the Imam Mahdi? What lies ahead for Turkey, Iran, and the other non-Arabic Muslims?
End of Mayan Calendar 2012–Might 2012 Mean Something? There is a Mayan calendar prediction for change in 2012. 2012 changes were also centuries ago predicted by the Hopi Native Americans (the Hindus may have some predictions for the next decade as well). Do these Mayan/Hindu/Hopi prophecies have any value? Why might Satan have inspired this date? Does the Dresden codex show destruction of the earth by flood? Can the great tribulation start before 2012?
Can the Great Tribulation Begin in 2010, 2011, or 2012? Can the Great Tribulation begin today? When is the earliest that the Great Tribulation can begin? What is the Day of the Lord?