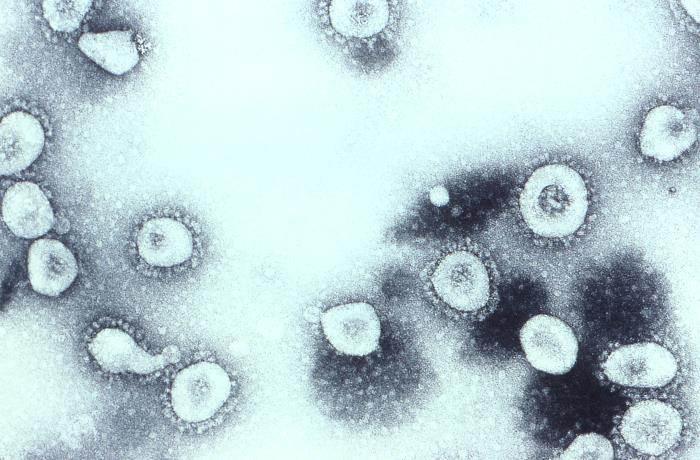 Coronavirus OC43 (US government photo)
Notice the following report from Nature:
The coronavirus is mutating — does it matter?

08 September 2020

Soon after SARS-CoV-2 was detected in China, researchers began analysing viral samples and posting the genetic codes online. Mutations — most of them single-letter alterations between viruses from different people — allowed researchers to track the spread by linking closely related viruses, and to estimate when SARS-CoV-2 started infecting humans.

Viruses that encode their genome in RNA, such as SARS-CoV-2, HIV and influenza, tend to pick up mutations quickly as they are copied inside their hosts, because enzymes that copy RNA are prone to making errors. After the severe acute respiratory syndrome (SARS) virus began circulating in humans, for instance, it developed a kind of mutation called a deletion that might have slowed its spread. …

Despite the virus's sluggish mutation rate, researchers have catalogued more than 12,000 mutations in SARS-CoV-2 genomes. But scientists can spot mutations faster than they can make sense of them. …

Some studies show that certain mutations to the spike protein in the Middle East respiratory syndrome (MERS) virus can cause more-severe disease in mice — yet other mutations in the protein show very little effect in people or in camels, the likely reservoir for human MERS infections, says Stanley Perlman, a coronavirologist at the University of Iowa in Iowa City. …

But evidence is emerging that other mutations could help the virus to avoid some antibodies. …

Studies of common-cold coronaviruses, sampled across multiple seasons, have identified some signs of evolution in response to immunity. But the pace of change is slow, says Volker Thiel, an RNA virologist at the Institute of Virology and Immunology in Bern. "These strains remain constant, more or less."

With most of the world still susceptible to SARS-CoV-2, it's unlikely that immunity is currently a major factor in the virus's evolution. But as population-wide immunity rises, whether through infection or vaccination, a steady trickle of immune-evading mutations could help SARS-CoV-2 to establish itself permanently, says Sheahan, potentially causing mostly mild symptoms when it infects individuals who have some residual immunity from a previous infection or vaccination. "I wouldn't be surprised if this virus is maintained as a more common, cold-causing coronavirus." But it's also possible that our immune responses to coronavirus infections, including to SARS-CoV-2, aren't strong or long-lived enough to generate selection pressure that leads to significantly altered virus strains.

Worrisome mutations could also become more common if antibody therapies aren't used wisely — if people with COVID-19 receive one antibody, which could be thwarted by a single viral mutation, for example. https://www.nature.com/articles/d41586-020-02544-6
A couple of months ago, Deutsche Welle (DW) reported the following about one of the now roughly 12,000 mutations:
New strain of coronavirus spreads faster than original: study

3 July 2020

The variation of COVID-19 currently dominating global cases is more infectious than the original strain that emerged in China, …

Researchers from Los Alamos National Laboratory in New Mexico and Duke University in North Carolina partnered with the University of Sheffield's COVID-19 Genomics UK research group. The scientists found the current variant of the virus — D614G — makes a small but significant change in the protein that protrudes from the surface of the virus that it uses to invade and infect human cells. …

Laboratory experiments have, meanwhile, shown that the variant is three to six times more capable of infecting human cells. https://www.dw.com/en/new-strain-of-coronavirus-spreads-faster-than-original-study/a-54034723
Being more infectious suggests that this will increase the incentives for governments to implement potentially stricter guidelines and various restrictions.
But having so many strains makes vaccines less likely to be effective.
The search for an 'effective' vaccine is the main official government hope for COVID. Consider the following:
FDA issues COVID-19 vaccine guidance, setting 50% effectiveness threshold

In an immediately effective guidance issued Tuesday, the US Food and Drug Administration (FDA) sets its expectations for the development and licensure of vaccines to prevent coronavirus disease (COVID-19), including considerations for manufacturing, nonclinical and clinical studies and post-licensure requirements.

For a vaccine that would be widely deployed against COVID-19, FDA says it expects sponsors to demonstrate that the vaccine is at least 50% effective in a placebo-controlled trial. …

"FDA strongly encourages the inclusion of diverse populations in all phases of clinical development, including populations most affected by COVID-19, specifically racial and ethnic minorities, as well as adequate representation in late phase trials of elderly individuals and those with medical comorbidities," FDA says. 06/30/20 https://www.raps.org/news-and-articles/news-articles/2020/6/fda-issues-covid-19-vaccine-guidance-setting-50-ef
That's right–the USA government will push something officially related to COVID-19 if they think it will help half of those who get it–but generally speaking, that would only be testing one strain–certainly not thousands.
That means that even if they get the type of vaccine they hope to market to the people, that it will likely not help even half the people who get sufficiently exposed from getting some version of coronavirus infection–if it works long term at all.
Perhaps it should be mentioned that the last two flu vaccines were between 30-40% 'effective,' meaning that even according to pro-vaccine sources, they did not help most people who got them.
So, to answer the question in Nature's headline, yes, having mutations matters.
While government actions have been focused on masks, social distancing, and quarantining those not known to have COVID, a personally helpful approach would be encouraging people to:
Avoid biblically unclean meats,
Eat more fruits and vegetables high in vitamin C,
Fast regularly for those who can,
Consume foods high in zinc like pumpkin seeds or 100% food nutrient supplements which provide Zinc,
Get proper sunlight exposure for vitamin D,
Exercise regularly, and
Lose weight for those who are overweight.
All the above help support one's innate immune system, which helps the body fight many types of pathogens–not just one.
Instead of doing the above, in places like the USA, more junk food has been consumed, many gyms have been shut down, many beaches have been closed or limited, and many have gained weight during the lockdowns (see Using scale for weight loss? Americans gain weight during COVID-19 shut downs).
The idea of 'herd immunity' presumes that the 'herd' will have many with strong immune systems–something that mask-wearing does not truly promote, but that healthy living does.
While we should pray, not be fearful, rely on God's protection, and support the work of Matthew 24:14 and Matthew 28:19-20, taking care to attempt to improve our health during a time with multiple strains of the coronavirus is something all should do.
Some items of possibly related interest may include:
Four Horsemen of the Apocalypse What do each of the four horseman of the Apocalypse represent? Have they began their ride? Did Jesus discuss the any of this? Might their rides coincide with the "beginning of sorrows? Do they start their ride prior to the Great Tribulation? Did Nostradamus or any other 'private prophets' write predictions that may mislead people so that they may not understand the truth of one or more of the four horseman? There is also a related YouTube video titled Sorrows and the Four Horsemen of the Apocalypse.
The New Testament Church, History, and Unclean Meats Are foods considered to have been unclean in the Old Testament considered to be food in the New Testament? This article discusses this from the perspective of the New Testament. It also has a list of clean and unclean animals. It also answers the question, is pork healthy or is pork dangerous? There is also a sermon-length video on this: Christians and Unclean Meats; a short video is also available: Did Jesus declare all animal flesh food?
Spiritual Samaritans: Old and New Who were the Samaritans? Do the represent true Christianity or something else? Here is a link to a related sermon: USA in Prophecy: Samaria.
COVID 19 is NOT the End, but could it be TEOTWAWKI? The novel coronavirus called COVID-19 is wreaking havoc around the world. Many states of the USA as well as countries in Europe are on lockdown with shelter in place /shelter in residence requirements. In France, a form is required when you are not at your house. In Spain, drones are being used to warn people who are outside to got back to their homes–does that bring up feelings of 'Big Brother'? Italy, France, and other areas are using police and/or military force to encourage people to stay inside. According to the Bible could this be the end? If not, what has to happen first? Have the second and third of the four horsemen of the Apocalypse started their ride? Could COVID-19 be the fourth horseman? Why or why not? Could we be seeing The End of the World as We Know It (TEOTWAKI) like the R.E.M.'s 1987 single song discussed? Do Christians need to fear? What did Jesus teach? What did the Psalmist teach? This is a video. Here is a link to a version in the Spanish language: Corona 19 no es el final PERO es el TEOTWAWKI.
COVID-19 Leading to 666? The novel coronavirus of Wuhan, China fame, is now called COVID-19. It has also been called the 'Coronapocalypse.' Does COVID-19 have any prophetic ramifications? What did Jesus teach about pestilences and sorrows in the Olivet prophecy in Matthew 24? Could COVID-19 be the ride of the fourth horseman of the Apocalypse? Why was this type of disease expected according to the O. Here is a link to a version in the Spanish language: ld Testament prophecies in Deuteronomy and Leviticus? What has the US Centers for Disease Control warned about? What has the CDC reported about the flu? Were there lessons about fear and infections in the 2011 movie 'Contagion'? Because of COVID-19, the World Health Organization (WHO), nation of Iran, and certain French locations are telling people not to use cash, but instead electronic forms of payment. The US Federal Reserve is now quarantining money repatriated from Asia to reduce the potential spread of the coronavirus on US currency bills. Is COVID-19 worse than we have been told or could this all be a 'false flag' event to encourage people to move towards a cashless society? If the thousands of deaths associated with COVID-19 are pushing parts of the world towards cashlessness, how much more likely will the ride of the fourth horseman and over a billion human deaths motivate people to move to making electronic payments that can be monitored? The Bible tells of a soon coming society that controls buying and selling to force allegiance to a coming European Beast power, known as 666 (Revelation 13:16-18). Does the 'great tribulation' begin before ride of the fourth horseman or with the opening of the fifth seal of Revelation 6? Do the words of Jesus helps us better understand the sequence of the four horsemen of the Apocalypse and the start of the Great Tribulation? Will the ride of the fourth horseman help lead to the rise of 666? Is that ride very close? Dr. Thiel addresses these issues and more in this video. Here is a link to a version in the Spanish language: El COVID-19 ¿Conduce al 666?
Two Horned Beast of Revelation and 666 Who is 666? This article explains how the COG views this, and compares this to Ellen White. Here is a link to a prophetic video Six Financial Steps Leading to 666?
Biological Warfare and Prophecy. Is biological warfare possible? Was it prophesied? Scientists have long warned that pathogenic organisms like the coronavirus could be weaponized. Furthermore, back in 2017, there were concerns that the biological research facility being constructed in Wuhan, China was risky and that a coronavirus from it could be released. On January 25, 2020, China's President Xi Jinping publicly stated that the situation with the Wuhan-related strain of the coronavirus was grave. Did Church of God writers like the late evangelist Raymond McNair warn that engineered viruses (the "Doomsday bug") were consistent with prophecies from Jesus? Did a warning from CCOG leader Bob Thiel warn about risks of genetically-modified (GMO) mosquitoes come to pass? Could human research and/or the consumption of biblically-unclean animals such as bats and snakes be a factor in current outbreaks or coming future pestilences? What about famines? How devastating have pestilences been? How devastating are the prophesied ones going to be? Dr. Thiel addresses these issues and more in this video.
Fourth Horseman of the Apocalypse What is the pale horse of death and pestilences? What will it bring and when? Here is a link to a related sermon: Fourth Horseman, COVID, and the Rise of the Beast of Revelation. Here is a version of that sermon in Spanish: El Cuarto Caballo, El COVID y El Surgimiento de la Bestia del Apocalipsis. Some shorter related videos may include Amphibian Apocalypse: Threat to Humans? and Zombie Deer Disease is Here! Are the 10 Plagues on Egypt Coming? Here is a version of the article in Spanish: El cuarto jinete de Apocalipsis, el caballo pálido de muerte y pestilencia.
20 items to prophetically watch in 2020 Much is happening. Dr. Thiel points to 20 items to watch (cf. Mark 13:37) in this article. Here is a link to a related sermon: 20 Prophetic Items to Watch in 2020.
USA in Prophecy: The Strongest Fortresses Can you point to scriptures, like Daniel 11:39, that point to the USA in the 21st century? This article does. Two related sermon are available: Identifying the USA and its Destruction in Prophecy and Do these 7 prophesies point to the end of the USA?
Who is the King of the West? Why is there no Final End-Time King of the West in Bible Prophecy? Is the United States the King of the West? Here is a version in the Spanish language: ¿Quién es el Rey del Occidente? ¿Por qué no hay un Rey del Occidente en la profecía del tiempo del fin? A related sermon is also available: The Bible, the USA, and the King of the West.
Who is the King of the North? Is there one? Do biblical and Roman Catholic prophecies for the Great Monarch point to the same leader? Should he be followed? Who will be the King of the North discussed in Daniel 11? Is a nuclear attack prophesied to happen to the English-speaking peoples of the United States, Great Britain, Canada, Australia, and New Zealand? When do the 1335 days, 1290 days, and 1260 days (the time, times, and half a time) of Daniel 12 begin? When does the Bible show that economic collapse will affect the United States? In the Spanish language check out ¿Quién es el Rey del Norte? Here are links to two related videos: The King of the North is Alive: What to Look Out For and The Future King of the North.
The Great Monarch: Biblical and Catholic Prophecies Is the 'Great Monarch' of Catholic prophecies endorsed or condemned by the Bible? Two sermons of related interest are also available: Great Monarch: Messiah or False Christ? and Great Monarch in 50+ Beast Prophecies.
Satan's Plan Does Satan have a plan? What is it? Has it already been successful? Will it be successful in the future? Here are links to a two-part sermon series: What are Some of the Parts of Satan's Plan? and Satan's Plan is More Dramatic than Many Realize.
Anglo – America in Prophecy & the Lost Tribes of Israel Are the Americans, Canadians, English, Scottish, Welsh, Australians, Anglo-Saxon (non-Dutch) Southern Africans, and New Zealanders descendants of Joseph? Where are the lost ten-tribes of Israel? Who are the lost tribes of Israel? What will happen to Jerusalem and the Jews in Israel? Will God punish the U.S.A., Canada, United Kingdom, and other Anglo-Saxon nations? Why might God allow them to be punished first? Here is a link to the Spanish version of this article: Anglo-América & las Tribus Perdidas de Israel. Information is also in the YouTube sermons titled Where are the Ten Lost Tribes? Why does it matter? and British are the Covenant People. A short YouTube of prophetic interest may be: Are Chinese threats against Australia for real?
Will the Anglo-Saxon-Celtic Nations be Divided and Have People Taken as Slaves? Will the lands of the United States, United Kingdom, Canada, Australia, and New Zealand be divided? What about Jerusalem? What does Bible prophecy teach? Are there non-biblical prophecies that support this idea? Who will divide those lands? Who will end up with the lands and the people? Here is a link to a video titled Will the USA and other Anglo-nations be Divided and Their People Made Slaves? Here is a related item in the Spanish language ¿Serán divididas las naciones anglosajonas?
British are the Covenant People What do 'British' and 'Britain' mean in Hebrew? Are the descendants of the Anglo-Saxons people of the covenant? Does the British royal family connect to the throne of David? What does the Bible teach? What does history show us? Is there any DNA evidence related to British-Israelism? When did Christianity make it to the British Isles? Could Jeremiah have made it to the British Isles? What type of Christians made it to the British Isles? Did the last King of England believe in British Israelism?
Canada in Prophecy: What Does Bible Prophecy, Catholic Prophecy, and other Predictions Suggest About the Future of Canada? There are prophecies that suggest involvement with Canada. And many are not positive about its future. A sermon of related interest is also available: Canada in Prophecy.
Australia and New Zealand in Prophecy Do biblical prophecies help explain the wealth blessings for Australia and New Zealand? Might cursings from disobedience come in the 21st century? Here is a link to a related sermon: Australia and New Zealand: Origins and Prophecy.
Germany's Assyrian Roots Throughout History Are the Germanic peoples descended from Asshur of the Bible? Have there been real Christians in Germanic history? What about the "Holy Roman Empire"? There is also a You-Tube video sermon on this titled Germany's Biblical Origins.
Germany in Biblical and Catholic Prophecy Does Assyria in the Bible equate to an end time power inhabiting the area of the old Roman Empire? What does prophecy say Germany will do and what does it say will happen to most of the German people? Here is a version of the article in the Spanish language: Alemania en la profecía bíblic. Here are links to two English language sermon videos Germany in Bible Prophecy and The Rise of the Germanic Beast Power of Prophecy.
Does God Have a 6,000 Year Plan? What Year Does the 6,000 Years End? Was a 6000 year time allowed for humans to rule followed by a literal thousand year reign of Christ on Earth taught by the early Christians? Does God have 7,000 year plan? What year may the six thousand years of human rule end? When will Jesus return? 2028 or 20xx? There is also a video titled 6000 Years: When will God's Kingdom Come? Here is a link to the article in Spanish: ¿Tiene Dios un plan de 6,000 años?
When Will the Great Tribulation Begin? 2020, 2021, or 2022? Can the Great Tribulation begin today? What happens before the Great Tribulation in the "beginning of sorrows"? What happens in the Great Tribulation and the Day of the Lord? Is this the time of the Gentiles? When is the earliest that the Great Tribulation can begin? What is the Day of the Lord? Who are the 144,000? Here is a version of the article in the Spanish language: ¿Puede la Gran Tribulación comenzar en el 2020 o 2021? ¿Es el Tiempo de los Gentiles? You can also see the English language sermon videos: The Great Tribulation from the Mount of Olives and Can the Great Tribulation begin before 2020? A shorter and newer video is: Could the Great Tribulation Begin in 2020?
The Times of the Gentiles Has there been more than one time of the Gentiles? Are we in it now or in the time of Anglo-America? What will the final time of the Gentiles be like? A related sermon is available and is titled: The Times of the Gentiles.
Armageddon Who is involved and when will this gathering happen? Here is also a video from Dr. Thiel, from Tel Megiddo in Israel: Armageddon. Other videos include: Armageddon Will it come on Trump's watch?, Iraq, Armageddon, & Prophecy, Freemasonry, Armageddon, and Rome, Is China paving roads to Armageddon?, and Jordan, Petra, and Armageddon.
Is God Calling You? This booklet discusses topics including calling, election, and selection. If God is calling you, how will you respond? Here is a link to a related sermon: Could God be Calling You? A short animation is also available: Is God Calling You?
Christian Repentance Do you know what repentance is? Is it really necessary for salvation? A related sermon is also available titled: Real Christian Repentance.
Just What Do You Mean — Repentance? Do you know what repentance is? Have you truly repented? Repented of what? Herbert W. Armstrong wrote this as a booklet on this important subject.
When You Sin: Do You Really Repent? This is an article by Charles F. Hunting. A related sermon is Confess to God and truly repent.
Do Christians Sin? This is an article by Herbert W. Armstrong.
The Gospel of the Kingdom of God This free online pdf booklet has answers many questions people have about the Gospel of the Kingdom of God and explains why it is the solution to the issues the world is facing. Here are links to three related sermons: The World's False Gospel, The Gospel of the Kingdom: From the New and Old Testaments, and The Kingdom of God is the Solution.