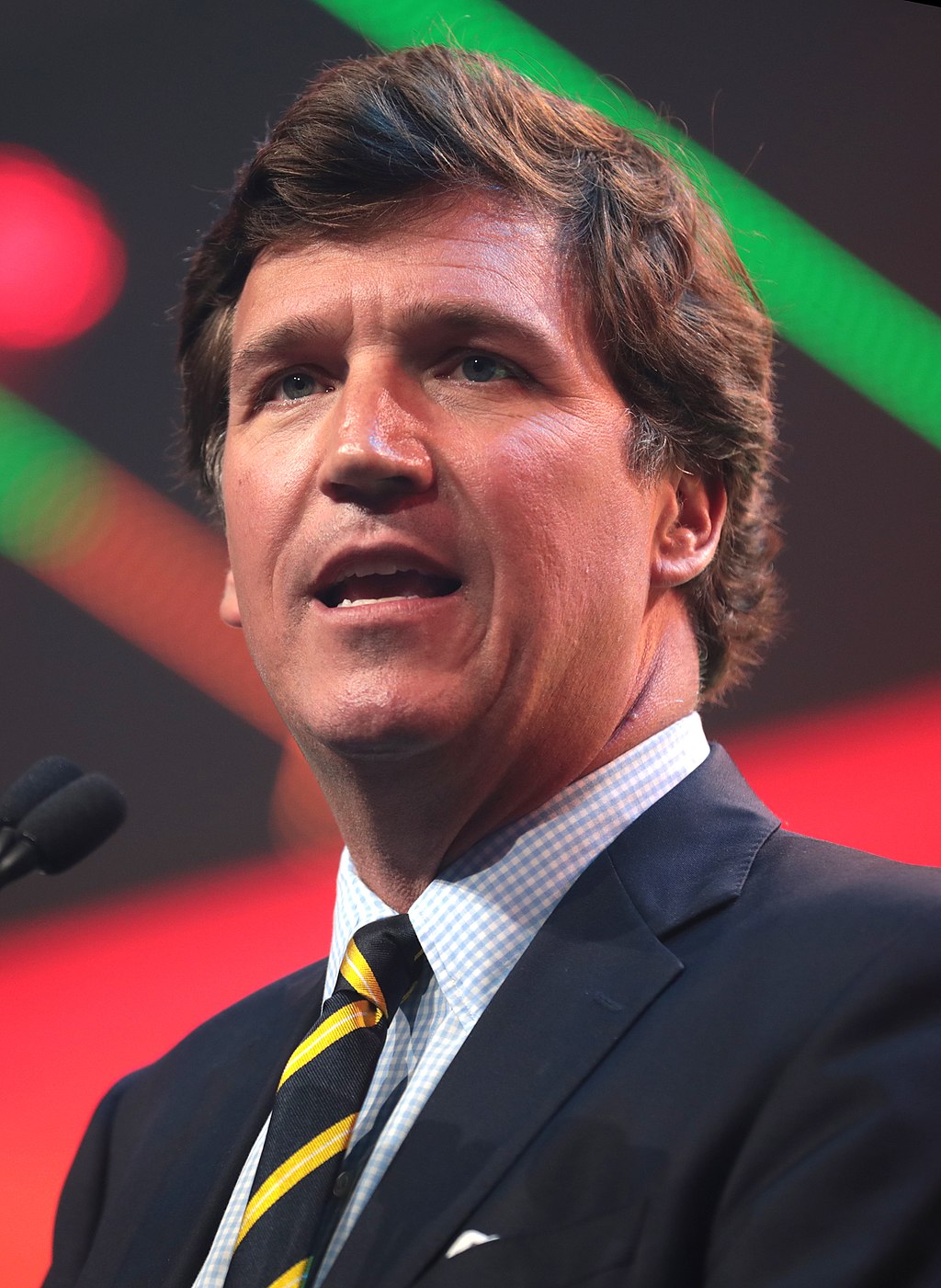 Tucker Carlson (photo by Gage Skidmore)

Many National Guard troops are headed for Washington, D.C.:
January 19, 2021

WASHINGTON (Reuters) – Central Washington is an armed fortress, fenced off with razor wire and surrounded by 25,000 National Guard troops ahead of President-elect Joe Biden's inauguration on Wednesday, a stark contrast to previous inaugurations, when the United States capital erupted in days of celebration. …

For a nation that has prided itself as a beacon for democracy around the world, the peaceful transition of power looks anything but, said Larry Sabato, director of the University of Virginia's Center for Politics.

"The world will see Biden sworn in, in the middle of a military camp that's indistinguishable from the Green Zone," Sabato said, referring to the fortress-like area of central Baghdad set up after the Iraq War. https://www.aol.com/news/washingtons-inauguration-normally-ball-now-113410370-132415627.html

U.S. security officials say they are taking every precaution to guard against an attack on President-elect Joe Biden's inauguration Wednesday on the steps of the U.S. Capitol, including FBI security screening of the 25,000 members of the National Guard assigned to Washington to protect the event.

"While we have no intelligence indicating an insider threat, we are leaving no stone unturned in securing the capital," acting Secretary of Defense Christopher Miller said in a statement. …

The inaugural site is encircled in tall fencing topped with concertina wire, a much more pronounced show of security than has been common at past quadrennial inaugurations. …

Much of the celebration of Biden's inauguration will be conducted virtually, with bands and groups appearing from all 50 U.S. states. …

Authorities have also closed the National Mall along with roads and Metro subway stations in much of downtown Washington. Bridges into the city from the state of Virginia are also being closed. Thousands of National Guard troops and law enforcement officers are stationed across the area to protect against further violence.

Despite the heightened security concerns, Biden plans to go ahead with the inauguration ceremony in its traditional location. …

Trump … has announced he plans to skip the inauguration. Vice President Mike President is planning to attend.

Trump instead is planning to leave Washington on Wednesday morning with a red-carpet ceremony as he boards Air Force One for a flight to his Atlantic Ocean retreat in Florida.  …

Once in power, Biden plans to quickly overturn numerous Trump policies. 01/18/21 https://www.voanews.com/2020-usa-votes/us-tightens-security-checks-ahead-biden-inauguration

The "virtual" inauguration for Joe Biden on Wednesday will be anything but normal.

Already, 25,000 National Guard troops have been dispatched to Washington, D.C.

"The Guard is 90-some-odd percent, I believe, male. Only about 20% of white males voted for Biden," Cohen told CNN. "You gotta figure that in the Guard, which is predominantly more conservative, and I see that on my social media … they're probably not more than 25% of the people that are there protecting us who voted for Biden.

"The other 75% are in the class that would be the large class of folks who might want to do something," he charged. "And there were military people and police who took oaths to defend the Constitution and to protect and defend who didn't do it who were in the insurrection. So it does concern me." …

Concerns have been raised about protesters trying to disrupt the Wednesday inauguration, prompting the installation of security fencing, concertina wire and more.

Virtually forgotten in the reporting of the security, however, are the riots that left buildings damaged and cars burned in the protest of President Donald Trump's inauguration four years ago.

Cohen conceded he had not seen evidence of any planned "insider attack." 01/18/21 https://www.wnd.com/2021/01/democrat-fears-national-guard-might-something-stop-biden/
A historically massive amount of National Guard troops are expected and many are already there–for what is supposed to be a "virtual inauguration." The fact that the FBI is actually screening the 25,000 troops is basically unprecedented.
Tucker Carlson made the following comments last night related to the troops and related matters:
January 18, 2021
Our capital city is currently under military occupation. By Inauguration Day, there are expected to be more than 26,000 armed federal troops in Washington. No living American has seen a moment like the one we're watching now.

For comparison, Lyndon Johnson sent a total of 13,600 federal troops and D.C. Army National Guardsmen to quell the race riots in Washington that followed the assassination of Martin Luther King Jr. Those riots injured hundreds of people and killed at least 13. …

For decades, Washington, D.C., had the highest per-capita law enforcement presence in the country and one of the highest in the world. There was no need to fly in troops from Alaska to keep the city safe. But keeping the city safe is hardly the point of this exercise. The murder rate in the District of Columbia has risen with terrifying speed over the last six months. Men, women and children have been shot to death in the streets, but no one in charge seems to care about that or even notice. So no matter what they are telling you, those 26,000 federal troops are not there for your safety. …
Instead, unmistakably, the Democratic Party is using those troops to send the rest of us a message about power: "We're in charge now. We run this nation, from Honolulu to our colony in the Caribbean and everywhere in between, very much including where you and your family live. Do not question us men with guns. We control the Pentagon." And indeed, they do.

Republicans have spent years ignoring the leftward drift of our officer corps, but we can't ignore it now. The mask is off our military leadership. The very same generals who howled at the idea of deploying American troops to stop an invasion of our southern border sent tens of thousands of soldiers with rifles to Washington purely as a show of force on behalf of the political party they support. Once they did that, they allowed Democratic politicians to degrade and politicize the military itself.

Democrats in Congress demanded that the troops sent to Washington this week submit to a political purity test — "ideological vetting, as they put it — to make certain that every soldier professed loyalty to the new regime. Not loyalty to our country, not loyalty to our Constitution, but loyalty to the aims of a specific political party. Nothing like that has ever happened in America and just a few months ago, it would have been unimaginable. Suddenly it's compulsory. …

In the meantime, you've got to wonder what the Guardsmen themselves think of all of this. .. they've been told that if they were born a certain way, if they're White and male and therefore evil and dangerous, they themselves are under suspicion of being the enemy. They're potential killers, assassins, betrayers of a nation. …

On Monday, The Daily Beast, the home page of our highly credentialed but none-too-bright ruling class, ran a piece with this title: "Can U.S. Spy Agencies Stop White Terror?" Other countries, the story pointed out, have domestic spy agencies to fight extremists at home. So, of course, we need one right away. What the piece does not mention is that those other countries include China, North Korea, and Kazakhstan. Domestic spy agency is a not-very-subtle euphemism for secret police. That is what they're calling for.

So how long will this cycle go on? If you're hoping America will revert to normal on Wednesday afternoon after Joe Biden is sworn in as president, you are an optimist. https://www.foxnews.com/opinion/tucker-carlson-washington-dc-security-democrats-power-message
The USA is more and more divided and going faster in the wrong direction.
Jesus warned:
25 Every kingdom divided against itself is brought to desolation, and every city or house divided against itself will not stand. (Matthew 12:25)

17 Every kingdom divided against itself is brought to desolation, and a house divided against a house falls. (Luke 11:17)
The divide in the USA is growing as many of its sins (including hypocrisy) become more blatant.
Notice also something that Isaiah was inspired to record:
4 Alas, sinful nation,
A people laden with iniquity,
A brood of evildoers,
Children who are corrupters!
They have forsaken the Lord,
They have provoked to anger
The Holy One of Israel,
They have turned away backward.

5 Why should you be stricken again?
You will revolt more and more.
The whole head is sick,
And the whole heart faints.
6 From the sole of the foot even to the head,
There is no soundness in it,
But wounds and bruises and putrefying sores;
They have not been closed or bound up,
Or soothed with ointment.

7 Your country is desolate,
Your cities are burned with fire;
Strangers devour your land in your presence;
And it is desolate, as overthrown by strangers. (Isaiah 1:4-7)
Truly, the USA is a sinful nation with a people laden with iniquity. This will not end well for the USA (Daniel 11:39; see also in Prophecy: The Strongest Fortresses)
Consider also the following from the prophet Amos:
9 'Assemble on the mountains of Samaria; See great tumults in her midst, And the oppressed within her. 10 For they do not know to do right, 'Says the Lord, 'Who store up violence and robbery in their palaces.'" (Amos 3:9-10)
The reference to Samaria is pointing to the USA (see also Spiritual Samaritans: Old and New). The above is consistent with both civil unrest and terrorism. Expect more to hit the USA. Many of the right and left feel oppressed, they do not know how to do right, and they have stored up violence, and in 'protests' can display violence and robbery.
The time of Jacob's trouble (Jeremiah 30:7), also known as the Great Tribulation (Matthew 24:21), is coming and the USA and its Anglo-Saxon allies (including Canada) will be affected.
Now look at how the Orthodox Jewish Bible translates the first half of Jesus' words in Matthew 24:7:
For there will be an intifada of ethnic group against ethnic group, …
We are seeing this. "Intifada" essentially means rebellion or uprising. We have seen that in these recent protests and riots. We expect to see more wars, rumors of war, and civil unrest.
As far as violence goes, that has been expected. Notice the following prophecy:
25 There shall be terror within (Deuteronomy 32:25)
National Guard troops are not the answer.
As far as cities and the nation go, notice the following from the prophet Ezekiel:
23 'Make a chain,
For the land is filled with crimes of blood,
And the city is full of violence.
24 Therefore I will bring the worst of the Gentiles,
And they will possess their houses;
I will cause the pomp of the strong to cease,
And their holy places shall be defiled.
25 Destruction comes;
They will seek peace, but there shall be none.
26 Disaster will come upon disaster,
And rumor will be upon rumor.
Then they will seek a vision from a prophet;
But the law will perish from the priest,
And counsel from the elders. (Ezekiel 7:23-26)
Yes, more disaster is coming.
Neither Donald Trump nor Joe Biden has truly called for national repentance–but that is what is needed.
However, you can repent (see Christian Repentance and Is God Calling You?). Watch also, and pray (cf. Luke 21:36; 1 Timothy 2:1-3). Do good (cf. Romans 12:17-21).
As far as the USA goes, it will be destroyed within a decade or so (watch also Is the USA prophesied to be destroyed by 2028?).
Yet, after its destruction it will finally realize that The Kingdom of God is the Solution.
Some items of possibly related interest may include:
Biden-Harris: Prophecies and Destruction Can the USA survive two full presidential terms? In what ways are Joe Biden and Kamala Harris apocalyptic? This book has hundreds of prophecies and scriptures to provide details.  A Kindle version is also available and you do not need an actual Kindle device to read it. Why? Amazon will allow you to download it to almost any device: Please click HERE to download one of Amazon s Free Reader Apps. After you go to your free Kindle reader app (or if you already have one or a Kindle),  you can go to: Biden-Harris: Prophecies and Destruction (Kindle) to get the book in seconds.
Why Terrorism? Is Terrorism Prophesied? What does the Bible teach? Which nations may be affected? Here is a link to a related sermon: Terrorism, Christianity, and Islam.
Spiritual Samaritans: Old and New Who were the Samaritans? Do the represent true Christianity or something else? Here is a link to a related sermon: USA in Prophecy: Samaria.
Fourth Horseman of the Apocalypse What is the pale horse of death and pestilences? What will it bring and when? Here is a link to a related sermon: Fourth Horseman, COVID, and the Rise of the Beast of Revelation. Some shorter related videos may include Amphibian Apocalypse: Threat to Humans? and Zombie Deer Disease is Here! Are the 10 Plagues on Egypt Coming? Here is a version of the article in Spanish: El cuarto jinete de Apocalipsis, el caballo pálido de muerte y pestilencia.
USA in Prophecy: The Strongest Fortresses Can you point to scriptures, like Daniel 11:39, that point to the USA in the 21st century? This article does. A related sermon is titled: Do these 7 prophesies point to the end of the USA?
Who is the King of the West? Why is there no Final End-Time King of the West in Bible Prophecy? Is the United States the King of the West? Here is a version in the Spanish language: ¿Quién es el Rey del Occidente? ¿Por qué no hay un Rey del Occidente en la profecía del tiempo del fin? A related sermon is also available: The Bible, the USA, and the King of the West.
God's Grace is For All Is being Jewish a hindrance to salvation? What about not being a descendant of Israel? What does the Bible really teach? Here is a link to a related sermon titled Race and Grace; Do you view race as God does?
Is God Calling You? This booklet discusses topics including calling, election, and selection. If God is calling you, how will you respond? Here is a link to a related sermon: Could God be Calling You? A short animation is also available: Is God Calling You?
Christian Repentance Do you know what repentance is? Is it really necessary for salvation? A related sermon is also available titled: Real Christian Repentance.
Just What Do You Mean — Repentance? Do you know what repentance is? Have you truly repented? Repented of what? Herbert W. Armstrong wrote this as a booklet on this important subject.
Does God Have a 6,000 Year Plan? What Year Does the 6,000 Years End? Was a 6000 year time allowed for humans to rule followed by a literal thousand year reign of Christ on Earth taught by the early Christians? Does God have 7,000 year plan? What year may the six thousand years of human rule end? When will Jesus return? 2028 or or 2031 or 20xx? There is also a video titled 6000 Years: When will God's Kingdom Come? Here is a link to the article in Spanish: ¿Tiene Dios un plan de 6,000 años?
The Great Tribulation: What Happens First? What events have happened? What are some events that are now happening? And what events need to happen for the Great Tribulation to start? Here is a link to a related sermon video: Counting Down to the Great Tribulation.
When Will the Great Tribulation Begin? 2021, 2022, or 2023? Can the Great Tribulation begin today? What happens before the Great Tribulation in the "beginning of sorrows"? What happens in the Great Tribulation and the Day of the Lord? Is this the time of the Gentiles? When is the earliest that the Great Tribulation can begin? What is the Day of the Lord? Who are the 144,000? Here is a version of the article in the Spanish language: ¿Puede la Gran Tribulación comenzar en el 2020 o 2021? ¿Es el Tiempo de los Gentiles? A related video is: 2021: The Great Tribulation or the Great Reset?
The Times of the Gentiles Has there been more than one time of the Gentiles? Are we in it now or in the time of Anglo-America? What will the final time of the Gentiles be like? A related sermon is available and is titled: The Times of the Gentiles.
Anglo – America in Prophecy & the Lost Tribes of Israel Are the Americans, Canadians, English, Scottish, Welsh, Australians, Anglo-Saxon (non-Dutch) Southern Africans, and New Zealanders descendants of Joseph? Where are the lost ten-tribes of Israel? Who are the lost tribes of Israel? What will happen to Jerusalem and the Jews in Israel? Will God punish the U.S.A., Canada, United Kingdom, and other Anglo-Saxon nations? Why might God allow them to be punished first? Here is a link to the Spanish version of this article: Anglo-América & las Tribus Perdidas de Israel. Information is also in the YouTube sermons titled Where are the Ten Lost Tribes? Why does it matter? and British are the Covenant People. A short YouTube of prophetic interest may be: Are Chinese threats against Australia for real?
Will the Anglo-Saxon-Celtic Nations be Divided and Have People Taken as Slaves? Will the lands of the United States, United Kingdom, Canada, Australia, and New Zealand be divided? What about Jerusalem? What does Bible prophecy teach? Are there non-biblical prophecies that support this idea? Who will divide those lands? Who will end up with the lands and the people? Here is a link to a video titled Will the USA and other Anglo-nations be Divided and Their People Made Slaves? Here is a related item in the Spanish language ¿Serán divididas las naciones anglosajonas?
British are the Covenant People What do 'British' and 'Britain' mean in Hebrew? Are the descendants of the Anglo-Saxons people of the covenant? Does the British royal family connect to the throne of David? What does the Bible teach? What does history show us? Is there any DNA evidence related to British-Israelism? When did Christianity make it to the British Isles? Could Jeremiah have made it to the British Isles? What type of Christians made it to the British Isles? Did the last King of England believe in British Israelism?
Canada in Prophecy: What Does Bible Prophecy, Catholic Prophecy, and other Predictions Suggest About the Future of Canada? There are prophecies that suggest involvement with Canada. And many are not positive about its future. A sermon of related interest is also available: Canada in Prophecy.
Australia and New Zealand in Prophecy Do biblical prophecies help explain the wealth blessings for Australia and New Zealand? Might cursings from disobedience come in the 21st century? Here is a link to a related sermon: Australia and New Zealand: Origins and Prophecy.
The Gospel of the Kingdom of God This free online pdf booklet has answers many questions people have about the Gospel of the Kingdom of God and explains why it is the solution to the issues the world is facing. Here are links to three related sermons: The World's False Gospel, The Gospel of the Kingdom: From the New and Old Testaments, and The Kingdom of God is the Solution.