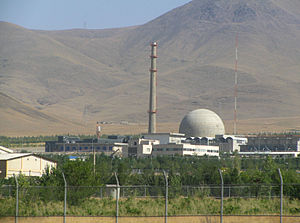 Iranian Heavy Water Nuclear Reactor (Nanking2012)
A United Nations report indicates that Iran still may be gaining nuclear materials:
May 11, 2014

(Reuters) – Iran's attempts to illicitly procure materials for its disputed nuclear and missile programmes appear to have slowed down as it pursues talks on a long-term accord with world powers, a U.N. expert panel said in a confidential report seen by Reuters.

The U.N. Panel of Experts, who monitor compliance with the Security Council's sanctions regime on Iran, presented this conclusion cautiously, suggesting it was also possible Tehran has simply learned to outsmart security and intelligence services in its pursuit of sensitive components and materials…

The report said it had become increasingly difficult to pinpoint any links between "dual-use" items – those with both civilian and military applications – that Iran has sought to procure and potential recipients in the Islamic Republic.

But, the report cautioned, "this may be a function of more sophisticated procurement strategies on the part of Iran, which has developed methods of concealing procurement, while expanding prohibited activities. Such methods can also be used by Iran to procure and finance legitimate trade, which further complicates the efforts of states to identify illicit procurement."

The report added that Iran had "also demonstrated a growing capability to produce key items indigenously". Among sensitive dual-use items Iran has pursued abroad over the years have been aluminum, carbon fibre and special valves.  http://in.reuters.com/article/2014/05/11/us-iran-nuclear-sanctions-idINKBN0DR0C620140511
Iran can make many components itself and also has learned that it needs to be more cautious with its purchases of materials in the international market.  If the West believes that Iran has given up its nuclear ambitions, then the West is deceived.  Iran wants access to its money overseas and the USA has basically allowed that.
I have repeatedly warned that the deal that the USA made with Iran to supposedly stop this seems to have given Iran benefits at little cost (see Iran makes nuclear deal that Obama praises: Israel and Saudi Arabia are not pleased and Various analysts say that Iran 'won' in the nuclear talks and Iran remains defiant and some see the USA caving to its demands).
So, far this deal appears to be (carnally-speaking) a good deal for Iran. However, in the long-run, Iran will likely suffer for decisions it will make, at least partially because of this deal. That being said, parts of this deal put the USA itself at risk for terrorist attacks from 'dirty bombs' (bombs that have radioactive components) and possibly nuclear bombs in the future.
Iran is not truly placated. The top leadership of Iran has a Shi'ite Muslim agenda, which they have concluded includes causing chaos and war. I, for one, do not believe that Iran's leaders have given up on their goals of Islamic domination.
Notice the following prophecy which indicates destruction for at least a part of Iran (some of Elam is believed to be in Iran):
34 The word of the Lord that came to Jeremiah the prophet against Elam, in the beginning of the reign of Zedekiah king of Judah, saying, 35 "Thus says the Lord of hosts:

'Behold, I will break the bow of Elam,
The foremost of their might.
36 Against Elam I will bring the four winds
From the four quarters of heaven,
And scatter them toward all those winds;
There shall be no nations where the outcasts of Elam will not go.
37 For I will cause Elam to be dismayed before their enemies
And before those who seek their life.
I will bring disaster upon them,
My fierce anger,' says the Lord;
'And I will send the sword after them
Until I have consumed them.
38 I will set My throne in Elam,
And will destroy from there the king and the princes,' says the Lord. (Jeremiah 49:34-39)
"Neutralizing" Iran would allow most of the other Islamic states (like Saudi Arabia and Egypt) to continue to exist (Syria might not do well per Isaiah 17:1) and allow for the rising of the prophesied King of the South to rise up.
The top leadership of Iran has a Shi'ite Muslim agenda, which they have concluded includes causing chaos and war. I, for one, do not believe that Iran's leaders have given up on their goals of Islamic domination–and they do want nuclear weapons. But if they significantly act militarily with them (cf. Isaiah 22:1-14), it ultimately will not turn our well for Iran (e.g. Jeremiah 49:34-38).
Some items of possibly related interest may include:
Iran in Prophecy Is Iran in Bible prophecy? If so, what does the Bible teach? What names, other than Persia, may be used to describe Iran? There is also a YouTube video titled Iran in Prophecy. Here is a related video Iran In Prophecy.
Is the Future King of the South Rising Up? Some no longer believe there needs to be a future King of the South. Might Egypt, Islam, Iran, Arabs, or Ethiopia be involved? Might this King be called the Mahdi or Caliph? What does the Bible say? A YouTube video of related interest may be: The Future King of the South is Rising.
The Arab and Islamic World In the Bible, History, and Prophecy The Bible discusses the origins of the Arab world and discusses the Middle East in prophecy. What is ahead for the Middle East and those who follow Islam? What about the Imam Mahdi? What lies ahead for Turkey, Iran, and the other non-Arabic Muslims? An item of possibly related interest in the Spanish language would be: Líderes iraníes condenan la hipocresía de Occidente y declaran que ahora es tiempo para prepararse para el Armagedón, la guerra, y el Imán Mahdi. Another article related to Iran translated into the Spanish language is: Irán y líderes israelíes discuten las intenciones nucleares de Irán.
United Nations: Humankind's Last Hope or New World Order? Is the UN the last hope for humanity? Or might its goals end up with sinister results?
Jerusalem: Past, Present, and Future What does the Bible say about Jerusalem and its future? Is Jerusalem going to be divided and eliminated? Is Jesus returning to the area of Jerusalem?
Anglo – America in Prophecy & the Lost Tribes of Israel Are the Americans, Canadians, English, Scottish, Welsh, Australians, Anglo (non-Dutch) Southern Africans, and New Zealanders descendants of Joseph? Where are the lost ten-tribes of Israel? Who are the lost tribes of Israel? What will happen to Jerusalem and the Jews in Israel? Will God punish the U.S.A., Canada, United Kingdom, and other Anglo nations? Why might God allow them to be punished first?
Who is the King of the West? Why is there no End-Time King of the West in Bible Prophecy? Is the United States the King of the West?
When Will the Great Tribulation Begin? 2014, 2015, or 2016? Can the Great Tribulation begin today? What happens before the Great Tribulation in the "beginning of sorrows"? What happens in the Great Tribulation and the Day of the Lord? Is this the time of the Gentiles? When is the earliest that the Great Tribulation can begin? What is the Day of the Lord? Who are the 144,000? Here is a version of the article in the Spanish language: ¿Puede comenzar la Gran Tribulación en 2013 o 2014? ¿Es el Tiempo de los Gentiles? You can also see the English language video The Great Tribulation Will Not Begin Before 2017.
Barack Obama, Prophecy, and the Destruction of the United States-Second Edition for Second Obama Term This is a 160 page book for people truly interested in prophecies related to Barack Obama and the United States, including learning about many that have already been fulfilled (which the book documents in detail) and those that will be fulfilled in the future. It also has a chapter about a Republican choice. This book is available to order at www.barackobamaprophecy.com. The physical book can also be purchased at Amazon from the following link: Barack Obama, Prophecy, and the Destruction of the United States: Is Barack Obama Fulfilling Biblical, Islamic Catholic, Kenyan, and other America-Related Prophecies? What About Republican Leaders? Second Edition for Second Obama Term.
Barack Obama, Prophecy, and the Destruction of the United States-Second Term-Amazon Kindle edition. This electronic version is available for only US$2.99. And you do not need an actual Kindle device to read it. Why? Amazon will allow you to download it to almost any device: Please click HERE to download one of Amazon s Free Reader Apps. After you go to for your free Kindle reader and then go to Barack Obama, Prophecy, and the Destruction of the United States-Second Term-Amazon Kindle edition.