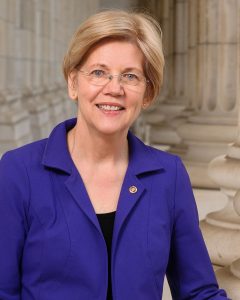 Elizabeth Warren and Donald Trump

Democratic US president candidate Elizabeth Warren issued a warning about a soon 'coming economic crash':
Warren warns of 'coming economic crash'

July 22, 2019

Sen. Elizabeth Warren on Monday predicted an imminent economic crisis unless the Trump administration and Congress quickly pass legislation to regulate the financial sector and significantly reduce middle class household debt.

"Warning lights are flashing. Whether it's this year or next year, the odds of another economic downturn are high — and growing," Warren (D-Mass.) wrote in a Medium post entitled "The Coming Economic Crash–And How to Stop It."

"I see a manufacturing sector in recession. I see a precarious economy that is built on debt — both household debt and corporate debt — and that is vulnerable to shocks. And I see a number of serious shocks on the horizon that could cause our economy's shaky foundation to crumble," she wrote.

Most of Warren's proposals to head off the crisis are policies she has called for recently on the campaign trail such as forgiving over $600 billion in student loan debt, enacting her "Green Manufacturing Plan", strengthening unions, providing universal child care and raising the minimum wage to $15 an hour. https://www.politico.com/story/2019/07/22/elizabeth-warren-economic-crash-1424588
While Elizabeth Warren is correct that the US economy is in a precarious situation because of debt, her proposals do not reduce debt, but in several ways would increase it.
Republican Donald Trump issued some tweets today with a warning as well:
With almost no inflation, our Country is needlessly being forced to pay a MUCH higher interest rate than other countries only because of a very misguided Federal Reserve. In addition, Quantitative Tightening is continuing, making it harder for our Country to compete. As good…..

— Donald J. Trump (@realDonaldTrump) July 22, 2019
It is far more costly for the Federal Reserve to cut deeper if the economy actually does, in the future, turn down! Very inexpensive, in fact productive, to move now. The Fed raised & tightened far too much & too fast. In other words, they missed it (Big!). Don't miss it again!

— Donald J. Trump (@realDonaldTrump) July 22, 2019
Quantitative easing should never have been done, but it did make aspects of the US economy appear better than it was under former President Barack Obama.
Quantitative tightening has had the reverse affect under the Trump Administration.
But is the solution to the US economy lowering interest rates again?
No.
From a physical perspective, the US government needs to lower its total debt.
Elizabeth Warren's proposals do not do that–overall, her proposals are expected to increase US government debt.
And Donald Trump?
US government debt has increased since he took office.
As a matter of fact, the Associated Press is reporting another deal is in the works to increase debt even further:
July 22, 2019

WASHINGTON (AP) — The Trump administration and House Speaker Nancy Pelosi are on the cusp of the critical debt and budget deal, one that would amount to a hard-fought, against-the-odds victory for Washington pragmatists seeking to avoid politically dangerous tumult over must-do fiscal deadlines.

Aides on both sides of the talks say the tentative deal would restore the government's ability to borrow into the next administration and build upon recent large budget gains for both the Pentagon and domestic agencies. The deal would mostly eliminate the risk of a repeat government shutdown this fall.

The agreement on an outline for $1.3 trillion in agency spending would represent a win for lawmakers eager to return Washington to a more predictable path amid political tumult and polarization, defense hawks determined to cement big military increases and Democrats who oppose spending cuts. https://www.apnews.com/b72be6c420bb478ea469da72c73065e2
From a physical perspective, the US needs to reduce its debt.
But this would truly not happen without national repentance–and that is not something that any expected major candidate for the 2020 presidential election has called for.
Now the Bible warns that if the children of Israel sinned and did not repent, the following would happen:
12 As for My people … Those who lead you cause you to err, And destroy the way of your paths. (Isaiah 3:12)
16 For the leaders of this people cause them to err, And those who are led by them are destroyed. (Isaiah 9:16)
Whether or not the US technically enters a recession in the next couple of years (and it is somewhat due for one), the reality is that a much more severe crisis is coming.
Not the relatively minor one that Elizabeth Warren is calling the 'coming economic crash' nor one that could happen next year if the Federal Reserve does not lower interest rates like Donald Trump wants.
The Bible tells of a time when the heavily indebted nation will be taken over:
6 "Will not all these take up a proverb against him,
And a taunting riddle against him, and say,
'Woe to him who increases
What is not his — how long?
And to him who loads himself with many pledges'?
7 Will not your creditors rise up suddenly?
Will they not awaken who oppress you?
And you will become their booty.
8 Because you have plundered many nations,
All the remnant of the people shall plunder you (Habakkuk 2:6-8)
The USA is believed to be the most indebted nation in the history of the world. Habakkuk's prophecy is for the end time and cannot be directed towards the tiny nation called Israel. Israel simply does not have enemy creditors. But the USA has actual, past, and potential enemies as creditors.
If you do not think that it is possible that the US with the world's most powerful military can be taken over, notice also the following prophecy:
39 Thus he shall act against the strongest fortresses with a foreign god, which he shall acknowledge, and advance its glory; and he shall cause them to rule over many, and divide the land for gain. (Daniel 11:39)
The "he" is the coming European Beast power. For more on prophecies showing the coming destruction of the US, check out the article: USA in Prophecy: The Strongest Fortresses.
Lest some of you discount all this, recall that the Bible teaches:
20 Do not despise prophecies. 21 Test all things; hold fast what is good. (1 Thessalonians 5:20-22)
Related to end time prophetic events, notice what Jesus said:
36 Watch therefore, and pray always that you may be counted worthy to escape all these things that will come to pass, and to stand before the Son of Man. (Luke 21:36)
Pray and do not despise prophecies.
The US needs the Kingdom of God and national repentance.
Some items of possibly related interest may include:
The End of US Dollar Dominance Is the USA losing its economic status? What about the petro-gold-yuan? A related video is also available: US Dollar being challenged by Gold-Petro-Yuan.
USA in Prophecy: The Strongest Fortresses Can you point to scriptures, like Daniel 11:39, that point to the USA in the 21st century? This article does. A related sermon is titled: Do these 7 prophesies point to the end of the USA?
Who is the King of the West? Why is there no Final End-Time King of the West in Bible Prophecy? Is the United States the King of the West? Here is a version in the Spanish language: ¿Quién es el Rey del Occidente? ¿Por qué no hay un Rey del Occidente en la profecía del tiempo del fin? A related sermon is also available: The Bible, the USA, and the King of the West.
Who is the King of the North? Is there one? Do biblical and Roman Catholic prophecies for the Great Monarch point to the same leader? Should he be followed? Who will be the King of the North discussed in Daniel 11? Is a nuclear attack prophesied to happen to the English-speaking peoples of the United States, Great Britain, Canada, Australia, and New Zealand? When do the 1335 days, 1290 days, and 1260 days (the time, times, and half a time) of Daniel 12 begin? When does the Bible show that economic collapse will affect the United States? In the Spanish language check out ¿Quién es el Rey del Norte? Here is a link to a video titled: The Future King of the North.
The Great Monarch: Biblical and Catholic Prophecies Is the 'Great Monarch' of Catholic prophecies endorsed or condemned by the Bible? Two sermons of related interest are also available: Great Monarch: Messiah or False Christ? and Great Monarch in 50+ Beast Prophecies.
Sorry state of the 2020 presidential campaign Various politicians have announced their intentions to run for the office of the President of the United States in 2020. 'Politico' ran an article about the 'sorry state' of various candidates. Some candidates have felt the need to apologize for previous statements in support of biblical marriage and the need to endorse items of the LGBTQ agenda. Many also support abortion and other anti-biblical actions. Are these 'American values'? Should the English language be changed to eliminate male/female and singular pronouns? Does the Bible warn about female leaders? Does the Bible warn about leaders that lead people to err? What about condoning sexual immortality? Do the presidential contenders fit prophecies warned about in 2 Timothy 3:1-5? These are some of the subjects that Dr. Thiel addresses in this video.
Should a Christian Vote? This article gives some of the Biblical rationale on this subject. Would Jesus vote for president/prime minister? Is voting in the Bible? This is a subject Christians need to understand. A video of related interest is available titled: Should Christians Vote? Another video is 10 Reasons Not to Vote for Donald Trump or Hillary Clinton.
The Gospel of the Kingdom of God This free online pdf booklet has answers many questions people have about the Gospel of the Kingdom of God and explains why it is the solution to the issues the world is facing. Here are links to three related sermons: The World's False Gospel, The Gospel of the Kingdom: From the New and Old Testaments, and The Kingdom of God is the Solution.
Is God Calling You? This booklet discusses topics including calling, election, and selection. If God is calling you, how will you respond? Here is a link to a related sermon: Could God be Calling You? A short animation is also available: Is God Calling You?
Christian Repentance Do you know what repentance is? Is it really necessary for salvation? A related sermon is also available titled: Real Christian Repentance.
Anglo – America in Prophecy & the Lost Tribes of Israel Are the Americans, Canadians, English, Scottish, Welsh, Australians, Anglo-Saxon (non-Dutch) Southern Africans, and New Zealanders descendants of Joseph? Where are the lost ten-tribes of Israel? Who are the lost tribes of Israel? What will happen to Jerusalem and the Jews in Israel? Will God punish the U.S.A., Canada, United Kingdom, and other Anglo-Saxon nations? Why might God allow them to be punished first? Here is a link to the Spanish version of this article: Anglo-América & las Tribus Perdidas de Israel. Information is also in the YouTube sermons titled Where are the Ten Lost Tribes? Why does it matter? and British are the Covenant People. A short YouTube of prophetic interest may be: Are Chinese threats against Australia for real?
Will the Anglo-Saxon Nations be Divided and Have People Taken as Slaves? Will the lands of the United States, United Kingdom, Canada, Australia, and New Zealand be divided? What about Jerusalem? What does Bible prophecy teach? Are there non-biblical prophecies that support this idea? Who will divide those lands? Who will end up with the lands and the people? Here is a link to a video titled Will the USA and other Anglo-nations be Divided and Their People Made Slaves? Here is a related item in the Spanish language ¿Serán divididas las naciones anglosajonas?
Does God Have a 6,000 Year Plan? What Year Does the 6,000 Years End? Was a 6000 year time allowed for humans to rule followed by a literal thousand year reign of Christ on Earth taught by the early Christians? Does God have 7,000 year plan? What year may the six thousand years of human rule end? When will Jesus return? 2027 or 20xx? There is also a video titled 6000 Years: When will God's Kingdom Come? Here is a link to the article in Spanish: ¿Tiene Dios un plan de 6,000 años?
When Will the Great Tribulation Begin? 2019, 2020, or 2021? Can the Great Tribulation begin today? What happens before the Great Tribulation in the "beginning of sorrows"? What happens in the Great Tribulation and the Day of the Lord? Is this the time of the Gentiles? When is the earliest that the Great Tribulation can begin? What is the Day of the Lord? Who are the 144,000? Here is a version of the article in the Spanish language: ¿Puede comenzar la Gran Tribulación en 2018 o 2019? ¿Es el Tiempo de los Gentiles? You can also see the English language sermon videos: The Great Tribulation from the Mount of Olives and Can the Great Tribulation begin before 2020? A shorter and newer video is: Might the Great Tribulation start in 2019?
The Times of the Gentiles Has there been more than one time of the Gentiles? Are we in it now or in the time of Anglo-America? What will the final time of the Gentiles be like? A related sermon is available and is titled: The Times of the Gentiles.
Armageddon Who is involved and when will this gathering happen? Here is also a video from Dr. Thiel, from Tel Megiddo in Israel: Armageddon. Other videos include: Armageddon Will it come on Trump's watch?, Iraq, Armageddon, & Prophecy, Freemasonry, Armageddon, and Rome, Is China paving roads to Armageddon?, and Jordan, Petra, and Armageddon.
Donald Trump in Prophecy Prophecy, Donald Trump? Are there prophecies that Donald Trump may fulfill? Are there any prophecies that he has already helped fulfill? Is a Donald Trump presidency proving to be apocalyptic? Two related videos are available: Donald: 'Trump of God' or Apocalyptic? and Donald Trump's Prophetic Presidency.
Trump Presidency Magic 8 Ball or Bible Prophecy? BBC reported that one might as well use a 'Magic Eight-Ball' to try to predict what will happen in the remaining time of Donald Trump's presidency. What is a 'Magic Eight-Ball'? Dr. Thiel not only explains that, but also briefly goes over 10 biblically-based warnings he wrote would happen if Donald Trump were elected that have already began to come to pass. He also goes over something he wrote back in 2008 that the Trump presidency is also helping lead to fulfillment. Should you trust Bible prophecy or not? Dr. Thiel says that Bible prophecy can be trusted, despite the view of skeptics and others that either overlook or despise the Bible. This is a video.
Donald Trump and America's Apocalypse This 188 page book is for people truly interested in prophecies related to Donald Trump and the United States, including learning about several that have already been fulfilled and those that will be fulfilled in the future. The physical book can be purchased at Amazon for $12.99 from the following link: Donald Trump and America's Apocalypse.
Donald Trump and America's Apocalypse-Kindle Edition This electronic version of the 188 page print edition is available for only US$3.99. And you do not need an actual Kindle device to read it. Why? Amazon will allow you to download it to almost any device: Please click HERE to download one of Amazon s Free Reader Apps. After you go to for your free Kindle reader and then go to Donald Trump and America's Apocalypse-Kindle Edition.