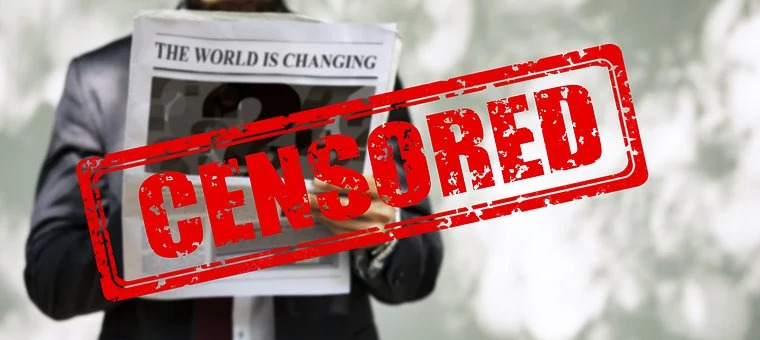 (from Pixabay)
The USA is taking additional steps to be able to censor views its government does not want to be known:
DHS Disinformation' Unit Headed by Woman Who Said Hunter Biden Laptop Story Was Disinformation

Houston, we have a problem.

April 28, 2022

The Department of Homeland Security's new 'disinformation' unit will be headed by a woman who says free speech makes her 'shudder' and who falsely labeled the Hunter Biden laptop story disinformation.

Oh dear.

Just two days after it was revealed that Elon Musk had reached an agreement to buy Twitter, DHS chief Alejandro Mayorkas announced the creation of a "disinformation governance board." …

Free speech apparently makes her physically shudder.

"I shudder to think about if free speech absolutists were taking over more platforms, what that would look like for the marginalized communities, which are already shouldering disproportionate amounts of this abuse," she tweeted in response to Musk's Twitter takeover. …

Both the Hunter Biden laptop scandal and the lab leak theory, two of the biggest news stories of 2020, were truthful yet branded "disinformation" so they could be buried by social media algorithms to prevent their viral spread.

Along with 'fact checkers', the new DHS disinformation unit is just another branch of the Ministry of Truth, which as in Orwell's 1984, serves a primary purpose of hiding and eliminating the truth. https://summit.news/2022/04/28/dhs-disinformation-unit-headed-by-woman-who-said-hunter-biden-laptop-story-was-disinformation/

Biden DHS creates unit to police speech
April 27, 2022 at 6:33pm

The Department of Homeland Security is establishing a board to counter "disinformation" that will be headed by a former adviser to the government of Ukraine who declared that Hunter Biden's infamous laptop was a "Russian influence" operation.

DHS Secretary Alejandro Mayorkas testified to a House panel on Wednesday that the board will be tasked with countering disinformation regarding homeland security, …

NEW – Biden admin sets up "Disinformation Governance Board" headed by "Russia expert" who called Hunter's laptop a "Trump campaign product" in 2020.https://t.co/qUEAGvT8kT

— Disclose.tv (@disclosetv) April 27, 2022

Politico reported Nina Jankowicz, who previously served as a disinformation fellow at the Wilson Center, a Washington think tank, will head the board as executive director. …

Just before the 2020 election, reported Human Events editor Jack Posobiec, Jankowicz highlighted on Twitter the evidence-free claim by 51 former national security officials that the contents of the Hunter Biden laptop, belatedly verified last month by the New York Times, was a "Russian influence" operation.
In another tweet, Oct. 22, 2020, Jankowicz said the emails on Hunter Biden's laptop "don't need to be altered to be part of an influence operation." https://www.wnd.com/2022/04/biden-dhs-creates-unit-police-speech/
Yes, Nina Jankowicz censored materials she did not like. The fact that they were true and she tried to 'cancel' them from the media suggests her view of disinformation is that of a totalitarian view.
Do not think that the Constitution of the USA will protect its citizens from that.
Although the President of the United States takes an oath to defend its Constitution, notice something Joe Biden said last year:
April 8, 2021

"No amendment, no amendment to the Constitution is absolute," (https://www.foxnews.com/politics/biden-repeats-debunked-second-amendment-claim-says-no-amendment-absolute)
In my book, Biden-Harris: Prophecies and Destruction, I warned that Joe Biden was taking totalitarian positions.
But it is not just him. Much of the media and Big Tech have gone along with that, leading to what has been considered as 'cancel culture.'
The founders of the USA claimed that rights were given by God. To attempt to insure them, they adopted the first ten amendments to the Constitution, which were ratified on December 15, 1791. They form what is known as the "Bill of Rights."
But these 'rights' have been degraded to the point that there is much less freedom in the USA than most realize.
Related to that, notice the following:
The Illusion of Freedom: We're Only as Free as the Government Allows

"Rights aren't rights if someone can take them away. They're privileges. That's all we've ever had in this country, is a bill of temporary privileges. And if you read the news even badly, you know that every year the list gets shorter and shorter. Sooner or later, the people in this country are gonna realize the government … doesn't care about you, or your children, or your rights, or your welfare or your safety… It's interested in its own power. That's the only thing. Keeping it and expanding it wherever possible."— George Carlin

We're in a national state of denial.

For years now, the government has been playing a cat-and-mouse game with the American people, letting us enjoy just enough freedom to think we are free but not enough to actually allow us to live as a free people.

Case in point: on the same day that the U.S. Supreme Court appeared inclined to favor a high school football coach's right to pray on the field after a game, the high court let stand a lower court ruling that allows police to warrantlessly track people's location and movements through their personal cell phones, sweeping Americans up into a massive digital data dragnet that does not distinguish between those who are innocent of wrongdoing, suspects, or criminals. …

We're in trouble, folks.

Freedom no longer means what it once did.

This holds true whether you're talking about the right to criticize the government in word or deed, the right to be free from government surveillance, the right to not have your person or your property subjected to warrantless searches by government agents, the right to due process, the right to be safe from militarized police invading your home, the right to be innocent until proven guilty and every other right that once reinforced the founders' belief that this would be "a government of the people, by the people and for the people."

Not only do we no longer have dominion over our bodies, our families, our property and our lives, but the government continues to chip away at what few rights we still have to speak freely and think for ourselves. …

In this way, we have created a welfare state, a nanny state, a police state, a surveillance state, an electronic concentration camp—call it what you will, the meaning is the same: in our quest for less personal responsibility, a greater sense of security, and no burdensome obligations to each other or to future generations, we have created a society in which we have no true freedom.

Government surveillance, police abuse, SWAT team raids, economic instability, asset forfeiture schemes, pork barrel legislation, militarized police, drones, endless wars, private prisons, involuntary detentions, biometrics databases, free speech zones, etc.: these are mile markers on the road to a fascist state where citizens are treated like cattle, to be branded and eventually led to the slaughterhouse.

Freedom, or what's left of it, is being threatened from every direction. The threats are of many kinds: political, cultural, educational, media, and psychological. …

The predators of the police state are wreaking havoc on our freedoms, our communities, and our lives. The government doesn't listen to the citizenry, it refuses to abide by the Constitution, which is our rule of law, and it treats the citizenry as a source of funding and little else. https://www.rutherford.org/publications_resources/john_whiteheads_commentary/the_illusion_of_freedom_were_only_as_free_as_the_government_allows
Notice also the following:
April 26, 2022

Former President Barack Obama currently is engaged in a campaign against "disinformation."

The New York Times reported last week ahead of an appearance at Stanford University that "in many private meetings and public appearances over the last year, the former president has waded deeply into the public fray over misinformation and disinformation, warning that the scourge of falsehoods online has eroded the foundations of democracy at home and abroad." https://www.wnd.com/2022/04/biden-dhs-creates-unit-police-speech/
Furthermore, Barack Obama encouraged the European Union to adopt its Digital Services Act, which looks to be another way to censor and control (see IL: Censor The Internet Act: EU Agrees to Expand Online Censorship With 'Digital Services Act').
As bad as it is starting to get in the USA, it will later get much worse for the world.
The Bible warns of a coming 'famine of the word of God' (Amos 8:11-12). I have long stated that I believe that this would involve internet restrictions–and we are already seeing more and more of them coming in place.
The Bible also warns that a totalitarian power will rise up (Revelation 13:1-18) and have the type of totalitarian and censorship controls beyond what we have so far seen (cf. Revelation 13:15-18).
We are getting closer to that time.
Those who think that the USA will be in a position to stop it are believing a lie.
Do not place your confidence in any governments in this world, but in Jesus and the coming Kingdom of God.
Some items of related interest may include the following:
Preparing for the 'Short Work' and The Famine of the Word What is the 'short work' of Romans 9:28? Who is preparing for it? Will Philadelphian Christians instruct many in the end times? Here is a link to a related video sermon titled: The Short Work. Here is a link to another: Preparing to Instruct Many.
Orwell's 1984 by 2024? In 1949, the late George Orwell wrote a disturbing book about a totalitarian government called "nineteen-eighty four." Despite laws that are supposed to protect freedom of speech and religion, we are seeing governments taking steps consistent with those that Geroge Orwell warned against. We are also seeing this in the media, academia, and in private companies like Google, Facebook, and Twitter. With the advent of technology, totalitarianism beyond what Orwell wrote is possible. Does the Bible teach the coming a totalitarian state similar to George Orwell's? What about the Antichrist and 666? Will things get worse? What is the solution? Dr. Thiel answers these questions and more in this video.
Persecutions by Church and State This article documents some persecution and censoring that have occurred against those associated with the COGs and some prophesied to occur. Will those with the cross be the persecutors or the persecuted–this article has the shocking answer. There is also a YouTube video sermon you can watch: The Coming Persecution of the Church. Here is information in the Spanish language: Persecuciones de la Iglesia y el Estado.
Does God Have a 6,000 Year Plan? What Year Does the 6,000 Years End? Was a 6000 year time allowed for humans to rule followed by a literal thousand year reign of Christ on Earth taught by the early Christians? Does God have 7,000 year plan? What year may the six thousand years of human rule end? When will Jesus return? 2029 or or 2031 or 20xx? There is also a video titled 6000 Years: When will God's Kingdom Come? Here is a link to the article in Spanish: ¿Tiene Dios un plan de 6,000 años?
Might the U.S.A. Be Gone by 2028? Could the USA be gone by the end of 2028 or earlier? There is a tradition attributed to the Hebrew prophet Elijah that humanity had 6,000 years to live before being replaced by God's Kingdom. There are scriptures, writings in the Talmud, early Christian teachings that support this. Also, even certain Hindu writings support it. Here is a link to a related video: Is the USA prophesied to be destroyed by 2028? In Spanish: Seran los Estados Unidos Destruidos en el 2028?
The Great Tribulation: What Happens First? What events have happened? What are some events that are now happening? And what events need to happen for the Great Tribulation to start? Here is a link to a related sermon video: Counting Down to the Great Tribulation. Here is a video in the Spanish language: Contando los eventos y el inicio de la Gran Tribulación.
When Will the Great Tribulation Begin? 2022, 2023, or 2024? Can the Great Tribulation begin today? What happens before the Great Tribulation in the "beginning of sorrows"? What happens in the Great Tribulation and the Day of the Lord? Is this the time of the Gentiles? When is the earliest that the Great Tribulation can begin? What is the Day of the Lord? Who are the 144,000? Here is a version of the article in the Spanish language: ¿Puede la Gran Tribulación comenzar en el 2020 o 2021? ¿Es el Tiempo de los Gentiles? A related video is: Great Tribulation: 2026 or 2027? A shorter video is: Can the Great Tribulation start in 2022 or 2023? Here is a video in the Spanish language: Es El 2021 el año de La Gran Tribulación o el Grande Reseteo Financiero.
Is a Great Reset Coming? Klaus Schwab of the World Economic Forum has proposed a societal change that has been basically endorsed by the Vatican and many world leaders. Does the Bible prophesy a major reset? Here is a link to a related video: Will there be a "Great Reset"?
The Times of the Gentiles Has there been more than one time of the Gentiles? Are we in it now or in the time of Anglo-America? What will the final time of the Gentiles be like? A related sermon is available and is titled: The Times of the Gentiles.
Will the Anglo-Saxon-Celtic Nations be Divided and Have People Taken as Slaves? Will the lands of the United States, United Kingdom, Canada, Australia, and New Zealand be divided? What about Jerusalem? What does Bible prophecy teach? Are there non-biblical prophecies that support this idea? Who will divide those lands? Who will end up with the lands and the people? Here is a link to a video titled Will the USA and other Anglo-nations be Divided and Their People Made Slaves? Here is a related item in the Spanish language ¿Serán divididas las naciones anglosajonas?
British are the Covenant People What do 'British' and 'Britain' mean in Hebrew? Are the descendants of the Anglo-Saxons people of the covenant? Does the British royal family connect to the throne of David? What does the Bible teach? What does history show us? Is there any DNA evidence related to British-Israelism? When did Christianity make it to the British Isles? Could Jeremiah have made it to the British Isles? What type of Christians made it to the British Isles? Did the last King of England believe in British Israelism?
Canada in Prophecy: What Does Bible Prophecy,Roman Catholic Prophecy, and other Predictions Suggest About the Future of Canada? There are prophecies that suggest involvement with Canada. And many are not positive about its future. A sermon of related interest is also available: Canada in Prophecy.
Australia and New Zealand in Prophecy Do biblical prophecies help explain the wealth blessings for Australia and New Zealand? Might cursings from disobedience come in the 21st century? Here is a link to a related sermon: Australia and New Zealand: Origins and Prophecy.
Who is the King of the North? Is there one? Do biblical and Roman Catholic prophecies for the Great Monarch point to the same leader? Should he be followed? Who will be the King of the North discussed in Daniel 11? Is a nuclear attack prophesied to happen to the English-speaking peoples of the United States, Great Britain, Canada, Australia, and New Zealand? When do the 1335 days, 1290 days, and 1260 days (the time, times, and half a time) of Daniel 12 begin? When does the Bible show that economic collapse will affect the United States? In the Spanish language check out ¿Quién es el Rey del Norte? Here are links to two related videos: The King of the North is Alive: What to Look Out For and The Future King of the North.
The Great Monarch: Biblical and Greco-Roman Catholic Prophecies Is the 'Great Monarch' of Greco-Roman Catholic prophecies endorsed or condemned by the Bible? Two sermons of related interest are also available: Great Monarch: Messiah or False Christ? and Great Monarch in 50+ Beast Prophecies.
Europa, the Beast, and Revelation Where did Europe get its name? What might Europe have to do with the Book of Revelation? What about "the Beast"? Is an emerging European power "the daughter of Babylon"? What is ahead for Europe? Here is a link to a video titled: Can You Prove that the Beast to Come is European?
European Technology and the Beast of Revelation Will the coming European Beast power would use and develop technology that will result in the taking over of the USA and its Anglo-Saxon allies? Is this possible? What does the Bible teach? Here is a related YouTube video: Military Technology and the Beast of Revelation.
The Gospel of the Kingdom of God This free online pdf booklet has answers many questions people have about the Gospel of the Kingdom of God and explains why it is the solution to the issues the world is facing. Here are links to four related sermons: The Fantastic Gospel of the Kingdom of God!, The World's False Gospel, The Gospel of the Kingdom: From the New and Old Testaments, and The Kingdom of God is the Solution.
Biden-Harris: Prophecies and Destruction Can the USA survive two full presidential terms? In what ways are Joe Biden and Kamala Harris apocalyptic? This book has hundreds of prophecies and scriptures to provide details. A Kindle version is also available and you do not need an actual Kindle device to read it. Why? Amazon will allow you to download it to almost any device: Please click HERE to download one of Amazon s Free Reader Apps. After you go to your free Kindle reader app (or if you already have one or a Kindle), you can go to: Biden-Harris: Prophecies and Destruction (Kindle) to get the book in seconds.