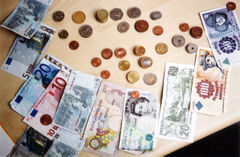 Notice the following news item:
Russia, China warn of dire economic straits in 2009
AFP – Dec 24, 2008
Russia and China issued stark warnings on Wednesday about the impact of the crisis on their recently booming economies in 2009, with Moscow saying the downturn could spark unrest in the streets.
Japan also approved a record-high budget aimed at avoiding the worst effects of the crisis and Germany prepared to pump billions of euros into the economy in a new rescue plan in a holiday season marred by a slew of economic bad news.
"We need to take unprecedented measures when in an extraordinary economic situation," Japanese Prime Minister Taro Aso said at a news conference after his cabinet backed the 980-billion-dollar (700-billion-euro) budget.
"Japan cannot evade this tsunami of world recession. But by taking bold measures, we aim to be the world's first to come out of recession," he said.
In Moscow, a top Kremlin economic aide said there would be a budget deficit in 2009 for the first time for a decade as Russia — the world's second-biggest producer of crude oil after Saudi Arabia — reels from the global crisis…
In Asian stock markets, Tokyo tumbled 2.37 percent and Chinese shares closed down 1.76 percent. European stocks were also down, with the FTSE 100 in London down 1.03 percent and CAC 40 in Paris down 0.41 percent.
Newspaper reports in crisis-hit Germany, Europe's biggest economy, said the government was planning a second stimulus programme for 2009 that could see the government pump 40 billion euros (56 billion dollars) into the economy. http://www.breitbart.com/article.php?id=081224121657.nzbe1e1i&show_article=1
However, the end (meaning the Great Tribulation) is not yet and will not occur for at least 3 1/2 more years.  But there may rough times before it gets really bad.
But people should not wait until the Great Tribulation to do what is right.
This is one of the many reasons that I advise those who wish to be faithful to heed the call in Zephaniah:
1 Gather yourselves together, yes, gather together, O undesirable nation,  2 Before the decree is issued, Or the day passes like chaff, Before the LORD's fierce anger comes upon you, Before the day of the LORD's anger comes upon you!  3 Seek the LORD, all you meek of the earth, Who have upheld His justice. Seek righteousness, seek humility. It may be that you will be hidden In the day of the LORD's anger (Zephaniah 2:1-3).
It does make sense for those who wish to be faithful to check out my writings and compare them to the BIble.  Notice:
10 Then the brethren immediately sent Paul and Silas away by night to Berea. When they arrived, they went into the synagogue of the Jews. 11 These were more fair-minded than those in Thessalonica, in that they received the word with all readiness, and searched the Scriptures daily to find out whether these things were so (Acts 17:10-11).
It is my hope and prayer that those that do will support the Living Church of God and "gather together" with us before it is too late.
Several articles of possibly related interest may include:
China, Its Biblical Past and Future, Part 1: Genesis and Chinese Characters This article provides information showing that the Chinese peoples must have known about various accounts in the Book of Genesis up until their dispersion after the Tower of Babel.
China, Its Biblical Past and Future, Part 2: The Sabbath and Some of God's Witness in China When did Christianity first come to China? And is there early evidence that they observed the seventh day sabbath?
Asia in Prophecy What is Ahead for China? Is it a "King of the East"? What will happen to nearly all the Chinese, Russians, and others of Asia? China in prophecy, where? Who has the 200,000,000 man army related to Armageddon?
Japan, Its Biblical Past and Future, Part 1: Any Witness? This is a draft of an in-process article about Japan. Have they had any witness?
Japan, Its Biblical Past and Future, Part 2: Prophecy Japan in prophecy. What is prophesied for Japan. Will God save the Japanese?
Russia: Its Origins and Prophesied Future Where do the Russians come from? What is prophesied for Russia? What will it do to the Europeans that supported the Beast in the end?
Europa, the Beast, and Revelation Where did Europe get its name? What might Europe have to do with the Book of Revelation? What about "the Beast"? What is ahead for Europe?
There is a Place of Safety for the Philadelphians. Why it May Be Petra This article discusses a biblical 'place of safety' and includes quotes from the Bible and Herbert W. Armstrong on this subject–thus, there is a biblically supported alternative to the rapture theory.
Is There A Secret Rapture for the Church? When and Where is the Church Protected? What does the Bible really teach? Does the Church flee or is it taken up just prior to the great tribulation? Who really is left behind?
Anglo – America in Prophecy & the Lost Tribes of Israel Are the Americans, Canadians, British, Scottish, Welsh, Australians, Anglo-Southern Africans, and New Zealanders descendants of Joseph? Where are the lost ten-tribes of Israel? Who are the lost tribes of Israel? Will God punish the U.S.A., Canada, United Kingdom, and other Anglo nations? Why might God allow them to be punished first?