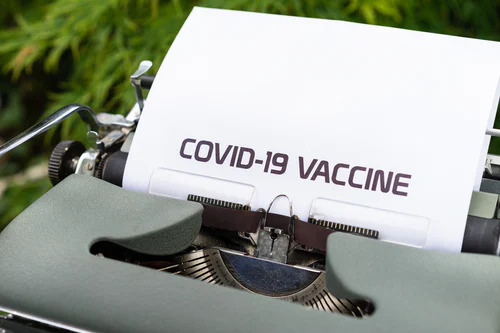 (Unsplash photo)

Saw the following Tweet today:
Good morning. A healthy 13-year-old is dead three days after his second @pfizer vaccine.

Maybe @CDCgov could get around to that emergency meeting now? Or are we still celebrating Juneteenth? pic.twitter.com/SN2TDB7909

— Alex Berenson (@AlexBerenson) June 21, 2021
While one case is considered to be "anecdotal," it was interesting to me that AFTER I wrote this post today (other than this paragraph of course) a woman told me that her daughter had an anaphylactic reaction to a COVID-19 vaccine last week and would have died if they had not gotten her to the hospital in time. Yes, there are risks associated with vaccines.
ZeroHedge posted the following:
World Health Organization Says Do Not Give Children Experimental Coronavirus Vaccine Shots

June 22, 2021

Authored by Adam Dick via The Ron Paul Institute for Peace & Prosperity,

In America, national, state, and local governments are pulling out all the stops to advance giving experimental coronavirus shots to children down to the age of 12. …

The WHO says do not vaccinate children, at least not yet.

At its website, the WHO offers this advice regarding giving experimental coronavirus vaccines, some of which are not even vaccines under the normal meaning of the term, to children:

Children should not be vaccinated for the moment.

There is not yet enough evidence on the use of vaccines against COVID-19 in children to make recommendations for children to be vaccinated against COVID-19.

Children and adolescents tend to have milder disease compared to adults. …

Choose accordingly. https://www.zerohedge.com/covid-19/world-health-organization-says-do-not-give-children-experimental-coronavirus-vaccine-shots
Here is a fully copy of the WHO document: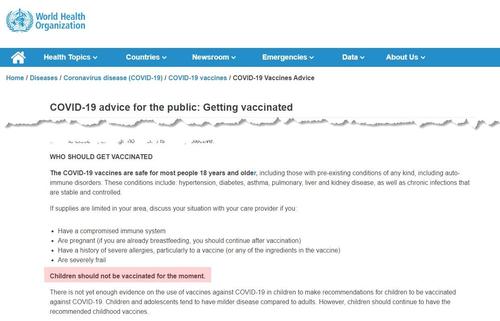 The vaccines are experimental. This does not mean they can never be helpful. If you are a parent, you should pray and use wisdom in decisions you make concerning your children's health, including vaccines.
As most realize, there are short-term and long-term risks associated with vaccines. And many of the long-term risks related to the COVID ones are not known.
Since at least two of the COVID vaccines are mRNA (messenger RiboNucleic Acid) vaccines. Notice some information about mRNA vaccines from the University of Cambridge:
Unlike a normal vaccine, RNA vaccines work by introducing an mRNA sequence (the molecule which tells cells what to build) which is coded for a disease specific antigen, once produced within the body, the antigen is recognised by the immune system, preparing it to fight the real thing
RNA vaccines are faster and cheaper to produce than traditional vaccines, and a RNA based vaccine is also safer for the patient, as they are not produced using infectious elements …
Unintended effects: the mRNA strand in the vaccine may elicit an unintended immune reaction. To minimise this the mRNA vaccine sequences are designed to mimic those produced by mammalian cells.
Delivery: delivering the vaccine effectively to cells is challenging since free RNA in the body is quickly broken down. To help achieve delivery, the RNA strand is incorporated into a larger molecule to help stabilise it and/or packaged into particles or liposomes.
Storage: many RNA vaccines, like conventional vaccines, need to be frozen or refrigerated. Work is ongoing to reliably produce vaccines that can be stored outside the cold chain, since these will be much more suitable for use in countries with limited or no refrigeration facilities. https://www.phgfoundation.org/briefing/rna-vaccines accessed 12/09/20
Perhaps it should be mentioned that the Johnson & Johnson vaccine is NOT mRNA and is more of a traditional vaccine. But, it too, has not been on the market for a year yet.
As it turns out, history shows us it often takes the medical profession a long-time before it admits something it uses is dangerous. For example, in the 1950s a hormone-product came out called Premarin (which came from horses and actually stood for PRegnant MAR urINe). It was used for decades and touted as safe and effective for women. However, after decades of use, it was implicated in causing cancers and dropped from the market.
It often takes many years to determine the true 'safety' of various medical interventions.
In the case of vaccines, government 'public health experts' tend to push fear to get people to take them.
In our office, I have seen various adults with problems associated with the Moderna, Pfizer, and Johnson & Johnson vaccines. So, I have recommended various natural means (mainly involving 100% food nutritional supplements) to help people recover from vaccine-associated issues. We actually have a protocol list that we have shared with other health professionals who ask about how to help people, based on which vaccine someone has had. But we have seen some people whose 'side-effects' look to be very long-term, if not permanent.
That being said, a sad reality is that many things associated with COVID-19 were handled worse than, in reality, they needed it to be.
This past 15-17 months we have seen suppression of information, as well as inaccurate information, from government officials, news reports, and online line companies. And that does not excuse various promoters who had financial and other objectives. People suffered unnecessarily in many ways.
The world did not have to hurt itself as much as it did related to COVID.
There were better ways to handle this–if truth and not political considerations and vanity were out of the picture. But politics, ignorance, and ego ruled many public policies.
COVID policies have made it clear that we are moving towards a time of more and more governmental controls.
The Bible show what it will get worse (cf. Revelation 13:16-18).
The fact that people around the world have put up with most of the lockdowns and other restrictions has shown political leaders that they can do even more.
When a worse pandemic hits–and a worse one will per Revelation 6:7-8–that will set the stage for a totalitarian leader to rise up (cf. Revelation 17:12-13).
Related to that, some may also wish to watch the video: Fourth Horseman, COVID, and the Rise of the Beast of Revelation.
The mainstream media has downplayed the vaccine risks, yet puts its hope in that and fear tactics. It tends to minimize telling people what they can do to help themselves other than hide/cover up/distance in fear.
To the most faithful, Jesus said:
32 Do not fear, little flock, for it is your Father's good pleasure to give you the kingdom. (Luke 12:32)
And that is the case. Christians should not live in fear.
But we also realize that our confidence is not in a vaccine, but in Jesus.
Some items of possibly related interest may include:
CCOG on vaccines What about vaccines? Could a Christian get them? What has the Continuing Church of God written about that?
Fourth Horseman of the Apocalypse What is the pale horse of death and pestilences? What will it bring and when? Here is a link to a related sermon: Fourth Horseman, COVID, and the Rise of the Beast of Revelation. Some shorter related videos may include Amphibian Apocalypse: Threat to Humans? and Zombie Deer Disease is Here! Are the 10 Plagues on Egypt Coming? Here is a version of the article in Spanish: El cuarto jinete de Apocalipsis, el caballo pálido de muerte y pestilencia.
COVID 19 is NOT the End, but could it be TEOTWAWKI? The novel coronavirus called COVID-19 is wreaking havoc around the world. Many states of the USA as well as countries in Europe are on lockdown with shelter in place /shelter in residence requirements. In France, a form is required when you are not at your house. In Spain, drones are being used to warn people who are outside to got back to their homes–does that bring up feelings of 'Big Brother'? Italy, France, and other areas are using police and/or military force to encourage people to stay inside. According to the Bible could this be the end? If not, what has to happen first? Have the second and third of the four horsemen of the Apocalypse started their ride? Could COVID-19 be the fourth horseman? Why or why not? Could we be seeing The End of the World as We Know It (TEOTWAWKI) like the R.E.M.'s 1987 single song discussed? Do Christians need to fear? What did Jesus teach? What did the Psalmist teach? This is a video. Here is a link to a version in the Spanish language: Corona 19 no es el final PERO es el TEOTWAWKI.
COVID-19 Leading to 666? The novel coronavirus of Wuhan, China fame, is now called COVID-19. It has also been called the 'Coronapocalypse.' Does COVID-19 have any prophetic ramifications? What did Jesus teach about pestilences and sorrows in the Olivet prophecy in Matthew 24? Could COVID-19 be the ride of the fourth horseman of the Apocalypse? Why was this type of disease expected according to the O. Here is a link to a version in the Spanish language: ld Testament prophecies in Deuteronomy and Leviticus? What has the US Centers for Disease Control warned about? What has the CDC reported about the flu? Were there lessons about fear and infections in the 2011 movie 'Contagion'? Because of COVID-19, the World Health Organization (WHO), nation of Iran, and certain French locations are telling people not to use cash, but instead electronic forms of payment. The US Federal Reserve is now quarantining money repatriated from Asia to reduce the potential spread of the coronavirus on US currency bills. Is COVID-19 worse than we have been told or could this all be a 'false flag' event to encourage people to move towards a cashless society? If the thousands of deaths associated with COVID-19 are pushing parts of the world towards cashlessness, how much more likely will the ride of the fourth horseman and over a billion human deaths motivate people to move to making electronic payments that can be monitored? The Bible tells of a soon coming society that controls buying and selling to force allegiance to a coming European Beast power, known as 666 (Revelation 13:16-18). Does the 'great tribulation' begin before ride of the fourth horseman or with the opening of the fifth seal of Revelation 6? Do the words of Jesus helps us better understand the sequence of the four horsemen of the Apocalypse and the start of the Great Tribulation? Will the ride of the fourth horseman help lead to the rise of 666? Is that ride very close? Dr. Thiel addresses these issues and more in this video. Here is a link to a version in the Spanish language: El COVID-19 ¿Conduce al 666?
Who is the King of the West? Why is there no Final End-Time King of the West in Bible Prophecy? Is the United States the King of the West? Here is a version in the Spanish language: ¿Quién es el Rey del Occidente? ¿Por qué no hay un Rey del Occidente en la profecía del tiempo del fin? A related sermon is also available: The Bible, the USA, and the King of the West.
Who is the King of the North? Is there one? Do biblical and Roman Catholic prophecies for the Great Monarch point to the same leader? Should he be followed? Who will be the King of the North discussed in Daniel 11? Is a nuclear attack prophesied to happen to the English-speaking peoples of the United States, Great Britain, Canada, Australia, and New Zealand? When do the 1335 days, 1290 days, and 1260 days (the time, times, and half a time) of Daniel 12 begin? When does the Bible show that economic collapse will affect the United States? In the Spanish language check out ¿Quién es el Rey del Norte? Here are links to two related videos: The King of the North is Alive: What to Look Out For and The Future King of the North.
The Great Monarch: Biblical and Catholic Prophecies Is the 'Great Monarch' of Catholic prophecies endorsed or condemned by the Bible? Two sermons of related interest are also available: Great Monarch: Messiah or False Christ? and Great Monarch in 50+ Beast Prophecies.
Anglo – America in Prophecy & the Lost Tribes of Israel Are the Americans, Canadians, English, Scottish, Welsh, Australians, Anglo-Saxon (non-Dutch) Southern Africans, and New Zealanders descendants of Joseph? Where are the lost ten-tribes of Israel? Who are the lost tribes of Israel? What will happen to Jerusalem and the Jews in Israel? Will God punish the U.S.A., Canada, United Kingdom, and other Anglo-Saxon nations? Why might God allow them to be punished first? Here is a link to the Spanish version of this article: Anglo-América & las Tribus Perdidas de Israel. Information is also in the YouTube sermons titled Where are the Ten Lost Tribes? Why does it matter? and British are the Covenant People. A short YouTube of prophetic interest may be: Are Chinese threats against Australia for real?
Will the Anglo-Saxon-Celtic Nations be Divided and Have People Taken as Slaves? Will the lands of the United States, United Kingdom, Canada, Australia, and New Zealand be divided? What about Jerusalem? What does Bible prophecy teach? Are there non-biblical prophecies that support this idea? Who will divide those lands? Who will end up with the lands and the people? Here is a link to a video titled Will the USA and other Anglo-nations be Divided and Their People Made Slaves? Here is a related item in the Spanish language ¿Serán divididas las naciones anglosajonas?
The Gospel of the Kingdom of God This free online pdf booklet has answers many questions people have about the Gospel of the Kingdom of God and explains why it is the solution to the issues the world is facing. Here are links to three related sermons: The World's False Gospel, The Gospel of the Kingdom: From the New and Old Testaments, and The Kingdom of God is the Solution.
Does God Have a 6,000 Year Plan? What Year Does the 6,000 Years End? Was a 6000 year time allowed for humans to rule followed by a literal thousand year reign of Christ on Earth taught by the early Christians? Does God have 7,000 year plan? What year may the six thousand years of human rule end? When will Jesus return? 2028 or or 2031 or 20xx? There is also a video titled 6000 Years: When will God's Kingdom Come? Here is a link to the article in Spanish: ¿Tiene Dios un plan de 6,000 años?
Might the U.S.A. Be Gone by 2028? Are there prophetic reasons to believe that the USA will not last two complete presidential terms? Yes. There is a tradition attributed to the Hebrew prophet Elijah that humanity had 6,000 years to live before being replaced by God's Kingdom. There are scriptures, writings in the Talmud, early Christian teachings that support this. Also, even certain Hindu writings support it. Here is a link to a related video: Is the USA prophesied to be destroyed by 2028?
When Will the Great Tribulation Begin? 2021, 2022, or 2023? Can the Great Tribulation begin today? What happens before the Great Tribulation in the "beginning of sorrows"? What happens in the Great Tribulation and the Day of the Lord? Is this the time of the Gentiles? When is the earliest that the Great Tribulation can begin? What is the Day of the Lord? Who are the 144,000? Here is a version of the article in the Spanish language: ¿Puede la Gran Tribulación comenzar en el 2020 o 2021? ¿Es el Tiempo de los Gentiles? A related video is: 2021: The Great Tribulation or the Great Reset? Here is a video in the Spanish language: Es El 2021 el año de La Gran Tribulación o el Grande Reseteo Financiero.
Is a Great Reset Coming? Klaus Schwab of the World Economic Forum has proposed a societal change that has been basically endorsed by the Vatican and many world leaders. Does the Bible prophesy a major reset? Here is a link to a related video: Will there be a "Great Reset"?
The Times of the Gentiles Has there been more than one time of the Gentiles? Are we in it now or in the time of Anglo-America? What will the final time of the Gentiles be like? A related sermon is available and is titled: The Times of the Gentiles.
Ten Steps to Rid Yourself of Fear This is a vastly expanded version of a shorter article by the late Dr. Herman Hoeh on getting past fear. Here is a link to a related sermon: Ten Plus Steps to Rid Yourself of Fear.