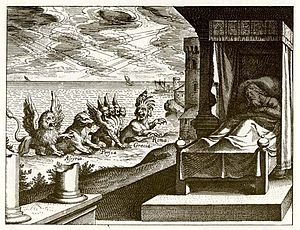 Depiction of Beasts of Daniel 7

Between chemical weapons and other issues in Syria and the confrontations between the USA and North Korea, many have wondered about World War Three (WW3).
Is World War III close?
A few years ago, some in Ukraine suggested that Russia wanted to start it (see Kiev PM asserts 'Russia…wants to start World War Three;' Russia's FM claims 'West wants…to seize control of Ukraine'). Pope Francis also indicated that it has started (cited in World War III: Steps in Progress). Someone else claimed it would start a couple of weeks ago because of US President Donald Trump (see WWIII to begin on May 13, 2017? Will WWIII be between the East and West?).
Yet, that actual war has not started yet.
But there is concern that Europe feels the need to arm:
30 May 2017

Angela Merkel is "taking back control" …

Mrs Merkel is now on the campaign trail and not at all above injecting some populism into her politics.

President Trump is hugely unpopular among German voters and his failure to commit to the Paris climate accord, at the G7, and to Nato's Article Five last week angered many Europeans.

Mrs Merkel's pointed comments about no longer being able to rely fully on allies were delivered to rapturous applause while on the campaign trail in the (conservatively) pumped arena of a Munich beer hall. …

And there's real anger and fear about Donald Trump the Unpredictable, a man many in Europe judge to be ignorant about world politics, diplomacy and the workings of a democracy.

Germans believe more than ever now that Europe needs be assertive; to stick together and be strong together. …

Angela Merkel – political old hand and consummate pragmatist – has not been subsumed by Campaign Trail Merkel.

Would she like to be able to safeguard the stability and safety of Europe without relying on what she regards as an unpredictable US and an unreliable UK?

Absolutely.

She believes Europe must co-operate more on defence: pooling resources, spending military budgets more intelligently and bolstering itself as much as it can.

But she knows full well that Europe can't go it alone.

Certainly not Germany, with its post World War Two sensitivities about taking up arms. …

When Angela Merkel says Europe needs to be take its fate in its own hands, she means keeping transatlantic links open and strong, but being politically, emotionally and – if possible – militarily prepared if it all falls apart. http://www.bbc.com/news/world-europe-40094882
Germany, an instigator in WWI and WWII, will also be in WWIII. Germans are more and more considering what many thought was unthinkable a year or two ago.
We are getting closer to the 'time of Jacob's trouble' (Jeremiah 30:7), also known as the Great Tribulation (Matthew 24:21 ) and the final time of the Gentiles.
Despite what some seem to think, the Great Tribulation will initially mainly be directed to those who are descended from Jacob/Israel and will be the final time of the Gentiles according to the Bible:
6 Ask now, and see,
Whether a man is ever in labor with child?
So why do I see every man with his hands on his loins
Like a woman in labor,
And all faces turned pale?
7 Alas! For that day is great,
So that none is like it;
And it is the time of Jacob's trouble,
But he shall be saved out of it. (Jeremiah 30:6-7)

25… Gentiles, who do not know You…they have eaten up Jacob, Devoured him and consumed him, And made his dwelling place desolate. (Jeremiah 10:25)

23 But woe to those who are pregnant and to those who are nursing babies in those days! For there will be great distress in the land and wrath upon this people. 24 And they will fall by the edge of the sword, and be led away captive into all nations. And Jerusalem will be trampled by Gentiles until the times of the Gentiles are fulfilled. (Luke 21:23-24)

2 But leave out the court which is outside the temple, and do not measure it, for it has been given to the Gentiles. And they will tread the holy city underfoot for forty-two months. (Revelation 11:2)
Notice that Jeremiah, Jesus (whose words are recorded in Luke), and John (who penned Revelation) are talking about the same time. Also notice that "it is the time of Jacob's trouble" and that the "Gentiles" are dominating. This means those that are descended from Israel or have the name of Jacob (cf. Genesis 48:14-16) will mainly be trampled. One of the peoples that God says He will use to punish the descendants of Israel, Assyria (Isaiah 10:5-11), are a Gentile people–they will normally lead during the time of the Gentiles.
Notice also the following, where the remnant of Israel will be shamed, for a time, by Gentiles:
25 "I will make a covenant of peace with them, and cause wild beasts to cease from the land; and they will dwell safely in the wilderness and sleep in the woods. 26 I will make them and the places all around My hill a blessing; and I will cause showers to come down in their season; there shall be showers of blessing. 27 Then the trees of the field shall yield their fruit, and the earth shall yield her increase. They shall be safe in their land; and they shall know that I am the Lord, when I have broken the bands of their yoke and delivered them from the hand of those who enslaved them. 28 And they shall no longer be a prey for the nations, nor shall beasts of the land devour them; but they shall dwell safely, and no one shall make them afraid. 29 I will raise up for them a garden of renown, and they shall no longer be consumed with hunger in the land, nor bear the shame of the Gentiles anymore. 30 Thus they shall know that I, the Lord their God, am with them, and they, the house of Israel, are My people," says the Lord God.'" (Ezekiel 34:25-30)
The time of Gentile domination is prophesied (Ezekiel 30:1-3, 34:25-30; Jeremiah 10:25; Luke 21:23-24; Revelation 11:2).
The Great Tribulation itself is further described in Revelation 6:9-11 (the fifth seal, that seems to occur because the faithful church has suffered martyrdom, cf. Daniel 11:31-35; Matthew 24:9-10), Lamentations, Daniel, and other parts of the Bible. It starts with Matthew 24:21 and Daniel 11:39. Some would call this World War III (WWIII), though the battle to takeover the USA and its Anglo-Saxon allies will be much, much briefer than most would believe–but it will happen (cf. Daniel 11:39).
The fact that the 6000 years God gave humankind to rule itself is about to come to an end, which means we are nearer to the final time of the Gentiles.
Because of that, we are to expect wars, rumors of wars, and various sorrows (Matthew 24:4-8). And then the end of the nations of USA and its Anglo-Saxon allies once the time of Jacob's trouble (Jeremiah 30:7), the great tribulation (Matthew 24:21) begins.
Ultimately of course, there is good news as ultimately, God's kingdom will come and those issues will be gone (Revelation 7:16).
With the second coming of Christ, the "times of the Gentiles" will at last come to an end. (Stump K. The Arab World in Prophecy. Plain Truth, December 1979, p. 38)
But a most terrible time will proceed Jesus' return:
21 For then there will be great tribulation, such as has not been since the beginning of the world until this time, no, nor ever shall be. 22 And unless those days were shortened, no flesh would be saved; but for the elect's sake those days will be shortened. (Matthew 24:21-22)

19 For in those days there will be tribulation, such as has not been since the beginning of the creation which God created until this time, nor ever shall be. 20 And unless the Lord had shortened those days, no flesh would be saved; but for the elect's sake, whom He chose, He shortened the days. (Mark 13:19-20)

23… For there will be great distress in the land and wrath upon this people … until the times of the Gentiles are fulfilled. (Luke 21:23-24)
We are nearing the final time of the Gentiles and a time of great distress.
Some items of possibly related interest may include:
World War III: Steps in Progress Are there surprising actions going on now that are leading to WWIII? Might a nuclear attack be expected? Does the Bible promise protection to all or only some Christians? How can you be part of those that will be protected? A related video would be Is World War III About to Begin? Can You Escape?
Does God Have a 6,000 Year Plan? What Year Does the 6,000 Years End? Was a 6000 year time allowed for humans to rule followed by a literal thousand year reign of Christ on Earth taught by the early Christians? Does God have 7,000 year plan? What year may the six thousand years of human rule end? When will Jesus return? 2026 or 20xx? There is also a video titled The 6000 Year Plan: Is the end of humanity's reign almost up? Here is a link to the article in Spanish: ¿Tiene Dios un plan de 6,000 años?
When Will the Great Tribulation Begin? 2017, 2018, or 2019? Can the Great Tribulation begin today? What happens before the Great Tribulation in the "beginning of sorrows"? What happens in the Great Tribulation and the Day of the Lord? Is this the time of the Gentiles? When is the earliest that the Great Tribulation can begin? What is the Day of the Lord? Who are the 144,000? Here is a version of the article in the Spanish language: ¿Puede comenzar la Gran Tribulación en 2016 o 2017? ¿Es el Tiempo de los Gentiles? You can also see the English language sermon videos: The Great Tribulation from the Mount of Olives and Can the Great Tribulation begin before 2020? A shorter video is: Will the Great Tribulation Start in 2017?
Four Horsemen of the Apocalypse What do each of the four horseman of the Apocalypse represent? Have they began their ride? Did Jesus discuss the any of this? Might their rides coincide with the "beginning of sorrows? Do they start their ride prior to the Great Tribulation? Did Nostradamus or any other 'private prophets' write predictions that may mislead people so that they may not understand the truth of one or more of the four horseman? There is also a related YouTube video titled The Four Horsemen of the Apocalypse.
Why Does Man Suffer? Herbert Armstrong gives biblical reasons on this topic.
Why Does God Allow Suffering? This is a pdf booklet put out by the old Worldwide Church of God that also answers questions about why God allows war as well as babies to die.
Anglo – America in Prophecy & the Lost Tribes of Israel Are the Americans, Canadians, English, Scottish, Welsh, Australians, Anglo-Saxon (non-Dutch) Southern Africans, and New Zealanders descendants of Joseph? Where are the lost ten-tribes of Israel? Who are the lost tribes of Israel? What will happen to Jerusalem and the Jews in Israel? Will God punish the U.S.A., Canada, United Kingdom, and other Anglo-Saxon nations? Why might God allow them to be punished first? Here is a link to the Spanish version of this article: Anglo-América & las Tribus Perdidas de Israel. Information is also in the YouTube sermons titled Where are the Ten Lost Tribes? Why does it matter? and British are the Covenant People. A short YouTube of prophetic interest may be Barack Obama and the State of the Apocalypse.
Donald Trump in Prophecy Prophecy, Donald Trump? Are there prophecies that Donald Trump may fulfill?  Are there any prophecies that he has already helped fulfill?  Could a Donald Trump presidency be apocalyptic?  A related video is titled: Donald: 'Trump of God' or Apocalyptic?
Donald Trump and America's Apocalypse This 188 page book is for people truly interested in prophecies related to Donald Trump and the United States, including learning about several that have already been fulfilled and those that will be fulfilled in the future. The physical book can be purchased at Amazon for $12.99 from the following link: Donald Trump and America's Apocalypse.
Donald Trump and America's Apocalypse-Kindle Edition This electronic version of the 188 page print edition is available for only US$3.99. And you do not need an actual Kindle device to read it. Why? Amazon will allow you to download it to almost any device: Please click HERE to download one of Amazon s Free Reader Apps. After you go to for your free Kindle reader and then go to Donald Trump and America's Apocalypse-Kindle Edition.
The Gospel of the Kingdom of God This free online pdf booklet has answers many questions people have about the Gospel of the Kingdom of God and explains why it is the solution to the issues the world is facing. Here are links to three related sermons: The World's False Gospel, The Gospel of the Kingdom: From the New and Old Testaments, and The Kingdom of God is the Solution.
Did The Early Church Teach Millenarianism? Was the millennium (sometimes called chiliasm) taught by early Christians? Who condemned it? Will Jesus literally reign for 1000 years on the earth? Is this time near? A related sermon is titled The Millennium.
Blood Moons and Prophecy There were four 'blood moons' expected in 2014 and 2015. Some claimed that they signaled the Day of the Lord or the return of Jesus Christ. I denounced that view in advance. Some claim an eclipse in 2017 signals the end, is that true? Two related videos are available: Blood Moons, Prophecy, 2014, and 2015. and Solar Eclipse and the Apocalypse.