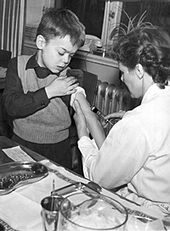 Similar to what has been proposed in Australia (see Vaccinations, Money, California, and Australia), the California State Senate has voted to remove personal choice when it comes to vaccination of school children:
May 15, 2015

SACRAMENTO –  California parents who do not vaccinate their children would have to home-school them under a bill passed Thursday by the state Senate, the latest move in a battle between public health officials and "anti-vaxxers" who fear vaccines are dangerous.

The bill, which eliminates the so-called personal beliefs exemption allowing parents to forego vaccinations if opposed to them for any reason, was introduced after a measles outbreak at Disneyland last year that sickened more than 100 people.
"The personal beliefs exemption is endangering the public," said Democratic state Senator Richard Pan, a pediatrician and co-author of the bill. The measure still allows children to attend school without vaccinations for medical reasons. …
Under the bill, which still must be approved by the Assembly, unvaccinated children who do not have a medical exemption would have to study at home or in organized, private home-schooling groups. http://www.foxnews.com/health/2015/05/15/california-senate-votes-to-end-beliefs-waiver-for-school-vaccinations/
How is the public endangered by allowing a personal beliefs exemption?
Well, since according to pro-vaccine advocates vaccines improve defense against various pathogens, the 'public' that gets said vaccinations should be 'safe' according to basic pro-vaccine theory.  However, they also believe that over 92% of the public needs to be vaccinated or vaccinations do not 'work' well enough.
Using the Disneyland example is odd as it is commonly believed that foreign tourists brought the measles with them, thus this was not caused by the unvaccinated. Sadly, many are following the advice of vaccination advocate Hillary Clinton, who publicly stated in 2009, while US Secretary of State, to "never waste a good crisis" (Harrison P. Never waste a good crisis, Clinton says on climate. Reuters, March 7, 2009).  Or in other words, when people are distracted by a crisis, pass laws that the people otherwise would not support. Certain politicians in California and elsewhere lately seem to have followed that 'advice.'
As far as measles goes, the following might be of interest:
May 14, 2015

There may be many people who think as I did, that tens of thousands of people died yearly from the measles in the United States before the measles vaccine was introduced. The Centers for Disease Control and Prevention's website reads, "In the decade before 1963 when a vaccine became available, nearly all children got measles by the time they were 15 years of age. It is estimated 3 to 4 million people in the United States were infected each year. Also each year an estimated 400 to 500 people died, 48,000 were hospitalized, and 4,000 suffered encephalitis (swelling of the brain) from measles."

That means that the vast majority survived the measles, and many acquired lifetime immunities and possibly stronger immune systems. No need to vaccinate. Surely with today's medicine, the 400 to 500 deaths could have been reduced.

Instead, the medical establishment decided to spend millions to vaccinate and re-vaccinate hundreds of millions of people, which carries additional risks. http://www.newsday.com/opinion/letters/letter-vaccines-add-new-kinds-of-risks-1.10436485
Australia and California are not the only places taking steps against personal liberty.  Notice what happened in Vermont earlier this week:
MONTPELIER – The Vermont House on Tuesday repealed the state's decades-old philosophical exemption to mandatory school vaccinations.

Lawmakers voted 85 to 57 on a House amendment by Rep. Paul Poirier, I-Barre, to H. 98 that removes the exemption but sets back the effective date to July 2016. …The state also allows exemptions for medical and religious reasons, which will be unaffected by passage of the bill. http://www.burlingtonfreepress.com/story/news/local/2015/05/12/house-repeals-philosophical-exemption-vaccines/27207235/
At least Vermont is allowing the religious exemption–it is not clear that California intends to do that, though it might.
It needs to be pointed out that vaccines do pose risks themselves.  Some peoples' immune systems are not bolstered by them and some others have negative reactions.  Actually, I received a telephone call from a Canadian woman on Tuesday where she told me how her son started to have major health problems (infantile spasms) after he was vaccinated decades ago–and that he was still having seizure problems now that the vaccinations triggered.
Years back, the fairly pro-vaccine publication Consumer Reports mentioned that that vaccinations seem to increase the probability of developing asthma.  Others have pointed out the massive increase in autism rates–though many have disputed that vaccines could have caused that, the reality is that the autism rates have gone way up.
Let again state that having met with health officials in California, including giving testimony about two decades back before the Assembly Health committee, I have seen first hand how certain decisions appear to be made, and money and political considerations are normally more important than health and true public welfare.
Of course, vaccines per se are not a massive doctrinal issue, but the trend this year is to reduce rights of parents and others who have concerns about them. Much of the world is moving towards a more totalitarian government–and moving away from religious freedom.
And while I believe it will take the rise of the final European Beast power to make that happen worldwide (as the Bible shows that all the world will be involved in his religious worship per Revelation 13:4,8), even the American and Anglo-Saxon nations are taking more and more steps pointing to that direction.
As mentioned before, one candidate for US President, Hillary Clinton, once stated that giving vaccinations was one of the three most important things needed to be a good parent (see also Hillary Clinton in Prophecy). Yet, teaching the word of God and being a proper example is what parents are biblically supposed to do (see also Five Rules for Effective Parenting), but Mrs. Clinton did not say that.
Also as mentioned before, my wife and I did not vaccinate any of our three children. Nor have she or I had any vaccines in adulthood despite traveling to various countries around the world.
Am I saying that all vaccinations are necessarily wrong?
No.
But I also do not believe that one must intentionally expose oneself or ones' children to the pathogens and other elements involved with vaccines. Nor do I believe that vaccines should be mandated to parents. Vaccines are not going to save society. Decades ago, the late Ernest Martin wrote:
Leading doctors have warned that there is no substitute for clean living – that drugs cannot nullify the damage done by wanton breaking of all health laws – and that wholesale vaccinations can weaken man's overall natural resistance to disease. But as long as we appear to be well, almost no one gives these warnings a second thought.(Martin E. Will we ever learns? Plain Truth, August 1965)
Turning from sin, eating only what is good, and obeying sanitary principles in the Bible are more effective than vaccines. But most political leaders will not truly advocate all of that.
Various parts of the world are taking bigger risks mandating vaccines and reducing religious freedoms than the proponents realize.
Several items of possibly related interest may include:
Fourth Horseman of the Apocalypse What is the pale horse of death and pestilences? What will it bring and when? Spanish: El cuarto jinete de Apocalipsis, el caballo pálido de muerte y pestilencia.
Five Rules for Effective Parenting Do you know that there are five simple rules that can make you a more effective parent? Here is a link to a version in Mandarin Chinese 五条简单有效的子女养育规则. There is also a 12 1/2 minute English language YouTube video on this, also titled Five Rules for Effective Parenting.
What Psychologists do not Know About Child Rearing This is an article by Herbert Armstrong that was used as the introduction to the pdf booklet The Plain Truth About Child Rearing.
The Plain Truth About Child Rearing This is a pdf booklet that the old WCG put out.
Hillary Clinton in Prophecy Prophecy, Hillary Clinton? Are there prophecies that Hillary Clinton may fulfill? Are there any prophecies that she has already helped fulfill? Could Hillary Clinton be apocalyptic? Could Hillary Clinton be the final Antichrist? A video of related interest is titled Hillary Clinton and Bible Prophecy.
Anglo – America in Prophecy & the Lost Tribes of Israel Are the Americans, Canadians, English, Scottish, Welsh, Australians, Anglo-Saxon (non-Dutch) Southern Africans, and New Zealanders descendants of Joseph? Where are the lost ten-tribes of Israel? Who are the lost tribes of Israel? What will happen to Jerusalem and the Jews in Israel? Will God punish the U.S.A., Canada, United Kingdom, and other Anglo-Saxon nations? Why might God allow them to be punished first? Here is a link to the Spanish version of this article: Anglo-América & las Tribus Perdidas de Israel. Information is also in the YouTube sermons titled Where are the Ten Lost Tribes? Why does it matter? and British are the Covenant People. A short YouTube of prophetic interest may be Barack Obama and the State of the Apocalypse.
Will the Anglo-Saxon Nations be Divided and Have People Taken as Slaves? Will the lands of the United States, United Kingdom, Canada, Australia, and New Zealand be divided? What about Jerusalem? What does Bible prophecy teach? Are there non-biblical prophecies that support this idea? Who will divide those lands? Who will end up with the lands and the people? Here is a link to a video titled Will the USA and other Anglo-nations be Divided and Their People Made Slaves? Here is a related item in the Spanish language ¿Serán divididas las naciones anglosajonas?
GMOs and Bible Prophecy What are GMOs? Since they were not in the food supply until 1994, how could they possibly relate to Bible prophecy? Do GMOs put the USA and others at risk? Here is a related YouTube video GMO Risks and the Bible.
Chimeras: Has Science Crossed the Line? What are chimeras? Has science crossed the line? Does the Bible give any clues?
When Will the Great Tribulation Begin? 2015, 2016, or 2017? Can the Great Tribulation begin today? What happens before the Great Tribulation in the "beginning of sorrows"? What happens in the Great Tribulation and the Day of the Lord? Is this the time of the Gentiles? When is the earliest that the Great Tribulation can begin? What is the Day of the Lord? Who are the 144,000? Here is a version of the article in the Spanish language: ¿Puede comenzar la Gran Tribulación en 2014 o 2015? ¿Es el Tiempo de los Gentiles? You can also see the English language sermon video: The Great Tribulation from the Mount of Olives.
Hillary Clinton, Prophecy, and the Destruction of the United States This is a 188 page book for people truly interested in prophecies related to Hillary Clinton and the United States, including learning about many that have already been fulfilled and those that will be fulfilled in the future. It also discusses Republicans. The physical book can be purchased at Amazon from the following link: Hillary Clinton, Prophecy, and the Destruction of the United States: Is Hillary Clinton Fulfilling Biblical, Islamic Catholic, Hopi, and other America-Related Prophecies? $11.99.