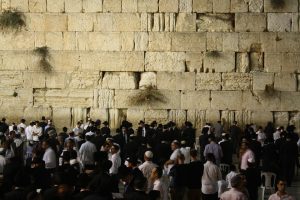 "Western Wall"

The Israeli government wants to honor Donald Trump:
Israel minister plans Trump train station at Western Wall

December 27, 2017

JERUSALEM (AP) — Israel's transportation minister is pushing ahead with a plan to dig a railway tunnel under Jerusalem's Old City, passing near sites holy to Jews, Christians and Muslims — and ending at the Western Wall with a station named after President Donald Trump.

Yisrael Katz's plan, currently in the initial stages, involves constructing two underground stations and excavating over 2 miles (3 kilometers) of tunnel beneath downtown Jerusalem and under the politically sensitive Old City. The project would extend Jerusalem's soon-to-open high-speed rail line from Tel Aviv to the Western Wall, the holiest site where Jews can pray.

The route will run close to — but not directly under — the Church of the Holy Sepulchre, where tradition holds that Jesus was crucified and buried, and a contested holy site known to Jews as the Temple Mount and to Muslims as the Noble Sanctuary. Previous excavations by Israel near the holy site — the spiritual epicenter of the Israeli-Palestinian conflict — have sparked violent Palestinian protests.

Because of those sensitivities, the proposal will likely meet with heavy resistance from the Palestinians, neighboring Arab countries and the international community.

Katz, a senior Cabinet official who also serves as Israel's intelligence minister, is a close ally of Prime Minister Benjamin Netanyahu and is seen by many as his likely eventual successor as head of the Likud party.

Transportation Ministry spokesman Avner Ovadia said Wednesday the project is estimated to cost more than $700 million and, if approved, would take four years to complete. https://www.apnews.com/8efbdc2d06b4491b8ff34f3dfdfaa02a/Israel-minister-plans-Trump-train-station-at-Western-Wall
Donald Trump's declarations related to Jerusalem earlier this month sparked controversy (see Donald Trump announces plan to relocate US Israeli embassy to Jerusalem against torrent of world opinion and Hamas calls for third intifada after US recognizes Jerusalem as Israel's capital' 'America is the mother of terror' and Jerusalem: 'City of peace' is 'full of violence').
Some claim that Donald Trump is a modern day 'Cyrus the Great' that God is using to get the 'Third Temple' built and to otherwise further support Jewish interests.
We made a video related to this recently:
On December 6, 2017, US President Donald Trump fulfilled a campaign promise related to the recognition of Jerusalem as Israel's capital. This brought anger, protests, and rockets from some Palestinians. It also brought condemnation from European allies–it has been claimed to be disruptive and even catastrophic. The Palestinian President (Mahmoud Abbas) said that this pronouncement eliminated the USA as being a fair mediator for a peace deal. Others have claimed that Donald Trump is an end time Cyrus and his pronouncement will lead to a Third Temple in Jerusalem. Is there ever going to be a peace deal? If so, will Europeans be part of it? Is Donald Trump a 'Cyrus.' Do the Jews require a Third Temple for sacrifices? Dr. Thiel answer those questions and more.
Since this proposed train station is expected to offend the Palestinians, apparently some in the Israeli government believe that having Donald Trump's name on it will insure US support of it for the time being.
This train project looks like another act that will further divide the Palestinians from the Jews.
Relying on the USA will one day prove futile for the Jewish State. There are also negative ramifications for the USA:
8 The Lord sent a word against Jacob, And it has fallen on Israel. 9 All the people will know — Ephraim and the inhabitant of Samaria — … 11 Therefore the Lord shall set up The adversaries of Rezin against him, And spur his enemies on, 12 The Syrians before and the Philistines behind; And they shall devour Israel with an open mouth. (Isaiah 9:8-9, 11-12)
The Bible clearly is prophesying problems from some Syrians and some Palestinians. Naming a train station Donald Trump may contribute to the fulfillment of that prophecy.
Now let me add, contrary to the statements of people like Israeli Prime Minister Netanyahu, Jerusalem is not the eternal and undivided capital of the Jewish state called Israel.
The Israelis lost it in 604 B.C.
The Turks surrendered it to the Brits in 1917.
The current Jewish state formed in 1948 with part of Jerusalem.
It got the rest through conquest in 1967.
Jesus says changes will happen:
24 … And Jerusalem will be trampled by Gentiles until the times of the Gentiles are fulfilled. (Luke 21:24)
Revelation states:
2 But leave out the court which is outside the temple, and do not measure it, for it has been given to the Gentiles. And they will tread the holy city underfoot for forty-two months. (Revelation 11:2)
Hence Jerusalem will NOT be a Jewish-dominated region.
Notice also some prophecies from Zechariah:
16 'Therefore thus says the Lord:

"I am returning to Jerusalem with mercy; My house shall be built in it," says the Lord of hosts,

"And a surveyor's line shall be stretched out over Jerusalem."'

17 "Again proclaim, saying, 'Thus says the Lord of hosts:

"My cities shall again spread out through prosperity; The Lord will again comfort Zion, And will again choose Jerusalem."'" (Zechariah 1:16-17)

10 "Sing and rejoice, O daughter of Zion! For behold, I am coming and I will dwell in your midst," says the Lord. 11 "Many nations shall be joined to the Lord in that day, and they shall become My people. And I will dwell in your midst. Then you will know that the Lord of hosts has sent Me to you. 12 And the Lord will take possession of Judah as His inheritance in the Holy Land, and will again choose Jerusalem. 13 Be silent, all flesh, before the Lord, for He is aroused from His holy habitation!" (Zechariah 2:10-13)
These writings show that God will end up with Jerusalem, but He is not using it as His headquarters currently (see also Does the Church of God need to be headquartered in Jerusalem?).
Now, currently there already is a social division of Jerusalem–there are essentially four sections.
A political division is also likely, probably ultimately enforced by outside armies. But while the armies supposedly will be there to 'protect' Israeli interests, the Bible shows that Jerusalem will be trampled by Gentiles and Israelis taken captive (Luke 21:20-24).
Many Palestinians are depressed, distraught, and feel that they are without hope. Many have been led by people wanting them to hate.
Notice the following:
1 The burden of the word of the Lord against Israel. Thus says the Lord, who stretches out the heavens, lays the foundation of the earth, and forms the spirit of man within him: 2 "Behold, I will make Jerusalem a cup of drunkenness to all the surrounding peoples, when they lay siege against Judah and Jerusalem. 3 And it shall happen in that day that I will make Jerusalem a very heavy stone for all peoples; all who would heave it away will surely be cut in pieces, though all nations of the earth are gathered against it. (Zechariah 12:1-3)
Jerusalem is already considered burdensome by much of the international community.
We will see changes there–and many will not be good.
Some items of possibly related interest may include:
Jerusalem: Past, Present, and Future What does the Bible say about Jerusalem and its future? Is Jerusalem going to be divided and eliminated? Is Jesus returning to the area of Jerusalem? There are also two related YouTube videos you can watch: Jerusalem To be divided and eliminated and God's and Satan's Plan for Jerusalem.
The Times of the Gentiles Has there been more than one time of the Gentiles? Are we in it now or in the time of Anglo-America? What will the final time of the Gentiles be like? A related sermon is available and is titled: The Times of the Gentiles.
Israel, 1948, and Prophecy Was the formation in 1948 of the nation of Israel prophetically significant? Was this event what Jesus referred to in His "parable of the fig tree"? Are most Israelites in the modern nation of Israel? Are most Jews in that nation? If the prophecies Jeremiah 23:3-6 and Ezekiel 34:13-30 do not point to 1948, when will those prophecies be fulfilled? Are there prophecies that will be fulfilled related to the nation of Israel? What was the first sign that Jesus said would be seen by a particular 'generation'? When might that have happened? What are the signs that Jesus' fig tree parable point to? This is a video.
Who Are The Two Witnesses? What is their job? What does the Bible reveal? What has the Church of God taught on this subject? Might even Roman Catholic prophecies give some clues here? Here is a related link in Spanish/español:¿Quiénes son los dos testigos?
Gaza and the Palestinians in Bible Prophecy What does the Bible teach about Gaza and the fate of the Palestinians? Here is a link to a related video: Gaza and Palestine in Prophecy.
Why Terrorism? Is Terrorism Prophesied? What does the Bible teach? Which nations may be affected? Here is a link to a related sermon: Terrorism, Christianity, and Islam.
The 'Peace Deal' of Daniel 9:27 This prophecy could give up to 3 1/2 years advance notice of the coming Great Tribulation. Will most ignore or misunderstand its fulfillment? Here is a link to a related sermon video Daniel 9:27 and the Start of the Great Tribulation.
Why is a Jewish Temple in Jerusalem Not Required? Although people like Timothy LaHaye teach a third Jewish temple is required, who is 'the temple of God" in the New Testament? Does the Bible require a rebuilt Jewish Temple? Could the old Temple have been somewhere other than the "Temple Mount"? Here is a related article in the Spanish language ¿Por qué no se requiere un templo judío en Jerusalén? Here is a link to a sermon titled The Temple, Prophecy, and the Work.
How Will Middle East Peace be Brought About? Can humans bring peace to the Middle East? Here is a link to a related video: Middle East Peace? When?
Is the Future King of the South Rising Up? Some no longer believe there needs to be a future King of the South. Might Egypt, Islam, Iran, Arabs, or Ethiopia be involved? Might this King be called the Mahdi or Caliph? What does the Bible say? A YouTube video of related interest may be: The Future King of the South is Rising.
The Arab and Islamic World In the Bible, History, and Prophecy The Bible discusses the origins of the Arab world and discusses the Middle East in prophecy. What is ahead for the Middle East and those who follow Islam? What about the Imam Mahdi? What lies ahead for Turkey, Iran, and the other non-Arabic Muslims? An item of possibly related interest in the Spanish language would be: Líderes iraníes condenan la hipocresía de Occidente y declaran que ahora es tiempo para prepararse para el Armagedón, la guerra, y el Imán Mahdi.
Differences Between Islam and the Continuing Church of God What are some of the main differences? Are there any similarities? A video of related interest is titled: Islam: Any Christian Concerns or Similarities?
Anglo – America in Prophecy & the Lost Tribes of Israel Are the Americans, Canadians, English, Scottish, Welsh, Australians, Anglo-Saxon (non-Dutch) Southern Africans, and New Zealanders descendants of Joseph? Where are the lost ten-tribes of Israel? Who are the lost tribes of Israel? What will happen to Jerusalem and the Jews in Israel? Will God punish the U.S.A., Canada, United Kingdom, and other Anglo-Saxon nations? Why might God allow them to be punished first? Here is a link to the Spanish version of this article: Anglo-América & las Tribus Perdidas de Israel. Information is also in the YouTube sermons titled Where are the Ten Lost Tribes? Why does it matter? and British are the Covenant People.
Will the Anglo-Saxon Nations be Divided and Have People Taken as Slaves? Will the lands of the United States, United Kingdom, Canada, Australia, and New Zealand be divided? What about Jerusalem? What does Bible prophecy teach? Are there non-biblical prophecies that support this idea? Who will divide those lands? Who will end up with the lands and the people? Here is a link to a video titled Will the USA and other Anglo-nations be Divided and Their People Made Slaves? Here is a related item in the Spanish language ¿Serán divididas las naciones anglosajonas?
World War III: Steps in Progress Are there surprising actions going on now that are leading to WWIII? Might a nuclear attack be expected? Does the Bible promise protection to all or only some Christians? How can you be part of those that will be protected? A related video would be Is World War III About to Begin? Can You Escape?
When Will the Great Tribulation Begin? 2018, 2019, or 2020? Can the Great Tribulation begin today? What happens before the Great Tribulation in the "beginning of sorrows"? What happens in the Great Tribulation and the Day of the Lord? Is this the time of the Gentiles? When is the earliest that the Great Tribulation can begin? What is the Day of the Lord? Who are the 144,000? Here is a version of the article in the Spanish language: ¿Puede comenzar la Gran Tribulación en 2016 o 2017? ¿Es el Tiempo de los Gentiles? You can also see the English language sermon videos: The Great Tribulation from the Mount of Olives and Can the Great Tribulation begin before 2020? A shorter video is: Can the Great Tribulation begin in 2018?
The Gospel of the Kingdom of God This free online pdf booklet has answers many questions people have about the Gospel of the Kingdom of God and explains why it is the solution to the issues the world is facing. Here are links to three related sermons: The World's False Gospel, The Gospel of the Kingdom: From the New and Old Testaments, and The Kingdom of God is the Solution.
Did The Early Church Teach Millenarianism? Was the millennium (sometimes called chiliasm) taught by early Christians? Who condemned it? Will Jesus literally reign for 1000 years on the earth? Is this time near? Two related sermons are available Millennial Utopia and The Millennium.
Donald Trump in Prophecy Prophecy, Donald Trump? Are there prophecies that Donald Trump may fulfill?  Are there any prophecies that he has already helped fulfill?  Could a Donald Trump presidency be apocalyptic?  A related video is titled: Donald: 'Trump of God' or Apocalyptic?
Trump Presidency Magic 8 Ball or Bible Prophecy? BBC reported that one might as well use a 'Magic Eight-Ball' to try to predict what will happen in the remaining time of Donald Trump's presidency. What is a 'Magic Eight-Ball'? Dr. Thiel not only explains that, but also briefly goes over 10 biblically-based warnings he wrote would happen if Donald Trump were elected that have already began to come to pass. He also goes over something he wrote back in 2008 that the Trump presidency is also helping lead to fulfillment. Should you trust Bible prophecy or not? Dr. Thiel says that Bible prophecy can be trusted, despite the view of skeptics and others that either overlook or despise the Bible. This is a video.
Donald Trump and America's Apocalypse This 188 page book is for people truly interested in prophecies related to Donald Trump and the United States, including learning about several that have already been fulfilled and those that will be fulfilled in the future. The physical book can be purchased at Amazon for $12.99 from the following link: Donald Trump and America's Apocalypse.
Donald Trump and America's Apocalypse-Kindle Edition This electronic version of the 188 page print edition is available for only US$3.99. And you do not need an actual Kindle device to read it. Why? Amazon will allow you to download it to almost any device: Please click HERE to download one of Amazon s Free Reader Apps. After you go to for your free Kindle reader and then go to Donald Trump and America's Apocalypse-Kindle Edition.