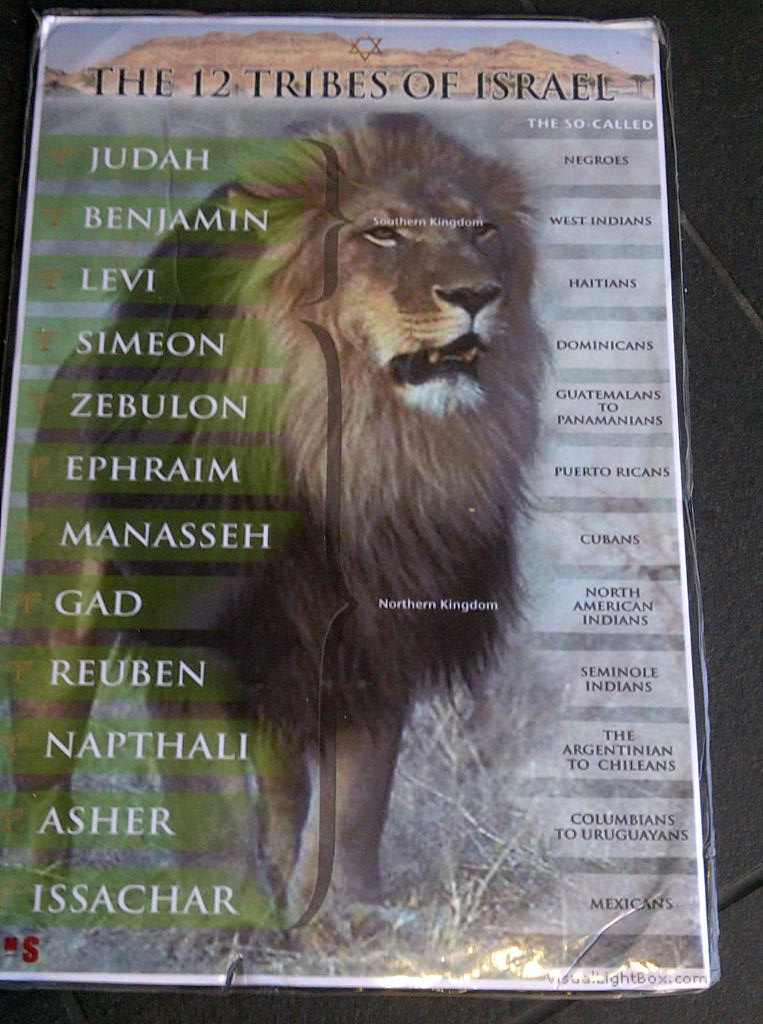 Poster outlining the Black Hebrew Israelite identification of the Twelve Tribes of Israel with modern peoples of color
(Streetphotographernyctlv)

It looks like anti-Semitism was involved in a shooting in New Jersey:
Jersey City Shooters were 'Black Israelites': A Replacement Theology Cult

The three civilians killed inside the grocery store in Jersey City were identified as 33-year-old Leah Mindel Ferencz of Jersey City, a Chassidic woman who owned the store with her husband, Moshe David; Moshe Hersch Deutsch, 24, of the Williamsburg neighborhood of Brooklyn, N.Y; and Miguel Douglas, 49, an employee at the store. Ferencz's husband had left the grocery store just moments before the attack began to attend services at a synagogue next door. Also killed at the start of the hours-long incident was Jersey City Police Det. Joseph Seals, a 39-year-old father of five.

The two suspects were identified on Wednesday as David Anderson and Francine Graham. They were killed inside the kosher market. According to reports, after killing Seals, the couple drove to the kosher market on Martin Luther King Drive one mile away, firing their weapons into the store from the sidewalk before barricading themselves inside and launching into a high-powered rifle shooting spree that lasted for hours.
It has also been confirmed that Anderson was a member of the Black Israelites. The Black Israelites are replacement theology a cult who believes that black people exclusively are the real Jews and that Ashkenazi (those who fled to Europe) and Sephardi (Those who fled to Spain, North Africa, and the Middle East) Jews are impostors. And although they claim to be the "real Jews", they pray in 'churches' and primarily use Christian text as the foundation for their teachings. Their church is formally called the Israelite Church of God in Jesus Christ. https://www.breakingisraelnews.com/141479/jersey-city-shooters-were-members-of-replacement-theology-cult/
Fears mount that New Jersey shooting was anti-Semitic attack

December 12, 2019

JERSEY CITY, N.J. (AP) — Fears that a deadly shooting at a Jewish market in Jersey City was an anti-Semitic attack mounted on Wednesday as authorities recounted how a man and woman deliberately pulled up to the place in a stolen rental van with at least one rifle and got out firing. …

Mayor Steve Fulop said surveillance video of the attackers made it clear they targeted the kosher market, and he pronounced the bloodshed a hate crime against Jews, as did New York's mayor and governor.

Also, investigators believe the two dead attackers — who were thought to be a couple — identified themselves in the past as Black Hebrew Israelites, a movement whose members have been known to rail against whites and Jews, according to a law enforcement official who was briefed on the matter but was not authorized to discuss the case publicly and spoke on condition of anonymity. …

In addition, authorities have found social media postings from at least one of the killers that were anti-police and anti-Jewish, the official said. The FBI on Wednesday searched the Harlem headquarters of the Israelite Church of God in Jesus Christ, which is the formal name of the Black Hebrew group, according to the official.

The killers were identified as David N. Anderson, 47, and Francine Graham, 50 — both of them also prime suspects in the slaying of a livery driver found dead in a car trunk in nearby Bayonne over the weekend, Grewal said. Anderson served about four months in prison in New Jersey on weapons charges and was paroled in 2011, authorities said.

Two of the victims at the store were identified by members of the Orthodox Jewish community as Mindel Ferencz, 31, who with her husband owned the grocery, and 24-year-old Moshe Deutsch, a rabbinical student from Brooklyn who was shopping there. The Ferencz family had moved to Jersey City from Brooklyn. Authorities identified the third victim as store employee Douglas Miguel Rodriguez, 49.

"The report from the Jersey City mayor saying it was a targeted attack makes us incredibly concerned in the Jewish community," said Evan Bernstein, regional director of the Anti-Defamation League, the Jewish civil rights organization. https://apnews.com/a1d05cd4c69a4f81bd642b032796f328
The murders may call themselves Church of God, but they are most not definitely part of the true Church of God–those in the true Church of God are essentially pacifists (see Military Service and the Churches of God: Do Real Christians Participate in Carnal Warfare or Encourage Violence?). Jesus, however, prophesied there would be false ones claiming to be what they were not:
9 Indeed I will make those of the synagogue of Satan, who say they are Jews and are not, but lie — indeed I will make them come and worship before your feet, and to know that I have loved you. (Revelation 3:9)
The 'Black Israelites' are neither physical Jews, spiritual Jews, or true Church of God Christians.
Anyway, I have had a couple of detailed debates with someone who holds to Black Israelite theology. To make a long story short, 'Black Israelites' claim that the Egyptians and Israelites were black. However, pictures of them in many ancient hieroglyphics disproves that (see Were the Ancient Tribes of Israel Black? Was Jesus Black?).
Notice also that after General Titus conquered Jerusalem in 70 A.D., Roman Emperor Vespasian issued coins–the back side of which shows conquered Jews: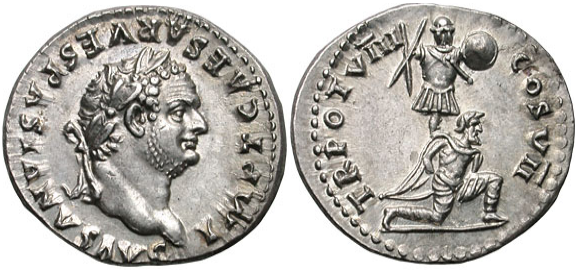 Titus on left, Jewish man on bottom right (CNG coins)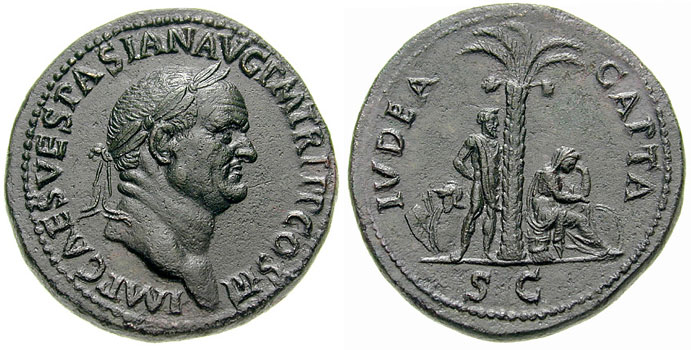 Vespasian on left, captured Jewish soldiers on right, 71 A.D. (CNG coins)
Notice the the Jews were not African. The second coin inscription in Latin Ivdea means Judea. This is clear evidence that the Jews of the first century (like Jesus) were not black Africans (see also Were the Ancient Tribes of Israel Black? Was Jesus Black?).
The 'Black Israelites' are clearly wrong about Judah being Negroes as their poster at the beginning of this post claims.
Many people hate others, and the Jews tend to be one of the more hated groups (see also God's Grace is For All). But that is not how people are to live.
Notice something that God had Moses record:
8 You shall not take vengeance, nor bear any grudge against the children of your people, but you shall love your neighbor as yourself: I am the Lord. (Leviticus 19:18)
It is not just physical, ethnic Jews that are at risk–spiritual ones are as well (cf. Romans 2:28-29; John 15:20; see also The Spanish Inquisition and Early Protestant Persecutions).
There was a poem many years ago by Martin Niemöller:
First they came for the Socialists, and I did not speak out—
Because I was not a Socialist.

Then they came for the Trade Unionists, and I did not speak out—
Because I was not a Trade Unionist.

Then they came for the Jews, and I did not speak out—
Because I was not a Jew.

Then they came for me—and there was no one left to speak for me.
It is not just Jews that are hated or will be in the future. Throughout history, true Christians have sometimes been called "Jews" and have been subject to persecution supposedly directed towards Jews. True Christians also had to suffer through the so-called Inquisition (see The Spanish Inquisition), which utilized torture against those that had Church of God beliefs–and more is expected in the future (see Persecutions by Church and State). Protestant leaders, including Martin Luther, have also promoted antisemitism and Church of God persecution (see The Similarities and Dissimilarities between Martin Luther and Herbert W. Armstrong) as have various ones who were Eastern Orthodox (see John Chrysostom, Bishop of Constantinople and Antisemite).
Real Christians have always been on the side being persecuted and have never been on the side of the persecutors. And this will be true again in the future.
People should not be antisemitic. People should not hate others.
It is not just certain Muslims who hate Jews–many who claim Christ still hold anti-Semitic views, and some take direct anti-Semitic actions.
Sadly, we will see persecution greatly increase before Jesus returns (cf. Daniel 7:25; 11:30-35; see also Persecutions by Church and State)–this will affect Philadelphian Christians.
All the faithful will be subject to persecution and being betrayed by professing believers (Matthew 24:9-13, Mark 13:12-13; Luke 21:16-18; Daniel 11:32-35).
The underlying antisemitism in Europe and throughout the world will allow for this, especially when the time comes when the Beast's government mandates it (Revelation 13:15-17).
This will happen in Europe according to Revelation 13.
In the past, Christians were persecuted because they:
In the future, according to Catholic teachings, they will also be persecuted for:
Christians have been persecuted for holding doctrines that we in the Continuing Church of God hold and are clearly expected to be persecuted in the future for holding Continuing Church of God doctrines.
Persecution is a fact of history. It has happened before and we should be prepared for the fact that it will happen again.
Jesus said that His followers would sometimes have to flee:
23 When they persecute you in this city, flee to another. For assuredly, I say to you, you will not have gone through the cities of Israel before the Son of Man comes (Matthew 10:23).
Severe persecution is expected to occur against the Sabbath-keeping Philadelphian Christians just prior to the time the true Church is to flee (please see the article There is a Place of Protection for the Philadelphians):
9 "Then they will deliver you up to tribulation and kill you, and you will be hated by all nations for My name's sake. 10 And then many will be offended, will betray one another, and will hate one another. 11 Then many false prophets will rise up and deceive many. 12 And because lawlessness will abound, the love of many will grow cold. 13 But he who endures to the end shall be saved. 14 And this gospel of the kingdom will be preached in all the world as a witness to all the nations, and then the end will come. 15 "Therefore when you see the 'abomination of desolation,' spoken of by Daniel the prophet, standing in the holy place" (whoever reads, let him understand), 16 "then let those who are in Judea flee to the mountains. 17 Let him who is on the housetop not go down to take anything out of his house. 18 And let him who is in the field not go back to get his clothes. 19 But woe to those who are pregnant and to those who are nursing babies in those days! 20 And pray that your flight may not be in winter or on the Sabbath. (Matthew 24:9-20)
And then will come the Great Tribulation:
For then there will be great tribulation, such as has not been since the beginning of the world until this time, no, nor ever shall be. And unless those days were shortened, no flesh would be saved; but for the elect's sake those days will be shortened. Then if anyone says to you, 'Look, here is the Christ!' or 'There!' do not believe it. For false christs and false prophets will rise and show great signs and wonders to deceive, if possible, even the elect. See, I have told you beforehand (Matthew 24:21-25).
It may well be that Philadelphian Christians in Europe, Latin America, and elsewhere may decide that they need to flee to the tiny nation of Israel prior to the start of the Great Tribulation. And that may be why Jesus made comments about fleeing Judea (watch also What is the Fate of Christians in Europe and Elsewhere?).
Jesus indicates that the end time persecution may be the biggest test of faith for believers. Notice:
7 And shall God not avenge His own elect who cry out day and night to Him, though He bears long with them? 8 I tell you that He will avenge them speedily. Nevertheless, when the Son of Man comes, will He really find faith on the earth? (Luke 18:7-8)
The Bible and the facts of history have revealed persecutions for the people of God. While false Christians have also been persecuted, true Christians have never been the persecutors as true Christians "do not imitate what is evil" (3 John 11). Those who really want to know what happened to the true Church of God should begin with the The History of Early Christianity page.
The Bible shows that end time persecution will come (Daniel 7:25; Revelation 12:17).
The underlying anti-Semitism throughout the world will allow for this, especially when the time comes when the Beast's government mandates it (Revelation 13:15-17).
Some items of related interest may include:
God's Grace is For All Is being Jewish a hindrance to salvation? What about not being a descendant of Israel? What does the Bible really teach? Here is a link to a related sermon titled Race and Grace; Do you view race as God does?
Persecutions by Church and State This article documents some that have occurred against those associated with the COGs and some prophesied to occur. Will those with the cross be the persecutors or the persecuted–this article has the shocking answer. There is also a YouTube video sermon you can watch: The Coming Persecution of the Church.
The Spanish Inquisition and Early Protestant Persecutions Was the Church of Rome really responsible for this? What happened? A video of related interest is titled: The Past and Future Inquisition.
Universal OFFER of Salvation, Apokatastasis: Can God save the lost in an age to come? Hundreds of scriptures reveal God's plan of salvation Will all get a fair chance at salvation? This free book is packed with scriptures showing that God does intend to offer salvation to all who ever lived–the elect in this age, and the rest in the age to come. Here is a link to a related sermon series: Universal Offer of Salvation 1: Apocatastasis, Universal Offer of Salvation 2: Jesus Desires All to be Saved, Mysteries of the Great White Throne Judgment (Universal Offer of Salvation part 3), Is God Fair, Will God Pardon the Ignorant?, Can God Save Your Relatives?, Babies, Limbo, Purgatory and God's Plan, and 'By the Mouth of All His Holy Prophets'.
Why Terrorism? Is Terrorism Prophesied? What does the Bible teach? Which nations may be affected? Here is a link to a related sermon: Terrorism, Christianity, and Islam.
The Mark of Antichrist What is the mark of Antichrist? What have various ones claimed? Here is a link to a related sermon What is the 'Mark of Antichrist'?
Mark of the Beast What is the mark of the Beast? Who is the Beast? What have various ones claimed the mark is? What is the 'Mark of the Beast'?
John Chrysostom, Bishop of Constantinople and Anti-Semite This late fourth/early fifth century Bishop of Constantinople is considered to be a 'saint' and 'doctor' by the Church of Rome, Church of England, and the Eastern Orthodox, but he did not teach Christ's love.
The Similarities and Dissimilarities between Martin Luther and Herbert W. Armstrong This article clearly shows some of the doctrinal differences between in the two. At this time of doctrinal variety and a tendency by many to accept certain aspects of Protestantism, the article should help clarify why the genuine Church of God is NOT Protestant. Do you really know what the Protestant Reformer Martin Luther taught and should you follow his doctrinal example? Here is a related sermon video: Martin Luther and Herbert Armstrong: Reformers with Differences.
Does God Have a 6,000 Year Plan? What Year Does the 6,000 Years End? Was a 6000 year time allowed for humans to rule followed by a literal thousand year reign of Christ on Earth taught by the early Christians? Does God have 7,000 year plan? What year may the six thousand years of human rule end? When will Jesus return? 2027 or 20xx? There is also a video titled 6000 Years: When will God's Kingdom Come? Here is a link to the article in Spanish: ¿Tiene Dios un plan de 6,000 años?
When Will the Great Tribulation Begin? 2020, 2021, or 2022? Can the Great Tribulation begin today? What happens before the Great Tribulation in the "beginning of sorrows"? What happens in the Great Tribulation and the Day of the Lord? Is this the time of the Gentiles? When is the earliest that the Great Tribulation can begin? What is the Day of the Lord? Who are the 144,000? Here is a version of the article in the Spanish language: ¿Puede comenzar la Gran Tribulación en 2018 o 2019? ¿Es el Tiempo de los Gentiles? You can also see the English language sermon videos: The Great Tribulation from the Mount of Olives and Can the Great Tribulation begin before 2020? A shorter and newer video is: Could the Great Tribulation Begin in 2020?
The Times of the Gentiles Has there been more than one time of the Gentiles? Are we in it now or in the time of Anglo-America? What will the final time of the Gentiles be like? A related sermon is available and is titled: The Times of the Gentiles.
The Philadelphia Church Era was predominant circa 1933 A.D. to 1986 A.D. The old Radio Church of God and old Worldwide Church of God, now basically the most faithful in the Church of God, like who hold to the beliefs and practices of the Continuing Church of God.
Spiritual Samaritans: Old and New Who were the Samaritans? Do the represent true Christianity or something else? Here is a link to a related sermon: USA in Prophecy: Samaria.
There is a Place of Safety for the Philadelphians. Why it May Be Near Petra This article discusses a biblical 'place of safety' and includes quotes from the Bible and Herbert W. Armstrong on this subject–thus, there is a biblically supported alternative to the rapture theory. Two sermon-length videos of relaled interest are available Physical Protection During the Great Tribulation and Might Petra be the Place of Safety? Here is something related in the Spanish language: Hay un lugar de seguridad para los Filadelfinos. ¿Puede ser Petra?
Christian Soldiers How are Christians to be like soldiers? How are they to be different?
Military Service and the Churches of God: Do Real Christians Participate in Carnal Warfare or Encourage Violence? Here are current and historical perspectives on a matter which show the beliefs of the true church on military participation. Is war proper for Christians? A related sermon would be: Christians, Violence, and Military Service.