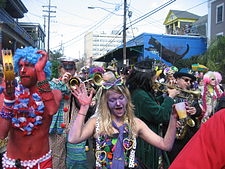 New Orleans Mardi Gras (Infrogmation)
In 2021, February 16th is known in some places as Mardi Gras (French for "Fat Tuesday" and is called Shrove Tuesday in parts of the UK. In Brazil it is the same date.
Voice of America reported the following:
February 16, 2021

February 16 is Fat Tuesday, which literally translates to "Mardi Gras." For Catholics in many parts of the world, the day represents one final celebration before the more solemn six-week period known as Lent.

Perhaps no place in the world celebrates the day more raucously than New Orleans. In a normal year, you'd find Mardi Gras Indians like Hartley with their elaborate suits made of beads, feathers and sequins. You'd find colorful, thematic floats the size of small buildings rumbling down oak-lined avenues as masked "Krewe" members toss beads, cups, decorative coins (and just about everything else you can or can't imagine) to hundreds of thousands of screaming, costumed onlookers packed on the street.

You'd see and hear dozens of marching bands high stepping behind the floats, and you'd be delighted by a smattering of dance krewes — comprised of members of all ages and skill levels — with playful and often sexually suggestive names.

The COVID-19 pandemic has put all of that on pause, to the sorrow of countless locals. https://www.voanews.com/usa/new-orleans-hosts-very-different-mardi-gras
So, yes, Mardis Gras is often lewd, etc., though COVID is affecting it this year.
Some might find it interesting to realize that Pope Francis used to be a Mardi Gras bouncer:
The Pope's Days as a Mardi Gras Bouncer

Pope Francis is spending this Fat Tuesday in solemn preparation for Ash Wednesday, but that wasn't always the case. The man who would be pope used to get down.

Mardis Gras, Fat Tuesday, Martedi Grasso—whatever you call it, the eve of the Catholic Lenten season is a final hurrah before a 40-day period of prayer and fasting. Pope Francis now spends the day in solemn preparation for Ash Wednesday services, but it wasn't always this way for the hip pontiff. …Pope Francis wasn't always involved in holy work. Back when he was known as Jose Maria Bergoglio, he worked as a nightclub bouncer in Flores, Argentina, to earn money as a student.

"I was the world's worst bouncer," Francis told the congregation of San Cirillo Alessandrino in a Roman suburb shortly after his election in 2013. He cut a less-than-intimidating figure, according to several biographies written about him. The most intimate, Francesco: Life and Revolution, was written by Argentinian journalist Elisabetta Pique, who has known Bergoglio since he was elevated to cardinal in 2001, and who he called personally shortly after his election. Pique describes the man before he became pope as "el Flaco" or the thin one and later, "Carucha" or "baby face," as his friends called him.

Francis also had a girlfriend before he joined the priesthood—this woman is widely reported to have been a skilled Tango and Milonga dancer. http://www.thedailybeast.com/articles/2015/02/17/the-pope-s-days-as-a-mardi-gras-bouncer.html
Here are some comments about Mardi Gras:
Mardi Gras is not just a week-long party for New Orleans bar-goers, millions of people around the country celebrate the raving party.

Mardi Gras is infamous for public nudity, chaotic parties, ingesting copious amounts of alcohol and acts as another St. Patrick's Day for those who aren't actually Irish, but drink like they are.

The Christian-themed holiday serves as one last hooray before Lent and giving up delicacies until Easter. People party hard for the week leading up to Lent and Ash Wednesday. This usually involves a massive parade, numerous mini-celebrations and masquerade balls sporting gold, green and purple, which represent power, faith and justice.

Citizens hold nothing back, including their sense of humility, during the few days included in Carnival season. Women typically strip for meaningless colorful beads, chocolate or plastic coins thrown from floats, and wear even less out at bars. The women have no shame and the men have no boundaries. http://www.fourthestatenewspaper.com/mobile/off-the-wall/mardi-gras-unexposed-mayhem-1.2781767
Of course, there is nothing truly Christian about Mardis Gras. It does not come from the Bible nor did early Christians observe it.
According to Wikipedia:
Carnival begins 12 days after Christmas, or Twelfth Night, on January 6 and ends on Mardi Gras, which always falls exactly 47 days before Easter.
The USA city most famous for its Mardi Gras celebrations would be New Orleans. The Washington Post reported the following about it before:
For the past five days, the southern party town has given itself over to excess, good food, lots of drink and maybe a little debauchery. And that's not the weeks leading up to the event with small parades preparing for the celebration. Mardi Gras is a marathon, New Orleanians will tell you, and Fat Tuesday marks the final stretch.

For the non-New Orleanians, a quick primer on Mardi Gras: Before the Catholic holiday of Lent, in which worshipers fast and repent for 40 days, people do their best to make up for the days of restraint with jam-packed days of plenty. Festivals are observed all over the world, such as Carnival in Brazil, but it's never been so associated with a city's identity as it has with New Orleans…

The food is the king cake, a gooey, butter-rich cake with a hidden baby Jesus tucked inside. The Post's Tim Carman looked into the history of the cake and found "The cake's appeal becomes clearer the closer you get to the city limits and, conversely, becomes more comical the farther you travel from the voodoo-sexual-second-line cultural vortex of the Big Easy. http://voices.washingtonpost.com/blog-post/2011/03/mardi_grass_fat_tuesday_the_mu.html
Here is another item about it:
The Salt Lake Tribune – Jan 8, 2008

Although the origins of Carnaval are shrouded in mystery, some believe the fest began as a pagan celebration of spring's arrival sometime during the Middle Ages. The Portuguese brought the celebration to Brazil in the 1500s, but it took on a decidedly local flavor by adopting Indian costumes and African rhythms. The word itself probably derives from the Latin "carne vale," or "goodbye meat," a reference to the Catholic tradition of giving up meat (and other fleshly temptations) during Lent…

Rio's first festivals were called entrudos, with locals dancing through the streets in colorful costumes and throwing mud, flour and suspicious-smelling liquids on one another. In the 19th century, Carnaval meant attending a lavish masked ball or participating in the orderly and rather vapid European-style parade. Rio's poor citizens, bored by the finery but eager to celebrate, began holding their own parades, dancing through the streets to African-based rhythms…

…an event that happens annually in Brazil on the days leading up to Ash Wednesday. In 2008, Carnaval officially begins Friday, Feb. 1, when the mayor gives the keys to the city to King Momo, the portly pleasure-seeker who ushers in the bacchanalia. The next four days are marked by neighborhood parties, lavish masked balls and impromptu fests all over town (http://www.sltrib.com/travel/ci_7883824).
Here is some of what the American Catholic reports about it:
Mardi Gras, literally "Fat Tuesday," has grown in popularity in recent years as a raucous, sometimes hedonistic event…Carnival comes from the Latin words carne vale, meaning "farewell to the flesh." Like many Catholic holidays and seasonal celebrations, it likely has its roots in pre-Christian traditions based on the seasons. (Catholic Roots of Mardi Gras. American Catholic. http://www.americancatholic.org/features/mardigras/)
Essentially, this is a pagan holiday that the Catholics adopted as a compromise to keep members. Participants eat a lot (hence the name "fat Tuesday") before they begin a fast now called Lent–another observance with pagan origins. Parades involving under-clothed women are common. And that is not just in the USA:
Carnival…five-day annual exaltation of music, booze and flesh…The rotund King Momo embodies Carnival, a raucous free-for-all where excesses are encouraged and the natural order of things is turned upside down: men dress as women…In addition to the elaborate two-day samba group parade and the high-dollar costumed balls where the rich spend a lot to wear very little in the most exclusive company, Rio's free, open-to-all street Carnival is bigger than ever.
The Bible teaches against cross-dressing:
5 "A woman shall not wear anything that pertains to a man, nor shall a man put on a woman's garment, for all who do so are an abomination to the Lord your God. (Deuteronomy 22:5)
Of course, Mardi Gras festivities are not biblical, despite their popularity. Millions come to the streets in Rio de Janeiro to celebrate it (see Carnaval's Popularity is Growing). And, it is incredibly popular in New Orleans and certain other cities.
Mardis Gras also seems to trigger a variety of crimes. Notice a report that came out, even before its official start:
February 16, 2015

As the clock ticks on this year's Mardi Gras celebration, a deployment of Louisiana State Police troopers in New Orleans has made its presence felt with more than 140 arrests thus far, according to State Police statistics.

The arrests, 50 of them felonies, amount to almost 16 a day, from Feb. 6 — when troopers arrived in the city to bolster a New Orleans police force struggling to fill its thinning ranks — through Sunday (Feb. 15).

In that nine-day period, the detail of 150 troopers seized 14 weapons and generated more than 315 non-drug related charges, State Police said. An additional 100 or so narcotics-related charges have come from those arrests, State Police said, and more than $376,000 in drugs have been taken off the streets.

At least some of those narcotics came from a bust Sunday night on St. Anthony Street. According to a State Police statement, troopers — acting on a tip — found a variety of drugs and arrested six people on possession charges. http://www.nola.com/crime/index.ssf/2015/02/state_police_and_mardi_gras_14.html
The fruits of Mardis Gras are not good.
Whether or not it will be as widely attended because of COVID will be seen.
Lent, which also is not of biblical origin, is thus becoming an excuse essentially for loud and wild parties all over the world, which stop the night before. Which would be tonight.
Mardi Gras tends to be associated with drunkenness, lust, and other practices that the Bible condemns.
It really should not be considered as something that real Christians would participate in.
What about Shrove Tuesday?
Shrove Tuesday is considered to be an 'alternative' to Mardis Gras and is also observed today. The improperly named publication Christianity Today has the following about it:
February 17, 2015

Can eating pancakes enrich Christian piety? As a part of the traditional celebration of Shrove Tuesday, I believe flapjacks can build our faith.

For those of us who love Jesus and Aunt Jemima, this is very good news.

Shrove Tuesday is essentially the British take on Mardi Gras or Carnival. But instead of flamboyant parties filled with riotous excess, the understated British gather calmly in their homes on the day before Lent to fill themselves with pancakes.

Why pancakes? In medieval Europe, Christians often gave up eating rich foods like meat, eggs, and milk for the 40-day period of penance, prayer, and preparation leading to Easter. The practice and duration of the ritual corresponded to Christ's 40 days of fasting in the desert.

During Lent, perishable goods would spoil, so pancakes—traditionally just eggs and milk mixed with flour—were the ideal meal for consuming Lenten no-no foods. …

During the Reformation, many Protestants, especially my English Puritan ancestors, dismissed Lent and Shrove Tuesday as superstitious Catholic observances aimed at earning God's favor through human works. …

But the palate proved mightier than the Puritans. Most Britons didn't want to give up pancakes—even if, without an austere Lent, there wasn't any real reason to use up all the eggs and milk. Eating pancakes was reason enough for a party. To this day, people all over Britain and in scattered Anglophone countries eat pancakes on Shrove Tuesday.

But with the underlying religious motivation largely gone, the occasion is now more commonly known as Pancake Tuesday. http://www.christianitytoday.com/ct/2015/february-web-only/he-is-risen-so-i-am-shriven.html
No, eating pancakes today does not show that one is a Christian exercising biblical piety. Pancake desire is not a sign of faith. Shrove Tuesday, of course, is not in the Bible. Consistent with the current ecumenical movement, more and more Protestants are observing practices that they once realized were improper.
Observing non- biblical holidays as religious festivals is not the way God wishes to be worshiped. Notice something that Jesus taught:
23 But the hour is coming, and now is, when the true worshipers will worship the Father in spirit and truth; for the Father is seeking such to worship Him. 24 God is Spirit, and those who worship Him must worship in spirit and truth. (John 4:23-24)
The truth is that most who profess Christianty will not worship God in truth and worship Him as He commands.
Mardis Gras and Shrove Tuesday do not honor the God of the Bible. True worshipers do not take part in such false worship. Do you really believe what Jesus taught?
Some items of related interest may include:
Mardi Gras: The Devil's Carnival? Is Mardi Gras Christian? Do you know that in Bolivia the carnival/Mardi Gras time is part of a celebration known as the Devil's Carnival? Where did it come from? There is also a related YouTube video Mardi Gras & Carnaval: Are they for Christians?
Is Lent a Christian Holiday? When did it originate? What about Ash Wednesday? If you observe them, do you know why? Here is an old, by somewhat related, article in the Spanish language by Dr. Hoeh: ¿Por Qué Se Observa la Cuaresma? Here is a link to a related sermon: Lent, Ash Wednesday, Carnaval, and Christianity?
Beware: Protestants Going Towards Ecumenical Destruction! What is going on in the Protestant world? Are Protestants turning back to their 'mother church' in Rome? Does the Bible warn about this? What are Catholic plans and prophecies related to this? Is Protestantism doomed? See also World Council of Churches Peace Plan.
Hope of Salvation: How the Continuing Church of God differs from most Protestants How the real Church of God differs from mainstream/traditional Protestants, is perhaps the question I am asked most by those without a Church of God background. As far as some changes affecting Protestantism, watch the video Charismatic Kenneth Copeland and Anglican Tony Palmer: Protestants Beware! [Português: Esperança do salvação: Como a igreja do deus difere da maioria de protestantes]. A sermon is also available: How Does the Church of God Differ from Protestantism?
Should You Observe God's Holy Days or Demonic Holidays? This is a free pdf booklet explaining what the Bible and history shows about God's Holy Days and popular holidays. A related sermon is Which Spring Days should Christians observe?
Why The Continuing Church of God Does Not Wear Green on St. Patrick's Day Should non-Catholics observe a Catholic holiday?
Which Is Faithful: The Roman Catholic Church or the Continuing Church of God? Do you know that both groups shared a lot of the earliest teachings? Do you know which church changed? Do you know which group is most faithful to the teachings of the apostolic church? Which group best represents true Christianity? This documented article answers those questions.
Is There "An Annual Worship Calendar" In the Bible? This paper provides a biblical and historical critique of several articles, including one by WCG which states that this should be a local decision. What do the Holy Days mean? Also you can click here for the calendar of Holy Days.
The Ten Commandments Reflect Love, Breaking them is Evil Some feel that the ten commandments are a burden. Is that what Jesus, Paul, Peter, James, and John taught?
Do You Practice Mithraism? Many practices and doctrines that mainstream so-called Christian groups have are the same or similar to those of the sun-god Mithras. December 25th was celebrated as his birthday. Do you follow Mithraism combined with the Bible or original Christianity? A sermon video from Vatican City is titled Church of Rome, Mithras, and Isis?
Where is the True Christian Church Today? This free online pdf booklet answers that question and includes 18 proofs, clues, and signs to identify the true vs. false Christian church. Plus 7 proofs, clues, and signs to help identify Laodicean churches. A related sermon is also available: Where is the True Christian Church? Here is a link to the booklet in the Spanish language: ¿Dónde está la verdadera Iglesia cristiana de hoy?
Continuing History of the Church of God This pdf booklet is a historical overview of the true Church of God and some of its main opponents from Acts 2 to the 21st century. Related sermon links include Continuing History of the Church of God: c. 31 to c. 300 A.D. and Continuing History of the Church of God: 4th-16th Centuries and Continuing History of the Church of God: 17th-20th Centuries. The booklet is available in Spanish: Continuación de la Historia de la Iglesia de Dios, German: Kontinuierliche Geschichte der Kirche Gottes, French: L'Histoire Continue de l'Église de Dieu and Ekegusii Omogano Bw'ekanisa Ya Nyasae Egendererete.