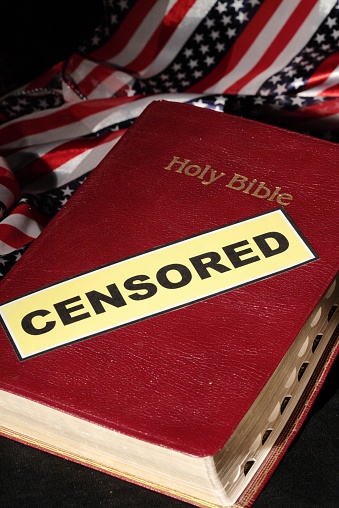 (Pixabay photo)
June 22 through 29 has been designated as Religious Freedom Week.
Most in the USA say they support freedom of religion, yet a proposed law would not respect that constitutional right:
Poll: Overwhelming Majority of Americans Support Religious Freedom

A new national poll … shows that 82% of Americans say freedom of religion is important to a healthy American society … Results showed that support for freedom of religion stretches across the political spectrum, with 86% of Republicans, 79% of Democrats and 83% of Independents agreeing that religious liberty is "very important or somewhat important."

The poll also revealed strong bipartisan agreement that churches and faith-based charities should not be required by law to hire people who oppose their religious beliefs. Only 20% of those surveyed suggested religious entities should be required to hire employees who disagree with their core beliefs.

"This research affirms that the American people overwhelmingly support the continued protection of the Constitutional right of freedom of religion, and oppose policies requiring churches and faith-based charities and organizations to compromise their deeply held religious beliefs," said Dr. Jeff Myers of Summit.org. "Yet, leaders in Washington, D.C., are aggressively pushing forward on legislative measures such as the mislabeled Equality Act, which specifically strips away religious freedom protections. In an era of hyper-partisanship, freedom of religion retains broad, bipartisan support among Democrats, Republicans and Independents." 06/24/21 https://harbingersdaily.com/poll-overwhelming-majority-of-americans-support-religious-freedom/
While many in the USA claim to support religious freedom, government actions and proposals have limited it and many believe, correctly, that the proposed 'Equality Act' is a real threat to religious rights.
Here something from a Roman Catholic bishop's website:
Religious Freedom Week 2022: Life and Dignity for All

Religious freedom allows the Church, and all religious communities, to live out their faith in public and to serve the good of all.
Here is something from the Protestant Franklin Graham:
The message to the church from certain influential, high-level people in government is loud and clear: Fully embrace the sexual revolution and redefine marriage and gender—or else! The Equality Act is moving our nation in a direction that elevates government above God. They want to make the moral decisions, usurping His authority.

Under its broad reach, the Equality Act will:

Force schools, churches, and hospitals to accept the government's beliefs and mandates about sexual orientation and gender identity. It could threaten everyday speech, and people can be fined or lose their jobs for using the wrong name or pronouns.
Allow boys in girls' sports, boys in girls' locker rooms, men in women's shelters, and men in women's prisons. It will force teachers and students to publicly pretend that a biological male is a female, making biological sex (and science) a relic of the past.
Strip Christian and other religious ministries of their right to hire people of shared faith to pursue a shared mission. Can you imagine a Christian organization being forced to hire people hostile to its deeply held beliefs?
Force many doctors and medical professionals to violate their conscience and engage in gender transition treatments such as hormone blocking.
Threaten accreditation to religious colleges and universities if they do not apply sexual orientation and gender identity to dorms, sports, places of privacy, and even teachings.

This legislation would massively change our moral landscape and silence people of faith who do not agree with the secular values of the Left. But more than muzzling us, they want to force us to pivot—to change direction—instead of trusting God and standing on His Word. If we begin compromising on basic Biblical truths, it will lead to the end of Christianity in this country. 03/24/21 https://billygraham.org/story/franklin-graham-do-not-surrender-and-do-not-pivot/
Despite hopes and views of many, the end of religious freedom will hit the USA.
World Net Daily (WND) posted comments from a Jewish group who believes that the so-called Equality Act will essentially result in a banning of the Bible:
Holy Bible blasted as 'bigoted document': Equality Act 'explicitly targets' Scripture

… warns Yaakov Menken, the managing director of the Coalition for Jewish Values. … the bill classifies virtually all venues, from restaurants to catering halls and funeral homes as "public accommodations," subjecting them to a mandatory ban on division by sex.

"This directly forbids traditional Jewish practice in any such location," he said.

"Lest you imagine that such a Jewish event would be protected by its religious nature, the act goes out of its way — for the first time in history — to prohibit recourse to the Religious Freedom Restoration Act (RFRA). That law was specifically to shield religious practice from 'laws 'neutral' toward religion [which] may burden religious exercise as surely as laws intended to interfere with religious exercise,'" Menken said.

"Stripping this protection from religious practice cannot be described as incidental. The Equality Act claims the notion that marriage is between a man and a woman is merely a 'sex stereotype,' and that opposition to same-sex marriage is inherently discriminatory. Any 'discrimination' on the basis of 'gender identity' is likewise prohibited, even in the private sector," said Menken.

"Thus, the Equality Act explicitly targets the Bible, calling it a bigoted document filled with discriminatory stereotypes. These include the idea that male and female sexes are biological, not psychological (Genesis 1:27), created with procreation in mind (1:28), and that marriage is the unique, holy contract between man and woman forming the environment in which that procreation is intended to take place (2:24). And one cannot forget that which the Bible proscribes as an 'abomination' in Leviticus 18:22. …" 03/22/21 https://www.wnd.com/2021/03/holy-bible-blasted-bigoted-document-equality-act-explicitly-targets-scripture/
I have repeatedly warned about the Equality Act.
Here are some more comments from Yaakov Menken:
The Equality Act explicitly targets the Bible, calling it a bigoted document filled with discriminatory stereotypes. It would also ban observant Jews from religious ceremonies.

The Founding Fathers recognized freedom of expression and religious liberty as core elements of diversity and tolerance. Now, nearly 250 years later, Congress is acting to stamp them out, ushering in a new era of government-sanctioned anti-religious bigotry. …

With the Equality Act, Congress is waging a legislative effort to prohibit the next Siyum, scheduled to take place in June 2027, and other such "discriminatory" violations of human rights. Under the Act, observant Jews will no longer be legally permitted to gather to celebrate religious education, or any other occasion, in accordance with their beliefs.

The reason is simple: not only prayer services, but family lifecycle events of all kinds — from circumcisions to bar mitzvahs to weddings to funerals — are commonly divided by biological sex in traditional Orthodox Judaism. This is true whether or not ceremonies are held in synagogues. …

The Siyum held on New Year's Day 2020 brought a level of decorum unheard of in a sports stadium: an absence of fights, drunkenness, and disorderly conduct. Police, who maintained a high level of security, said they never felt such appreciation from the public as they did then. Combined with its educational focus, the celebration exhibited values that America has long cherished.

Congress, to the contrary, would now grant antisemites a powerful legal tool with which to prevent such public displays in the future. Yet President Biden has committed to putting his name to it. If bigots were bent on eliminating Orthodox Judaism from American soil, it is difficult to imagine a more ruthlessly efficient tool than the Equality Act. https://thefederalist.com/2021/03/23/the-equality-act-would-legalize-religious-bigotry/
The Equality Act is anti-Christian, anti-Jewish, and anti-Bible.
Here is something from my book Biden-Harris: Prophecies and Destruction:
Here is what the Biden-Harris Administration's top priority is:

The Equality Act is the best vehicle for ensuring equal rights under the law for LGBTQ+ Americans, and will guarantee that LGBTQ+ individuals are protected under existing civil rights laws. Biden will make enactment of the Equality Act during his first 100 days as President a top legislative priority. Biden will also direct his Cabinet to ensure immediate and full enforcement of the Equality Act across all federal departments and agencies. … End the misuse of broad exemptions to discriminate. Religious freedom is a fundamental American value. But states have inappropriately used broad exemptions to allow businesses, medical providers, social service agencies, state and local government officials, and others to discriminate against LGBTQ+ people. Guaranteeing transgender students have access to facilities based on their gender identity… Biden will reverse Trump's policies misusing these broad exemptions and fight so that no one is turned away from a business or refused service by a government official just because of who they are or who they love. ( The Biden Plan to Advance LGBTQ+ Equality in America and Around the World. JoeBiden.com accessed 10/16/20)

The above is a concern to many people who believe that they will be discriminated against if they hold to various religious and/or biblical beliefs on sexuality. Claiming religious freedom is "a fundamental American value" (which is clearly stated in the U.S. Constitution) while at the same time saying it must be not allowed for certain matters is wrong, insincere, and hypocritical.

The Bible, KJV translation, predicts the end of "an hypocritical nation" (Isaiah 10:5-11).
Furthermore, because the Bible teaches that homosexuality is an abomination (Leviticus 18:23; 20:13) and that homosexuals can change (1 Corinthians 6:9-11), and the current LGBTQ+ propaganda does not want that to be considered, about three years ago a bill was introduced in California that, if taken to its logical conclusion, would ban the Bible.
We also made a video that discusses it and put that on our Bible News Prophecy YouTube channel:
Could we see a ban of the Holy Bible in North America? Have there been partial bans proposed and enforced by government officials in Canada? Do any USA politicians consider any biblical teachings as fraudulent and hence banning them is NOT a violation of the 1st amendment to the Constitution of the USA? Are there risks associated with AB 2943? Have politicians like Hillary Clinton and California Assemblyman Al Muratsuchi called for long-held religious beliefs to change and "evolve with the times"? What about Jude 1:3 and 2 Timothy 3:14? Are there biblical prophecies about not being able to hear the word of God? Might we see more restrictions on explaining teachings of the Bible on the Internet and other forms of media? What are some of the verses that various government people do not want made public? Dr. Thiel provides facts on these issues and more.
Here is a link: Banning the Bible?
While the USA likes to act like it is the bastion of free speech and freedom of religion, more and more restrictions keep getting proposed. And, in our case, our most recently uploaded video to YouTube was censored and removed (details are here: YouTube censors and removes BNP video: Disney's abominable promotions!).
Additionally, it should be pointed out that Canada has a de facto ban on parts of the Bible.
Related to that, the Continuing Church of God put out the following video on our Bible News Prophecy YouTube channel:
In 2017, Lauri Skori of the Battle River School board told a religious school in Alberta, Canada that it could not teach/read certain portions of the Bible. In 2002, a court in Canada ruled against one who referred to certain scriptures that some homosexuals objected to. In 2017, there was "An Act to Amend the Canadian Human Rights Act and Criminal Code" related to those who wish to be considered transgendered. Government officials in Canada and elsewhere have been ruling against the Bible. Is any of this prophesied? Will this get worse? What was the prophet Amos inspired to write?
The Bible warns against the rise of despisers of good in the last days:
1

But know this, that in the last days perilous times will come:

2

For men will be lovers of themselves, lovers of money, boasters, proud, blasphemers, disobedient to parents, unthankful, unholy,

3

unloving, unforgiving, slanderers, without self-control, brutal, despisers of good,

4

traitors, headstrong, haughty, lovers of pleasure rather than lovers of God,

5

having a form of godliness but denying its power. And from such people turn away!

6

For of this sort are those who creep into households and make captives of gullible women loaded down with sins, led away by various lusts,

7 always learning and never able to come to the knowledge of the truth. (2 Timothy 3:1-7)

Those of us who hold to the idea that sexual relationships are only to be between a man married to a woman are considered to have "ugly narrow-mindedness" by supporters of the LGBTQ movement.
Furthermore, the LGBTQ supporting crowd does not want people to believe the following:
9

Do you not know that the unrighteous will not inherit the kingdom of God? Do not be deceived. Neither fornicators, nor idolaters, nor adulterers, nor homosexuals, nor sodomites,

10

nor thieves, nor covetous, nor drunkards, nor revilers, nor extortioners will inherit the kingdom of God.

11

And such were some of you. But you were washed, but you were sanctified, but you were justified in the name of the Lord Jesus and by the Spirit of our God.

(1 Corinthians 6:9-11)
The Equality Act is another step towards eliminating religious freedom in the USA.
The Bible not only warns that homosexuality, lesbianism, and cross-dressing are wrong, it also condemns those who condone all forms of sexual immorality:
5 A woman shall not wear anything that pertains to a man, nor shall a man put on a woman's garment, for all who do so are an abomination to the Lord your God. (Deuteronomy 22:5)

24

Therefore God also gave them up to uncleanness, in the lusts of their hearts, to dishonor their bodies among themselves,

25

who exchanged the truth of God for the lie, and worshiped and served the creature rather than the Creator, who is blessed forever. Amen.

26

For this reason God gave them up to vile passions. For even their women exchanged the natural use for what is against nature.

27

Likewise also the men, leaving the natural use of the woman, burned in their lust for one another, men with men committing what is shameful, and receiving in themselves the penalty of their error which was due.

28

And even as they did not like to retain God in their knowledge, God gave them over to a debased mind, to do those things which are not fitting;

29

being filled with all unrighteousness, sexual immorality, wickedness, covetousness, maliciousness; full of envy, murder, strife, deceit, evil-mindedness; they are whisperers,

30

backbiters, haters of God, violent, proud, boasters, inventors of evil things, disobedient to parents,

31

undiscerning, untrustworthy, unloving, unforgiving, unmerciful;

32

who, knowing the righteous judgment of God, that those who practice such things are deserving of death, not only do the same but also approve of those who practice them.

(Romans 1:24-32)
In Canada, quoting parts of Romans 1 in certain ways is essentially banned (watch Canadian censoring of the Bible).
The Bible warns that more censorship is coming:
11 "Behold, the days are coming," says the Lord God,
"That I will send a famine on the land,
Not a famine of bread,
Nor a thirst for water,
But of hearing the words of the Lord.
12 They shall wander from sea to sea,
And from north to east;
They shall run to and fro, seeking the word of the Lord,
But shall not find it. (Amos 8:11-12)
As many realize, in order to protect the rights of the citizens of the USA nation to speak even against the government, the Bill of Rights came into effect as Constitutional Amendments on December 15, 1791. Here is the first amendment:
First amendment — Congress shall make no law respecting an establishment of religion, or prohibiting the free exercise thereof; or abridging the freedom of speech, or of the press; or the right of the people peaceably to assemble, and to petition the Government for a redress of grievances.
But now we see laws that do respect secular religion as well as those against freedom of speech and even religious speech (e.g. watch: Biden-Harris & Hate Speech).
The Bible is not a book that should be censored.
It teaches:
1 Cry aloud, spare not;
Lift up your voice like a trumpet;
Tell My people their transgression,
And the house of Jacob their sins. (Isaiah 58:1)
The work of God needs to be done now as Jesus said:
4 I must work the works of Him who sent Me while it is day; the night is coming when no one can work. (John 9:4)
The time to do the work is now, while we still can do it! We are seeing more and more signs that "the night is coming when no one can work."
That is part of why we in the Continuing Church of God are preparing for the 'short work' (Romans 9:28) and the coming 'famine of the word.'
A famine of the word is coming–and we are seeing Big Tech and governments already implementing restrictions.
Yet while we can, Philadelphian Christians will strive to go through the doors that Christ opens to proclaim the Kingdom of God (2 Corinthians 2:12; 1 Corinthians 16:8-9; Colossians 4:2-4) and do the work.
Philadelphia means "love of the brethren." It is LOVE to properly teach what the Bible teaches, even if some group calls that "ugly narrow-mindedness."
We in the Continuing Church of God will teach and stand up for the truth (watch also the short introduction to our YouTube channel: ContinuingCOG Channel), despite realizing that the 'famine of the word' that the prophet Amos referred to is coming. We must do the work and persevere to the end–despite government restrictions and others who do not truly respect the Bible.
Some items of possibly related interest may include:

Biden-Harris: Prophecies and Destruction Can the USA survive two full presidential terms? In what ways are Joe Biden and Kamala Harris apocalyptic? This book has hundreds of prophecies and scriptures to provide details. A Kindle version is also available and you do not need an actual Kindle device to read it. Why? Amazon will allow you to download it to almost any device: Please click HERE to download one of Amazon s Free Reader Apps. After you go to your free Kindle reader app (or if you already have one or a Kindle), you can go to: Biden-Harris: Prophecies and Destruction (Kindle) to get the book in seconds.
Internet Censorship and Prophecy Are concerns about internet censorship limited to nations such as Russia, China, Iran, and North Korea. But what about the USA, Canada, and Germany? What about the European Union? What about internet media companies such as Facebook, Google, YouTube, or email services like MailChimp? Has the attempt to control information been made by various ones over the centuries? Was the New Testament affected by it? What about the church throughout the centuries? Has the Bible already been partially censored? Which Bible prophecies point to coming Internet censorship? What about the Book of Amos? What about the coming 666 Beast and final Antichrist? Is there anything that can be done about this? Should Philadelphian Christians be working on anything now? Will preaching the Gospel of the Kingdom of God vs. a highly media-supported alternative lead to a 'famine of the word'? More internet censorship is coming as various statements in the Bible support.
Might the U.S.A. Be Gone by 2028? Are there prophetic reasons to believe that the USA will not last two complete presidential terms? Yes. There is a tradition attributed to the Hebrew prophet Elijah that humanity had 6,000 years to live before being replaced by God's Kingdom. There are scriptures, writings in the Talmud, early Christian teachings that support this. Also, even certain Hindu writings support it. Here is a link to a related video: Is the USA prophesied to be destroyed by 2028?
Cross-dressing and other assaults against your children. What should you do? Is there an agenda to turn your children and/or grandchildren away from biblical morality and towards practices promoted by homosexuals? What does the Bible teach about cross-dressing? What should parents do? If there is an agenda, what has been going on? There are also three YouTube videos related to this, titled Transgender 'Woe to those who call evil good' and Cross dressing and Other Assaults Against Your Children and USA pushing gender confusion.
The Bible Condemns Homosexuality "Same-sex marriage" for "gays" and lesbians is becoming more acceptable to many. What does the Bible teach about homosexuality and the LGBTQ agenda? Can homosexuals change? A related video sermon is titled: What Does the Bible Really Teach about Homosexuality? A short video is available titled: Gay Gene? Born That Way?
Pornography: A scourge on society Is pornography harmless fun? Does the Bible teach anything about it? What are the views of some involved with it? A related sermons is titled: Pornography, False Comfort, and False Religion. Here a shorter YouTube video Pornography: Harmless Fun or a Scourge on Society?
Does God Have a 6,000 Year Plan? What Year Does the 6,000 Years End? Was a 6000 year time allowed for humans to rule followed by a literal thousand year reign of Christ on Earth taught by the early Christians? Does God have 7,000 year plan? What year may the six thousand years of human rule end? When will Jesus return? 2028 or or 2031 or 20xx? There is also a video titled 6000 Years: When will God's Kingdom Come? Here is a link to the article in Spanish: ¿Tiene Dios un plan de 6,000 años?
The Great Tribulation: What Happens First? What events have happened? What are some events that are now happening? And what events need to happen for the Great Tribulation to start? Here is a link to a related sermon video: Counting Down to the Great Tribulation.
USA in Prophecy: The Strongest Fortresses Can you point to scriptures, like Daniel 11:39, that point to the USA in the 21st century? This article does. Two related sermon are available: Identifying the USA and its Destruction in Prophecy and Do these 7 prophesies point to the end of the USA?
Who is the King of the West? Why is there no Final End-Time King of the West in Bible Prophecy? Is the United States the King of the West? Here is a version in the Spanish language: ¿Quién es el Rey del Occidente? ¿Por qué no hay un Rey del Occidente en la profecía del tiempo del fin? A related sermon is also available: The Bible, the USA, and the King of the West.
Should the Church Still Try to Place its Top Priority on Proclaiming the Gospel or Did Herbert W. Armstrong Change that Priority for the Work? Some say the Church should mainly feed the flock now as that is what Herbert W. Armstrong reportedly said. Is that what he said? Is that what the Bible says? What did Paul and Herbert W. Armstrong expect from lower level leaders? Two related sermons are available The Work per HWA and the Bible and Priority of the Philadelphia Work.
Preparing for the 'Short Work' and The Famine of the Word What is the 'short work' of Romans 9:28? Who is preparing for it? Here is a link to a related video sermon titled: The Short Work.
There is a Place of Safety for the Philadelphians. Why it May Be Near Petra This article discusses a biblical 'place of safety,' Zephaniah 2 to 'gather together,' and includes quotes from the Bible and Herbert W. Armstrong on fleeing to a place–thus, there is a biblically supported alternative to the rapture theory. Two sermon-length videos of related interest are available Physical Protection During the Great Tribulation and Might Petra be the Place of Safety? Here is something related in the Spanish language: Hay un lugar de seguridad para los Filadelfinos. ¿Puede ser Petra?
The Gospel of the Kingdom of God This free online pdf booklet has answers many questions people have about the Gospel of the Kingdom of God and explains why it is the solution to the issues the world is facing. Here are links to four related sermons:  The Fantastic Gospel of the Kingdom of God!, The World's False Gospel, The Gospel of the Kingdom: From the New and Old Testaments, and The Kingdom of God is the Solution.
Who Gave the World the Bible? The Canon: Why do we have the books we now do in the Bible? Is the Bible complete? Are there lost gospels? What about the Apocrypha? Is the Septuagint better than the Masoretic text? What about the Textus Receptus vs. Nestle Alland? Was the New Testament written in Greek, Aramaic, or Hebrew? Which translations are based upon the best ancient text? Did the true Church of God have the canon from the beginning? Here are links to related sermons: Let's Talk About the Bible, The Books of the Old Testament, The Septuagint and its Apocrypha, Masoretic Text of the Old Testament, and Lost Books of the Bible, and Let's Talk About the New Testament, The New Testament Canon From the Beginning, English Versions of the Bible and How Did We Get Them?, What was the Original Language of the New Testament?, Original Order of the Books of the Bible, and Who Gave the World the Bible? Who Had the Chain of Custody?