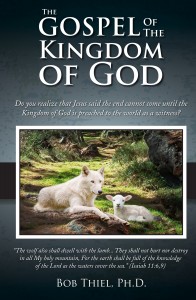 Herbert W. Armstrong, the late Pastor General of the old Worldwide Church of God, wrote the following article of warning:
Some of You May Not Make It Into God's Kingdom – Does It Mean YOU?

MOST PEOPLE who follow this world's traditional "Christianity" take it for granted that, if sometime in their life they "accept Christ," they will go to heaven when they die. But in GOD'S Church we talk about "making it into God's Kingdom."

I wonder if YOU really do understand the difference! This world is SATAN'S world — not God's. Satan is a DECEIVER! This world is DECEIVED! But often I wonder, dear brethren, how many of YOU have really come to see the difference! How many of OUR brethren just substitute "the Kingdom" for going to heaven, and think we "get into the Kingdom" the same way they think they shall go to heaven — just by having somehow professed to have "accepted Christ"!

This deceived world lives the way of "GET." And "GET" is the way that TRANSGRESSES God's LAW! They want to "GET" salvation. They "RECEIVE" Christ — they profess to "ACCEPT" Christ. And they think that's ALL THERE IS TO IT. Once they have declared they "accept" — that is, "GET" Christ — there is nothing more to do. It is all settled. They go to church once in a while and sing that old hymn, "It Was All Settled Long Ago." They were THEN "saved." They are never told to REPENT. They are not instructed on what REPENTANCE really is. Instead they are taught that if they obey God's law they will be "LOST." Obeying God's spiritual LAW, they are taught, is "works," and their preachers quote Ephesians 2:8-9:

"For by grace are ye saved through faith; and that not of yourselves: it is the gift of God: NOT OF WORKS, lest any man should boast." But the preachers NEVER read right on the next words, verse 10, which says, "For we are his workmanship, created in Christ Jesus UNTO GOOD WORKS, which God hath before ordained that we should walk in them."
They MISS God's whole PURPOSE in saving us. Do NOT SOME OF YOU, ALSO? Just WHAT is this important matter of salvation all about?

The first created man, Adam, disobeyed God. He followed his wife Eve in choosing SATAN'S "GET" way of life, rejecting God's spiritual LAW, which is God's WAY OF LIFE love to God and outflowing LOVE to other people!

God had, long before creating Adam, set the super archangel LUCIFER on the THRONE with power to RULE over all the earth. When Lucifer rejected God's LAW — God's WAY OF LIFE — he abrogated the GOVERNMENT OF GOD on earth, and he became SATAN THE DEVIL. But it is the law of God's government over the universe that SATAN must remain on that throne, with SUPERNATURAL POWER OVER ALL THE EARTH, UNTIL the government of God is restored, and CHRIST is sitting on that throne with supreme POWER to rule all the earth — when Satan shall be banished from the earth.

So Satan was still there to deceive Eve and lead Adam into SIN. After the beginning of the New Testament Church, SATAN was still there. The apostle Paul wrote to the Corinthian church: "But I fear, lest by any means, as the serpent beguiled Eve through his subtlety, so your minds should be corrupted" (II Cor. 11:3). Satan is still on that throne today, deceiving, misleading the world. And I have to often wonder, as Paul did in writing the church at Corinth, if Satan is deceiving some of YOU dear brethren? So I appeal earnestly to you to listen and to THINK ABOUT THIS!

Adam cut himself and HIS FAMILY off from God — from God's LAW — from God's GOVERNMENT! Now WHAT IS GOD'S PURPOSE? WHY did He create humans and put us humans here on earth? LISTEN! UNDERSTAND THIS! God is reproducing Himself! He is begetting human PEOPLE as HIS very own CHILDREN. His children together with Him and with Christ will become the GOD FAMILY! There will be, in His Kingdom, God the FATHER, Christ the SON and we of the Church as Christ's WIFE — married to Christ at the time of the resurrection at His Second Coming to earth — at the final making of the NEW COVENANT, which is the NEW Covenant! It will make us of the Church — then made immortal GOD BEINGS composed of immortal spirit — both the children of God and the Wife of Christ — the GOD FAMILY — and called also THE KINGDOM OF GOD!

Now we talk about "making it into the Kingdom." What do we mean? We mean making it into God's own FAMILY! We shall be a FAMILY — the GOD FAMILY!

Now to train us to be a part of that divine FAMILY, God made us male and female. God ordained the marriage union and the human FAMILY. God intended us to LEARN HIS KIND OF FAMILY RELATIONSHIP in our own FAMILY LIFE here in this present life! Now keep that in mind. I'm coming back to it. But keep also in mind something else.

Since Adam failed to resist Satan and to restore the GOVERNMENT OF GOD, none of Adam's children could overcome Satan and qualify to replace Satan on that throne over all the earth and to RESTORE the government of God. So finally God sent His OWN Son, His only-begotten Son, to become human as well as divine. Jesus was GOD in human flesh — God as well as MAN. He was the ONLY human ever able to obey God's great spiritual LAW perfectly, resist and conquer Satan and QUALIFY to RESTORE the GOVERNMENT OF GOD on earth!

More than that, He was able to set us an example of living THE WAY of God's spiritual LAW, to die for us, paying for us the penalty of our sins, and to be resurrected by the FATHER, thus making our resurrection and immortal life possible — so that WE may become God's CHILDREN in GOD'S FAMILY, and born GOD BEINGS.

We together with God and with Christ shall form THE KINGDOM OF GOD, RULING ALL THE EARTH WITH THE GOVERNMENT OF GOD. Satan then shall be banished.

Now Adam cut himself and HIS family OFF from God and from receiving God's Holy Spirit. God made Adam's decision BINDING on Adam's FAMILY who form the whole world — UNTIL the GOVERNMENT OF GOD is RESTORED and Satan is banished, so Satan cannot lead humanity any longer AWAY FROM GOD! And that means UNTIL the Second Coming of CHRIST and restoration of GOD'S GOVERNMENT by the Kingdom of God.

Meanwhile God made an exception in cutting Adam's FAMILY off from God. God called Abraham out of Satan's world, and 430 years later Abraham's children to become God's NATION. To them He gave the OLD Covenant — a marriage covenant that made them the wife of Yahweh who was to be born as Jesus later. God gave them His spiritual law but they, like the first Adam, refused to obey it. Only the prophets of Israel obeyed, and only they shall be in God's KINGDOM WITH GOD'S CHURCH!

Then when Jesus came and QUALIFIED to depose Satan and RESTORE the GOVERNMENT OF GOD and for Himself to sit on that THRONE with power to rule the whole earth, God the Father called certain ones HE chose. He called them to come OUT OF THIS WORLD — out of SATAN'S world — to receive His Holy Spirit. This begat them as His CHILDREN, in His BEGOTTEN FAMILY.

He called us out of the world, to be SEPARATE FROM the world. To Live a FAMILY LIFE to prepare us for the FAMILY LIFE that shall be HIS KINGDOM!

Now UNDERSTAND THIS! I'm afraid many of you have NOT understood it!

The KINGDOM is the divine FAMILY of God. If we cannot live as a FAMILY should live, according to God's SPIRITUAL LAW, now, while in God's Church, WE SIMPLY WON'T MAKE IT INTO God's KINGDOM (which is His divine FAMILY!).
Now PLEASE! PLEASE, dear brethren, HEED THIS! Many of you are NOT living the kind of FAMILY LIFE that is preparing you for God's Kingdom. And if you DON'T repent, and reorder your whole FAMILY life, YOU SIMPLY WON'T MAKE IT INTO THE KINGDOM! I MEAN THAT! It is LIFE AND DEATH for ALL ETERNITY!
We found at the summer SEP camp at Orr, Minn., that in many cases the children DO NOT EAT WITH THEIR PARENTS AT HOME!

It is reported to me that many of you are LAX in child training and in teaching your little children! You ARE NEGLECTING YOUR FAMILY LIFE. And you may be NEGLECTING SO GREAT SALVATION.
Listen to what God SAYS! "How shall we [we in the Church] escape, if we NEGLECT so great salvation?" (Heb. 2:3).

… many of you are NEGLECTING your very salvation!

God says to YOU: "For the time IS COME that judgment must begin at the house of God: and if… the righteous scarcely be saved, where shall the ungodly and the sinner appear?" (l Pet. 4:17-18). (Good News, January 1981)
Five years after the above was published Herbert W. Armstrong died.
In the radio broadcast he did, titled End Time Falling Away, Herbert Armstrong taught that the New Testament shows there will be falling away related to the Church of God in Acts 20:28-29, as well as a massive turning aside towards fables for the world in 2 Timothy 4:3 (note, all oral quotes in this document are from my notes and may not always be verbatim but do accurately convey what he taught):
Men to turn away from the truth … Acts 20:29 and 30 … Paul … wanted to meet with the leaders of the church … What church? The Church of God! … "For I know this, that after my departing shall grievous wolves enter in among you, not sparing the flock. Also of your own selves shall men arise, speaking perverse things, to draw away disciples after them. Therefore watch, and remember, that by the space of three years I ceased not to warn every one night and day with tears."

See what the prophecy was? Falling away. Departing from the truth!

And then go to second Corinthians eleventh chapter and the 13th, 14th, and 15th verses.

For such are false apostles, deceitful workers, transforming themselves into the apostles of Christ. "And no marvel; for Satan himself is transformed into an angel of light… Therefore it is no great thing if his ministers also be transformed as the ministers of righteousness; whose end shall be according to their works." Many false prophets will deceive many…Second Timothy fourth chapter third verse…

For the time will come when they will not endure—THAT'S the PEOPLE the Western world—sound doctrine; but after their own lusts shall they heap to themselves teachers, having itching ears; And they shall turn away their ears from the truth, and shall be turned unto fables" the world will fall away after fables. (Armstrong HW. End Time Falling Away, HA103A.MP3)
His successor was NOT faithful and led what was perhaps one of the largest 'falling aways' in the history of the Church of God (see The Falling Away: The Bible and WCG Teachings).
Thus, Herbert W. Armstrong was correct to warn people who thought they were Christians that they may not make it into the Kingdom of God.
There is a prophecy in Zechariah that may be relevant here. Notice:
7 "Awake, O sword, against My Shepherd,
Against the Man who is My Companion,"
Says the Lord of hosts.
"Strike the Shepherd,
And the sheep will be scattered;
Then I will turn My hand against the little ones.
8 And it shall come to pass in all the land,"
Says the Lord,
"That two-thirds in it shall be cut off and die,
But one-third shall be left in it:
9 I will bring the one-third through the fire,
Will refine them as silver is refined,
And test them as gold is tested.
They will call on My name,
And I will answer them.
I will say, 'This is My people';
And each one will say, 'The Lord is my God.'" (Zechariah 13:7-9)
While the above seems to have other applications, the fact that two-thirds of those in the old WCG accepted total apostasy after the death of Herbert W. Armstrong, and about one-third did not, makes the possible application of the Tkach apostasy seem to fit.
Nowadays, most remaining Christians do not accept proper church governance–even though Herbert W. Armstrong emphasized that a lot in his final years on Earth for Philadephian Christians.
He also taught about those who would not fully fall away, but would be Laodicean:
… the final generation of the Church shall be LUKEWARM — not less emotional, but more 'liberal,' more secular and less spiritual — less strictly biblical –" "Speaking of the present 'Philadelphia' era, it says … because we have kept God's Word faithfully, not liberalizing nor watering down, God will keep us from the 'hour of temptation, which shall come upon all them that dwell on the earth' to try and test them. (Armstrong HW. Personal from Herbert W. Armstrong. Plain Truth, August 1980).

But, the BAD NEWS, as it appears today, my dear brethren, is that we, undoubtedly of the Philadelphian era…are in serious danger of BECOMING also the Laodicean era. I am personally much concerned about that. If YOU are NOT concerned, then indeed we are in mortal DANGER. (Armstrong HW. Personal from Herbert W. Armstrong. Good News, August 1979).

Now, here we find, while it's pictured as seven churches, it's really seven stages of the one True Church … in seven successive times. Also, you'll find every one of the seven conditions in the church at all times but, in the early years, the Ephesus condition dominated and the tail end of it the Laodicean condition is to dominate on the earth and there you are. (Armstrong HW. History of the True Church – Part 4. Radio broadcast, transcript)

Well, now then, I have said that the Laodicean condition will dominate at the tail end. But I have said that all of those conditions—all the way from Ephesus up to Laodicea, all seven—are present at all the time in the Church; but that now, in the Philadelphian Era, we have the Laodicean condition. That's what I am talking about today. It's here. (Armstrong HW. Warning To The Church. Sermon, July 1, 1978)

These seven messages DO apply to seven successive church eras. BUT they also apply to the WHOLE CHURCH through ALL eras. In other words, the Ephesus characteristics DOMINATED in the first era, and the Laodicean will dominate in the last, but SOME of these characteristics are found in EVERY era. (Armstrong HW. Human Nature, Did God Create It? 1976)

You may have to give your present life in order to make the Kingdom of God. Are you going to try to live on and save it? Or are you willing…? There is one place in the 12th chapter of Revelation where, after Satan has had the battle in heaven once again and has been sent back down to earth, where the "saints loved not their lives unto death." And that's speaking of our time, and our people, and those of the Laodicean Church to follow us almost immediately. And the Laodicean Era of the Church has not yet come, but it will; and I think that we are doing a whole lot to raise it up. (Armstrong HW. Mark of the Beast. Sermon, December 11, 1982)
The Apostle Peter wrote:
10 Therefore, brethren, be even more diligent to make your call and election sure, for if you do these things you will never stumble; 11 for so an entrance will be supplied to you abundantly into the everlasting kingdom of our Lord and Savior Jesus Christ. (2 Peter 1:10-11)
After Herbert W. Armstrong's death, not only was there a falling away (see The Falling Away: The Bible and WCG Teachings), it has become clear that the Laodicean era has been upon us.
Sadly, most who did not fall away from Christianity have drifted into Laodiceanism.
Jesus told those Christians to repent:
14 "And to the angel of the church of the Laodiceans write,

'These things says the Amen, the Faithful and True Witness, the Beginning of the creation of God: 15 "I know your works, that you are neither cold nor hot. I could wish you were cold or hot. 16 So then, because you are lukewarm, and neither cold nor hot, I will vomit you out of My mouth. 17 Because you say, 'I am rich, have become wealthy, and have need of nothing' — and do not know that you are wretched, miserable, poor, blind, and naked — 18 I counsel you to buy from Me gold refined in the fire, that you may be rich; and white garments, that you may be clothed, that the shame of your nakedness may not be revealed; and anoint your eyes with eye salve, that you may see. 19 As many as I love, I rebuke and chasten. Therefore be zealous and repent. 20 Behold, I stand at the door and knock. If anyone hears My voice and opens the door, I will come in to him and dine with him, and he with Me. 21 To him who overcomes I will grant to sit with Me on My throne, as I also overcame and sat down with My Father on His throne.

22 "He who has an ear, let him hear what the Spirit says to the churches."'" (Revelation 3:14-22)
In the end times, MOST true Christians will be Laodicean. It is not that the Laodiceans cannot enter the Kingdom of God, but they have issues that they need to change–and risk severe chastisement in this life if they do not repent.
Do not remain Laodicean.
To answer the question, JUST WHAT IS THE WORK?, Herbert W. Armstrong personally wrote:
But Christ said to His Philadelphia era Church, that because we have but little strength, He would OPEN THOSE DOORS TO US (Rev. 3:8)" (Letter 11/19/76).

The PURPOSE for which Christ built the Church exemplifies its WORK … 1) To ANNOUNCE to the world for its witness the coming Kingdom of God…2) To prepare the people to whom God adds to the Church…God has always worked with humans. He has worked with O N E M A N at a time … The WORK consists of proclaiming the Gospel, by radio, by television, in print (Armstrong HW. JUST WHAT IS THE WORK? PASTOR GENERAL'S REPORT – VOL.3, NO.6 February 6, 1981)

God has always, in dealing with humans, worked through ONE MAN at a time — one who believed God! Some in ancient Israel challenged this one-man leadership. Some, like-wise, have challenged it today! … In founding God's Church, Jesus worked primarily through one man, Peter, even though He originally chose His 12 disciples. Few have ever noticed how Peter was the real leader. Jesus had told His disciples to go NOT to the gentiles, but to the "lost sheep of the House of Israel." … Notice now PETER'S preeminence. Few have ever put all these scriptures together as I shall now do. This shows PETER was leader. … And, though there were other apostles, God worked primarily through ONE man –PETER! Has God changed? Or is He the SAME still today? … The Jerusalem conference (Acts 15) showed that PETER was predominant over even Paul, although Paul was the ONE MAN God worked through primarily in the ministry to gentiles. The CHURCH is GOD'S Church. (Armstrong, Herbert W. And NOW Christ Sets Church Back On Track Doctrinally. Good News, April 1979).
Notice that Herbert Armstrong believed that God mainly worked through the leadership of one man at a time to lead various phases of the work. Scripture, shows for example, that the mantle passed from Elijah to Elisha (2 Kings 2:9-15). The 'mantle' would currently be with the person/group that truly functioned as the 'pillar and ground of truth' (1 Timothy 3:15).
For fifty years in the second century, according to Herbert W. Armstrong, that man was Polycarp:
It is significant that after his release John trained Polycarp elder of Smyrna, a city near Ephesus in the province of Asia. … At neighboring Smyrna, Polycarp presided over the Church of God for half a century after John's death. Polycarp stood up boldly for the truth while many fell away and began having fellowship with the Catholic bishops of Rome. History relates that following the example of Peter, Paul and John, Polycarp wrote many letters to congregations and individuals, though all these have perished, save one in an edited version. (Armstrong HW. The Church They Couldn't Destroy. Good News, December 1981)
For over 50 years in the 20th century, it was Herbert W. Armstrong.
And in the 21st century, that one man is not in any of the independent or more structured Laodicean groups (see also Herbert W. Armstrong, the Philadelphia Church, & the Mantle).
Support the remnant of the Philadephian era and God's work today.
Do not delay (cf. Zephaniah 2:1-3).
Some items of possibly related interest may include:
The Falling Away: The Bible and WCG Teachings Who is 2 Thessalonians 2:3 referring to? Are there multiple falling aways? Here is a related link in Spanish/español: La Apostasía: Enseñanzas de la Biblia y de la WCG. There are also two YouTube videos on the subject that you can watch The Falling Away Part 1: From the Bible and Church History and The Falling Away Part 2: Positions Presented by Others.
Should the Church Still Try to Place its Top Priority on Proclaiming the Gospel or Did Herbert W. Armstrong Change that Priority for the Work? Some say the Church should mainly feed the flock now as that is what Herbert W. Armstrong reportedly said. Is that what he said? Is that what the Bible says? What did Paul and Herbert W. Armstrong expect from lower level leaders? Two related sermons are available The Work per HWA and the Bible and Priority of the Philadelphia Work.
Preparing for the 'Short Work' and The Famine of the Word What is the 'short work' of Romans 9:28? Who is preparing for it? Here is a link to a related video sermon titled: The Short Work. Here is a link to another: Preparing to Instruct Many.
The Final Phase of the Work What is the final phase of the work? Who will lead it? Do you have the courage to support it? Here are two related YouTube videos titled Final Phase of the Work: Need and Background and The Final Phase of the Work. The written article has been translated into Spanish La Fase Final de la Obra.
Leading the Final Phase of the Work Matthew 24:14 teaches "And this gospel of the kingdom will be preached in all the world as a witness to all the nations, and then the end will come " will be fulfilled and RCG is not the group doing this. Who is leading the final phase of the work? What did Herbert Armstrong and the old WCG teach about that and about prophets? Does Bob Thiel meet the criteria that the Bible and the old WCG set? What is the proof? What has the Continuing Church of God been doing? This is a sermonette length video.
The Gospel of the Kingdom of God This free online pdf booklet has answers many questions people have about the Gospel of the Kingdom of God and explains why it is the solution to the issues the world is facing. Here are links to four related sermons:  The Fantastic Gospel of the Kingdom of God!, The World's False Gospel, The Gospel of the Kingdom: From the New and Old Testaments, and The Kingdom of God is the Solution.
Prayer: What Does the Bible Teach? This free booklet contains 28 biblically-based tips on improving the effectiveness of your prayers. This is a pdf. A related two part sermon is available: What Does the Bible Teach About Prayer? and What does the Bible Teach About Prayer (& Healing)?
Is God Calling You? This booklet discusses topics including calling, election, and selection. If God is calling you, how will you respond? Here is are links to related sermons: Christian Election: Is God Calling YOU? and Predestination and Your Selection. A short animation is also available: Is God Calling You?
Christian Repentance Do you know what repentance is? Is it really necessary for salvation? Two related sermons about this are also available: Real Repentance and Real Christian Repentance.
Herbert W. Armstrong, the Philadelphia Church, & the Mantle Herbert Armstrong claims God had him raise the Philadelphia up. Are there reasons to believe that the Philadelphia mantle in now within the CCOG? Here is a link to a related sermon: Herbert W. Armstrong and the Philadelphia Mantle.
There is a Place of Safety for the Philadelphians. Why it May Be Near Petra This article discusses a biblical 'place of safety' and includes quotes from the Bible and Herbert W. Armstrong on this subject–thus, there is a biblically supported alternative to the rapture theory. There is also a video on the subject: Might Petra be the Place of Safety? Here is something related in the Spanish language: Hay un lugar de seguridad para los Filadelfinos. ¿Puede ser Petra?
The Bible, Peter, Paul, John, Polycarp, Herbert W. Armstrong, Roderick C. Meredith, and Bob Thiel on Church Government What form of governance did the early church have? Was it hierarchical? Which form of governance would one expect to have in the Philadelphia remnant? The people decide and/or committee forms, odd dictatorships, or the same type that the Philadelphia era itself had? What are some of the scriptural limits on ecclesiastical authority? Do some commit organizational idolatry? Here is a Spanish language version La Biblia, Policarpo, Herbert W. Armstrong, y Roderick C. Meredith sobre el gobierno de la Iglesia. Here is a link to a sermon titled Church Governance.
6. The Philadelphia Church Era was predominant circa 1933 A.D. to 1986 A.D. The old Radio Church of God and old Worldwide Church of God, now the remnant of that era is basically the most faithful in the Church of God, like who hold to the beliefs and practices of the Continuing Church of God.
7. The Laodicean Church Era has been predominant circa 1986 A.D. to present. The Laodiceans are non-Philadelphians who mainly descended from the old WCG or its offshoots.  They do not properly understand the work or biblical prophecies and will face the Great Tribulation if they do not repent. One video of related interest is 17 Laodicean Errors in Prophecy. See also Do You Hold to Any of These Laodicean Prophetic Errors?
Where is the True Christian Church Today? This free online pdf booklet answers that question and includes 18 proofs, clues, and signs to identify the true vs. false Christian church. Plus 7 proofs, clues, and signs to help identify Laodicean churches. A related sermon is also available: Where is the True Christian Church? Here is a link to the booklet in the Spanish language: ¿Dónde está la verdadera Iglesia cristiana de hoy? Here is a link in the German language: WO IST DIE WAHRE CHRISTLICHE KIRCHE HEUTE? Here is a link in the French language: Où est la vraie Église Chrétienne aujourd'hui?
Continuing History of the Church of God This pdf booklet is a historical overview of the true Church of God and some of its main opponents from Acts 2 to the 21st century. Related sermon links include Continuing History of the Church of God: c. 31 to c. 300 A.D. and Continuing History of the Church of God: 4th-16th Centuries and Continuing History of the Church of God: 17th-20th Centuries. The booklet is available in Spanish: Continuación de la Historia de la Iglesia de Dios, German: Kontinuierliche Geschichte der Kirche Gottes, French: L Histoire Continue de l Église de Dieu and Ekegusii Omogano Bw'ekanisa Ya Nyasae Egendererete.