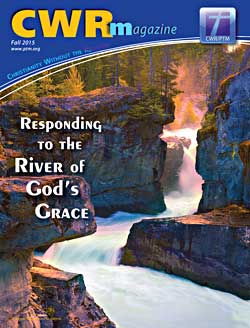 Greg Albrecht, for a number of years, has controlled something called Plain Truth Ministries (PTM).  PTM does not put out a 10-times per year magazine called the Plain Truth, however, like the old Worldwide Church of God used to do.  Instead it puts out a quarterly magazine called Christianity Without Religion, also known as CWR.
Of course, Christianity is supposed to be a religion.  The title that Greg Albrecht has chosen seems odd at best.
Anyway, I flipped through two editions of the magazine today, and will add that other than articles by Greg Albrecht, I saw an article by Monte Wolverton, son of the late Basil Wolverton.
Essentially, the magazine in not the plain truth, but a type of Protestant publication.
In his newsletter this month, which is separate from the magazine, Greg Albrecht wrote:
CWR/PTM is a small ministry … We here at CWR/PTM are a team and we are a club.
Sadly, many treat their religion as a type of social club.  And in PTM's case, they are essentially admitting it, though I do not believe that is the way they want it to be considered.  Many people are what I term 'religious hobbyists.'  They claim to be believers, but have their own set of standards which differ from the Bible, though they will not normally admit that.
Many who read about religion are mainly interested in supporting their own views and are unwilling to make the changes that God wants them to in order to support His end time work.  And I am not just referring to Protestants, but to the non-Philadelphians who consider themselves part of the Church of God.
Some items of related interest may include:
COGwriter Position on Other Churches and Religions What is the fate of those who do not know Christ? What about those who profess Christ outside the Church of God?
Where is the True Christian Church Today? This free online pdf booklet answers that question and includes 18 proofs, clues, and signs to identify the true vs. false Christian church. Plus 7 proofs, clues, and signs to help identify Laodicean churches. A related sermon is also available: Where is the True Christian Church? Here is a link to the booklet in the Spanish language: ¿Dónde está la verdadera Iglesia cristiana de hoy? Here is a link in the German language: WO IST DIE WAHRE CHRISTLICHE KIRCHE HEUTE? Here is a link in the French language: Où est la vraie Église Chrétienne aujourd'hui?
Continuing History of the Church of God This pdf booklet is a historical overview of the true Church of God and some of its main opponents from Acts 2 to the 21st century. Related sermon links include Continuing History of the Church of God: c. 31 to c. 300 A.D. and Continuing History of the Church of God: 4th-16th Centuries. The booklet is available in Spanish: Continuación de la Historia de la Iglesia de Dios, German: Kontinuierliche Geschichte der Kirche Gottes, and Ekegusii Omogano Bw'ekanisa Ya Nyasae Egendererete.
Hope of Salvation: How the Continuing Church of God differ from most Protestants How the real Church of God differs from mainstream/traditional Protestants, is perhaps the question I am asked most by those without a Church of God background. As far as some changes affecting Protestantism, watch the video Charismatic Kenneth Copeland and Anglican Tony Palmer: Protestants Beware! [Português: Esperança do salvação: Como a igreja do deus difere da maioria de protestantes]
Beware: Protestants Going Towards Ecumenical Destruction! What is going on in the Protestant world? Are Protestants turning back to their 'mother church' in Rome? Does the Bible warn about this? What are Catholic plans and prophecies related to this? Is Protestantism doomed? See also World Council of Churches Peace Plan.
The Similarities and Dissimilarities between Martin Luther and Herbert W. Armstrong This article clearly shows some of the doctrinal differences between in the two. At this time of doctrinal variety and a tendency by many to accept certain aspects of Protestantism, the article should help clarify why the genuine Church of God is NOT Protestant. Do you really know what the Protestant Reformer Martin Luther taught and should you follow his doctrinal example? Here is a related sermon video: Martin Luther and Herbert Armstrong: Reformers with Differences.
4. The Thyatira Church Era was predominant circa 1050 A.D. to circa 1600 A.D. The Church during the Inquisition.
5. The Sardis Church Era was predominant circa 1600 A.D. to circa 1933 A.D. Discusses early history of the Seventh Day Baptists, Seventh-day Adventists, and COG-7th Day.
6. The Philadelphia Church Era was predominant circa 1933 A.D. to 1986 A.D. The old Radio Church of God and old Worldwide Church of God, now the remnant of that era is basically the most faithful in the Church of God, like who hold to the beliefs and practices of the Continuing Church of God.
7. The Laodicean Church Era has been predominant circa 1986 A.D. to present. The Laodiceans are non-Philadelphians who mainly descended from the old WCG or its offshoots.  They do not properly understand the work or biblical prophecies and will face the Great Tribulation if they do not repent. One video of related interest is 17 Laodicean Errors in Prophecy.