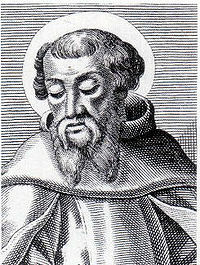 An engraving allegedly of Irenaeus, in Gaul (now Lyons, France)
Who was the most dangerous of the early heretics?
Is the most dangerous heretic the one who directly denies Jesus and makes himself God, like Simon Magus did? Is the most dangerous heretic the one who first did away with the Old Testament and the Sabbath, like Marcion did? Is most dangerous heretic the first one who taught an odd Trinity like Montanus or Valentinus did? Is the most dangerous heretic one who wrote clearly inaccurate and false statements, like Justin Martyr?
Or is the most dangerous heretic, the one while writing against heretics, was a more subtle heretic himself?
While I have not seen any other treatise explaining that Irenaeus was a major heretic (actually, outside of Church of God circles, I have seen little that specifically considers him to have been a heretic, though groups like the Jehovah's Witnesses probably do), it appears to me that he may have been the most dangerous heretic.
Why?
Because, Irenaeus' heresies were not obvious to those outside the true Church of God. His heresies and false statements were less numerous and less obvious than Justin's, thus have been missed by nearly all scholars (though some have noticed one or two errors he made).
What were his most important heresies?
Irenaeus heard Polycarp, yet made deals with Rome that disagreed with Polycarp's teachings. Irenaeus knew that Justin did not agree with Polycarp, yet he approved of Justin–and sadly seemed to prefer to be influenced more by him that by Polycarp.
Irenaeus knew that Polycarp condemned heretics such as Marcion and Valentinus, but failed to mention that they were still allowed to be Roman Catholic until at two decades later. Irenaeus supported the Roman Church even though Irenaeus knew they tolerated heretics that had earlier been condemned by Polycarp (and eventually by Irenaeus himself).
Notice this from Tertullian:
Where was Marcion then, that shipmaster of Pontus, the zealous student of Stoicism? Where was Valentinus then, the disciple of Platonism? For it is evident that those men lived not so long ago,—in the reign of Antoninus for the most part,—and that they at first were believers in the doctrine of the Catholic Church, in the church of Rome under the episcopate of the blessed Eleutherus, until on account of their ever restless curiosity, with which they even infected the brethren, they were more than once expelled (Tertullian. The Prescription against Heretics, Chapter 30. Translated by Peter Holmes. Electronic Version Copyright © 2006 by Kevin Knight. All rights reserved).
Even though Marcion and Valentinus were condemned by Polycarp as a heretic about two decades before Eleutherius became bishop, apparently they were not put out of the Roman Catholic Church then. (Marcion gave a large financial contribution that kept him in good graces for a while–though the Roman Church allegedly returned that contribution after some considerable period of time.)
And why is all of this about Polycarp and Irenaeus so important?
Because Irenaeus knew that Polycarp had the original faith that the apostles had, but did not stand up for it. Apparently, he did not consider that faith to be important enough to fully follow it personally. Notice what Irenaeus records this about Polycarp:
But Polycarp also was not only instructed by apostles, and conversed with many who had seen Christ, but was also, by apostles in Asia, appointed bishop of the Church in Smyrna…always taught the things which he had learned from the apostles, and which the Church has handed down, and which alone are true. To these things all the Asiatic Churches testify, as do also those men who have succeeded Polycarp down to the present time (Irenaeus. Adversus Haeres. Book III, Chapter 4, Verse 3 and Chapter 3, Verse 4).
So we have from this early Roman Catholic source that Polycarp and his successors in Asia Minor (at least until the time that Irenaeus wrote this, around 180 A.D.) practiced the true teachings that they learned from the apostles.
Irenaeus also wrote:
And Polycarp himself replied to Marcion, who met him on one occasion, and said, "Dost thou know me?" "I do know thee, the first-born of Satan."(Irenaeus. Adversus Haereses. Book III, Chapter 3, Verse 4. Excerpted from Ante-Nicene Fathers, Volume 1. Edited by Alexander Roberts & James Donaldson. American Edition, 1885. Online Edition Copyright © 2004 by K. Knight).
What Irenaeus failed to mention is that Marcion was possibly the first heretic to do away with the seventh-day Sabbath. And while Justin did not believe in keeping the Sabbath either, Justin did attend church services on Sunday. Irenaeus apparently felt that neither Saturday nor Sunday was of particular importance, as long as one worshiped God regularly–and this is a heresy that many still hold to today (including even the Jehovah's witnesses).
Irenaeus also had some teachings that Polycarp held. For example, like Polycarp, Irenaeus clearly did not teach the trinity–he held a binitarian view, hence he did not follow that error of Montanus or Valentinus:
…there is none other called God by the Scriptures except the Father of all, and the Son, and those who possess the adoption (Irenaeus. Adversus haereses, Book IV, Preface, Verse 4. Excerpted from Ante-Nicene Fathers, Volume 1. Edited by Alexander Roberts & James Donaldson. American Edition, 1885. Online Edition Copyright © 2004 by K. Knight).
Notice that Irenaeus states that only the Father, the Son, and those who possess the adoption (Christians) are God. This is a binitarian, not a trinitarian view.
So why would binitarians consider Irenaeus a dangerous heretic?
Because he sided with Roman unity above the teachings that he must have known that Polycarp held.
The Real "Passover Plot"
Irenaeus clearly knew that Polycarp kept Passover yet he did not condemn Rome for changing it. Notice what he wrote:
And when the blessed Polycarp was sojourning in Rome in the time of Anicetus, although a slight controversy had arisen among them as to certain other points…For neither could Anicetus persuade Polycarp to forego the observance [in his own way], inasmuch as these things had been always observed by John the disciple of our Lord, and by other apostles with whom he had been conversant; nor, on the other hand, could Polycarp succeed in persuading Anicetus to keep [the observance in his way], for he maintained that he was bound to adhere to the usage of the presbyters who preceded him. And in this state of affairs they held fellowship with each other; and Anicetus conceded to Polycarp in the Church the celebration of the Eucharist, by way of showing him respect (Irenaeus. FRAGMENTS FROM THE LOST WRITINGS OF IRENAEUS. Translated by Alexander Roberts and James Donaldson. Excerpted from Volume I of The Ante-Nicene Fathers (Alexander Roberts and James Donaldson, editors); American Edition copyright © 1885. Electronic version copyright © 1997 by New Advent, Inc).
Eusebius records that Polycrates explained how the Apostles Philip and John, as well as faithful church leaders and martyrs such as Polycarp and Melito, kept the Passover on the 14th of Nisan in accordance with the gospel and would not deviate from it.
This displeased the Roman Bishop Victor. Notice what Eusebius also recorded:
But the bishops of Asia, led by Polycrates, decided to hold to the old custom handed down to them. He himself, in a letter which he addressed to Victor and the church of Rome, set forth in the following words the tradition which had come down to him: "We observe the exact day; neither adding, nor taking away…"

He then writes of all the bishops who were present with him and thought as he did. His words are as follows: "I could mention the bishops who were present, whom I summoned at your desire; whose names, should I write them, would constitute a great multitude. And they, beholding my littleness, gave their consent to the letter, knowing that I did not bear my gray hairs in vain, but had always governed my life by the Lord Jesus." Thereupon Victor, who presided over the church at Rome, immediately attempted to cut off from the common unity the parishes of all Asia, with the churches that agreed with them, as heterodox; and he wrote letters and declared all the brethren there wholly excommunicate. But this did not please all the bishops. And they besought him to consider the things of peace, and of neighborly unity and love. Words of theirs are extant, sharply rebuking Victor. Among them was Irenaeus, who, sending letters in the name of the brethren in Gaul over whom he presided, maintained that the mystery of the resurrection of the Lord should be observed only on the Lord's day. He fittingly admonishes Victor that he should not cut off whole churches of God which observed the tradition of an ancient custom and after many other words he proceeds as follows:

"For the controversy is not only concerning the day, but also concerning the very manner of the fast. For some think that they should fast one day, others two, yet others more; some, moreover, count their day as consisting of forty hours day and night. And this variety in its observance has not originated in our time; but long before in that of our ancestors. It is likely that they did not hold to strict accuracy, and thus formed a custom for their posterity according to their own simplicity and peculiar mode. Yet all of these lived none the less in peace, and we also live in peace with one another; and the disagreement in regard to the fast confirms the agreement in the faith."

He adds to this the following account, which I may properly insert:

"Among these were the presbyters before Soter, who presided over the church which thou now rulest. We mean Anicetus, and Pius, and Hyginus, and Telesphorus, and Xystus. They neither observed it themselves, nor did they permit those after them to do so. And yet though not observing it, they were none the less at peace with those who came to them from the parishes in which it was observed; although this observance was more opposed to those who did not observe it. But none were ever cast out on account of this form; but the presbyters before thee who did not observe it, sent the eucharist to those of other parishes who observed it. And when the blessed Polycarp was at Rome in the time of Anicetus, and they disagreed a little about certain other things…For neither could Anicetus persuade Polycarp not to observe what he had always observed with John the disciple of our Lord…" (Eusebius. Church History. Book V, Chapter 24).
Notice that what Irenaeus did was persuade to the Roman Bishop Victor to not be as angry against those who in Asia Minor did what the Bible and the Apostles Philip and John stated. And also notice that Irenaeus himself did not stand up for the biblical Passover even though he knew that Polycarp observed it.
So why was that so heretical?
First of all, because Irenaeus' own practices were complicit with Rome's–Irenaeus should have condemned Rome's practices. And secondly, because Irenaeus knew that Sunday was not observed by Polycarp as Polycarp was a disciple of the Apostle John–hence should not have advocated it. Thirdly, Irenaeus also had to have known that Victor was not binitarian (he was Sabellian). And fourthly because he, unbiblically, is referring to Sunday as the Lord's Day (an article of related interest may be Is Revelation 1:10 talking about Sunday or the Day of the Lord?). Because of his actions and inactions, most who profess Christ now accept the compromised holiday called Easter in the English language.
And why was that so dangerous? Notice what Eusebius recorded:
Irenæus, who, sending letters in the name of the brethren in Gaul over whom he presided, maintained that the mystery of the resurrection of the Lord should be observed only on the Lord's day…Thus Irenaeus, who truly was well named, became a peacemaker in this matter (Eusebius. Church History. Book V, Chapter 24).
Instead of condemning Irenaeus for not standing up for the biblical Passover, he is praised by Roman supporters for persuading those in the second century to not be too harsh on those that kept the proper biblical teaching of the date of the Passover.
Notice that the Apostle John taught that those who seemed like Christians, but did not do what John did were following leaders John describes as antichrists,
Little children, it is the last hour; and as you have heard that the Antichrist is coming, even now many antichrists have come, by which we know that it is the last hour. They went out from us, but they were not of us; for if they had been of us, they would have continued with us; but they went out that they might be made manifest, that none of them were of us (1 John 2:18-19).
The change of Passover may have been the first specific departure from the practices of John that we have a historical record of (involving John's name) (see also Some Doctrines of Antichrist).
Roman supporters ultimately did eliminate the observance of the Passover on the 14th among those they had cordial contact with by the decree of the pagan Emperor Constantine in 325 A.D. And later did try to kill those who refused to accept that decree (please see article Europa, the Beast, and Revelation).
Apparently Irenaeus valued doctrinal compromise above biblical truth. Irenaeus, while knowing that Polycarp was faithful, only followed some of his faithful teachings (this reminds me of what Daniel told Belshazzar–Belshazzar knew what happened earlier, yet chose to ignore much of it and live the opposite–see Daniel 5:22-23).
Irenaeus Quoted "The Shepherd of Hermas" the Same as He Did Scripture
In a 69th footnote of writing called The Demonstration of the Apostolic Preaching, Irenaeus wrote:
69 In IV, xxxiv. 2 he quotes, as "Scripture," the Shepherd of Hermas, Mand.: Πρώτον πάντων πίστευσον ότι είς έστίν ό θεός, ό τά πάντα κτίσας καί καταρτίσας, καί ποιήσας έίκ τού μή όντος είς τό είναι τά πάντα, καί πάντα χωρών, μόνος δέάχώρητοςών. Cf. also I, xv. 1.
No one can read The Shepherd of Hermas and think that it is on par with scripture–it is simply too bizarre. Irenaeus, however, was apparently the first known leader to do so. Irenaeus may have deferred to it as many believe that it was written by the brother of the Roman "bishop" Pius. This was a dangerous compromise. And one of the most dangerous.
Some because of his tendency to compromise, gloss over the truth, and accept non-canonical writings as scripture, apparently in the name of unity, Irenaeus is probably the most dangerous of the early heretics as almost all who claim Christianity as their faith have adopted one or more of his compromised teachings (with Easter being the most prevalent).  And sadly then they continued with other compromises.
Some articles of possibly related interest may include:
Irenaeus: The Most Dangerous Heretic? Was Irenaeus a faithful peacemaker or was he possibly the most dangerous of the early heretics?
Polycarp of Smyrna: The Heretic Fighter Polycarp was the successor of the Apostle John and a major leader in Asia Minor. Do you know much about what he taught?
Which Is Faithful: The Roman Catholic Church or the Living Church of God? Do you know that both groups shared a lot of the earliest teachings? Do you know which church changed? Do you know which group is most faithful to the teachings of the apostolic church? Which group best represents true Christianity? This documented article answers those questions. Português: Qual é fiel: A igreja católica romana ou a igreja viva do deus? Tambien Español: Cuál es fiel: ¿La iglesia católica romana o La Iglesia del Dios Viviente? Auch: Deutsch: Welches zuverlässig ist: Die Römisch-katholische Kirche oder die lebende Kirche von Gott?
Simon Magus, What Did He Teach? Sometimes called "the father early heretics" or the "father of heresies", do you know what early writers claimed that Simon Magus taught? Sadly, most who profess Christ still hold to versions of his teachings.
Marcion: The First Protestant? Considered to have been an organized heretic, he taught against the Old Testament, the law, and the Sabbath. Some have considered him to be the first Protestant reformer. But was he?
Valentinus: The Gnostic Trinitarian Heretic He apparently was the first Christ-professing heretic to come up with the idea of three hypostases.
Justin Martyr: Saint, Heretic, or Apostate? Justin is considered one of the first Christian theologians and scholars. But did he support a Gnostic version of Christianity? Do you know what he taught about souls going to heaven upon death? This article shows from his own writings, what Justin really taught.
Marcus and the Marcosians: Developers of the Eucharist? Marcus was a second century heretic condemned for having a ceremony similar to one still practiced by many who profess Christ. Might he also be in the apostolic succession list of the Orthodox Church of Alexandria?
Did Early Christians Celebrate Easter? If not, when did this happen? What do scholars and the Bible reveal?
Passover and the Early Church Did the early Christians observe Passover? What did Jesus and Paul teach? Why did Jesus die for our sins?
The History of Early Christianity Are you aware that what most people believe is not what truly happened to the true Christian church? Do you know where the early church was based? Do you know what were the doctrines of the early church? Is your faith really based upon the truth or compromise?