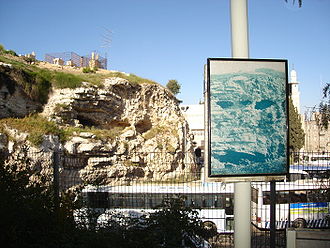 Site of Calvary?
The Temple Institute sent out the following in its newsletter:
Nisan 14, 5779/April 19, 2019

Freedom. That's what the holiday of Passover is all about. …

This is the number one requirement of freedom, for an individual and for a people: responsibility to oneself, foroneself. Only with this ability to determine its own path can a nation determine who it is today and who it will be tomorrow. Responsibility for the passage of days and the setting of the seasons is the ticket to freedom.

But the nature of that freedom will determine the nature of that people. …

By commanding Israel to risk it all, to literally slay an Egyptian deity while still in Egypt, revealing to the world that there was but One G-d and One G-d only, G-d was asking Israel to take its new-found self determination and to attach it forever to the knowledge of G-d and to the path of Torah that Israel was yet to receive in Sinai.
(Note: The Jews consider that the "holiday of Passover' also includes the Days of Unleavened Bread.)
For the Christian, what happened to the children of Israel in Egypt was to serve as an example and warning for us to be faithful (see 1 Corinthians 10:6-11).
During the night of the Passover in Exodus, the following happened:
29 And it came to pass at midnight that the Lord struck all the firstborn in the land of Egypt, from the firstborn of Pharaoh who sat on his throne to the firstborn of the captive who was in the dungeon, and all the firstborn of livestock. 30 So Pharaoh rose in the night, he, all his servants, and all the Egyptians; and there was a great cry in Egypt, for there was not a house where there was not one dead. 31 Then he called for Moses and Aaron by night, and said, "Rise, go out from among my people, both you and the children of Israel. And go, serve the Lord as you have said. 32 Also take your flocks and your herds, as you have said, and be gone; and bless me also." 33 And the Egyptians urged the people, that they might send them out of the land in haste. For they said, "We shall all be dead." 34 So the people took their dough before it was leavened, having their kneading bowls bound up in their clothes on their shoulders. (Exodus 12:29-34)
Now consider the following:
21 Then Moses called for all the elders of Israel and said to them, "Pick out and take lambs for yourselves according to your families, and kill the Passover lamb. 22 And you shall take a bunch of hyssop, dip it in the blood that is in the basin, and strike the lintel and the two doorposts with the blood that is in the basin. And none of you shall go out of the door of his house until morning. 23 For the Lord will pass through to strike the Egyptians; and when He sees the blood on the lintel and on the two doorposts, the Lord will pass over the door and not allow the destroyer to come into your houses to strike you. 24 And you shall observe this thing as an ordinance for you and your sons forever. 25 It will come to pass when you come to the land which the Lord will give you, just as He promised, that you shall keep this service. 26 And it shall be, when your children say to you, 'What do you mean by this service?' 27 that you shall say, 'It is the Passover sacrifice of the Lord, who passed over the houses of the children of Israel in Egypt when He struck the Egyptians and delivered our households.' " So the people bowed their heads and worshiped. 28 Then the children of Israel went away and did so; just as the Lord had commanded Moses and Aaron, so they did. (Exodus 12:21-28)
The above is important because it shows that the children of Israel were in their homes from around sunset on the 14th until the daylight hours of the morning of the 14th.
Then they did the following in the morning:
35 Now the children of Israel had done according to the word of Moses, and they had asked from the Egyptians articles of silver, articles of gold, and clothing. 36 And the Lord had given the people favor in the sight of the Egyptians, so that they granted them what they requested. Thus they plundered the Egyptians. (Exodus 12:35-36)
They left Egypt at night of the 15th of Nisan/Abib:
37 Then the children of Israel journeyed from Rameses to Succoth, about six hundred thousand men on foot, besides children. 38 A mixed multitude went up with them also, and flocks and herds–a great deal of livestock. 39 And they baked unleavened cakes of the dough which they had brought out of Egypt; for it was not leavened, because they were driven out of Egypt and could not wait, nor had they prepared provisions for themselves. 40 Now the sojourn of the children of Israel who lived in Egypt was four hundred and thirty years. 41 And it came to pass at the end of the four hundred and thirty years–on that very same day–it came to pass that all the armies of the Lord went out from the land of Egypt. 42 It is a night of solemn observance to the Lord for bringing them out of the land of Egypt. This is that night of the Lord, a solemn observance for all the children of Israel throughout their generations. (Exodus 12:37-42)
Since the children of Israel were inside from sunset on the 14th to the morning of the 15th, they did not leave Egypt proper until the 15th. The first day of unleavened bread.
Thus after the Passover, they put Egypt, in a sense, behind them.
After the sacrifice of Jesus, our Passover, we are to put sin behind us:
7 Therefore purge out the old leaven, that you may be a new lump, since you truly are unleavened. For indeed Christ, our Passover, was sacrificed for us. 8 Therefore let us keep the feast, not with old leaven, nor with the leaven of malice and wickedness, but with the unleavened bread of sincerity and truth. (1 Corinthians 5:7-8)
As Christians, these days have meaning for us.
Early Christians kept them.
Notice what a respected Protestant scholar reported about the second century Christians:
The most important in this festival was the passover day, the 14th of Nisan…In it they ate unleavened bread, probably like the Jews, eight days through…there is no trace of a yearly festival of the resurrection among them…the Christians of Asia Minor appealed in favor of their passover solemnity on the 14th Nisan to John (Gieseler, Johann Karl Ludwig. A Text-book of Church History. Translated by Samuel Davidson, John Winstanley Hull, Mary A. Robinson. Harper & brothers, 1857, Original from the University of Michigan, Digitized Feb 17, 2006, p. 166).
Christians are to be unleavened and properly handle the freedom, the liberty, we have from Jesus being our Passover sacrifice:
1 Stand fast therefore in the liberty by which Christ has made us free, and do not be entangled again with a yoke of bondage. …

9 A little leaven leavens the whole lump. 10 I have confidence in you, in the Lord, that you will have no other mind; but he who troubles you shall bear his judgment, whoever he is. 11 And I, brethren, if I still preach circumcision, why do I still suffer persecution? Then the offense of the cross has ceased. 12 I could wish that those who trouble you would even cut themselves off! 13 For you, brethren, have been called to liberty; only do not use liberty as an opportunity for the flesh, but through love serve one another. (Galatians 5:1, 9-13)


15 For this is the will of God, that by doing good you may put to silence the ignorance of foolish men– 16 as free, yet not using liberty as a cloak for vice, but as bondservants of God. (1 Peter 2:15-16)

23 For if anyone is a hearer of the word and not a doer, he is like a man observing his natural face in a mirror; 24 for he observes himself, goes away, and immediately forgets what kind of man he was. 25 But he who looks into the perfect law of liberty and continues in it, and is not a forgetful hearer but a doer of the work, this one will be blessed in what he does. (James 1:23-25)
Christians gain freedom in Christ, but it is not a freedom then go and become slaves of sin:
1

What shall we say then? Shall we continue in sin that grace may abound?

2

Certainly not! How shall we who died to sin live any longer in it?

3

Or do you not know that as many of us as were baptized into Christ Jesus were baptized into His death?

4

Therefore we were buried with Him through baptism into death, that just as Christ was raised from the dead by the glory of the Father, even so we also should walk in newness of life.

5

For if we have been united together in the likeness of His death, certainly we also shall be in the likeness of His resurrection,

6

knowing this, that our old man was crucified with Him, that the body of sin might be done away with, that we should no longer be slaves of sin.

7

For he who has died has been freed from sin.

8

Now if we died with Christ, we believe that we shall also live with Him,

9

knowing that Christ, having been raised from the dead, dies no more. Death no longer has dominion over Him.

10

For the death that He died, He died to sin once for all; but the life that He lives, He lives to God.

11

Likewise you also, reckon yourselves to be dead indeed to sin, but alive to God in Christ Jesus our Lord.

12

Therefore do not let sin reign in your mortal body, that you should obey it in its lusts.

13

And do not present your members as instruments of unrighteousness to sin, but present yourselves to God as being alive from the dead, and your members as instruments of righteousness to God.

14

For sin shall not have dominion over you, for you are not under law but under grace.

15

What then? Shall we sin because we are not under law but under grace? Certainly not!

16

Do you not know that to whom you present yourselves slaves to obey, you are that one's slaves whom you obey, whether of sin leading to death, or of obedience leading to righteousness?

17

But God be thanked that though you were slaves of sin, yet you obeyed from the heart that form of doctrine to which you were delivered.

18

And having been set free from sin, you became slaves of righteousness.

19

I speak in human terms because of the weakness of your flesh. For just as you presented your members as slaves of uncleanness, and of lawlessness leading to more lawlessness, so now present your members as slaves of righteousness for holiness.

20

For when you were slaves of sin, you were free in regard to righteousness.

21

What fruit did you have then in the things of which you are now ashamed? For the end of those things is death.

22

But now having been set free from sin, and having become slaves of God, you have your fruit to holiness, and the end, everlasting life.

23

For the wages of sin is death, but the gift of God is eternal life in Christ Jesus our Lord. (Romans 6:1-23)

So, after accepting Jesus' Passover sacrifice, Christians are not then to become slaves of sin, but instead slaves of righteousness, which previously quoted verses show brings liberty.
As far as what happens after Passover, the late Herbert W. Armstrong wrote the following:
The PASSOVER pictures the DEATH OF CHRIST for the remission of sins that are past. The accepting of His BLOOD does not forgive sins we SHALL commit — it does not give LICENSE to continue in sin — therefore WHEN we accept it, our sins are forgiven only up to that time — PAST SINS.

But shall we stop there? Past sins forgiven. But we are still flesh beings. We still shall suffer temptations. Sin has held us in its clutch — we have been SLAVES to sin, in its power. And we are powerless to deliver ourselves from it! We have been in BONDAGE to sin. Let us understand the picture — the meaning. Quitting sin utterly To what extent shall we put away sin? Not partially, but COMPLETELY! And, as leaven is also a type of sin — leaven puffs up, and so does sin — and, as SEVEN is God's number symbolizing COMPLETENESS, we are to follow the Passover with the seven Days of Unleavened Bread! The picture — the meaning — the symbolism, is not complete with Passover alone. Passover pictures the acceptance of Christ's blood for the REMISSION of past sins. It pictures the CRUCIFIED — the DEAD — Christ.

Shall we leave Christ hanging on the cross? The seven Days of UNLEAVENED BREAD, following Passover, picture to us the COMPLETE putting away of sin, the KEEPING of the Commandments — after past sins are forgiven. They picture the life and work of the RISEN CHRIST — who ascended to the throne of God where He is actively at work in our behalf as our HIGH PRIEST, cleansing us of sin — delivering us completely from its POWER! To observe Passover alone, and then fail to observe the seven Days of Unleavened Bread, means, in the symbolism, to accept Christ's blood, and to continue on in sin — to say with the Sunday churches the LAW is done away, we are under grace, meaning license, to continue in sin! The seven Days of Unleavened Bread picture the keeping of the Commandments, which is another way of saying the putting away of sin.

And, as Rome's followers have the MARK of the BEAST in their right hand and forehead, so God's true Church is to have these feast days, the first of which is a MEMORIAL picturing deliverance from sin, in OUR right hand and forehead, as God's SIGN, in order that we shall KEEP HIS COMMANDMENTS. And since the forehead is the seat of the intellect and symbolizes ACCEPTANCE, and the right hand symbolizes WORK, we have this SIGN OF GOD thereby accepting this truth about the Holy Days and Days of Unleavened Bread, and by NOT WORKING on these Holy Days! Not only is the weekly Sabbath God's SIGN (Exodus 31:12-17) but annual Sabbaths are SIGNS as well! (Armstrong HW. What You Should Know About the Passover and Festival of Unleavened Bread. Good News, March 1979)
We in the Continuing Church of God keep God's festivals today.
After the Exodus Passover, the children of Israel left their homes in Egypt. They arrived outside a portion of Egypt on the evening of the first Day of Unleavened Bread. And God told them to remember that night.
The CCOG put together an animation about that night:
What is it? When is it? The KJV refers to it as "THE NIGHT TO BE MUCH OBSERVED." This scripture-packed animation includes background and specific information related to the children of Israel. It also gives some of the Old and New Testament prophetic ramifications of this event. How the NTBO is typically observed is also covered. The animation also includes a chart of scriptures and biblical dates to determine when that NTBO actually is. Furthermore, the animation provides information from the "Jewish Encyclopedia" which, through scripture, shows that many Jews have confused Passover with the "night to be observed." This is a great animation to give background on the NTBO and is also appropriate to be watched on the NTBO.
Here is a link to the animation: Night to Be Observed.
The Night to Be Observed reminds us that we have our part in our ultimate salvation. We must repent of sin and walk out of spiritual Egypt. This night pictures the beginning of that journey. We learn from this Feast that we cannot stay in the slavery of spiritual Egypt. We are not to be joined unequally with this present evil world. Even as God separated His people from Egypt, we must be separated from modern day Egypt with all of its lures and attractions. Just as ancient Israel had to put forth effort to get out of bondage, so we too must put forth effort to remove ourselves from the bondage of this world.
Christians attain freedom in Christ. It is a freedom from being a slave to sin.
God's plan of salvation, as revealed through His Holy Days, help us to better understand that.
The Christian Passover is after sunset on March 26th in 2021 and the Night to be Much Observed is after sunset March 27th in 2021.
Those who wish to learn more should also study the following:
Should Christians Keep the Days of Unleavened Bread? Do they have any use or meaning now? What is leaven? This article supplies some biblical answers. Here are two YouTube videos intended to be viewed for the first day of unleavened bread:Leaven and Sin and Christians and the Days of Unleavened Bread.
How to Keep God's Festivals Many have heard of God's Holy Days and wonder how they are kept in the 21st century. This is an overview article. A related sermon is also available titled: How to Keep God's Feasts. Here is a link to a related article in Spanish: ¿Cómo guardar los Festivales de Dios?¿Cómo guardar los Festivales de Dios?
How often should we partake of THE LORD'S SUPPER? Herbert Armstrong answers that question.
Keeping Passover and the Days of Unleavened Bread How should Christians keep Passover, especially if they are by themselves. Why does the Church of God not require lambs for Passover? How does one keep the Days of Unleavened Bread? For a step-by-step video for Christians to keep it, check out a CCOG Passover Service. Here is a link to a related article in the Spanish language: Guardando la Pascua y los Días de los Panes sin Levadura.
Examine Yourself before Passover This article goes into some of why real Christians are to do this. Two related sermons are Really examine yourself before Passover and Passover Examination.
Preparing for Passover The Apostle Paul taught that Christians should examine themselves prior to taking Passover. This YouTube video sermon gives suggestions on how to prepare.
Passover and the Early Church Did the early Christians observe Passover? What did Jesus and Paul teach? Why did Jesus die for our sins? There is also a detailed YouTube video available titled History of the Christian Passover.
The Passover Plot What was the first Passover plot? Which plots have Islam and the Greco-Roman faiths perpetuated about Passover? A sermon video of related interest is The Passover Plots, Including Easter.
Melito's Homily on the Passover This is one of the earliest Christian writings about the Passover. This also includes what Apollinaris wrote on the Passover as well. Here is a related sermon, also titled Melito's Homily on the Passover.
TPM: Passover on the 14th or 15th? While the real COG observes Passover on the 14th, some observe it on the 15th. Why is the 14th correct? A related sermon is titled Is Passover on the 14th or 15th for Christians?
Unleavened Bread recipes A Serbian COG member, now CCOG elder, sent these recipes for those who would like more ways to prepare unleavened bread. Here is a link to recipes in Spanish: Recetas de Recuerdo.
The Night to Be Observed What is the night to be much observed? When is it? Why do Jews keep Passover twice and emphasize the wrong date? A related animation is available and is titled: Night to Be Observed.
The Seventh Day of Unleavened Bread What happened? Does this day have any type of fulfillment in the Book of Revelation?
Offertories: Unleavened Offering and 7th Day of Unleavened Bread Offertory for 2018.
Living as a Christian: How and Why? In what ways do Christians live differently than others. What about praying, fasting, tithing, holy days, and the world? There is also a YouTube video related to that also called: Living as a Christian: How and Why?
Overcoming Sin What is sin? How are Christians suppose to overcome it? Here is a link to a version in Mandarin Chinese: QKg f/'͉v". Here is a link to a version in Spanish: Vencer al pecado. Here is also a link to a video in English titled How YOU Can Overcome Sin.
Early Christianity and the Eucharist? What does 'eucharist' mean? Did early Christians tie it in with Passover? Should it be a rounded host? Here is a link to a related sermon: Eucharist, Passover, and Easter.
Marcus, the Marcosians, & Mithraism: Developers of the Eucharist? Marcus was a second century heretic condemned for having a ceremony similar to one still practiced by many who profess Christ. Might he also be in the apostolic succession list of the Orthodox Church of Alexandria?
Tradition and Scripture: From the Bible and Church Writings Are traditions on equal par with scripture? Many believe that is what Peter, John, and Paul taught. But did they?
Did Early Christians Celebrate Easter? If not, when did this happen? Where did Easter come from? What do scholars and the Bible reveal?
Why Easter? Did early Christians observe Easter? What are the origins of Easter? What does Easter have to do with the goddess Ishtar. Where did the word Easter come from? Where do Easter eggs come from? What do rabbits have to do with Easter? Was Jesus resurrected on a Sunday? This is a video.
Should You Observe God's Holy Days or Demonic Holidays? This is a free pdf booklet explaining what the Bible and history shows about God's Holy Days and popular holidays. A related sermon is Which Spring Days should Christians observe?
Is There "An Annual Worship Calendar" In the Bible? This paper provides a biblical and historical critique of several articles, including one by WCG which states that this should be a local decision. What do the Holy Days mean? Also you can click here for the calendar of Holy Days.
Holy Day Calendar This is a listing of the biblical holy days through 2024, with their Roman calendar dates. They are really hard to observe if you do not know when they occur 🙂 In the Spanish/Español/Castellano language: Calendario de los Días Santos. In Mandarin Chinese: 何日是神的圣日? 这里是一份神的圣日日历从2013年至2024年。.
Where is the True Christian Church Today? This free online pdf booklet answers that question and includes 18 proofs, clues, and signs to identify the true vs. false Christian church. Plus 7 proofs, clues, and signs to help identify Laodicean churches. A related sermon is also available: Where is the True Christian Church? Here is a link to the booklet in the Spanish language: ¿Dónde está la verdadera Iglesia cristiana de hoy? Here is a link in the German language: WO IST DIE WAHRE CHRISTLICHE KIRCHE HEUTE? Here is a link in the French language: Où est la vraie Église Chrétienne aujourd'hui?
Continuing History of the Church of God This pdf booklet is a historical overview of the true Church of God and some of its main opponents from Acts 2 to the 21st century. Related sermon links include Continuing History of the Church of God: c. 31 to c. 300 A.D. and Continuing History of the Church of God: 4th-16th Centuries and Continuing History of the Church of God: 17th-20th Centuries. The booklet is available in Spanish: Continuación de la Historia de la Iglesia de Dios, German: Kontinuierliche Geschichte der Kirche Gottes, French: L'Histoire Continue de l'Église de Dieu and Ekegusii Omogano Bw'ekanisa Ya Nyasae Egendererete.
The History of Early Christianity Are you aware that what most people believe is not what truly happened to the true Christian church? Do you know where the early church was based? Do you know what were the doctrines of the early church? Is your faith really based upon the truth or compromise?