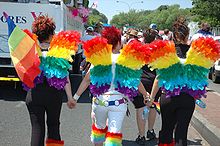 'Pride Parade' (Diricia De Wet)
The Supreme Court in India has just made a major ruling that will push ahead the homosexual agenda:
April 15, 2014

NEW DELHI: In a landmark judgment, the Supreme Court on Tuesday created the "third gender" status for hijras or transgenders. Earlier, they were forced to write male or female against their gender.

The SC asked the Centre to treat transgender as socially and economically backward.

The apex court said that transgenders will be allowed admission in educational institutions and given employment on the basis that they belonged to the third gender category.

The SC said absence of law recognizing hijras as third gender could not be continued as a ground to discriminate them in availing equal opportunities in education and employment.

This is for the first time that the third gender has got a formal recognition…The bench clarified that its verdict pertains only to eunuchs and not other sections of society like gay, lesbian and bisexuals who are also considered under the umbrella term 'transgender'.
There are two genders (though there are some rare individuals born somewhat combined).  People who surgically pretend to change their gender have not really changed it.
While the ruling in India is seemingly limited to those with surgery, it represents a major first step in pushing this aspect of the homosexual agenda. Others will likely follow India's lead and probably not be as limiting.
In the USA, various courts have already ruled in favor of 'cross-dressers' being considered the opposite gender of their biology.
As far as USA courts go, one ruled yesterday that the State of Ohio has to recognized homosexual marriages from other states:
April 14, 2014

CINCINNATI — A federal judge Monday ordered Ohio authorities to recognize the marriages of same-sex couples performed in other states, the latest court victory for gay-rights supporters.

Judge Timothy Black called Ohio's gay marriage ban both unconstitutional and unenforceable.

In the ruling, Black wrote that the record "is staggeringly devoid of any legitimate justification for the Ohio's ongoing arbitrary discrimination on the basis of sexual orientation, and, therefore, Ohio's marriage recognition bans are facially unconstitutional and unenforceable under any circumstances."

The ruling is fueling advocates' efforts to force the state to allow same-sex couples to marry. Monday's ruling does not force Ohio to allow same-sex marriages to be performed in the state.

Ohio Attorney General Mike DeWine said Monday that he plans to appeal the ruling because 62% of voters in 2004 voted to ban gay marriage.  http://www.usatoday.com/story/news/nation/2014/04/14/ohio-gay-marriage-court/7691313/
Federal judges in the USA are striking down State laws related to traditional marriage.  This will not bode well for the USA.  U.S. district courts in Utah, Oklahoma, Kentucky, Virginia, Texas, Michigan, and Ohio have declared that state constitutional amendments banning same-sex marriage supposedly violate the Constitution of the United States.
Notice also the following which suggests that whatever appeal the State of Ohio plans is likely irrelevant:
Ohio Attorney General Mike DeWine has certified the language in a new version of a proposed constitutional amendment aimed at overturning the state's gay marriage ban.

The updated amendment includes language requiring that all legally valid marriages be treated equally under the law.

The amendment language approved by DeWine Monday would also keep clergy from being forced to perform a same-sex marriage. The language goes next to the state ballot board for review.

The group FreedomOhio is seeking to repeal and replace Ohio's 2004 prohibition on gay marriage.

DeWine's decision is not related to a federal judge's decision Monday ordering Ohio authorities to recognize the marriages of gay couples performed in other states.  http://www.wkyc.com/story/news/local/ohio/2014/04/14/gay–marriage-ohio-ballot-langauge/7701993/
The Bible warns about leaders who go the wrong direction:
12 As for My people, children are their oppressors, And women rule over them. O My people! Those who lead you cause you to err, And destroy the way of your paths." (Isaiah 3:12)

16 For the leaders of this people cause them to err, And those who are led by them are destroyed (Isaiah 9:16).
Biblically, a marriage exist as a relationship between a man and woman as God intended (Matthew 19:3-6). God created marriage and forbids fornication, and also forbids homosexuality.
The Bible is clear that right after Eve (the first modern woman) was made a marriage took place. The Old Testament records:
21 And the Lord God caused a deep sleep to fall on Adam, and he slept; and He took one of his ribs, and closed up the flesh in its place. 22 Then the rib which the Lord God had taken from man He made into a woman, and He brought her to the man.

23 And Adam said:

"This is now bone of my bones
And flesh of my flesh;
She shall be called Woman,
Because she was taken out of Man."

24 Therefore a man shall leave his father and mother and be joined to his wife, and they shall become one flesh. (Genesis 2:21-24)
In the New Testament, Jesus taught:
4 And He answered and said to them, "Have you not read that He who made them at the beginning 'made them male and female,' 5 and said, 'For this reason a man shall leave his father and mother and be joined to his wife, and the two shall become one flesh'? 6 So then, they are no longer two but one flesh. Therefore what God has joined together, let not man separate." (Matthew 19:4-6)
Notice that God made humans male and female for marriage.
Many do not really care what the Bible teaches as they have redefined marriage. And this is dangerous and will lead to destruction (cf. Romans 1:18-32).
Notice also the following:
9 The look on their countenance witnesses against them, And they declare their sin as Sodom; They do not hide it. Woe to their soul! For they have brought evil upon themselves. (Isaiah 3:9)

13 The fear of the Lord is to hate evil; Pride and arrogance and the evil way And the perverse mouth I hate. (Proverbs 8:13)

18 Pride goes before destruction, And a haughty spirit before a fall. (Proverbs 16:18)

49 Look, this was the iniquity of your sister Sodom: She and her daughter had pride, fullness of food, and abundance of idleness; neither did she strengthen the hand of the poor and needy. 50 And they were haughty and committed abomination before Me; therefore I took them away as I saw fit. (Ezekiel 16:49-50)

7 as Sodom and Gomorrah, and the cities around them in a similar manner to these, having given themselves over to sexual immorality and gone after strange flesh, are set forth as an example, suffering the vengeance of eternal fire. (Jude 7)

6…the cities of Sodom and Gomorrah into ashes, condemned them to destruction, making them an example to those who afterward would live ungodly (2 Peter 2:6)
So the Bible shows that Sodom was destroyed for many things including its pride and the committing of abominations. Homosexuality is an abomination. Sodom and Gomorrah were turned into ashes making them an example–but many leaders in the USA, Scotland, and elsewhere do not wish to consider the ramifications of what they are doing.

The Bible also warns against accepting and condoning practices such as homosexuality and lesbianism, which is something that the USA is doing:
18 For the wrath of God is revealed from heaven against all ungodliness and unrighteousness of men, who suppress the truth in unrighteousness…

24 Therefore God also gave them up to uncleanness, in the lusts of their hearts, to dishonor their bodies among themselves, 25 who exchanged the truth of God for the lie, and worshiped and served the creature rather than the Creator, who is blessed forever. Amen.

26 For this reason God gave them up to vile passions. For even their women exchanged the natural use for what is against nature. 27 Likewise also the men, leaving the natural use of the woman, burned in their lust for one another, men with men committing what is shameful, and receiving in themselves the penalty of their error which was due.

28 And even as they did not like to retain God in their knowledge, God gave them over to a debased mind, to do those things which are not fitting; 29 being filled with all unrighteousness, sexual immorality, wickedness, covetousness, maliciousness; full of envy, murder, strife, deceit, evil-mindedness; they are whisperers, 30 backbiters, haters of God, violent, proud, boasters, inventors of evil things, disobedient to parents, 31 undiscerning, untrustworthy, unloving, unforgiving, unmerciful; 32 who, knowing the righteous judgment of God, that those who practice such things are deserving of death, not only do the same but also approve of those who practice them. (Romans 1:18,24-32)
The promotion of sexual immorality, including the 'gay' agenda, will end in destruction. Yet various leaders in the USA, including its President and various judges, are doing just it. They apparently do not take the warnings of the Bible seriously.
The USA is in decline and will some day be eliminated–as will its Anglo-Saxon allies such as Canada, New Zealand, England, Scotland, and Wales which already allow homosexual marriage, as well as Australia which has 'same-sex unions.'
Of course, it is not just the USA and the Anglo-Saxon nations that are doing this, many of the Europeans are engaged in this as well.
No one should be pushing the homosexual agenda, yet many are–and this will be to their peril.
Some items of possibly related interest may include:
The Bible Condemns Homosexuality "Same-sex marriage" for "gays" and lesbians is becoming more acceptable to many. What does the Bible teach about homosexuality? Can homosexuals change?
Cross-dressing and other assaults against your children. What should you do? Is there an agenda to turn your children and/or grandchildren away from biblical morality and towards practices promoted by homosexuals? What does the Bible teach about cross-dressing? What should parents do? If there is an agenda, what has been going on? There is also a YouTube video on this, titled Cross dressing and Other Assaults Against Your Children.
Love, Marriage, and Sex It is important to get them in the right order.
India, Its Biblical Past and Future: Any Witness? The Bible discusses the origins of those of Indian heritage.  This article quotes the Bible and also discusses some of the witness to India throughout history and what is happening in the 21st century (including those in Bangladesh, Pakistan, and Sri Lanka).
India and the Beast of Revelation 13 Do biblical, Catholic, and even Hindu prophecies suggest that many in India will follow, for a while, the Beast and False Prophet/Antichrist? Here is link to a related YouTube video Will People in India Worship the Beast of Revelation 13?
British and American Moral Decay Public nudity is becoming more prevalent in the Anglo-Saxon lands. What are some of the consequences?
Can those in the USA/UK see the Handwriting on the Wall? Is everything fine in the USA/UK or is it like the days of Noah? Can we learn from the handwriting that appeared on a wall thousands of years ago? Here is a link to a related YouTube video Can you see the 'Handwriting on the Wall'?
Anglo – America in Prophecy & the Lost Tribes of Israel Are the Americans, Canadians, English, Scottish, Welsh, Australians, Anglo-Saxon (non-Dutch) Southern Africans, and New Zealanders descendants of Joseph? Where are the lost ten-tribes of Israel? Who are the lost tribes of Israel? What will happen to Jerusalem and the Jews in Israel? Will God punish the U.S.A., Canada, United Kingdom, and other Anglo-Saxon nations? Why might God allow them to be punished first? Here is a link to the Spanish version of this article: Anglo-América & las Tribus Perdidas de Israel. Information is also in the YouTube sermons titled Where are the Ten Lost Tribes? Why does it matter? and British are the Covenant People. A short YouTube of prophetic interest may be Barack Obama and the State of the Apocalypse.
Will the Anglo-Saxon Nations be Divided and Have People Taken as Slaves? Will the lands of the United States, United Kingdom, Canada, Australia, and New Zealand be divided? What about Jerusalem? What does Bible prophecy teach? Are there non-biblical prophecies that support this idea? Who will divide those lands? Who will end up with the lands and the people? Here is a link to a video titled Will the USA and other Anglo-nations be Divided and Their People Made Slaves? Here is a related item in the Spanish language ¿Serán divididas las naciones anglosajonas?
British are the Covenant People What do 'British' and 'Britain' mean in Hebrew? Are the descendants of the Anglo-Saxons people of the covenant? Does the British royal family connect to the throne of David? What does the Bible teach? What does history show us? Is there any DNA evidence related to British-Israelism? When did Christianity make it to the British Isles? Could Jeremiah have made it to the British Isles? What type of Christians made it to the British Isles? Did the last King of England believe in British Israelism?
When Will the Great Tribulation Begin? 2014, 2015, or 2016? Can the Great Tribulation begin today? What happens before the Great Tribulation in the "beginning of sorrows"? What happens in the Great Tribulation and the Day of the Lord? Is this the time of the Gentiles? When is the earliest that the Great Tribulation can begin? What is the Day of the Lord? Who are the 144,000? Here is a version of the article in the Spanish language: ¿Puede comenzar la Gran Tribulación en 2013 o 2014? ¿Es el Tiempo de los Gentiles? You can also see the English language sermon video: The Great Tribulation from the Mount of Olives.
Europa, the Beast, and Revelation Where did Europe get its name? What might Europe have to do with the Book of Revelation? What about "the Beast"? Is an emerging European power "the daughter of Babylon"? What is ahead for Europe? Here is a link to a video titled: Can You Prove that the Beast to Come is European?
Prophecies of Barack Obama? Reasons why Barack Obama is apocalyptic and reasons why Barack Obama is not the Antichrist. This article includes many biblical and non-biblical prophecies, from around the world, that seem to discuss Barack Obama. Did Nostradamus predict Barack Obama dealing with the Antichrist?  Might Barack Obama set the stage for the kings of the North and South as at least one Shiite prophecy suggests?  Read it and decide for yourself if President Obama seems to be fulfilling various prophecies. Watch also the YouTube Barack Obama and the State of the Apocalypse.