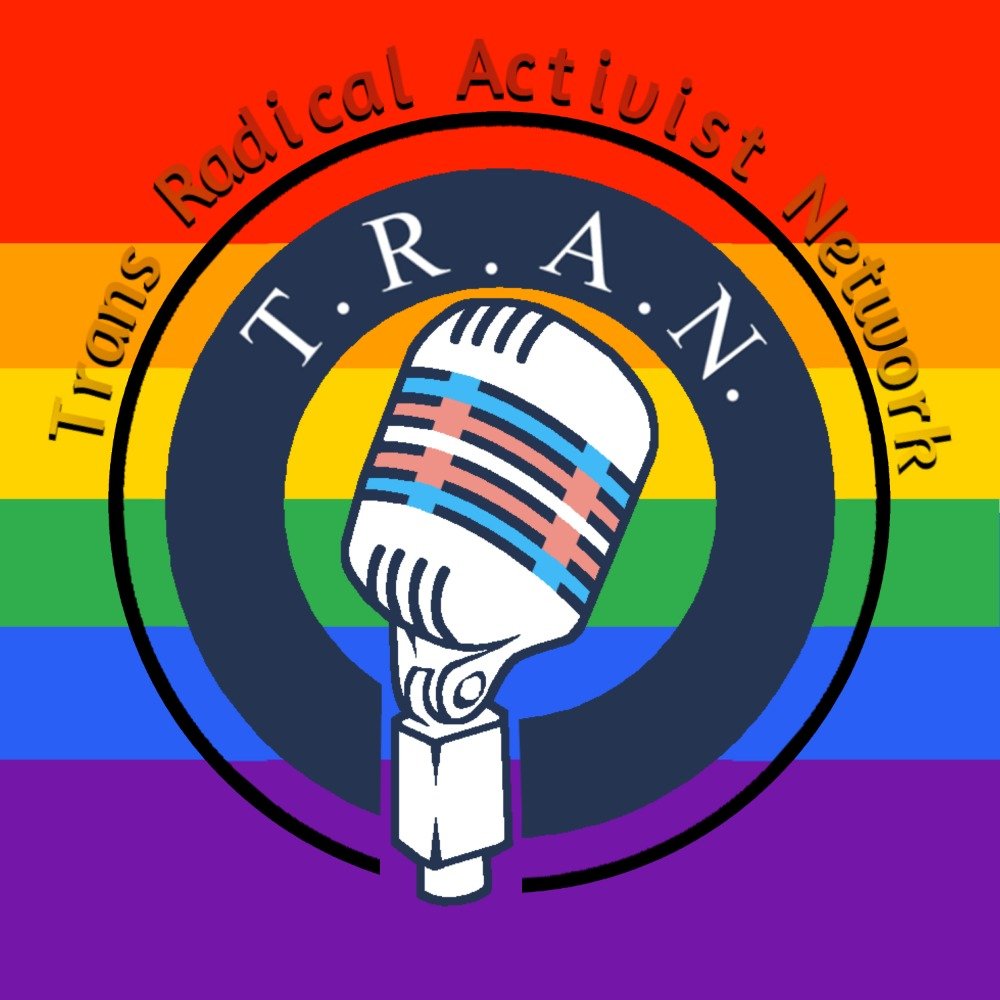 Trans Radical Activist Network logo
Here is more related to the 28 year old female who wanted to be identified as he/him shot that shot and killed six people at a Protestant school in Tennessee:
Nashville shooting a 'hate crime against Christians,' Sen. Hawley says

March 29, 2023

The Nashville school shooting should be investigated as a hate crime since the transgender shooter intentionally targeted Christians, Sen. Josh Hawley told Fox News …
The Trans Resistance Network, a trans activist group, said the transgender shooter felt "no other effective way to be seen" than by killing six people at a private Presbyterian school. Metropolitan Nashville Police Chief John Drake, said Monday night that some believe the shooter held "resentment for having to go to that school."

"What police have told us in Nashville is that this was targeted at this Christian school, the Christian students, the Christian employees and that they believe it was definitely premeditated and there was a deliberate attempt to target the school," Hawley told Fox News in a sit–down interview. "We need to be clear that when you target people of faith, that is a hate crime."

Audrey Elizabeth Hale, a 28-year-old transgender Nashville resident, shot and killed three students and three faculty members at The Covenant School, according to local police.

"We've seen a lot of language directed at the Christian community with regard to particularly trans issues, calling them hateful," Hawley told Fox News. "That kind of rhetoric is dangerous, and we're seeing its effects right now." https://www.foxnews.com/politics/nashville-transgender-school-shooter-possibly-targeted-christians-hateful-rhetoric-senator-says

New Details Emerge About Nashville Shooter Audrey Hale's Manifesto

Nashville Police Chief John Drake gave reporters their first glimpse into the manifesto the suspect, 28-year-old Audrey Hale, had left behind before the shooting.

According to Drake, Hale had outlined in the manifesto plans to attack "multiple" locations in the Covenant School, with detailed maps of those locations as well as action plans describing how the killings would be carried out. …

Drake had little to offer on a specific motivation for why Hale— who identifies as transgender with he/his pronouns and a former student at the school—decided to enter the building and start shooting. He said specifics of the manifesto were still under investigation.

"There's quite a bit of writing to it," Drake told reporters. "I have not read the whole entire manifesto. Our team and the FBI have been working on this." … The killings—which conservatives have speculated were specifically targeted at a Christian institution—came after Tennessee's Legislature had been working on legislation aimed at the transgender community, 03/28/23 https://www.newsweek.com/new-details-emerge-about-nashville-shooter-audrey-hales-manifesto-1790956

"We have a manifesto," said Metro Nashville Police Chief John Drake. "We have some writings that we're going over that pertain to this date, the actual incident. We have a map drawn out of how all this was gonna take place."

As for motive, Drake said, "There's right now a theory that we may be able to talk about later, but it's not confirmed." Drake appeared to hint that the shooter's transgender identity factored into her motive. 

REPORTER: "Do you have any reason to believe that how she identifies has any motive for targeting the school?"

NASHVILLE POLICE: "There is some theory to that."

REPORTER: "So was this a targeted attack?"

NASHVILLE POLICE: "It was." pic.twitter.com/NDfm9XBCcV

— Benny Johnson (@bennyjohnson) March 27, 2023

https://summit.news/2023/03/28/police-post-video-from-transgenders-rampage-at-nashville-christian-school/

Nolte: Nashville Christian School Shooting Preceded by Calls for 'Trans Day of Vengeance'

The mass shooting by Audrey Hale, the 28-year-old transsexual who murdered three kids and three staffers at a Nashville Christian school Monday, was preceded by left-wing radicals calling for a "Trans Day of Vengeance."

In February, a group of transsexuals announced that "A Day of Vengeance" will be held in Washington, D.C., between March 31 and April 2. Their specific goal is to "[s]top trans genocide" (which is a hoax), specifically by raising money for firearms.

The now-deleted tweets read…

We hope to see you in DC or online :)! The time is now, enough is enough. This country is full of hate and hate is NOT welcomed in this country. We are human beings and we will always exist. You are all worth it, let's unite. #TransDayOfVengeance ️‍⚧️️‍⚧️ pic.twitter.com/F5x6TRZh3G

—

DANCE PARTY FUNDRAISER!! March 7th 8pm-2am @falloutrva
18+, $10 suggested admission

Benefiting firearm/self defense training for trans Virginians. Come boogie with us and defend trans life!

The "Day of Vengeance" website is still up. https://www.breitbart.com/politics/2023/03/28/nolte-nashville-christian-school-shooting-preceded-by-calls-for-trans-day-of-vengeance/
As far as the "Day of Vengeance" page goes, it is part of the Trans Radical Activist Network. I visited that page today. It had the following:
The Time is Now

The Trans/Non-Binary/Gender Non-Conforming/Intersex communities are facing astronomical amounts of hate from the world. At least a 100 Gender Affirming care ban bills have been proposed. accessed 03/29/23 https://www.transradicalactivistnetwork.org/transdayof-vengeance
Before going further, let me state that "Gender Affirming care" means trying to change one's sex. The Bible teaches that God made humans male and female in both the Hebrew and Greek scriptures (otherwise known as the Old and New Testaments):
27 So God created man in His own image; in the image of God He created him; male and female He created them. (Genesis 1:27)

6 But from the beginning of the creation, God 'made them male and female.' (Mark 10:6)
So called, "Gender Affirming care" tries to obliterate how God has people.
Furthermore, no matter how many mutilating and other surgeries, taking hormones and/or hormone blockers, those born male have xy chromosomes and those born female have xx. Bone structure, brain processing, etc. still remain male or female, though drugs can have some mental impact.
Anyway, that said, the The Time is Now article also states:
"I was a radical revolutionist. I still am a revolutionist…I am glad I was in the Stonewall Riot. I remember when someone threw a Molotov cocktail, I thought, "My god, the revolution is here. The revolution is finally here?" -Sylvia Rivera

TRAN will be hosting an event in DC, time and location on 4/1 at 11 am in front of SCOTUS. The online event will be hosted on 4/1, time TBA. This protest is about unity, not inciting violence. TRAN does not encourage violence and it is not welcome at this event.
Well, many people equate vengeance with violence. Perhaps the Nashville trans-shooter did as well?
Notice also the following:
March 29, 2023

There was widespread outrage after Arizona Gov. Katie Hobbs' press secretary responded to the school shooting in Nashville by posting a tweet that appeared to advocate violence against "transphobes". …

A transgender-identified individual killed three children and three adults after a rampage at The Covenant School, a private Christian school for students aged three to 11 …

Hobbs' spokeswoman Josselyn Berry responded to the carnage by posting an image from the 1980 movie Gloria showing a woman brandishing two handguns. https://summit.news/2023/03/29/outrage-after-arizona-governors-press-secretary-posts-tweet-advocating-violence-against-transphobes/
BREAKING: Josselyn Berry, the Press Secretary to Arizona Governor Katie Hobbs, has resigned after posting this image on Twitter. pic.twitter.com/M9zUz84gbd

— Ben Kew 🏌️‍♂️ (@ben_kew) March 29, 2023
"This is what @katiehobbs press secretary decided to tweet after a trans militant shut up a school. Any Republican would be fired for this in an instant. We're done with the double standard. @joss_berry must be fired," asserted commentator Matt Walsh. https://summit.news/2023/03/29/outrage-after-arizona-governors-press-secretary-posts-tweet-advocating-violence-against-transphobes/
Of course, it is not just some associated with the LGBTQ+ movement that advocate violence.
Consider also that the Bible shows that God is against violence and that destruction will come because of it:
23 'Make a chain,
For the land is filled with crimes of blood,
And the city is full of violence.
24 Therefore I will bring the worst of the Gentiles,
And they will possess their houses;
I will cause the pomp of the strong to cease,
And their holy places shall be defiled. (Ezekiel 7:23-24)

28 And even as they did not like to retain God in their knowledge, God gave them over to a debased mind, to do those things which are not fitting; 29 being filled with all unrighteousness, sexual immorality…30…violent, proud, boasters,…31…unmerciful; 32 who, knowing the righteous judgment of God, that those who practice such things are deserving of death, not only do the same but also approve of those who practice them. (Romans 1:28-32)

8 … And the violence of the land and the city, And of all who dwell in it. ( Habakkuk 2:8)
Consider also the following prophecy for the last days:
1

But know this, that in the last days perilous times will come:

2

For men will be lovers of themselves, lovers of money, boasters, proud, blasphemers, disobedient to parents, unthankful, unholy,

3

unloving, unforgiving, slanderers, without self-control, brutal, despisers of good,

4

traitors, headstrong, haughty, lovers of pleasure rather than lovers of God,

(2 Timothy 3:1-4).
We are in "the last days." We are in what Jesus referred to in Matthew 24:4-8 as the "beginning of sorrows."
A worse time of 'tribulation' is coming (Matthew 24;21-22) and is getting closer.
But, ultimately, there will be good news. Jesus will return and the millennial Kingdom of God will be established, and violent crime will be stopped.
The transgender movement has allowed itself to be deceived and it is sad that some in it have turned to violence.
Iran did a study that found mental issues were associated with the transgendered:
Abstract

Background: Co-morbid psychiatric disorders affect prognosis, psychosocial adjustment and post-surgery satisfaction in patients with gender identity disorder. In this paper, we assessed the frequency of personality disorders in Iranian GID patients.

Methods: Seventy- three patients requesting sex reassignment surgery (SRS) were recruited for this crosssectional study. Of the participants, 57.5% were biologically male and 42.5% were biologically female. They were assessed through the Millon Clinical Multiaxial Inventory II (MCMI- II).

Results: The frequency of personality disorders was 81.4%. The most frequent personality disorder was narcissistic personality disorder (57.1%) and the least was borderline personality disorder. The average number of diagnoses was 3.00 per patient.

Conclusion: The findings of this study revealed that the prevalence of personality disorders was higher among the participants, and the most frequent personality disorder was narcissistic personality disorder (57.1%), and borderline personality disorder was less common among the studied patients. … Personality disorders are common in patients with Gender Identity Disorder who are candidates for sex reassignment. As a result, the assessment of Personality disorders before sex reassignment surgery and offering psychological and medical intervention care, if needed, is strongly suggested. The results of this study also indicated that Borderline personality disorder is not necessarily the most comorbid personality disorder in patients with Gender Identity Disorder. . https://www.ncbi.nlm.nih.gov/pmc/articles/PMC4301205/
Before someone dismisses that study because it came from Iran, notice that it is up at the NCBI (National Center for Biotechnology Information) website, which is an official US government site that, according to the NCBI, it "advances science and health by providing access to biomedical and genomic information." The fact is that transgenderism is not good and is something to repent of.
Yet, the USA now literally celebrates this (see VOA: Biden to Mark Transgender Day of Visibility With New Actions). We now have many who have been pushing to normalize perversion.
And as far as mental health issues go, the police in Nashville said that the shooter "was under a doctor's care for an 'emotional disorder' " (https://www.reuters.com/world/us/former-christian-school-student-kills-3-children-3-staff-nashville-shooting-2023-03-28/).
Considering oneself transgendered is not good.
The Bible actually calls their cross-dressing an abomination to God (Deuteronomy 22:5).
Many need to repent.
We are in the last days.
Some items of possibly related interest may include:
Cross-dressing and other assaults against your children.  What should you do? Is there an agenda to turn your children and/or grandchildren away from biblical morality and towards practices promoted by homosexuals? What does the Bible teach about cross-dressing? What should parents do? If there is an agenda, what has been going on?  There are also three YouTube videos related to this, titled Transgender 'Woe to those who call evil good' and Cross dressing and Other Assaults Against Your Children and USA pushing gender confusion.
The Bible Condemns Homosexuality "Same-sex marriage" for "gays" and lesbians is becoming more acceptable to many. What does the Bible teach about homosexuality and the LGBTQ agenda?  Can homosexuals change? A related video sermon is titled: What Does the Bible Really Teach about Homosexuality? A short video is available titled: Gay Gene? Born That Way?
Crime can be stopped…here's how! This was a booklet that was edited with some updates by Dr. Thiel. Here is a link to a related sermon: Crime and How it Will be Stopped!
Does God Have a 6,000 Year Plan? What Year Does the 6,000 Years End? Was a 6000 year time allowed for humans to rule followed by a literal thousand year reign of Christ on Earth taught by the early Christians? Does God have 7,000 year plan? What year may the six thousand years of human rule end? When will Jesus return? 2031 or 20xx? There is also a video titled 6000 Years: When will God's Kingdom Come? Here is a link to the article in Spanish: ¿Tiene Dios un plan de 6,000 años?
Might the U.S.A. Be Gone by 2028? Are there prophetic reasons to believe that the USA will not last two complete presidential terms? Yes. There is a tradition attributed to the Hebrew prophet Elijah that humanity had 6,000 years to live before being replaced by God's Kingdom. There are scriptures, writings in the Talmud, early Christian teachings that support this. Also, even certain Hindu writings support it. Here is a link to a related video: Is the USA prophesied to be destroyed by 2028? In Spanish: Seran los Estados Unidos Destruidos en el 2028?
Persecutions by Church and State This article documents some that have occurred against those associated with the COGs and some prophesied to occur. Will those with the cross be the persecutors or the persecuted–this article has the shocking answer. There are also three video sermons you can watch: Cancel Culture and Christian Persecution, The Coming Persecution of the Church, and Christian Persecution from the Beast. Here is information in the Spanish language: Persecuciones de la Iglesia y el Estado.
Prophecies Showing Persecution of Sabbath Keepers Are Sabbath-keepers going to be persecuted in the 21st century? Are there biblical and non-biblical prophecies that point to this type of persecution?
The Ten Commandments: The Decalogue, Christianity, and the Beast This is a free draft/unedited pdf book explaining the what the Ten Commandments are, where they came from, how early professors of Christ viewed them, and how various ones, including the Beast of Revelation, will oppose them. A related sermon is titled: The Ten Commandments and the Beast of Revelation.
The Ten Commandments Reflect Love, Breaking them is Evil Some feel that the ten commandments are a burden. Is that what Jesus, Paul, Peter, James, and John taught? For a more detailed discussion of the first four commandments, please see the video The Ten Commandments:
Lost Tribes and Prophecies: What will happen to Australia, the British Isles, Canada, Europe, New Zealand and the United States of America? Where did those people come from? Can you totally rely on DNA? What about other peoples? Do you really know what will happen to Europe and the English-speaking peoples? What about Africa, Asia, South America, and the Islands? This free online book provides scriptural, scientific, historical references, and commentary to address those matters. Here are links to related sermons: Lost tribes, the Bible, and DNA; Lost tribes, prophecies, and identifications; 11 Tribes, 144,000, and Multitudes; Israel, Jeremiah, Tea Tephi, and British Royalty; Gentile European Beast; Royal Succession, Samaria, and Prophecies; Asia, Islands, Latin America, Africa, and Armageddon;  When Will the End of the Age Come?;  Rise of the Prophesied King of the North; Christian Persecution from the Beast; WWIII and the Coming New World Order; and Woes, WWIV, and the Good News of the Kingdom of God.
The Gospel of the Kingdom of God This free online pdf booklet has answers many questions people have about the Gospel of the Kingdom of God and explains why it is the solution to the issues the world is facing. It is available in hundreds of languages at ccog.org. Here are links to four kingdom-related sermons:  The Fantastic Gospel of the Kingdom of God!, The World's False Gospel, The Gospel of the Kingdom: From the New and Old Testaments, and The Kingdom of God is the Solution.