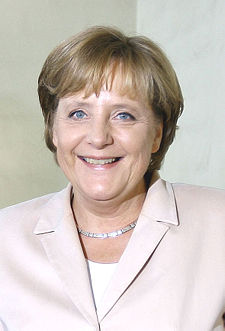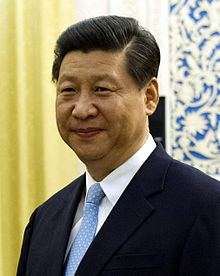 Germany's Angela Merkel and China's Xi Jinping
Germany's Chancellor Angela Merkel is again on her way to China to meet with various leaders there:
July 5, 2014

German Chancellor Angela Merkel will embark on her seventh visit to China this weekend, accompanied by top business leaders and officials, who continue to remain optimistic about boosting bilateral economic and commercial ties between the two countries.

Chancellor Merkel, according to the New York Times, will first visit Chengdu, capital of western Sichuan Province, where she will meet the provincial leadership and visit a joint venture operated by the German automaker Volkswagen and a social center designed to help the children of migrant workers. From there, she will fly to Chinese capital Beijing, where she will be received with military honours by Prime Minister Li Keqiang and attend a dinner hosted by President Xi Jinping.

She will also meet film directors and address students at Tsinghua University. During the visit, matters related to the protection of human rights could come up for discussions.

Merkel has been in power since 2005, making her one of the longer-serving heads of government in Europe. Under her leadership, Germany and China have forged strong business and political ties.  http://www.dnaindia.com/world/report-angel-merkel-to-visit-china-for-the-seventh-time-on-july-6-1999813
German Chancellor Angela Merkel heads to China this weekend for her seventh visit, eager to deepen trade and investment ties between the export powerhouses of Europe and Asia…
Merkel is set to travel with a high-powered business delegation including top executives of Siemens, VW, Airbus, Lufthansa and Deutsche Bank, the Bild daily reported this week…
China is Germany's number-two export market outside Europe after the United States. It sold goods worth €67 billion to China last year, while imports from the Asian giant topped €73 billion.

"Over the last decade or so German exports to China have grown exponentially," said Hans Kundnani, research director at the European Council on Foreign Relations…

Premier Li Keqiang will Monday receive Merkel with full military honours for what under Chinese protocol is considered a state visit, despite the fact the chancellor is Germany's head of government.

When she meets President Xi Jinping, it will be the second out of three scheduled meetings this year – the third being a joint cabinet session in October in Berlin, a unique format for Beijing.

Merkel starts her three-day trip on Sunday in Chengdu, the capital of the southwestern Sichuan province, which at over 80 million people has about the same population as Germany.  http://www.thelocal.de/20140704/china-to-receive-merkel-with-military-honours
Germany is pushing both its economic and political interests in China.  Chancellor Merkel seems to promote her countries economic interests more than most leaders of other western nations.  Germany wishes to dominate the world economically and working with China is one way to help accomplish that goal.
Back in 2009, I came across some interesting Chinese prophecies from the Tang Dynasty (7-10th century).  Notice one Chinese prophecy might hint that it involves dividing Australia and New Zealand with Europe.   It states:
Population mouth takes territories south of the Yangtze river.  The capital is moved again.  The two divide up the territories, of which each maintains and defends (Pui-Hua R.  Ancient Chinese Prophecies Till the End of the World.  AuthorHouse, Bloomington (IN), 2008, p. 164).
This may be related to a deal that perhaps the Chinese will make in the future with Europe (there are some ancient Chinese prophecies that discuss arrangements with some from the West), as opposed to military conquest.  It also may not be related to the taking of Australia or New Zealand, but perhaps might be.  Notice the following additional Chinese prophecies which tie China in with some from the West.
Beautiful people come from the West. Korea, China and Japan are gradually at peace (Pui-Hua R.  Ancient Chinese Prophecies Till the End of the World.  AuthorHouse, Bloomington (IN), 2008, p. 85).

All negative forces are subservient…China now has a saint.  Even if he is not that great a hero (ibid, p. 89).
Germany and all of Europe are west of China.  The "beautiful people" mentioned may be from the Beast and his false prophet which apparently will impress peoples in places including Asia. The "saint" will likely be "the false prophet" also known as the final Antichrist. I suspect that Satan may have inspired these Chinese prophecies so that the Chinese will one day point to them for their justification for getting involved with the Beast power of Revelation 13 (see also Satan's Plan).  The Bible says that the whole world will worship that Beast power (Revelation 13:4,8) and that would thus have to include China.
Perhaps of prophetic interest, China dropped a hint in late 2011 that it may attack Australia militarily because of its military relationship with the U.S.A. (Calmes J. Obama Addresses Troops at Final Stop in Australia. November 17, 2011. http://www.nytimes.com/2011/11/18/world/asia/obama-addresses-troops-at-final-stop-in-australia.html?pagewanted=2&_r=1). Furthermore, in 2012, China took this a step further and told Australia to choose between it and the USA (Wen P. Chinese official: it's us or America. National Times, May 16, 2012. http://www.theage.com.au/opinion/political-news/chinese-official-its-us-or-america-20120515-1yp5f.html). For many reasons, Australia will mainly remain an ally of the USA, and this will continue to upset the Chinese.
Scripturally, Asians seem to be involved with the dividing up and selling of people in the future (Ezekiel 27:12-14). Since Australia and New Zealand are the closest of the Anglo-Saxon descended nations to Asia, they seem to be possible candidates to be taken over by the Asians.
Furthermore, notice the following Catholic prophecy:
American Catholic Prophecy (c. early 20th century): The yellow hordes of the Rising Sun and the middle kingdom will pour out their wrath on the people of the island kingdom which had gathered riches through trade (Dupont, Catholic Prophecy: The Coming Chastisement. TAN Books, Rockford (IL), 1973, p. 78).
Australia and New Zealand are island nations that have gained riches through trade. Since the USA owes Japan (the "land of the rising sun") and China (the "middle kingdom") massive amounts of money, it may be since Australia and New Zealand will be allies of the USA and UK, that Europe will give Australia over to China (and/or others in Asia) and New Zealand over to Japan (and/or others in Asia) to help satisfy the USA/UK debt. Both China and Japan have longed for more land and the proximity of the island nations of Australia and New Zealand to the Asian powers seems to make this a likely scenario. The fact that Australia has about 78% as much land as China and New Zealand about 71% of the land of Japan make them interesting candidates for takeover.
Interestingly, Australians wonder about problems with China:
"ALMOST half of Australians believe that China will become a military threat to Australia within 20 years," according to a recent Lowy Institute poll. While most Australians appreciate the economic benefits of a relationship with China, most believe that their government has allowed too much Chinese investment in Australia. A majority also feel China's goal is to dominate the Asian region. The survey revealed that Australians "were positive about China's economic growth but fearful of its military aims" (The Courier-Mail, May 31, 2010).

According to The Sydney Morning Herald, "China has detonated an economic bombshell on the eve of the Prime Minister's drive to sell the carbon tax, warning Australia has a 'dual-speed and patchwork economy' and relies too heavily on Beijing's demand for minerals." (July 7, 2011, p.2).
The Australians themselves have had various concerns about China. In late 2011, the Australians made a deal to allow the USA to station "permanent troops" in their country (see Obama Putting 'Permanent' Troops in Australia Because of China, But…). The presence of US troops in China may also be used as part of China's possible future justification for taking the land of Australia.  The Chinese may claim something to the effect that Australia is really a military pawn/representative of the USA and thus, since the USA owes them money, taking over Australia will help settle that debt. But like the other Anglo-lands, those of Australia will experience captivity by gentile nations at the end of the age (Amos 5:3; Deuteronomy 28:41-50).
Not completely satisfied with only USA protection (which will fail), the Australians have tried to make deals with India (which will also fail; cf. Lamentations 1:1-2):
July 1, 2014

Australia and India are deepening military ties and reviving the spirit of a controversial four-way democratic coalition with Japan and the United States, in response to growing concerns about China. http://www.smh.com.au/world/australia-and-india-to-strengthen-military-ties-20140701-zss9o.html#ixzz36d6ll20
Australians are concerned about China. But its military steps will not be adequate–it would need to nationally repent.
Since it is a European-led force with major Germanic involvement that will take over the USA, the continued ties with China as consistent with the view that perhaps Europe may be inclined to give China something (like land) in the future.  Anglo-Saxon captivity is foretold of in the Bible and various scriptures show that this involves both Europeans and Asians (for details, please see Will the Anglo-Saxon Nations be Divided and Have People Taken as Slaves?).
Angela Merkel, herself, has been upset by the USA's espionage of her nation and herself personally.  As I reported yesterday, Germany has claimed that the USA has conducted additional espionage against it (see The Fourth of July and the USA).  While I would not say that Germany trusts China, Germany is increasingly trying to figure out how to rise and dominate the world apart from the USA.  Her new trip to China seems to be consistent with that.
Some items of possibly related interest may include:
Is China THE Threat to the United States of America? China is the world's most populace nation. China has the world's largest standing military. China is a major economic power and it holds a lot of U.S. debt. China also has problems with corruption, pollution, and its hukou registration system. Will China face civil unrest? Is China prophesied to be wealthy in the end times? Will China takeover the U.S.A. or will it be another power? What does Bible prophecy reveal?
China, Its Biblical Past and Future, Part 1: Genesis and Chinese Characters Where did the Chinese people come from? This article provides information showing that the Chinese peoples must have known about various accounts in the Book of Genesis up until their dispersion after the Tower of Babel.
China, Its Biblical Past and Future, Part 2: The Sabbath and Some of God's Witness in China When did Christianity first come to China? And is there early evidence that they observed the seventh day sabbath?
Asia in Prophecy What is Ahead for Asia? Who are the "Kings of the East"? What will happen to nearly all the Chinese, Russians, Indians, and others of Asia? China in prophecy, where? Who has the 200,000,000 man army related to Armageddon?
Japan, Its Biblical Past and Future, Part 1: Any Witness? Where did the Japanese people come from? Have they had any witness?
Japan, Its Biblical Past and Future, Part 2: Prophecy Japan in prophecy. What is prophesied for Japan? Will God save the Japanese?
Europa, the Beast, and Revelation Where did Europe get its name? What might Europe have to do with the Book of Revelation? What about "the Beast"? Is an emerging European power "the daughter of Babylon"? What is ahead for Europe? Here is a link to a video titled: Can You Prove that the Beast to Come is European?
Who is the King of the North? Is there one? Do biblical and Roman Catholic prophecies for the Great Monarch point to the same leader? Should he be followed? Who will be the King of the North discussed in Daniel 11? Is a nuclear attack prophesied to happen to the English-speaking peoples of the United States, Great Britain, Canada, Australia, and New Zealand? When do the 1335 days, 1290 days, and 1260 days (the time, times, and half a time) of Daniel 12 begin? When does the Bible show that economic collapse will affect the United States? Here is a link to a video titled: The Future King of the North.
Might German Baron Karl-Theodor zu Guttenberg become the King of the North? Could He Become "the Beast"? What makes the German Defense Minister a candidate?
Germany's Assyrian Roots Throughout History Are the Germanic peoples descended from Asshur of the Bible? Have there been real Christians in Germanic history? What about the "Holy Roman Empire"?
Germany in Biblical and Catholic Prophecy Does Assyria in the Bible equate to an end time power inhabiting the area of the old Roman Empire? What does prophecy say Germany will do and what does it say will happen to most of the German people?
Will USA Spying Help the Beast Power? Various allegations have surfaced about the United States government spying on its own citizens as well as its supposed allies in the European Union. Whether or not all the espionage allegations are true, and the main ones have not been publicly denied by the government of the USA, the reality is that this does have prophetic ramifications and will help the Beast of Revelation. This video provides quotes from the Bible showing how this is so. The USA is placing itself in a position to be taken over and its response to the allegations will make it easier for the Europeans to do so.
Anglo – America in Prophecy & the Lost Tribes of Israel Are the Americans, Canadians, English, Scottish, Welsh, Australians, Anglo-Saxon (non-Dutch) Southern Africans, and New Zealanders descendants of Joseph? Where are the lost ten-tribes of Israel? Who are the lost tribes of Israel? What will happen to Jerusalem and the Jews in Israel? Will God punish the U.S.A., Canada, United Kingdom, and other Anglo-Saxon nations? Why might God allow them to be punished first? Here is a link to the Spanish version of this article: Anglo-América & las Tribus Perdidas de Israel. Information is also in the YouTube sermons titled Where are the Ten Lost Tribes? Why does it matter? and British are the Covenant People. A short YouTube of prophetic interest may be Barack Obama and the State of the Apocalypse.
Will the Anglo-Saxon Nations be Divided and Have People Taken as Slaves? Will the lands of the United States, United Kingdom, Canada, Australia, and New Zealand be divided? What about Jerusalem? What does Bible prophecy teach? Are there non-biblical prophecies that support this idea? Who will divide those lands? Who will end up with the lands and the people? Here is a link to a video titled Will the USA and other Anglo-nations be Divided and Their People Made Slaves? Here is a related item in the Spanish language ¿Serán divididas las naciones anglosajonas?
British are the Covenant People What do 'British' and 'Britain' mean in Hebrew? Are the descendants of the Anglo-Saxons people of the covenant? Does the British royal family connect to the throne of David? What does the Bible teach? What does history show us? Is there any DNA evidence related to British-Israelism? When did Christianity make it to the British Isles? Could Jeremiah have made it to the British Isles? What type of Christians made it to the British Isles? Did the last King of England believe in British Israelism?
Do Prophets Cite False Prophecies? What does the Bible teach? What has traditionally been understood about this?
Satan's Plan Does Satan have a plan? What is it? Has it already been successful? Will it be successful in the future? Here is a link to a related video: Satan's Plan A Brief Introduction.
Some Doctrines of Antichrist Are there any doctrines taught outside the Churches of God which can be considered as doctrines of antichrist? This article suggests at least three. It also provides information on 666 and the identity of "the false prophet." Plus it shows that several Catholic writers seem to warn about an ecumenical antipope that will support heresy. You can also watch a video titled What Does the Bible teach about the Antichrist?