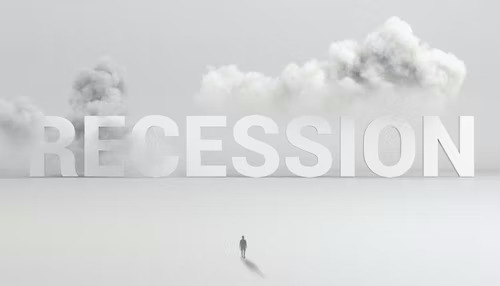 (Unsplash photo)
Though the data has pointed to the USA already being in a recession, the head of the US Federal Reserve thinks he may help cause a recession:
Powell's stark message: Inflation fight may cause recession

September 22, 2022

WASHINGTON (AP) — The Federal Reserve delivered its bluntest reckoning Wednesday of what it will take to finally tame painfully high inflation: Slower growth, higher unemployment and potentially a recession.

Speaking at a news conference, Chair Jerome Powell acknowledged what many economists have been saying for months: That the Fed's goal of engineering a "soft landing" — in which it would manage to slow growth enough to curb inflation but not so much as to cause a recession — looks increasingly unlikely. …

"The chances of a soft landing," Powell said, "are likely to diminish" as the Fed steadily raises borrowing costs to slow the worst streak of inflation in four decades. "No one knows whether this process will lead to a recession or, if so, how significant that recession would be."

"We have got to get inflation behind us," Powell said. "I wish there were a painless way to do that. There isn't."
Powell's remarks followed another substantial three-quarters of a point rate hike — its third straight — by the Fed's policymaking committee. https://apnews.com/article/inflation-jerome-powell-unemployment-government-and-politics-96092b0d276a604b3c1e83f44b8e2ec9?utm_source=homepage&utm_medium=TopNews&utm_campaign=position_04
Chairman Powell's claim that there is not "a painless way" to get inflation behind us is not quite the case.
The government of the USA and various of its states could easily change rules to allow more drilling of oil off the Gulf and California coasts, as well as in Alaska, plus open the Keystone pipeline. That would result in a massive reduction in the price of oil and fertilizers, plus would also reduce transportation costs. The governments could also provide incentives for more food production, which would lower food costs.
Instead, the Fed plan is to increase interest rates (which have been artificially low) in an effort to slow down the economy and reduce wage demands.
Bloomberg put out the following this past Summer:
Is the US in a Recession Yet? What You Need To Know and How To Prepare

July 14, 2022

The dreaded R word has been thrown around a lot recently. … recession …

Here's what you need to know about recessions and how to prepare:

What's a Recession?

The official definition varies. Some define a recession as two consecutive quarters in which output declines. The National Bureau of Economic Research is technically in charge of declaring recessions, which it defines as "a significant decline in economic activity that is spread across the economy and that lasts more than a few months."

The committee meets in secret and is comprised of economists and academics, or "eggheads" according to one past member. It usually takes them about a year to decide on a recession call.

The length of a recession can vary widely. For instance, the pandemic-fueled recession in 2020 lasted only two months, while the Great Recession went on for about 18 months.

Are We In One?

It depends who you ask. …

For those concerned about layoffs, try to build up emergency savings of least three to six months of living expenses, experts say. If you do experience a job loss, remember you have options — there are still lots of openings.  …

What Else Can I Do?

The most common advice from financial experts: Don't panic. …

Noah Damsky, a financial planner at Marina Wealth Advisors, recommends some overall "belt tightening." Cutting down on discretionary expenses and boosting savings is always a good idea, but especially so when a recession might be coming. https://www.bloomberg.com/news/articles/2022-07-14/is-the-us-in-a-recession-how-to-prepare-for-economic-downturn
Notice also something from Fortune:
Prepare for a 'long and ugly' recession, says Dr. Doom, the economist who predicted the 2008 crash

September 21, 2022

Nouriel Roubini—a New York University professor and the CEO of Roubini Macro Associates—whose prescience of the 2007 and 2008 housing market crash earned him the nickname Dr. Doom—seems to have chosen a side.

In an interview with Bloomberg this week, Roubini said that a recession is likely to hit the U.S. by the end of 2022 before spreading globally next year, conceivably lasting for the entirety of 2023.

"It's not going to be a short and shallow recession; it's going to be severe, long, and ugly," Roubini said.

The debt problem

To fend off rising U.S. inflation, the Federal Reserve has implemented an aggressive series of interest rate hikes to put the brakes on the economy. The goal is to engineer a soft landing for the economy, where inflation returns to the Fed's target 2% annual rate, without triggering a prolonged economic downturn or significant rise in unemployment.

But with the current economic climate, the Fed's soft landing goal is "mission impossible" according to Roubini, who sees the rapid rise in both corporate and government debt over the past year as a damning indicator.

During the 2008 recession, Roubini argued that large amounts of consumer and corporate debt had been mismanaged and neglected by credit agencies and the federal government, contributing to the downturn. In his interview with Bloomberg, he noted that very similar threats are facing the economy today. …

The "long and ugly recession" will also devastate financial markets, Roubini warned.

Worst-case scenario

But despite interest rate hike after interest rate hike, Roubini said that inflation in the U.S. could persist due to rippling supply-chain shocks from the pandemic, the ongoing consequences of the Ukraine war, and China's zero-COVID policy continuing to slow economic activity in the country.

That combination of low economic growth and unyielding inflation could lead to a global worst-case scenario of 1970s-style stagflation, Roubini warned, where prices remain high but economies stagnate anyway. Institutions including the World Bank have warned multiple times this year that a return to 1970s stagflation remains a serious concern for the global economy. https://fortune.com/2022/09/21/long-ugly-recession-dr-doom-nouriel-roubini/
At over $30.9 trillion in debt, the USA has a major problem–and increases in interest rates make that debt raise even faster. And, by the way, the "Worst-case scenario" is much worse than Fortune is reporting about.
Notice also:
September 21, 2022

Federal Reserve rate hikes will add trillions to the national debt, according to an analysis by the Committee for a Responsible Federal Budget.

The Fed delivered another 75-basis point rate-hike during its September FOMC meeting this afternoon and made it clear that rates will be 'higher for longer' to fight persistently high inflation. According to the Committee for a Responsible Budget (CFRB), rate hikes will add another $2.1 trillion to the national debt over the next decade.

The debt current stands at $30.9 trillion.

Every increase in interest rate raises the federal government's interest expense. So far in fiscal 2022, the US Treasury has forked out $471 billion just to fund the government's interest payments.

To put that number into context, at this point in fiscal 2021 the Treasury's interest expense stood at $356 billion. That represents a 30%  year-on-year increase. Interest expense ranks as the sixth largest budget expense category, about $250 billion below Medicare. If interest rates remain elevated or continue rising, interest expenses could climb rapidly into the top three federal expenses. …

Interest expense isn't the only problem the Fed's inflation fight creates for the US government. Along with raising rates, the Fed is shrinking its balance sheet. That means it's not buying Treasury bonds. The federal government needs the central bank to continue buying Treasuries in order to prop up the market and enable its borrowing. Without the Fed's intervention in the bond market, prices will tank, driving interest rates on US debt even higher.

Something has to give.

The Fed can't simultaneously fight inflation and prop up Uncle Sam's spending spree. Either the government will have to cut spending or the Fed will have to keep creating money out of thin air in order to monetize the debt. https://schiffgold.com/key-gold-news/interest-rate-hikes-will-add-trillions-to-national-debt/
That said, related to recession, Michael Snyder posted the following:
5 Things That You Should Start Doing Immediately To Prepare For The Severe Recession That Is Ahead

Do you remember what economic conditions were like in 2008 and 2009? Well, what is ahead of us is likely to be significantly worse. …

Well, the following are 5 things that you can do right now to get prepared for the severe recession that is ahead…

#1 Make Sure That You Have A Source Of Income

Last year, if you didn't have a source of income it wasn't that big of a deal.  … But now things are changing very quickly.  The number of job openings is plunging, and layoff announcements have started to spike. …

#2 Build Up Your Emergency Fund

When a recession hits, it is extremely important that you are able to continue to pay the bills no matter what happens. …

Now is the time to build up a very large emergency fund. Cutting your spending will help you to do that. …

#3 Get Out Of Debt

After you have built up your emergency fund, getting out of debt should be a high priority. …

#4 Stock Up On Essentials Now

Prices are going to keep going higher.

So that means that the things that you are going to need during the months ahead will not be any cheaper than they are right now.

Don't spend money on unnecessary items, but for the essentials that you use on a regular basis it is a good idea to stock up right now while you still can.

#5 Maintain A Positive Attitude

This is so important.

Have you ever known anyone that was truly successful in life that had a negative attitude about everything? 07/13/22 http://endoftheamericandream.com/5-things-that-you-should-start-doing-immediately-to-prepare-for-the-severe-recession-that-is-ahead/
Yes, we should take physical steps and have the right attitude. Despite how the world views debt, it is good not to be in debt.
Nationally, more could be produced.
Yes, if there is more supply this would help reduce the inflation rate as well as generally improve the economies of those that produce more.
However, the Bible points to food shortages and food price inflation:
5 When He opened the third seal, I heard the third living creature say, "Come and see." So I looked, and behold, a black horse, and he who sat on it had a pair of scales in his hand. 6 And I heard a voice in the midst of the four living creatures saying, "A quart of wheat for a denarius, and three quarts of barley for a denarius; and do not harm the oil and the wine." (Revelation 6:5-6)
The prophecy of the third horseman of the Apocalypse is starting to come to pass.
If government leaders believed the Bible, they would be willing to take a lot of steps that they seemed to have overlooked.
That said, related to inflation, the Continuing Church of God (CCOG) put together the following video:
Inflation has been higher in 2022 than it has been for decades in the USA, Europe, and many other lands. What are some of the disruptions that inflation can cause? What about hyperinflation affecting places like Venezuela? Did the Book of Haggai predict inflation? Is food price inflation associated with the ride of the third horseman of the Apocalypse? Does sin and government mismanagement cause inflation? Are there physical things one can do about inflation? What about storing food or buying gold? Will gold outlast the USA dollar? Why might some throw their gold in the street as Ezekiel prophesied? What should God's people do about inflation? What did Jesus teach about food worries? What about seeking the Kingdom of God? Steve Dupuie and Dr. Thiel cover these matters.
In the world, we see a lot of economic uncertainty.
There are recessions, sometimes stagflation, disasters, weather issues, wars, and even severe depressions that affect income and physical needs.
One can lose a job at almost anytime. There could also be health problems or even the death of the main income provider.
But there are things you can and should do.
Notice the following:
1 A certain woman of the wives of the sons of the prophets cried out to Elisha, saying, "Your servant my husband is dead, and you know that your servant feared the Lord. And the creditor is coming to take my two sons to be his slaves."

2 So Elisha said to her, "What shall I do for you? Tell me, what do you have in the house?" And she said, "Your maidservant has nothing in the house but a jar of oil."

3 Then he said, "Go, borrow vessels from everywhere, from all your neighbors — empty vessels; do not gather just a few. 4 And when you have come in, you shall shut the door behind you and your sons; then pour it into all those vessels, and set aside the full ones."

5 So she went from him and shut the door behind her and her sons, who brought the vessels to her; and she poured it out. 6 Now it came to pass, when the vessels were full, that she said to her son, "Bring me another vessel."

And he said to her, "There is not another vessel." So the oil ceased. 7 Then she came and told the man of God. And he said, "Go, sell the oil and pay your debt; and you and your sons live on the rest." (2 Kings 4:1-7)
Now, while the above involved a miracle, the concept of paying off debt and having savings is something God's people should strive to do.
Notice also:
7 The rich rules over the poor,
And the borrower is servant to the lender. (Proverbs 22:7)
Instead of being in debt, God's people should strive to save:
But they should also be givers and rely on God's blessings:
8 "Will a man rob God? Yet you have robbed Me! But you say, 'In what way have we robbed You?' In tithes and offerings. 9 You are cursed with a curse, For you have robbed Me, Even this whole nation. 10 Bring all the tithes into the storehouse, That there may be food in My house, And try Me now in this," Says the Lord of hosts, "If I will not open for you the windows of heaven And pour out for you such blessing That there will not be room enough to receive it. 11 "And I will rebuke the devourer for your sakes, … (Malachi 3:8-11)

4 Let each of you look out not only for his own interests, but also for the interests of others. (Philippians 2:4)

6 But this I say: He who sows sparingly will also reap sparingly, and he who sows bountifully will also reap bountifully. 7 So let each one give as he purposes in his heart, not grudgingly or of necessity; for God loves a cheerful giver. 8 And God is able to make all grace abound toward you, that you, always having all sufficiency in all things, may have an abundance for every good work. 9 As it is written:

"He has dispersed abroad,
He has given to the poor;
His righteousness endures forever. (2 Corinthians 9:6-9)
Yes, we need to also consider helping others.
And all should heed the words of Jesus:
25 "Therefore I say to you, do not worry about your life, what you will eat or what you will drink; nor about your body, what you will put on. Is not life more than food and the body more than clothing? 26 Look at the birds of the air, for they neither sow nor reap nor gather into barns; yet your heavenly Father feeds them. Are you not of more value than they? 27 Which of you by worrying can add one cubit to his stature?

28 "So why do you worry about clothing? Consider the lilies of the field, how they grow: they neither toil nor spin; 29 and yet I say to you that even Solomon in all his glory was not arrayed like one of these. 30 Now if God so clothes the grass of the field, which today is, and tomorrow is thrown into the oven, will He not much more clothe you, O you of little faith?

31 "Therefore do not worry, saying, 'What shall we eat?' or 'What shall we drink?' or 'What shall we wear?' 32 For after all these things the Gentiles seek. For your heavenly Father knows that you need all these things. 33 But seek first the kingdom of God and His righteousness, and all these things shall be added to you. (Matthew 6:25-33)

4 "It is written, 'Man shall not live by bread alone, but by every word that proceeds from the mouth of God.'" (Matthew 4:4)
Yes, we need to seek first the Kingdom of God. And the word of God says we should ttry not to be in debt, we should try to have savings, and we are to be givers.
All of these should be part of our preparations.
As far as other physical steps, you can see our article: Physical Preparation Scriptures for Christians.
Some items of possibly related interest may include:
Physical Preparation Scriptures for Christians. We all know the Bible prophecies famines. Should we do something? Here is a version in the Spanish language Escrituras sobre Preparación física para los Cristianos. Here is a link to a related sermon: Physical preparedness for Christians.
Is God Calling You? This booklet discusses topics including calling, election, and selection. If God is calling you, how will you respond? Here is are links to related sermons: Christian Election: Is God Calling YOU? and Predestination and Your Selection. A short animation is also available: Is God Calling You?
Christian Repentance Do you know what repentance is? Is it really necessary for salvation? Two related sermons about this are also available: Real Repentance and Real Christian Repentance.
Tithing Questions and Some Answers Answers questions about tithing and also addresses some non-biblical arguments against tithing. Should people tithe?Here is a link to a related sermon: Tithes and Tithing. Here is a link to an older sermon: Tithing Answers from the Bible.Might the U.S.A. Be Gone by 2028? Could the USA be gone by the end of 2028 or earlier? There is a tradition attributed to the Hebrew prophet Elijah that humanity had 6,000 years to live before being replaced by God's Kingdom. There are scriptures, writings in the Talmud, early Christian teachings that support this. Also, even certain Hindu writings support it. Here is a link to a related video: Is the USA prophesied to be destroyed by 2028? In Spanish: Seran los Estados Unidos Destruidos en el 2028?
The Plain Truth About Gold in Prophecy. How Should a Christian View Gold? What do economists and the Bible teach about gold? Gold and silver may drop in value. Inflation/deflation? What do Christians need to know about gold? Two videos of related interest are Beast Prophecies and European Gold and Germany, Gold, and the US Dollar.
USA in Prophecy: The Strongest Fortresses Can you point to scriptures, like Daniel 11:39, that point to the USA in the 21st century? This article does. Two related sermon are available: Identifying the USA and its Destruction in Prophecy and Do these 7 prophesies point to the end of the USA?
Who is the King of the West? Why is there no Final End-Time King of the West in Bible Prophecy? Is the United States the King of the West? Here is a version in the Spanish language: ¿Quién es el Rey del Occidente? ¿Por qué no hay un Rey del Occidente en la profecía del tiempo del fin? A related sermon is also available: The Bible, the USA, and the King of the West.
Who is the King of the North? Is there one? Do biblical and Roman Catholic prophecies for the Great Monarch point to the same leader? Should he be followed? Who will be the King of the North discussed in Daniel 11? Is a nuclear attack prophesied to happen to the English-speaking peoples of the United States, Great Britain, Canada, Australia, and New Zealand? When do the 1335 days, 1290 days, and 1260 days (the time, times, and half a time) of Daniel 12 begin? When does the Bible show that economic collapse will affect the United States? In the Spanish language check out ¿Quién es el Rey del Norte? Here are links to two related videos: The King of the North is Alive: What to Look Out For and The Future King of the North.
The Great Monarch: Biblical and Catholic Prophecies Is the 'Great Monarch' of Catholic prophecies endorsed or condemned by the Bible? Two sermons of related interest are also available: Great Monarch: Messiah or False Christ? and Great Monarch in 50+ Beast Prophecies.
Europa, the Beast, and Revelation Where did Europe get its name? What might Europe have to do with the Book of Revelation? What about "the Beast"? Is an emerging European power "the daughter of Babylon"? What is ahead for Europe? Here is a link to a video titled: Can You Prove that the Beast to Come is European?
European Technology and the Beast of Revelation Will the coming European Beast power would use and develop technology that will result in the taking over of the USA and its Anglo-Saxon allies? Is this possible? What does the Bible teach? Here is a related YouTube video: Military Technology and the Beast of Revelation.
Anglo – America in Prophecy & the Lost Tribes of Israel Are the Americans, Canadians, English, Scottish, Welsh, Australians, Anglo-Saxon (non-Dutch) Southern Africans, and New Zealanders descendants of Joseph? Where are the lost ten-tribes of Israel? Who are the lost tribes of Israel? What will
Anglo – America in Prophecy & the Lost Tribes of Israel Are the Americans, Canadians, English, Scottish, Welsh, Australians, Anglo-Saxon (non-Dutch) Southern Africans, and New Zealanders descendants of Joseph? Where are the lost ten-tribes of Israel? Who are the lost tribes of Israel? What will happen to Jerusalem and the Jews in Israel? Will God punish the U.S.A., Canada, United Kingdom, and other Anglo-Saxon nations? Why might God allow them to be punished first? Here is a link to the Spanish version of this article: Anglo-América & las Tribus Perdidas de Israel. Information is also in the YouTube sermons titled Where are the Ten Lost Tribes? Why does it matter? and British are the Covenant People. A short YouTube of prophetic interest may be: Are Chinese threats against Australia for real?
Will the Anglo-Saxon-Celtic Nations be Divided and Have People Taken as Slaves? Will the lands of the United States, United Kingdom, Canada, Australia, and New Zealand be divided? What about Jerusalem? What does Bible prophecy teach? Are there non-biblical prophecies that support this idea? Who will divide those lands? Who will end up with the lands and the people? Here is a link to a video titled Will the USA and other Anglo-nations be Divided and Their People Made Slaves? Here is a related item in the Spanish language ¿Serán divididas las naciones anglosajonas?
British are the Covenant People What do 'British' and 'Britain' mean in Hebrew? Are the descendants of the Anglo-Saxons people of the covenant? Does the British royal family connect to the throne of David? What does the Bible teach? What does history show us? Is there any DNA evidence related to British-Israelism? When did Christianity make it to the British Isles? Could Jeremiah have made it to the British Isles? What type of Christians made it to the British Isles? Did the last King of England believe in British Israelism?
Canada in Prophecy: What Does Bible Prophecy, Catholic Prophecy, and other Predictions Suggest About the Future of Canada? There are prophecies that suggest involvement with Canada. And many are not positive about its future. A sermon of related interest is also available: Canada in Prophecy.
Australia and New Zealand in Prophecy Do biblical prophecies help explain the wealth blessings for Australia and New Zealand? Might cursings from disobedience come in the 21st century? Here is a link to a related sermon: Australia and New Zealand: Origins and Prophecy.
Does God Have a 6,000 Year Plan? What Year Does the 6,000 Years End? Was a 6000 year time allowed for humans to rule followed by a literal thousand year reign of Christ on Earth taught by the early Christians? Does God have 7,000 year plan? What year may the six thousand years of human rule end? When will Jesus return? 2030 or 20xx? There is also a video titled 6000 Years: When will God's Kingdom Come? Here is a link to the article in Spanish: ¿Tiene Dios un plan de 6,000 años?
When Will the Great Tribulation Begin? 2022, 2023, or 2024? Can the Great Tribulation begin today? What happens before the Great Tribulation in the "beginning of sorrows"? What happens in the Great Tribulation and the Day of the Lord? Is this the time of the Gentiles? When is the earliest that the Great Tribulation can begin? What is the Day of the Lord? Who are the 144,000? Here is a version of the article in the Spanish language: ¿Puede la Gran Tribulación comenzar en el 2020 o 2021? ¿Es el Tiempo de los Gentiles? A related video is: Great Tribulation: 2026 or 2027? A shorter video is: Can the Great Tribulation start in 2022 or 2023? Here is a video in the Spanish language: Es El 2021 el año de La Gran Tribulación o el Grande Reseteo Financiero.