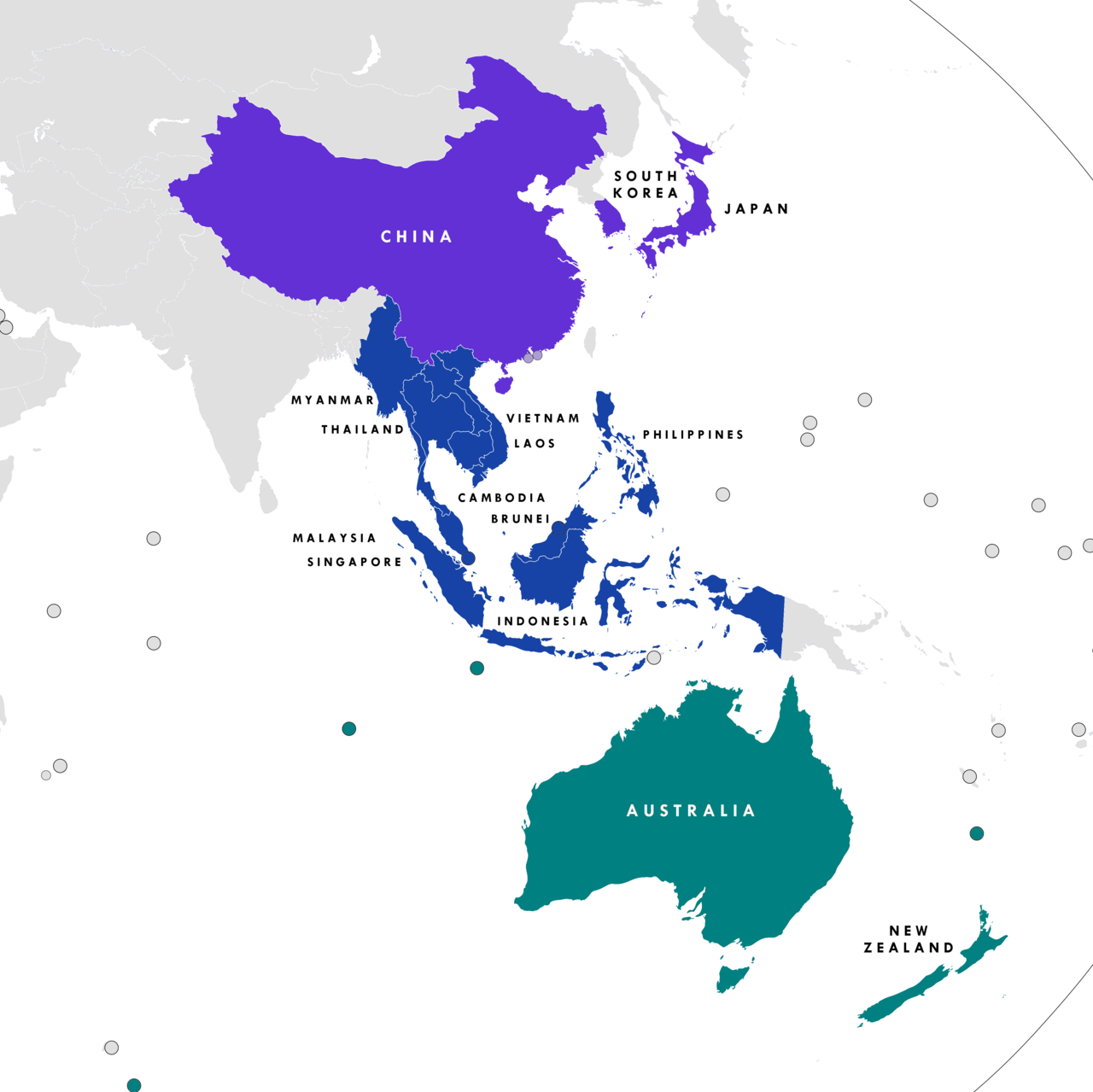 RCEP trading nations (Tiger 7253)

China took a trade action against Australia today:
China Imposes Anti-Dumping Measures on Australian Wine

November 27, 2020

BEIJING – China on Friday said it would impose anti-dumping tariffs on Australian wine, the latest salvo in an increasingly terse standoff between the two that has worsened since Canberra called for an inquiry into the origins of Covid-19.

Beijing has on several occasions used the threat of diminished access to its vast domestic market as a stick to beat Australia and has suspended imports of some products including beef and timber.

In the latest blow, China's commerce ministry announced wine importers will be forced to pay deposits of 107-212 percent of the value of their goods at customs, saying the move was in response to "substantive harm caused to the relevant domestic wine industry".

But Australia's trade minister Simon Birmingham on Friday blasted the punitive measure as "grossly unfair, unwarranted, unjustified", and called the dumping accusation "erroneous in fact and in substance".

At a news conference, Birmingham said there was a "perception" that China was engaging in a "deliberate strategy, piling on pressure in a number of different sectors".

Canberra would continue to raise with the World Trade Organization "our concerns about the number and cumulative effect of China's trade sanctions against Australia", he said.

China's foreign ministry spokesman Zhao Lijian on Friday defended the measures as a legitimate move to protect Chinese winemakers and consumers.

Zhao instead blamed Canberra for strained ties with Beijing, saying "Australia should do some deep introspection" and "reflect on whether they have respected China's interests".

China's ministry of commerce said in August it would probe dumping — when a country sells goods in a country for less than it costs at home — throughout 2019, at the request of the Wine Industry Association of China.

Wine exports to China hit a record A$1.3 billion (US$900 million) last year, according to Australian government data, making it the biggest market by value for Australia.

Friday's news sent shares in Treasury Wine Estates Limited — which owns the popular Penfolds brands — tumbling more than 11 percent before trade was halted.

China's commerce ministry has complained Australian wines benefit from government subsidies that give them an advantage over Chinese products. https://www.voanews.com/east-asia-pacific/china-imposes-anti-dumping-measures-australian-wine
Earlier this month, Australia signed a trade deal (RCEP) with other Pacific nations in a partial attempt to help its trade and to placate China (see 'Asia-Pacific nations sign world's biggest free-trade agreement').
China is showing Australia that it is still not happy with it.
Reasons for the unhappiness have to do with Australia's view of the South China Sea (see 'South China Sea dispute: Australia says Beijing's claims have no legal basis') and the COVID-19 situation (see BI: Australia has enraged China after backing Trump's call for an investigation into how the coronavirus pandemic started; FN: China lashes out at US, claims country is 'lying through their teeth' on coronavirus; threatens Australia).
China has made military threats against Australia in the past. China's Global Times published the following nearly four years ago:
'Paper cat' Australia will learn its lesson

07/31/16

Around the announcement of the arbitration tribunal over the South China Sea, Australia was one of the most delirious countries. Canberra immediately supported the arbitration result and claimed China "must" abide by it, and also signed a joint declaration with the US and Japan. Australia has inked a free trade agreement with China, its biggest trading partner, which makes its move of disturbing the South China Sea waters surprising to many.

Australia is a unique country with an inglorious history. It was at first an offshore prison of the UK and then became its colony, a source of raw materials, overseas market and land of investment. This country was established through uncivilized means, in a process filled with the tears of the aboriginals. …

Australia calls itself a principled country, while its utilitarianism has been sizzling. It lauds Sino-Australian relations when China's economic support is needed, but when it needs to please Washington, it demonstrates willingness of doing anything in a show of allegiance.

Analysts say that besides trying to please the US, it also intends to suppress China so as to gain a bargaining chip for economic interests. China must take revenge and let it know it's wrong. Australia's power means nothing compared to the security of China. If Australia steps into the South China Sea waters, it will be an ideal target for China to warn and strike.

Australia is not even a "paper tiger," it's only a "paper cat" at best. At a time when its former caretaker country the UK is dedicated to developing relations with China, and almost the whole of Europe takes a neutral position, Australia has unexpectedly made itself a pioneer of hurting China's interest with a fiercer attitude than countries directly involved in the South China Sea dispute. But this paper cat won't last. http://www.globaltimes.cn/content/997320.shtml
So, China was indicating that Australia is basically illegitimate (established through uncivilized means) and that its power basically means nothing to China. Furthermore,  China must take revenge and let it know it's wrong.
China obviously feels that Australia is wrong about its rejection of China's claim related to the South China Sea.
China also has long had eyes on Australia. Notice the following:
24 May 2018

Trade Minister Steven Ciobo sought to downplay reports of strained ties with China after state media said Australia should be punished for its arrogance.

In an interview with Bloomberg Television, Ciobo acknowledged that there were differences of opinion and said dialogue between the two trading partners was critical. But he insisted the relationship was on a sound footing.

"None of us get particularly worked up over media. Whether it is media here in Australia or media in China, there are elements of it that frankly hyperventilate," Ciobo said Thursday. "What matters is the high-level discussions that actually take place."

China's Foreign Minister Wang Yi earlier this week blamed Australia for difficulties in the relationship, saying the nation should "discard its traditional thinking and take off its tinted glasses to take a proactive approach towards China's development." …

China's Global Times newspaper this week said Beijing should cut imports to teach "arrogant" Australia a lesson and leave it "hanging for a while."

Ciobo said that China had in the past accused Australia of being too "beholden" to the U.S. — its most important security partner. China is Australia's biggest trading partner. https://www.bloomberg.com/news/articles/2018-05-23/australia-downplays-china-spat-says-media-can-hyperventilate
China has made similar disparaging comments about Australia before. Contrary to the hopes of people like Australia's Trade Minister Steven Ciobo, this will not end well for Australia. We made a video with Chinese comments about Australia and biblical prophecies that you may wish to watch: Are Chinese threats against Australia for real?
What will Australia do?
Australia has always believed that it doesn't have to choose between its economic relationship with China and its defense alliance with the United States. But 2018 is already shaping up to be the year of the hard choice. …

There is a lot at stake, including potentially Australia's ongoing prosperity.

China is clearly not happy with Australia's adherence to the US alliance and if it follows through on veiled threats to boycott Australian exports and limit investment, Canberra's loyalty to Washington could come at the expense of significant economic pain.

China's hawkish Global Times newspaper, widely viewed as a mouthpiece for the ruling Communist Party, spared no niceties in an op-ed last week that warned Australia against "interference" in the South China Sea (SCS) territorial disputes.

Australia was "kissing up" to the US and risked "poisoning" its relations with China, which could "adopt strong countermeasures which will seriously impact Australian economic development." 01/08/18 http://www.atimes.com/article/australias-hard-choice-china-us/
Militarily, the Aussies realized decades ago that they would want to rely on the USA.
Australia has been cozening up to China on trade for years, but China still has issues with it on that as well.
Australia will learn that the USA will one day be defeated (Daniel 11:39) and not be able to defend it.
Some items of possibly related interest may include:
Australia and New Zealand in Prophecy Do biblical prophecies help explain the wealth blessings for Australia and New Zealand? Might cursings from disobedience come in the 21st century? Here is a link to a related sermon: Australia and New Zealand: Origins and Prophecy.
Trade Disputes: CCOG Warnings Are Coming to Pass Trade tensions and talks of trade wars have escalated. US President Donald Trump has put Europe, China, Mexico, and other lands on notice that he wants to change how international trade with the USA has been going. Tariffs, retaliatory tariffs, and even more tariffs are being implemented. Is this all just happenstance? Are we yet in a trade war? What will Europe do? Has the Church of God been warning about trade disputes and a coming trade war for decades? What about the Continuing Church of God (CCOG)? What has been warned, what has been happening, and what will happen? Will trade disputes be a factor in World War III (WW3)? Dr. Thiel explains what has been taught and what to expect.
Trade Wars: Are COG warnings coming to pass? Trade issues, tariffs, and talk of trade wars are in the news. Can trade wars lead to World War III like they did to World War II? Are the events going on with the USA, UK, Asia, and Europe consistent with warnings published by the true Church of God (COG) over the past several years and decades? Do Germany and China hope to take advantage of trade frictions involving the Trump Administration and the Trans-Pacific Partnership agreement? What about Mexico and South America? Does the Bible teach that Europe will become a major trading power? Will the final European Babylonian trading power be destroyed? Dr. Thiel addresses these issues and more in this video.
Anglo – America in Prophecy & the Lost Tribes of Israel Are the Americans, Canadians, English, Scottish, Welsh, Australians, Anglo-Saxon (non-Dutch) Southern Africans, and New Zealanders descendants of Joseph? Where are the lost ten-tribes of Israel? Who are the lost tribes of Israel? What will happen to Jerusalem and the Jews in Israel? Will God punish the U.S.A., Canada, United Kingdom, and other Anglo-Saxon nations? Why might God allow them to be punished first? Here is a link to the Spanish version of this article: Anglo-América & las Tribus Perdidas de Israel. Information is also in the YouTube sermons titled Where are the Ten Lost Tribes? Why does it matter? and British are the Covenant People. A short YouTube of prophetic interest may be: Are Chinese threats against Australia for real?
Will the Anglo-Saxon-Celtic Nations be Divided and Have People Taken as Slaves? Will the lands of the United States, United Kingdom, Canada, Australia, and New Zealand be divided? What about Jerusalem? What does Bible prophecy teach? Are there non-biblical prophecies that support this idea? Who will divide those lands? Who will end up with the lands and the people? Here is a link to a video titled Will the USA and other Anglo-nations be Divided and Their People Made Slaves? Here is a related item in the Spanish language ¿Serán divididas las naciones anglosajonas?
British are the Covenant People What do 'British' and 'Britain' mean in Hebrew? Are the descendants of the Anglo-Saxons people of the covenant? Does the British royal family connect to the throne of David? What does the Bible teach? What does history show us? Is there any DNA evidence related to British-Israelism? When did Christianity make it to the British Isles? Could Jeremiah have made it to the British Isles? What type of Christians made it to the British Isles? Did the last King of England believe in British Israelism?
Canada in Prophecy: What Does Bible Prophecy, Catholic Prophecy, and other Predictions Suggest About the Future of Canada? There are prophecies that suggest involvement with Canada. And many are not positive about its future. A sermon of related interest is also available: Canada in Prophecy.
USA in Prophecy: The Strongest Fortresses Can you point to scriptures, like Daniel 11:39, that point to the USA in the 21st century? This article does. Two related sermon are available: Identifying the USA and its Destruction in Prophecy and Do these 7 prophesies point to the end of the USA?
Who is the King of the West? Why is there no Final End-Time King of the West in Bible Prophecy? Is the United States the King of the West? Here is a version in the Spanish language: ¿Quién es el Rey del Occidente? ¿Por qué no hay un Rey del Occidente en la profecía del tiempo del fin? A related sermon is also available: The Bible, the USA, and the King of the West.
Who is the King of the North? Is there one? Do biblical and Roman Catholic prophecies for the Great Monarch point to the same leader? Should he be followed? Who will be the King of the North discussed in Daniel 11? Is a nuclear attack prophesied to happen to the English-speaking peoples of the United States, Great Britain, Canada, Australia, and New Zealand? When do the 1335 days, 1290 days, and 1260 days (the time, times, and half a time) of Daniel 12 begin? When does the Bible show that economic collapse will affect the United States? In the Spanish language check out ¿Quién es el Rey del Norte? Here are links to two related videos: The King of the North is Alive: What to Look Out For and The Future King of the North.
Does God Have a 6,000 Year Plan? What Year Does the 6,000 Years End? Was a 6000 year time allowed for humans to rule followed by a literal thousand year reign of Christ on Earth taught by the early Christians? Does God have 7,000 year plan? What year may the six thousand years of human rule end? When will Jesus return? 2028 or 20xx? There is also a video titled 6000 Years: When will God's Kingdom Come? Here is a link to the article in Spanish: ¿Tiene Dios un plan de 6,000 años?
When Will the Great Tribulation Begin? 2020, 2021, or 2022? Can the Great Tribulation begin today? What happens before the Great Tribulation in the "beginning of sorrows"? What happens in the Great Tribulation and the Day of the Lord? Is this the time of the Gentiles? When is the earliest that the Great Tribulation can begin? What is the Day of the Lord? Who are the 144,000? Here is a version of the article in the Spanish language: ¿Puede la Gran Tribulación comenzar en el 2020 o 2021? ¿Es el Tiempo de los Gentiles? You can also see the English language sermon videos: The Great Tribulation from the Mount of Olives and Can the Great Tribulation begin before 2020? A shorter and newer video is: Could the Great Tribulation Begin in 2020?
The Times of the Gentiles Has there been more than one time of the Gentiles? Are we in it now or in the time of Anglo-America? What will the final time of the Gentiles be like? A related sermon is available and is titled: The Times of the Gentiles.
Armageddon Who is involved and when will this gathering happen? Here is also a video from Dr. Thiel, from Tel Megiddo in Israel: Armageddon. Other videos include: Armageddon Will it come on Trump's watch?, Iraq, Armageddon, & Prophecy, Freemasonry, Armageddon, and Rome, Is China paving roads to Armageddon?, and Jordan, Petra, and Armageddon.