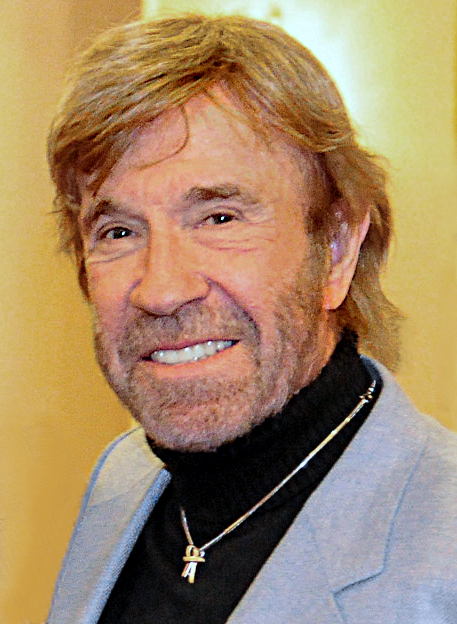 Chuck Norris
(Photo by Staff Sgt. Tony Foster, Division West Public Affairs)
Martial arts actor, Chuck Norris, wrote the following:
We owe, we owe, so it's off to China we go (again?)

There has been much said and written about the White House's new world-record-breaking $6 trillion dollar budget. But what I have to say will absolutely convince you the fiscal insanity coming from the Oval Office will cripple our economy and your future and family, too.  …
Today, under Mr. Biden's proposal, the federal budget would stand at a staggering $6 trillion (the largest in U.S. history). The national deficit is a colossal $1.931 trillion, and the national debt is three times the amount of 2007 at a gargantuan $28 trillion dollars. …

And to add insult to injury, our vassalage or slavery to other countries deepens as they bankroll increasing amounts of U.S. debt, with more than one-half of it being held by private investors in foreign lands. …

China remains the greatest threat to our economy: "China gets a lot of attention for holding a big chunk of the U.S. government's debt and for good reason, given its rapidly expanding economy … with $1.07 trillion in Treasury holdings in April 2020, just behind Japan."

The size, scope, growth and communist political regime of China make it the No. 1 threat to U.S. economic and national power, stability and security, according to Market Watch. And yet, they continue to purchase our national debt like its candy, and we in turn further bolster the Chinese economy by continuing to purchase myriad products made in China. What am I missing?

And what's Biden's plan to pull us out of this fiscal bondage and foreign servitude? Spend more and let China purchase more of the U.S. via its debt? It is a surreal economic nightmare that foreign investors own more of the U.S. national debt than the U.S. government itself! …

Why doesn't the White House and Congress recognize how vulnerable and susceptible foreign ownership – especially by enemies of the state – leaves the U.S.?  06/07/21 https://www.wnd.com/2021/06/owe-owe-off-china-go/
To answer his, "What am I missing?" question, the answer is that Chuck Norris is missing at least two things.
The first is many scriptures by him as well as the White House and Congress. The Bible clearly warns that an indebted people will be destroyed by people whose language that they do not understand, and that the destruction will be fairly total:
43 The alien who is among you shall rise higher and higher above you, and you shall come down lower and lower. 44 He shall lend to you, but you shall not lend to him; he shall be the head, and you shall be the tail. 45 Moreover all these curses shall come upon you and pursue and overtake you, until you are destroyed…47 "Because you did not serve the LORD your God with joy and gladness of heart, for the abundance of everything, 48 therefore you shall serve your enemies, whom the LORD will send against you, in hunger, in thirst, in nakedness, and in need of everything; and He will put a yoke of iron on your neck until He has destroyed you. 49 The LORD will bring a nation against you from afar, from the end of the earth, as swift as the eagle flies, a nation whose language you will not understand, 50 a nation of fierce countenance, which does not respect the elderly nor show favor to the young. 51 And they shall eat the increase of your livestock and the produce of your land, until you are destroyed; they shall not leave you grain or new wine or oil, or the increase of your cattle or the offspring of your flocks, until they have destroyed you. 52 They shall besiege you at all your gates until your high and fortified walls, in which you trust, come down throughout all your land; and they shall besiege you at all your gates throughout all your land which the LORD your God has given you (Deuteronomy 28:42-45,47-52).

7 The rich rules over the poor, And the borrower is servant to the lender. (Proverbs 22:7)

13 And the Lord said, "Because they have forsaken My law which I set before them, and have not obeyed My voice, nor walked according to it, 14 but they have walked according to the dictates of their own hearts…16 I will scatter them also among the Gentiles, whom neither they nor their fathers have known. And I will send a sword after them until I have consumed them." (Jeremiah 9:13,14a,16)

12 One-third of you shall die of the pestilence, and be consumed with famine in your midst; and one-third shall fall by the sword all around you; and I will scatter another third to all the winds, and I will draw out a sword after them. (Ezekiel 5:12)
2 Then the Lord answered me and said:

"Write the vision
And make it plain on tablets,
That he may run who reads it.
3 For the vision is yet for an appointed time;
But at the end it will speak, and it will not lie.
Though it tarries, wait for it;
Because it will surely come,
It will not tarry. (Habakkuk 2:2-3)

6 "Will not all these take up a proverb against him,
And a taunting riddle against him, and say,
'Woe to him who increases
What is not his — how long?
And to him who loads himself with many pledges'?
7 Will not your creditors rise up suddenly?
Will they not awaken who oppress you?
And you will become their booty.
8 Because you have plundered many nations,
All the remnant of the people shall plunder you,
Because of men's blood
And the violence of the land and the city,
And of all who dwell in it. (Habakkuk 2:6-8).
The Bible shows that foreign creditors will rise up–and since the USA is the most indebted nation in the history of humanity, scriptures like Habakkuk 2 should not be overlooked. Habakkuk's prophecy is for the appointed time of the end–essentially the time of the Great Tribulation (Matthew 24:21). The USA has been accumulating pledges in the form of US Treasury bonds and notes. Notice that the prophecy says it is so bad, that people should run who read it. That is, they should seriously consider what this means and take the appropriate steps. Yet, most ignore this prophecy.
Most will not believe, but that was expected:
6 "Don't say such things," the people respond. "Don't prophesy like that. Such disasters will never come our way!" (Micah 2:6, New Living Translation)

16 … You say, 'Do not prophesy against Israel, And do not spout against the house of Isaac.' (Amos 7:16)
People will not want to hear! See also Preparing for the 'Short Work' and The Famine of the Word.
The second thing that Chuck Norris missed is that the Bible shows that it will be a European power, not China, that will cause the USA to be taken over (cf. Daniel 11:39).
That does not mean that China will play no role.
It has long been my view that Europe will acquiesce to China acquiring Australia and possibly New Zealand to pay it back for the USA debt it holds that the USA will not pay back as the European King of the North is prophesied to takeover the USA.
Notice the following prophecy:
39 Thus he shall act against the strongest fortresses with a foreign god, which he shall acknowledge, and advance its glory; and he shall cause them to rule over many, and divide the land for gain. (Daniel 11:39)
The "he" is the European King of the North, as verse 40 identifies him. The power with the strongest fortresses, strongest military, is the USA. The dividing of land for gain includes dividing the USA, UK and Canada, and seemingly will include Australia and New Zealand (for more details on that, check out the article Will the Anglo-Saxon-Celtic Nations be Divided and Have People Taken as Slaves?).
Yet, the hope that many people, companies, as well as state and local governments is to have the US federal government further increase MORE of its debt and give them funds to pay off their debts and/or and keep them going.
The debt situation of the USA, UK, and Canada are putting them at risk of hyperinflation as well being unable to recover should it be hit by weather problems, terrorist acts, war, riots, solar flares, severe earthquakes, civil unrest, devastation of their genetically-modified food supplies, food shortages, and/or various pestilences–an intensity of "sorrows" such as Jesus discussed in Matthew 24:4-8 leading up to the time of the Great Tribulation. Disasters such as pestilences, especially if there is an ElectroMagnetic Pulse (emp) attack or a severe solar flare storm, could be part of a so-called "perfect storm" of events that could set the USA, along with Canada, up for destruction.
Now, later in that same article, Chuck Norris does mention scripture:
The fiscal actions being taken by the Oval Office remind me of an ancient Proverb mentioned twice in the Bible just in case we didn't get it the first time: "There is a way that seems right to a man, but in the end it leads to death."

It's high time for all Americans to quit waiting for federal or state governments to provide for your welfare, protection, relief and especially for permission to reboot your life, liberty and pursuit of happiness. It's time for Americans to quit hoping the feds will stabilize your money. It's not going to happen.

We need to protect what God has been good enough to give and to entrust to us: our faith, family, freedom and finances. I believe one of the best options for doing that is learning more and investing more in precious metals like gold and silver, as my wife, Gena, and I have been doing for 40 years. …

It's time for you to look beyond the dollar for your ongoing financial security and safety. Investing in precious metals is your way through and out of the next five years of inflation. 06/07/21 https://www.wnd.com/2021/06/owe-owe-off-china-go/
Gold looks right in certain ways, but is not the true answer.
The debt situation is helping set the USA up for inflation, then ultimately destruction. While the value of gold will outlast that of the USA dollar, repentance and fully following Jesus is that answer.
While the USA still has more time, it is not as much as most think (watch also Is the USA prophesied to be destroyed by 2028?).
And when the USA falls, the UK, Canada, Australia, and New Zealand will fall around the same time.
Some items of possibly related interest may include:
USA in Prophecy: The Strongest Fortresses Can you point to scriptures, like Daniel 11:39, that point to the USA in the 21st century? This article does. Two related sermon are available: Identifying the USA and its Destruction in Prophecy and Do these 7 prophesies point to the end of the USA?
Who is the King of the West? Why is there no Final End-Time King of the West in Bible Prophecy? Is the United States the King of the West? Here is a version in the Spanish language: ¿Quién es el Rey del Occidente? ¿Por qué no hay un Rey del Occidente en la profecía del tiempo del fin? A related sermon is also available: The Bible, the USA, and the King of the West.
The Plain Truth About Gold in Prophecy. How Should a Christian View Gold? What do economists and the Bible teach about gold? Gold and silver may drop in value. Inflation/deflation? What do Christians need to know about gold? A video of related interest may be: Germany, Gold, and the US Dollar.
The End of US Dollar Dominance Is the USA losing its economic status? What about the petro-gold-yuan? A related video is also available: US Dollar being challenged by Gold-Petro-Yuan.
Is God Calling You? This booklet discusses topics including calling, election, and selection. If God is calling you, how will you respond? Here is a link to a related sermon: Could God be Calling You? A short animation is also available: Is God Calling You?
Christian Repentance Do you know what repentance is? Is it really necessary for salvation? A related sermon is also available titled: Real Christian Repentance.
Who is the King of the North? Is there one? Do biblical and Roman Catholic prophecies for the Great Monarch point to the same leader? Should he be followed? Who will be the King of the North discussed in Daniel 11? Is a nuclear attack prophesied to happen to the English-speaking peoples of the United States, Great Britain, Canada, Australia, and New Zealand? When do the 1335 days, 1290 days, and 1260 days (the time, times, and half a time) of Daniel 12 begin? When does the Bible show that economic collapse will affect the United States? In the Spanish language check out ¿Quién es el Rey del Norte? Here are links to two related videos: The King of the North is Alive: What to Look Out For and The Future King of the North.
The Great Monarch: Biblical and Catholic Prophecies Is the 'Great Monarch' of Catholic prophecies endorsed or condemned by the Bible? Two sermons of related interest are also available: Great Monarch: Messiah or False Christ? and Great Monarch in 50+ Beast Prophecies.
Asia in Prophecy What is Ahead for Asia? Who are the "Kings of the East"? What will happen to nearly all the Chinese, Russians, Indians, and others of Asia? China in prophecy, where? Who has the 200,000,000 man army related to Armageddon? Here is a link to a related sermon: Asia in Prophecy. Two YouTube video are Is China THE Threat to the United States of America? and China: A King of the East.
Will the Anglo-Saxon-Celtic Nations be Divided and Have People Taken as Slaves? Will the lands of the United States, United Kingdom, Canada, Australia, and New Zealand be divided? What about Jerusalem? What does Bible prophecy teach? Are there non-biblical prophecies that support this idea? Who will divide those lands? Who will end up with the lands and the people? Here is a link to a video titled Will the USA and other Anglo-nations be Divided and Their People Made Slaves? Here is a related item in the Spanish language ¿Serán divididas las naciones anglosajonas?
British are the Covenant People What do 'British' and 'Britain' mean in Hebrew? Are the descendants of the Anglo-Saxons people of the covenant? Does the British royal family connect to the throne of David? What does the Bible teach? What does history show us? Is there any DNA evidence related to British-Israelism? When did Christianity make it to the British Isles? Could Jeremiah have made it to the British Isles? What type of Christians made it to the British Isles? Did the last King of England believe in British Israelism?
Canada in Prophecy: What Does Bible Prophecy, Catholic Prophecy, and other Predictions Suggest About the Future of Canada? There are prophecies that suggest involvement with Canada. And many are not positive about its future. A sermon of related interest is also available: Canada in Prophecy.
Does God Have a 6,000 Year Plan? What Year Does the 6,000 Years End? Was a 6000 year time allowed for humans to rule followed by a literal thousand year reign of Christ on Earth taught by the early Christians? Does God have 7,000 year plan? What year may the six thousand years of human rule end? When will Jesus return? 2028 or or 2031 or 20xx? There is also a video titled 6000 Years: When will God's Kingdom Come? Here is a link to the article in Spanish: ¿Tiene Dios un plan de 6,000 años?
Might the U.S.A. Be Gone by 2028? Are there prophetic reasons to believe that the USA will not last two complete presidential terms? Yes. There is a tradition attributed to the Hebrew prophet Elijah that humanity had 6,000 years to live before being replaced by God's Kingdom. There are scriptures, writings in the Talmud, early Christian teachings that support this. Also, even certain Hindu writings support it. Here is a link to a related video: Is the USA prophesied to be destroyed by 2028?
The Great Tribulation: What Happens First? What events have happened? What are some events that are now happening? And what events need to happen for the Great Tribulation to start? Here is a link to a related sermon video: Counting Down to the Great Tribulation.
When Will the Great Tribulation Begin? 2021, 2022, or 2023? Can the Great Tribulation begin today? What happens before the Great Tribulation in the "beginning of sorrows"? What happens in the Great Tribulation and the Day of the Lord? Is this the time of the Gentiles? When is the earliest that the Great Tribulation can begin? What is the Day of the Lord? Who are the 144,000? Here is a version of the article in the Spanish language: ¿Puede la Gran Tribulación comenzar en el 2020 o 2021? ¿Es el Tiempo de los Gentiles? A related video is: 2021: The Great Tribulation or the Great Reset?
Biden-Harris: Prophecies and Destruction Can the USA survive two full presidential terms? In what ways are Joe Biden and Kamala Harris apocalyptic? This book has hundreds of prophecies and scriptures to provide details. A Kindle version is also available and you do not need an actual Kindle device to read it. Why? Amazon will allow you to download it to almost any device: Please click HERE to download one of Amazon s Free Reader Apps. After you go to your free Kindle reader app (or if you already have one or a Kindle), you can go to: Biden-Harris: Prophecies and Destruction (Kindle) to get the book in seconds.