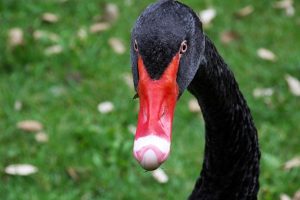 Black Swan with Red Beak

Former US Treasury Secretary David Stockman put out some words of warning:
August 19, 2017

Given the anti-Trump feeding frenzy, we continue to believe that a Swan is on its way bearing Orange. But if that's not enough to dissuade the dip buyers, perhaps the impending arrival of the Red Swan will at least give them pause. …
What is actually going on is a short-lived global credit/growth impulse emanating from China. Beijing panicked early last year and opened up the capital expenditure (CapEx) spigots at the state-owned enterprises (SOEs) out of fear that China's great machine was heading for stall speed at exactly the wrong time.

The 19th national communist party Congress scheduled for late fall of 2017. This every five year event is the single most important happening in the Red Ponzi. This time the event is slated to be the coronation of Xi Jinping as the second coming of Mao.

Beijing was not about to risk an economy fizzling toward a flat line before the Congress. …

However, you cannot grow an economy indefinitely by building pyramids or any other kind of low-return/no return investment – even if the initial growth spurt lasts for years as China's had.

Ultimately, the illusion of Keynesian spending gets exposed and the deadweight costs of malinvestments and excess capacity exact a heavy toll.

If the investment boom that was financed with reckless credit expansion is not enough, as was the case in China where debt grew from $1 trillion in 1995 to $35 trillion today, the morning-after toll is especially severe and disruptive.  This used to be called a "depression."…

China's propagated spurt in global trade and commodities was artificial and short-term. It was done to flatter China's rulers at the 19th party congress.

Now that a favorable GDP glide path has been assured, China's planners and bureaucracy are already back at it trying to find some way to reel in its runaway credit growth and bloated economy before it collapses. …

In sum, during the last 19 months the Rd Ponzi propagated a false upturn in the global economy that is already decisively reversing. This comes at the same time that central banks of the major developed world economies are finally bringing their printing presses to a halt. http://www.zerohedge.com/news/2017-08-19/david-stockman-warns-dont-forget-about-red-swan
Basically, David Stockman is saying that the world is in worse economic shape than it looks, and it looks better than it should because China spent capital to look good for its every 5 year Congress. He indicates that otherwise this would have looked more like a depression. He is also calling what China did a Ponzi scheme (a Ponzi scheme essentially involves bringing in money to make something look better than it really is–eventually Ponzi schemes fail–and fail hard).
Before going further, let me add that US government spending and the Fed's quantitative easing programs (legal 'counterfeiting') have made the US economy look better than it really is–this is another "Ponzi scheme"–and this will not last (cf. Habakkuk 2:6-8).
David Stockman also commented that China has its own credit and other economic problems. David Stockman is correct about that. China is hoping to dominate the world economically as well as to have enough economic growth to quell domestic anxieties. Eventually, this will not work well for China. China hopes that it 'Silk Road' project of China will increase its influence in Asia, the Middle East, Europe, and even Africa, while also contributing to domestic tranquility. Yet, China has not fully funded that project yet (see Will debt derail China and its 'One Belt, One Road' plan?) and is facing some credit issues.
David Stockman also brought up 'swans.'
What do swans have to do with anything? Years ago, unexpected events of major magnitude were called "black swan" events. Notice also the following:
The black swan theory or theory of black swan events . . . was developed by Nassim Nicholas Taleb to explain:

The disproportionate role of high-profile, hard-to-predict, and rare events that are beyond the realm of normal expectations in history, science, finance, and technology
The non-computability of the probability of the consequential rare events using scientific methods (owing to the very nature of small probabilities)
The psychological biases that make people individually and collectively blind to uncertainty and unaware of the massive role of the rare event in historical affairs (Wikipedia, viewed 12/12/13)
Since then, other "swans" have been mentioned. Gray swans are events that look more likely to possibly happen, they are not considered as unlikely/random as black swan events.
Apparently what might happen to Donald Trump is being considered to be an "orange swan," which may be the source of odd and significant events.
China is apparently considered to be a "red swan" by David Stockman for reasons like its red Communist flag and that some of what it may be involved in can be speculated in advance.
What does any of this have to do with prophecy?
The Bible tells us that the power that will dominate trade later this century is not China or the USA, but Europe (cf. Revelation 18).
What is going on with China and the Trump Administration may propel Europe's rise in ways that few will expect.
Strange things are happening.
As far as some potential "black swans" and 2017 go, here is a link to our video: Twelve 'grey swan' events to watch for in 2017?
Some items of possibly related interest may include:
Twelve 'grey swan' events to watch for in 2017? The Japanese financial firm Nomura put out a list of 'ten grey swans' events to look out for in 2017. Indirectly based upon 'black swan' theory, these are events that Nomura believes could greatly impact financial markets in 2017–some of which are related to the election of Donald Trump. Dr. Thiel expounds on each of these ten and adds two additional ones. What is a 'grey swan' and how may events in 2017 impact the future? What were two events in 2016 that look to have significant impact in 2017? Dr. Thiel brings out biblical prophecies that Nomura did not refer to so that you can better understand what will happen, as well as when certain events will not happen. This is a video.
Physical Preparation Scriptures for Christians. We all know the Bible prophecies famines. Should we do something? Here is a version in the Spanish language Escrituras sobre Preparación física para los Cristianos.
Trade Wars: Are COG warnings coming to pass? Trade issues, tariffs, and talk of trade wars are in the news. Can trade wars lead to World War III like they did to World War II? Are the events going on with the USA, UK, Asia, and Europe consistent with warnings published by the true Church of God (COG) over the past several years and decades? Do Germany and China hope to take advantage of trade frictions involving the Trump Administration and the Trans-Pacific Partnership agreement? What about Mexico and South America? Does the Bible teach that Europe will become a major trading power? Will the final European Babylonian trading power be destroyed? Dr. Thiel addresses these issues and more in this video.
Is China paving roads to Armageddon? China is working on something known as the 'Silk Road' project or the "One Belt, One Road" initiative. NBC reports that China intends to spend one trillion dollars to build roads, bridges, railroads, and maritime facilities to reach from China to Europe and China to the Middle East. Over 60 nations, including Russia, are involved with this. Could this Silk Road project possibly produce thoroughfares that could be used by troops that will amass at Armageddon? Dr. Thiel discusses this project and some of its potential prophetic ramifications in this video.
Armageddon Who is involved and when will this gathering happen? Here is also a video from Dr. Thiel, from Tel Megiddo in Israel: Armageddon.
China, Its Biblical Past and Future, Part 1: Genesis and Chinese Characters Where did the Chinese people come from? This article provides information showing that the Chinese peoples must have known about various accounts in the Book of Genesis up until their dispersion after the Tower of Babel. Here is a link to a version of this article in Spanish: ¿Prueban los caracteres chinos la exactitud de la Biblia?
China, Its Biblical Past and Future, Part 2: The Sabbath and Some of God's Witness in China When did Christianity first come to China? And is there early evidence that they observed the seventh day sabbath?
Asia in Prophecy What is Ahead for Asia? Who are the "Kings of the East"? What will happen to nearly all the Chinese, Russians, Indians, and others of Asia? China in prophecy, where? Who has the 200,000,000 man army related to Armageddon? A YouTube video of interest may be Is China THE Threat to the United States of America?
The Eurasian Union, the Kings of the East, and Bible Prophecy Is there a Eurasian union that will be formed? Is one being formed right now? Are any leaders working on that in the 21st century? Does the Bible teach that there will be a Eurasian union? If some type of Eurasian union is formed, who might it benefit and who will it destroy? A related video would be Is The Eurasian Union Rising?
Donald Trump and Mexico's future Mexico has increasingly been in the news because of statements and policies of US President Donald Trump. Many in Mexico are not intending to sit back and accept whatever Donald Trump attempts to force them to do. What will happen to Mexico? Will it make trade deals with Europe? Will it ultimately go to was against the USA? Will the Mexican economy drop at times and then improve? Dr. Thiel answers these questions and more in this video.
Europa, the Beast, and Revelation Where did Europe get its name? What might Europe have to do with the Book of Revelation? What about "the Beast"? Is an emerging European power "the daughter of Babylon"? What is ahead for Europe? Here is a link to a video titled: Can You Prove that the Beast to Come is European?
World War III: Steps in Progress Are there surprising actions going on now that are leading to WWIII? Might a nuclear attack be expected? Does the Bible promise protection to all or only some Christians? How can you be part of those that will be protected? A related video would be Is World War III About to Begin? Can You Escape?
Donald Trump in Prophecy Prophecy, Donald Trump? Are there prophecies that Donald Trump may fulfill? Are there any prophecies that he has already helped fulfill? Could a Donald Trump presidency be apocalyptic? A related video is titled: Donald: 'Trump of God' or Apocalyptic?
Trump Presidency: Magic 8 Ball or Bible Prophecy? BBC reported that one might as well use a 'Magic Eight-Ball' to try to predict what will happen in the remaining time of Donald Trump's presidency. What is a 'Magic Eight-Ball'? Dr. Thiel not only explains that, but also briefly goes over 10 biblically-based warnings he wrote would happen if Donald Trump were elected that have already began to come to pass. He also goes over something he wrote back in 2008 that the Trump presidency is also helping lead to fulfillment. Should you trust Bible prophecy or not? Dr. Thiel says that Bible prophecy can be trusted, despite the view of skeptics and others that either overlook or despise the Bible. This is a video.
When Will the Great Tribulation Begin? 2017, 2018, or 2019? Can the Great Tribulation begin today? What happens before the Great Tribulation in the "beginning of sorrows"? What happens in the Great Tribulation and the Day of the Lord? Is this the time of the Gentiles? When is the earliest that the Great Tribulation can begin? What is the Day of the Lord? Who are the 144,000? Here is a version of the article in the Spanish language: ¿Puede comenzar la Gran Tribulación en 2016 o 2017? ¿Es el Tiempo de los Gentiles? You can also see the English language sermon videos: The Great Tribulation from the Mount of Olives and Can the Great Tribulation begin before 2020? A shorter video is: Will the Great Tribulation Start in 2017?
Does God Have a 6,000 Year Plan? What Year Does the 6,000 Years End? Was a 6000 year time allowed for humans to rule followed by a literal thousand year reign of Christ on Earth taught by the early Christians? Does God have 7,000 year plan? What year may the six thousand years of human rule end? When will Jesus return? 2026 or 20xx? There is also a video titled The 6000 Year Plan: Is the end of humanity's reign almost up? Here is a link to the article in Spanish: ¿Tiene Dios un plan de 6,000 años?The Gospel of the Kingdom of God was the Emphasis of Jesus and the Early Church Did you know that? Do you even know what the gospel of the kingdom is all about? You can also see a YouTube video sermons Why Teach the Kingdom of God, The Gospel of the Kingdom, and The Kingdom of God is the Solution.
WTO/TTIP and the Babylonian Beast Will international trade agreements like WTO/TTIP/CETA lead to the fulfillment of end time prophecies concerning the Babylonian Beast power that the Book of Revelation warns against? What does the Bible teach? A related video would be WTO Trade Deal and the Rise of the European Beast Power.
Anglo – America in Prophecy & the Lost Tribes of Israel Are the Americans, Canadians, English, Scottish, Welsh, Australians, Anglo-Saxon (non-Dutch) Southern Africans, and New Zealanders descendants of Joseph? Where are the lost ten-tribes of Israel? Who are the lost tribes of Israel? What will happen to Jerusalem and the Jews in Israel? Will God punish the U.S.A., Canada, United Kingdom, and other Anglo-Saxon nations? Why might God allow them to be punished first? Here is a link to the Spanish version of this article: Anglo-América & las Tribus Perdidas de Israel. Information is also in the YouTube sermons titled Where are the Ten Lost Tribes? Why does it matter? and British are the Covenant People. A short YouTube of prophetic interest may be Barack Obama and the State of the Apocalypse.
Will the Anglo-Saxon Nations be Divided and Have People Taken as Slaves? Will the lands of the United States, United Kingdom, Canada, Australia, and New Zealand be divided? What about Jerusalem? What does Bible prophecy teach? Are there non-biblical prophecies that support this idea? Who will divide those lands? Who will end up with the lands and the people? Here is a link to a video titled Will the USA and other Anglo-nations be Divided and Their People Made Slaves? Here is a related item in the Spanish language ¿Serán divididas las naciones anglosajonas?
Is the USA now an Evil Empire? Dr. Thiel gives many reasons to consider. A related video is also available: Is the USA an Evil Empire?
USA in Prophecy: The Strongest Fortresses Can you point to scriptures, like Daniel 11:39, that point to the USA in the 21st century? This article does. A related sermon is titled: Do these 7 prophesies point to the end of the USA?