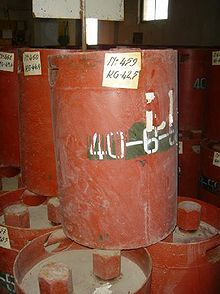 Chemical Weapons Canisters
It is reported that chemical weapons were used in Syria and killed at least hundreds:
August 21, 2013
(Reuters) – Syrian activists accused President Bashar al-Assad's forces of launching a gas attack that killed nearly 500 people on Wednesday, in what would, if confirmed, be by far the worst reported use of chemical arms in the two-year-old civil war.

An opposition monitoring group, citing figures compiled from medical clinics in the Damascus suburbs, put the death toll at 494 – 90 percent of them killed by gas, the rest by bombing and conventional arms.

The rebel Syrian National Coalition said 650 people had been killed. Other rebel groups cited even higher figures.

Images, including some taken by freelance photographers and supplied to Reuters, showed scores of bodies including of small children, laid out on the floor of a clinic with no visible signs of injuries. Reuters was not independently able to verify the cause of their death.

The Syrian armed forces strongly denied using chemical weapons. Syrian state television said the accusations were fabricated to distract a team of U.N. chemical weapons experts which arrived three days ago.  http://www.reuters.com/article/2013/08/21/us-syria-crisis-idUSBRE97K0EL20130821

August 21, 2013

BEIRUT The Syrian opposition said Wednesday that state security forces had launched intense artillery and rocket barrages on the eastern suburbs of the capital Damascus, claiming that hundreds of people died in what was being called a "poisonous gas" attack.

George Sabra, deputy head of the Western-backed Syrian National Coalition, said at a news conference that 1,300 people were killed as shells rained down on the capital's eastern suburbs of Douma, Jobar, Zamalka, Arbeen and Ein Tarma.

The opposition Local Coordination Committees said hundreds of people were killed or injured in the shelling, and a nurse at a health center in Douma put the death toll at 213.  http://www.cbsnews.com/8301-202_162-57599467/syria-opposition-group-claims-1300-killed-in-chemical-attack-in-damascus-suburbs/
August 21, 2013

(CNN) — Syrian opposition groups claimed that hundreds were killed Wednesday when the government used chemical agents in rebel strongholds in the Damascus countryside.

That death toll could be as high as 1,300 people, George Sabra, the head of the Syrian National Council, said at a news conference. The council is an umbrella group that includes those trying to oust President Bashar al-Assad since the spring of 2011.

Videos posted online by opposition activists show lifeless bodies, most with no visible signs of injury. Many of the injured appeared to be convulsing.  http://www.cnn.com/2013/08/21/world/meast/syria-civil-war/

August 21, 2013
Syrian activists say at least 100 people have been killed in a government offensive near the capital, Damascus, where forces loyal to President Bashar al-Assad are alleged to have used chemical weapons.

Syria quickly denied allegations of a chemical attack.  State media reported military activity in the area, saying that government forces had killed "terrorists" – a term used to refer to rebels opposed to Mr. Assad.

The Britain-based Syrian Observatory for Human Rights said the military fired rockets at sites in Eastern Ghouta and Western Ghouta.  It cited activists in the area who said "poisonous gasses" were used.

Britian and the Arab League have called on Syria to allow U.N. invesigators already in the country to examine sites of the alleged chemical attacks…
Khaled Saleh, a spokesman for the main opposition Syrian National Coalition, strongly criticized the reported attacks, calling the situation in the area "extremely dire."

"This really is a slap in the face of humanity, in the face of the U.N., in the face of the Friends of Syria group, it's even a slap in the face of those regimes that support the Assad regime in killing the Syrian people," he said. "What we want is from those inspectors to come in and see the people that were killed in the country side of Damascus. We want them to look at the victims, we want them to investigate who used those chemical weapons."  http://www.voanews.com/content/syrian-activists-accuse-military-of-fresh-chemical-weapons-attacks/1733757.html
This is a terrible destruction of human lives.
A year ago, US President Obama stated in the past that the use of chemical weapons by the Assad regime would be a "red line" that it should not cross, with the implied threat of USA military action.  While the Obama Administration seemed to downplay an earlier incident where chemical weapons were reportedly used in Syria, the current incident may be too big for the USA to pretend did not happen.
Syria has, in the past, admitted to having both chemical and biological weapons. While Syria could not win a straight war with the USA, if it release biological weapons in the USA, this could hurt the USA. And a "street war" is Syria would be costly in lives and economically.
Leaders in the USA and Israel have suggested in the past that they may intervene and attack Syria, as well as its ally Iran. But if the USA and Israel do hit one or more of them, Syria and/Iran would likely not fare well, but that does not mean that the USA would not suffer.  How will Barack Obama deal with this or the current problems in Egypt?
While the USA could, in theory, bomb Syrian military installations, does it dare to?
The reality is that the cost to the USA and/or Israel for a regional war involving Iran and/or Syria will be higher than many in the USA or Israel believe. Between terrorist acts, sustained resistance, chemical weapons (Syria Reportedly Has Loaded Chemical Weapons into Bombs), biological weapons, EMP-type bombs (EMP attack can do more than knock-out electricity), and/or even disruptions of the internet (Iran Believed to be Behind Cyber-Attacks Against US Banks), Iran and/or Syria can inflict significant damage to their enemies.
Yet, the USA and the tiny of nation of Israel will not be eliminated by Iran and/or Syria–it will come later (by the King of the North of Daniel 11:39-40).  And both have dropped fairly public hints that they were willing to intervene militarily in Syria (and Israel has done so directly, see Israel bombs Syria; see also Barack Obama softening 'red line' about Syrian chemical use? and UK and USA reportedly considering invading Syria because of chemical weapons concerns).
Both biblical and Islamic prophecy tell of the destruction of Syria's capital Damascus. Here is some of what Bible prophecies teaches:
7 thus says the Lord God: "It shall not stand, Nor shall it come to pass. 8 For the head of Syria is Damascus (Isaiah 7:7-8)

1 The burden against Damascus. "Behold, Damascus will cease from being a city, And it will be a ruinous heap. (Isaiah 17:1)

23 Against Damascus. "Hamath and Arpad are shamed, For they have heard bad news. They are fainthearted; There is trouble on the sea; It cannot be quiet. 24 Damascus has grown feeble; She turns to flee, And fear has seized her. Anguish and sorrows have taken her like a woman in labor. 25 Why is the city of praise not deserted, the city of My joy? 26 Therefore her young men shall fall in her streets, And all the men of war shall be cut off in that day," says the Lord of hosts. 27 "I will kindle a fire in the wall of Damascus, And it shall consume the palaces of Ben-Hadad." (Jeremiah 49:23-27)
Syria will take some actions to trigger the destruction of Damascus.  Someone will destroy that city.  Since Damascus has NOT ceased to be a city since God had Isaiah write that, the time is coming when Damascus will become a ruinous heap.  And that time may be relatively soon.
Since the Bible also suggests that Syria will support the coming final King of the South (Daniel 11:40-43; Ezekiel 30:1-8) and a change in or from the Assad regime will be necessary for this to happen–and it will come to pass. Syria's Assad will either change, break his prior public commitment to not step down or go into exile, or die.
Whether or not the USA more directly intervenes militarily, Syria will change.
"And what I say to you, I say to all: Watch!" (Mark 13:37).

Some articles of possibly related interest may include:
Damascus and Syria in Prophecy Will Bashar Assad hold power as he has it? Does the Bible show that Damascus, the capital of Syria, will be destroyed? What will happen to Syria? Will the Syrians support the final King of the South that the Bible tells will rise up? Which scriptures discuss the rise and fall of an Arabic confederation? Does Islamic prophecy predict the destruction of Syria. This is a YouTube video.
Is There A Future King of the South? Some no longer believe there needs to be. Might Egypt, Islam, Iran, Arabs, or Ethiopia be involved? Might this King be called the Mahdi? What does the Bible say?
The Arab and Islamic World In the Bible, History, and Prophecy The Bible discusses the origins of the Arab world and discusses the Middle East in prophecy. What is ahead for the Middle East and those who follow Islam? What about the Imam Mahdi? What lies ahead for Turkey, Iran, and the other non-Arabic Muslims? 
Egypt in Prophecy Does Egypt have a special role in end time prophecy? Will Egypt rise up and then be defeated. What does God teach will happen to those in Egypt?
Is There an Islamic Antichrist? Is Joel Richardson correct that the final Antichrist will be Islamic and not European? Find out.
The Muslim Brotherhood and the Rise of the King of the South The Bible tells of the formation of a power of nations that are in the Middle East and North Africa that are part of the final "King of the South" (Daniel 11:40-43) The Muslim Brotherhood wishes to have an Islamic empire with basically the same nations. This YouTube video explains what to expect from such a confederation.
Anglo – America in Prophecy & the Lost Tribes of Israel Are the Americans, Canadians, English, Scottish, Welsh, Australians, Anglo (non-Dutch) Southern Africans, and New Zealanders descendants of Joseph? Where are the lost ten-tribes of Israel? Who are the lost tribes of Israel? What will happen to Jerusalem and the Jews in Israel? Will God punish the U.S.A., Canada, United Kingdom, and other Anglo nations? Why might God allow them to be punished first?
Barack Obama, Prophecy, and the Destruction of the United States This is a 160 page book for people truly interested in prophecies related to Barack Obama and the United States, including learning about many that have already been fulfilled (which the book documents in detail) and those that will be fulfilled in the future. It also has a chapter about a Republican choice. This book is available to order at www.barackobamaprophecy.com. The physical book can also be purchased at Amazon from the following link: Barack Obama, Prophecy, and the Destruction of the United States: Is Barack Obama Fulfilling Biblical, Islamic, Catholic, Kenyan, and other America-Related Prophecies?
Barack Obama, Prophecy, and the Destruction of the United States–Amazon Kindle edition. This electronic version is available for only US$2.99. And you do not need an actual Kindle device to read it. Why? Amazon will allow you to download it to almost any device: Please click HERE to download one of Amazon's Free Reader Apps. After you go to for your free Kindle reader and then go to Barack Obama, Prophecy, and the Destruction of the United States–Amazon Kindle edition.)