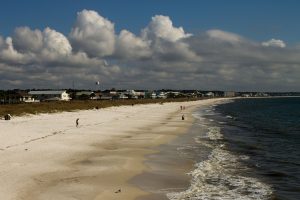 Mexico Beach, Fl waterfront before Hurricane Michael Destruction (photo by Balon Greyjoy)
Hurricane Michael was stronger and caused more damage than the weather forecasters anticipated:
"An Atomic Bomb Has Hit Our City": 'Apocalyptic' Post-Michael Scenes From Mexico Beach

October 12, 2018

If the nine-foot storm surge didn't get them, the 150+ mph winds did. 

As Michael, the third-most-powerful hurricane to ever make landfall in the Continental US, prepares to make its exit into the Atlantic Ocean on Friday, many residents of the Florida panhandle are still in shock as those who fled try to return, and those who stayed recount watching in abject horror as their community was leveled by flood waters and wind during one of the most aggressive storms in US history. In interviews with reporters who managed the difficult journey to Mexico Beach to survey the damage, many residents struggled to choke back tears as they described how they watched in abject horror as the water and wind ripped homes from their foundations. Out of the chaos, many quickly realized that Florida Gov. Rick Scott's prophesy of "unimaginable devastation" had come to pass.

John Humphress, a storm chaser and drone pilot who spoke with the Associated Press about the damage, described the scene in Mexico Beach, Fla., what will be remembered as Hurricane Michael's "ground zero", in one word: "Apocalyptic." …


While the destruction was particularly acute along the coastline, utilities reported that more than one million homes and businesses in Alabama, Florida, Georgia, Virginia and North and South Carolina were without power.

"It looks like an atomic bomb had hit our city," resident David Barnes told the Panama City News Herald. "Damage has been widespread."

One resident wept as he acknowledged the unfortunate truth in front of a reporter's microphone.

A Mexico Beach resident, Scott Boutell, was close to tears as he spoke to the same reporter in front of his wrecked house: "Our lives are gone here. All the stores, all the restaurants, everything. There's nothing left here any more," he said.

Two hospitals in Panama City had been wiped out by the storm, and patients were being evacuated by airlift to another hospital in Pensacola, underscoring the absolute devastation left in the storm's wake. https://www.zerohedge.com/news/2018-10-12/atomic-bomb-has-hit-our-city-apocalyptic-post-michael-scenes-mexico-beach

October 12, 2018

At least 11 people have died from Hurricane Michael, which slammed into Florida's Panhandle with 155-mph winds on Wednesday. The storm hacked a trail of catastrophic destruction in Georgia, the Carolinas and Virginia before finally heading back out over water.

Five deaths were reported in Virginia, in addition to four in Florida, one in Georgia and one in North Carolina.

More than a million people are without electricity, and areas along the Gulf Coast and elsewhere report severe outages of cellphone service and other communications. As Michael moved through the Mid-Atlantic Thursday and overnight, flash flood warnings were sent to people in towns from the coast to the slopes of the Appalachian Mountains.

The storm caused nearly 500,000 power outages in North Carolina, the state's Emergency Management Agency said on Friday morning. A main electric utility in Virginia said more than 585,000 customers were affected. Those numbers are added to the 350,000 accounts without power in Florida, and more than 160,000 in Georgia. https://www.npr.org/2018/10/12/656849482/hurricane-michael-death-toll-rises-to-11-as-southeast-reels-from-storms-power
While hurricanes like Michael are not the "Apocalypse"–an apparent reference to the Great Tribulation and Day of the Lord in the Book of Revelation–they and other severe weather conditions should show all that they should not be complacent.
Things can change quickly in your life or your situation.
You may think that you have plenty of time to make the right decision about whether or not to truly live as a Christian (see Christians: Ambassadors for the Kingdom of God, Biblical instructions on living as a Christian)–but things can change and you may not have the amount of time you think.
Do not be lukewarm like even most Christians are in the 21st century (cf. Revelation 3:14-19; see also The Laodicean Church Era).
Thousands in Indonesia died from unexpected earthquake and tsunami damage–do not believe something cannot happen to you.
Notice, also the following:
13 God's Message:

"Because of the three great sins of Ammon
— make that four — I'm not putting up with her any longer.
She ripped open pregnant women in Gilead
to get more land for herself.
14 For that, I'm burning down the walls of her capital, Rabbah,
burning up her forts.
Battle shouts! War whoops!
with a tornado to finish things off!
(Amos 1:13-14, THE MESSAGE: The Bible in Contemporary Language)

6 And it shall be at an instant suddenly. A visitation shall come from the Lord of hosts in thunder, and with earthquake, and with a great noise of whirlwind and tempest, and with the flame of devouring fire. (Isaiah 29:6, DRB)

30 And the Lord shall make the glory of his voice to be heard, and shall shew the terror of his arm, in the threatening of wrath, and the dame of devouring fire: he shall crush to pieces with whirlwind, and hailstones.

31 For at the voice of the Lord the Assyrian shall fear being struck with the rod. (Isaiah 30:30-31, DRB)

23 He brings the princes to nothing;
He makes the judges of the earth useless.

24 Scarcely shall they be planted,
Scarcely shall they be sown,
Scarcely shall their stock take root in the earth,
When He will also blow on them,
And they will wither,
And the whirlwind will take them away like stubble. (Isaiah 40:23-24)
Though some of these passages may also have a figurative sense, major storms are forecasted in biblical prophecy.
Now, does this mean that those most affected by tsunamis or hurricanes are necessarily worse sinners than those less affected?
The biblical answer is no.
Notice the words of Jesus:
45…He makes His sun rise on the evil and on the good, and sends rain on the just and on the unjust. (Matthew 5:45)

4 Or those eighteen on whom the tower in Siloam fell and killed them, do you think that they were worse sinners than all other men who dwelt in Jerusalem? 5 I tell you, no; but unless you repent you will all likewise perish. (Luke 13:4-5)
God sometimes uses weather and other events to motivate people to think and consider their ways.
God does not want people to suffer, but to turn to Him:
10 "Therefore you, O son of man, say to the house of Israel: 'Thus you say, "If our transgressions and our sins lie upon us, and we pine away in them, how can we then live?"' 11 Say to them: 'As I live,' says the Lord God, 'I have no pleasure in the death of the wicked, but that the wicked turn from his way and live. Turn, turn from your evil ways! For why should you die, O house of Israel?' (Ezekiel 33:10-11)
God wants people everywhere to repent (Acts 17:30). He uses weather for correction and for His mercy (Job 37:13).
Weather events should serve as a wake-up call to all.
Be careful if you think all is well with you as you are and that you have plenty of time to later figure out what to do.
Consider that Zephaniah wrote a warning to 'independent Christians' and others in the end times:
1 Gather yourselves together, yes, gather together, O undesirable nation, (Zephaniah 2:1)
Although it has certain misunderstandings, the Jamieson, Fausset, and Brown Commentary realized that the gathering together was intended for a religious group or assembly:
Zephaniah 2:1

Gather yourselves together – to a religious assembly, to avert the judgment by prayers, (Joel 2:16, "Gather the people, sanctify the congregation, assemble the elders," etc.) (from Jamieson, Fausset, and Brown Commentary, Electronic Database. Copyright © 1997, 2003, 2005, 2006 by Biblesoft, Inc. All rights reserved.)
When are they to gather together?
2 Before the decree is issued, Or the day passes like chaff, Before the Lord's fierce anger comes upon you, Before the day of the Lord's anger comes upon you! (Zephaniah 2:2)
The gathering is to take place well before the day of the Lord (which happens about 2 1/2 years after the Great Tribulation of Matthew 24:21 begins) and before some type of decree is issued. People who have not gathered together and think they will be able to know what to do at the end are mainly deceiving themselves.
Consider also what the New Testament teaches about the importance of gathering together as we get closer to the end:
We should not stop gathering together with other believers, as some of you are doing. Instead, we must continue to encourage each other even more as we see the day of the Lord coming. (Hebrews 10:23, Gods Word Translation)
Who does God want to gather together?
The end time Christians. Notice what Jesus stated and something the Apostle Peter wrote:
19 If you were of the world, the world would love its own. Yet because you are not of the world, but I chose you out of the world, therefore the world hates you. (John 15:19, NKJV)

9 But ye are a chosen generation, a royal priesthood, an holy nation, a peculiar people; that ye should shew forth the praises of him who hath called you out of darkness into his marvellous light: 10 Which in time past were not a people, but are now the people of God: which had not obtained mercy, but now have obtained mercy. (1 Peter 2:9-10, KJV)
This is a peculiar people. These are people who the world does not desire. These are Philadelphian Christians. Notice what the Apostle Paul wrote:
1 Now, brethren, concerning the coming of our Lord Jesus Christ and our gathering together to Him, we ask you, 2 not to be soon shaken in mind or troubled, either by spirit or by word or by letter, as if from us, as though the day of Christ had come. (2 Thessalonians 2:1-2)
This gathering together before Jesus returns is for Christians.
How else do we know that Zephaniah 2:1-3 is related to Christians? Because the decree is for the end time and because of what else God inspired Zephaniah to write:
3 Seek the Lord, all you meek of the earth, Who have upheld His justice. Seek righteousness, seek humility. (Zephaniah 2:3a)
The above is a reference to Christians as they are to be the "meek of the earth" (Matthew 5:5) and to Philadelphians who "have upheld His justice. Seek righteousness, seek humility." These are Philadelphian Christians who understand that church leaders need to have integrity and are willing to be humble enough to accept the authority of a church led by a low-level prophet in the absence of a clear apostle (cf. 1 Corinthians 12:28; Ephesians 4:11-15). They are humble enough to not think that they should remain 'independent,' as many who once were part of the old Worldwide Church of God have done.
Why does God tell them they may wish to be gathered together? So:
3 … It may be that you will be hidden In the day of the Lord's anger. (Zephaniah 2:3b)
Interestingly, the Hebrew words translated as Zephaniah means "Yahweh Hides" or "Yahweh Has Hidden" (Holy Bible: Vine's Expository Reference Edition, p. 826).
Why have I written that Zephaniah 2:1-3 has to do with Philadelphian Christians?
For they are the only ones who will actually 'gather together' as they should.
Why?
Because it is only to the Philadelphians that Jesus promises to protect from the coming hour of trial, also referred to as the Great Tribulation and the Day of the Lord (Revelation 3:7-13; see also There is a Place of Safety for the Philadelphians. Why it May Be Near Petra). Notice also the following from a former Worldwide Church of God member:
1) In Matthew 24:37-39 the discussion is still somewhat general. The two groups in this context are:

A) those who are protected at the place of safety;

B) all the rest of mankind who are not protected.

After this general comment, Jesus Christ became more specific. From here on He repeatedly contrasts TWO groups. But neither of those two groups represents the world at large. Both of those groups represent people who really SHOULD BE His "servants"; they both should be doing God's work, and they both should be protected from the end time events, but only one group actually is protected.

The two groups that Christ repeatedly contrasts in the next section appear to represent:

A) the Philadelphian Christians

B) the Laodiceans.

In repeatedly referring to the same people, who are alive at the time of His return, Christ is highlighting different aspects about these two groups. So notice:

2) In Matthew 24:40 the Philadelphians are taken to the place of safety, and the Laodiceans are left behind.

3) In Matthew 24:41 this is repeated, the Philadelphians are taken to the place of safety and the Laodiceans are left behind.

Note: the repetition is to emphasise the ratio between these two groups. They are numerically equal! The parallel account in Luke 17:34-37 is even more emphatic. There the ratio of one to one is repeated three times, in verses 34-36. In Luke 17:37 the disciples are, in effect, asking: WHERE is the place of safety? WHERE are they taken?

And they answered and said unto him, WHERE, LORD? And he said unto them, Wheresoever the body [is], thither will the eagles be gathered together. (Luke 17:37)

Regarding this section of Scripture I have often pointed out that they asked the wrong question, but it is the same question that most of us would also have been inclined to ask. We want to know WHERE the place of safety is, as if that was somehow important. What they really should have asked is: "WHY LORD?" Why are some left behind?

What is the difference between these two groups? Why are some who are seemingly in the Church not going to be protected? Because it was the wrong question, the answer to which Christ did not want to divulge, therefore Christ gave a rather cryptic answer. It was a polite way of saying: "I am not going to tell you that right now". However, this cryptic clue appears to be a reference to Petra, more than to any other place. (Nelte, Frank W. But If That Evil Servant Shall Begin to Smite His Fellow Servants…April 1995. http://www.franknelte.net/article.php?article_id=161&print=yes viewed 08/02/14)
Getting back to Zephaniah, notice that book is teaching that a decree is issued, apparently by a church leader–and I believe that the leader will be part of the Continuing Church of God. This would seem to happen after the gospel has been preached enough to the world as a witness (Matthew 24:14), Jewish sacrifices are stopped, and the abomination is set up (Daniel 9:27; 11:31; see also The 'Peace Deal' of Daniel 9:27) per Jesus' statements in Matthew 24:15-16.
What kind of decree will be issued?
A decree that may allow those who are gathered together and who listen to it an opportunity to be protected (Zephaniah 2:1-3). A decree that the Philadelphians will listen to and then fly/flee.
When is a decree to be issued? After an event that Jesus told of that He tied to the writings of the Prophet Daniel:
15 "Therefore when you see the 'abomination of desolation,' spoken of by Daniel the prophet, standing in the holy place" (whoever reads, let him understand), (Matthew 24:15)

14 "So when you see the 'abomination of desolation,' spoken of by Daniel the prophet, standing where it ought not" (let the reader understand), (Mark 13:14a)
What did Jesus say happens next?
16 "then let those who are in Judea flee to the mountains. 17 Let him who is on the housetop not go down to take anything out of his house. 18 And let him who is in the field not go back to get his clothes. 19 But woe to those who are pregnant and to those who are nursing babies in those days! 20 And pray that your flight may not be in winter or on the Sabbath. 21 For then there will be great tribulation, such as has not been since the beginning of the world until this time, no, nor ever shall be. (Matthew 24:16-21)
Why a decree?
Apparently, to make it easier for people who read what Jesus said to better be able to understand that Matthew 24:15 and Mark 13:14 and Daniel 9:27b and Daniel 11:31 had been fulfilled.
By whom will the decree be made?
The Bible says:
7 Surely the Lord God does nothing,
Unless He reveals His secret to His servants the prophets.
8 A lion has roared!
Who will not fear?
The Lord God has spoken!
Who can but prophesy? (Amos 3:7-8)
The prophet may make the decree personally and/or pass it on to another authority in the church to make.
Who is the only Church of God in the 21st century to teach all of this?
If you are not with the group that is leading the final phase of the work will you not be able to fly/flee if you wait until the last moment? While that may be remotely possible for some, remember that God inspired Zephaniah to admonish God's people to 'gather together…before the decree is issued.'
Most will discount this and many will scoff. Most COGs do not have any considered to be a prophet, and those other than CCOG who claim to, have prophets that have been proven to be false (e.g. PCG, CGPFKG, TPM).
Furthermore, let me mention that I read a post from a CCOG scoffer who picked at the very idea that one should suggest that a COG is Philadelphian and those part of such a COG will be subject to being protected in a place of safety.
He and many others do not realize how important Jesus taught paying attention to world events and prophecy is. Notice something Jesus taught:
34 "But take heed to yourselves, lest your hearts be weighed down with carousing, drunkenness, and cares of this life, and that Day come on you unexpectedly. 35 For it will come as a snare on all those who dwell on the face of the whole earth. 36 Watch therefore, and pray always that you may be counted worthy to escape all these things that will come to pass, and to stand before the Son of Man." (Luke 21:34-36)
Notice Jesus said to watch and pray ALWAYS. He was referring to prophetic matters. THIS CAME FROM JESUS, BUT MANY SCOFF AT PROPHECY for differing reasons (cf. 2 Peter 3:1-7)–yet being a prophetic scoffer is a mistake (cf. 2 Peter 3:8-9).
Jesus realized that if people did not pay attention to prophecy and pray alway, they would not properly take the steps to "be counted worthy to escape all these things." Yes, God uses prophecy as a motivator for people. Remember that God used Jonah to warn Nineveh (Jonah 3:1-4) and they repented (Jonah 3:5-9), and they did not get the punishment they were going to get then (Jonah 3:10).
We are getting closer to the end and now is the time to gather together (watch also the video Zephaniah's 'Gather Together' Prophecy).
Don't shrug off events like devastating hurricanes and tsunamis as something that has no impact on you. Consider that they show that more devastation is coming and all should take biblical admonitions seriously.
As far as hurricanes go, here is another link to our video: Hurricanes and Prophecy.
Some items of possibly related interest may include:
Hurricanes and Prophecy Hurricane Harvey dropped the greatest amount of rainfall in any USA storm. Hurricane Irma was the strongest hurricane ever in the Atlantic. Hurricane Irma wiped out most of the island of Barbuda, caused a million to lose power in Puerto Rico, devastated St. Martin's, hit Cuba, and hit Florida. A news headline stated " 'Nature's gone crazy': Winds, fire, floods and quakes plague North America." Is there any tie to prophecy? Are heavy winds and rains discussed in the Bible? Any ties to homosexuality and other forms of immorality? What about Donald Trump and Jennifer Lawrence? Does God control the weather? What does God want people to do? Dr. Thiel addresses these issues and more. This is a video.
Physical Preparation Scriptures for Christians. We all know the Bible prophecies famines. Should we do something? Here is a version in the Spanish language Escrituras sobre Preparación física para los Cristianos. Here is a link to a related sermon: Physical preparedness for Christians.
Weather Blessings and Sorrows Are weather problems a warning? What should be done? What does the Bible teach about weather? What about floods, droughts, heat, earthquakes, tornadoes, and solar storms? Here is a related YouTube video Does God Use Weather? A related item in the Spanish language would be Bendiciones y maldiciones del clima.
Islands and Bible Prophecy What's ahead for islands? What does the Bible prophesy about them?
The 'Unpardonable Sin' and 'Climate Change'? On September 7, 2016, Olav Fykse Tveit, Church of Norway Pastor, and the General Secretary of the World Council of Churches, essentially declared that those who ignore 'climate change' are committing the 'unpardonable sin' against the Holy Spirit. Are those two even related? In this video, Dr. Thiel answers that and explains from the Bible what the 'unpardonable sin' is and how you can avoid it. He also discusses aspects of Christianity and the environment.
The Bible, Christians, and the Environment How should Christians view the environment? Does the Bible give any clues? What are some of the effects of air, water, and land pollution? Is environmental pollution a factor in autism and death? Do pollutants seem to double the autism risk? What will Jesus do? A YouTube video is available titled Air Pollution, Autism, and Prophecy.
Mexico, Central America, South America, Brazil, and the Caribbean in Prophecy [Español: México, América central, Suramérica, Brasil y el Caribe en la profecía] [Português: México, América Central, Ámérica do Sul, e Brasil na profecia] What will happen to those of Latin America? Will they have prosperity? Will they cooperate with Europe? Will they suffer in the future? What role might the various Caribbean nations/territories play?
Independent Members of the COG: Herbert W. Armstrong Comments, Plus Questions and Answers What did Herbert W. Armstrong teach about being independent of the organized Church? Should independents who claim to accept Herbert W. Armstrong's teachings support the end time Philadelphian work? Watch also Zephaniah's 'Gather Together' Prophecy.
5. The Sardis Church Era was predominant circa 1600 A.D. to circa 1933 A.D. Discusses early history of the Seventh Day Baptists, Seventh-day Adventists, and COG-7th Day.
6. The Philadelphia Church Era was predominant circa 1933 A.D. to 1986 A.D. The old Radio Church of God and old Worldwide Church of God, now the remnant of that era is basically the most faithful in the Church of God, like who hold to the beliefs and practices of the Continuing Church of God.
7. The Laodicean Church Era has been predominant circa 1986 A.D. to present. The Laodiceans are non-Philadelphians who mainly descended from the old WCG or its offshoots.  They do not properly understand the work or biblical prophecies and will face the Great Tribulation if they do not repent. One video of related interest is 17 Laodicean Errors in Prophecy.
Does God Have a 6,000 Year Plan? What Year Does the 6,000 Years End? Was a 6000 year time allowed for humans to rule followed by a literal thousand year reign of Christ on Earth taught by the early Christians? Does God have 7,000 year plan? What year may the six thousand years of human rule end? When will Jesus return? 2026 or 20xx? There is also a video titled 6000 Years: When will God's Kingdom Come? Here is a link to the article in Spanish: ¿Tiene Dios un plan de 6,000 años?
When Will the Great Tribulation Begin? 2018, 2019, or 2020? Can the Great Tribulation begin today? What happens before the Great Tribulation in the "beginning of sorrows"? What happens in the Great Tribulation and the Day of the Lord? Is this the time of the Gentiles? When is the earliest that the Great Tribulation can begin? What is the Day of the Lord? Who are the 144,000? Here is a version of the article in the Spanish language: ¿Puede comenzar la Gran Tribulación en 2018 o 2019? ¿Es el Tiempo de los Gentiles? You can also see the English language sermon videos: The Great Tribulation from the Mount of Olives and Can the Great Tribulation begin before 2020? A shorter video is: Can the Great Tribulation begin in 2018?
The Times of the Gentiles Has there been more than one time of the Gentiles? Are we in it now or in the time of Anglo-America? What will the final time of the Gentiles be like? A related sermon is available and is titled: The Times of the Gentiles.
Christian Repentance Do you know what repentance is? Is it really necessary for salvation? A related sermon is also available titled: Real Christian Repentance.
Anglo – America in Prophecy & the Lost Tribes of Israel Are the Americans, Canadians, English, Scottish, Welsh, Australians, Anglo-Saxon (non-Dutch) Southern Africans, and New Zealanders descendants of Joseph? Where are the lost ten-tribes of Israel? Who are the lost tribes of Israel? What will happen to Jerusalem and the Jews in Israel? Will God punish the U.S.A., Canada, United Kingdom, and other Anglo-Saxon nations? Why might God allow them to be punished first? Here is a link to the Spanish version of this article: Anglo-América & las Tribus Perdidas de Israel. Information is also in the YouTube sermons titled Where are the Ten Lost Tribes? Why does it matter? and British are the Covenant People. A short YouTube of prophetic interest may be: Are Chinese threats against Australia for real?
Will the Anglo-Saxon Nations be Divided and Have People Taken as Slaves? Will the lands of the United States, United Kingdom, Canada, Australia, and New Zealand be divided? What about Jerusalem? What does Bible prophecy teach? Are there non-biblical prophecies that support this idea? Who will divide those lands? Who will end up with the lands and the people? Here is a link to a video titled Will the USA and other Anglo-nations be Divided and Their People Made Slaves? Here is a related item in the Spanish language ¿Serán divididas las naciones anglosajonas?
Christians: Ambassadors for the Kingdom of God, Biblical instructions on living as a Christian This is a scripture-filled booklet for those wishing to live as a real Christian. A related sermon is also available: Christians are Ambassadors for the Kingdom of God.
Is God Calling You? This booklet discusses topics including calling, election, and selection. If God is calling you, how will you respond? Here is a link to a related sermon: Could God be Calling You?
Christian Repentance Do you know what repentance is? Is it really necessary for salvation? A related sermon is also available titled: Real Christian Repentance.