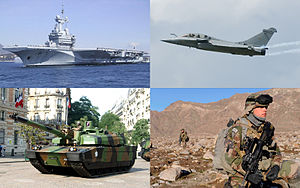 French Military Items (Bob47)
Israeli officials reported complaints with France concerning France's latest vote for the Palestinians:
January 2, 2015
French ambassador to Israel Patrick Maisonnave reported to the Foreign Ministry in Jerusalem on Friday after being summoned over his country's vote in favor of the Palestinian statehood resolution at the UN Security Council earlier this week. French officials told Haaretz that Maisonnave clarified in the meeting that France voted for the resolution in order to try and prevent the Palestinians from pursuing other unilateral steps such as joining the International Criminal Court in The Hague.

Foreign Ministry spokesman Emmanuel Nachshon said that the ministry's deputy director-general for Western Europe, Aviv Shir-On, told the French ambassador that Israel was deeply disappointed by France's stance and its vote in the UNSC. "The only way to reach progress with the Palestinians is through direct negotiations, not through unilateral announcements or a unilateral policy," Shir-On said at the meeting.

During the meeting, the French ambassador said that the international community is of one mind over the need to break the diplomatic stalemate and the dangerous status quo. According to him, France voted as it did in order to encourage the sides back to the negotiating table.

Maisonnave also said that France disagreed with several parts in the Palestinian resolution and therefore tried to formulate its own draft.  http://www.haaretz.com/news/diplomacy-defense/.premium-1.635054
The USA and Australia stood with Israel on that particular UN vote.
While some in LCG have publicly wondered if France will support the final Beast power (see Must the Ten Kings of Revelation 17:12 Rule over Ten Currently Existing Nations?), the late Evangelist Dibar Apartian clearly wrote:
This soon-coming union of ten nations or governments prophetically represents the last "head" of the resurrected "beast"-the revival of the "Holy Roman Empire" (Rev. 17 :9- 1 2). But contrary to what you may think, it will NOT consist only of Gentile nations. It will INCLUDE a group of ISRAELITISH nations. "Come out of her , my people," says God in Revelation 18:4. "My people" means Israelites in Bible prophecy. Yes, once again, Joseph' s own brothers will sell him to the Gentiles!

Once again REUBEN (the first-born of Jacob who anciently conspired with his brothers, will "act" in terms of saving him, but end · up by compromising with his brothers to send him into CAPTIVITY.

Ever since the early days of American history, the French have been on our side. There exists a brotherly link among all the ISRAELITISH nations. Nevertheless, by uniting politically with the "beast," some of the modern Israelites will be instrumental in conquering the United States and Great Britain.

So says YOUR Bible! (Apartian D. De Gaulle and the Next World War. Plain Truth, September 1964, p. 11)
France was part of the old Roman Empire, parts of France were in the old 'Holy Roman Empire,' and for a time, France will support the final Beast of the Sea of Revelation 13.
France's betrayal of Israel in the USA is simply a prelude to its coming betrayal of the USA and its British-descended allies.  Notice what Dibar Apartian also wrote:
(Gen. 37:18-20). Notice well what took place. The brothers CONSPIRED against Joseph; filled with jealousy, they wanted to KILL him. Afterwards, they would LIE to their father, telling him that a wild beast had devoured Joseph. What about the next two verses, some may argue? Well, let's once again examine them in the light of the Biblical account, and let US not be misled by our human reasoning.

"And Reuben heard it [the plot to kill Joseph], and he delivered him out of their hands; and said, Let us not kill him. And Reuben said unto them, Shed no blood, but cast him into this pit that is in the wilderness, and lay no hand Upon him; that he might rid him out of their hands, to deliver him to his father again (verses 21, 22).

At first glance, it may seem, indeed , as though Reuben acted well. He proposed an alternative to deliver Joseph out of his brothers' hands. This sounds good to our human mind, to our carnal way of thinking. But is that what was expected of Reuben? Is that all he could do- he, the firstborn? Was his duty to compromise with his brothers over whom he had authority? According to the Bible, a firstborn in Israel had certain privileges his brothers did not have. His heritage was bigger and he received the greater portion of the blessings. He was next to his father in power and authority. Therefore, as the leader of his brothers, Reuben was actually RESPONSIBLE for what happened to Joseph. He should have acted the way Jacob, his father, would have acted had he been there- and not have compromised with them. Many overlook this important point when they read this story. Consequently, they don't see where Reuben failed. No, Reuben did NOT act with courage and dignity. He was afraid of his brothers; he FEARED for his own life if he tried to stop them by force. COMPROMISE is all he could think of – but compromise is a very poor substitute for one's own duties and responsibilities. …

A Striking Parallel

There may be a striking parallel between Reuben's behavior in the past and that of France today. Indeed, in a few years, Reuben's modern descendants will be at the side of the prophesied "beast" of Revelation when the Anglo-Saxons (the descendants of Joseph) are taken captive. France, like her forefather Reuben, will probably seek a compromise to prevent her former allies – the very SONS of Joseph – from being taken captive by the enemy. But what good will that really do? What good did it do to Joseph?

A compromise never relieves one from one's own responsibilities. Without a doubt, Reuben loved his brother; he exerted himself in his own ways, through his own human reasoning, to save him. But the fact remains that he ended up by acting like a foe! France today also likes her "kin," her natural allies. But, unless she repents, France will end up BEING a foe!

(Apartian D. France: The Enigma of our Time. Plain Truth, August 1966, p. 32)

During the last two WORLD WARS France was at the side of her natural allies, the Anglo-Saxons. They are, indeed, her natural allies because the French people, in turn, are the modern DESCENDANTS of one of the twelve tribes of Israel, namely REUBEN! The situation, however, will be quite different during the next WORLD WAR, France will no longer fight at the side of her former allies; she will turn AGAINST them. The descendants of Reuben will play their part in selling into slavery their brother Joseph – just as Reuben did some 3700 years ago. You are now beginning to see why the relations between the United States of America and France are gradually deteriorating. (Apartian D. France: The Enigma of our Time. Plain Truth, August 1966, pp. 11-12)
My wife and I returned from a trip to France earlier this week and there are many reasons to conclude the Dibar Apartian's understanding of scriptures on this are correct.
Some items of possibly related interest may include:
The 'Lost Tribe' of Reuben: France in Prophecy? What is the origin of this in France? What is prophesied to happen to them? A two-part sermon related to history and prophecy is available online: The 'Lost Tribe' of Reuben and France and Prophecy.
Jerusalem: Past, Present, and Future What does the Bible say about Jerusalem and its future? Is Jerusalem going to be divided and eliminated? Is Jesus returning to the area of Jerusalem? There is also a related YouTube video you can watch titled Jerusalem To be divided and eliminated.
Must the Ten Kings of Revelation 17:12 Rule over Ten Currently Existing Nations? Some claim that these passages refer to a gathering of 10 currently existing nations together, while one group teaches that this is referring to 11 nations getting together. Is that what Revelation 17:12-13 refers to? The ramifications of misunderstanding this are enormous. A related sermon is titled Ten Kings of Revelation and the Great Tribulation.
Ten clues tying Belgium and Luxembourg with the tribe of Asher Who did some in Belgium and Luxembourg descend from?
Ten clues tying Zebulun with the Dutch Who did some in the Netherlands descend from?
Europa, the Beast, and Revelation Where did Europe get its name? What might Europe have to do with the Book of Revelation? What about "the Beast"? Is an emerging European power "the daughter of Babylon"? What is ahead for Europe? Here is a link to a video titled: Can You Prove that the Beast to Come is European?
European Technology and the Beast of Revelation Will the coming European Beast power would use and develop technology that will result in the taking over of the USA and its Anglo-Saxon allies? Is this possible? What does the Bible teach? Here is a related YouTube video: Military Technology and the Beast of Revelation.
Might German Baron Karl-Theodor zu Guttenberg become the King of the North? Is the former German Defense Minister (who is also the former German Minister for Economics and Technology) one to watch? What do Catholic, Byzantine, and biblical prophecies suggest?
Germany's Assyrian Roots Throughout History Are the Germanic peoples descended from Asshur of the Bible? Have there been real Christians in Germanic history? What about the "Holy Roman Empire"? There is also a You-Tube video sermon on this titled Germany's Biblical Origins.
Germany in Biblical and Catholic Prophecy Does Assyria in the Bible equate to an end time power inhabiting the area of the old Roman Empire? What does prophecy say Germany will do and what does it say will happen to most of the German people?
Who is the King of the North? Is there one? Do biblical and Roman Catholic prophecies for the Great Monarch point to the same leader? Should he be followed? Who will be the King of the North discussed in Daniel 11? Is a nuclear attack prophesied to happen to the English-speaking peoples of the United States, Great Britain, Canada, Australia, and New Zealand? When do the 1335 days, 1290 days, and 1260 days (the time, times, and half a time) of Daniel 12 begin? When does the Bible show that economic collapse will affect the United States? Here is a link to a video titled: The Future King of the North.
Can You Prove that the Beast to Come is European? The Book of Revelation tells of a beast power that will rise up. Some think that this must be Russia or could be Islamic, while others say that this power is European. The Book of Daniel tells of the rise of an end time King of the North that some think must be referring to a Russian leader, while others say that this power is European. How can you be sure? This YouTube video has all the scriptural proofs that you should need to prove that this power must be a European one.
Anglo – America in Prophecy & the Lost Tribes of Israel Are the Americans, Canadians, English, Scottish, Welsh, Australians, Anglo-Saxon (non-Dutch) Southern Africans, and New Zealanders descendants of Joseph? Where are the lost ten-tribes of Israel? Who are the lost tribes of Israel? What will happen to Jerusalem and the Jews in Israel? Will God punish the U.S.A., Canada, United Kingdom, and other Anglo-Saxon nations? Why might God allow them to be punished first? Here is a link to the Spanish version of this article: Anglo-América & las Tribus Perdidas de Israel. Information is also in the YouTube sermons titled Where are the Ten Lost Tribes? Why does it matter? and British are the Covenant People. A short YouTube of prophetic interest may be Barack Obama and the State of the Apocalypse.
Will the Anglo-Saxon Nations be Divided and Have People Taken as Slaves? Will the lands of the United States, United Kingdom, Canada, Australia, and New Zealand be divided? What about Jerusalem? What does Bible prophecy teach? Are there non-biblical prophecies that support this idea? Who will divide those lands? Who will end up with the lands and the people? Here is a link to a video titled Will the USA and other Anglo-nations be Divided and Their People Made Slaves? Here is a related item in the Spanish language ¿Serán divididas las naciones anglosajonas?
British are the Covenant People What do 'British' and 'Britain' mean in Hebrew? Are the descendants of the Anglo-Saxons people of the covenant? Does the British royal family connect to the throne of David? What does the Bible teach? What does history show us? Is there any DNA evidence related to British-Israelism? When did Christianity make it to the British Isles? Could Jeremiah have made it to the British Isles? What type of Christians made it to the British Isles? Did the last King of England believe in British Israelism?
WTO/TTIP and the Babylonian Beast Will international trade agreements like WTO/TTIP/CETA lead to the fulfillment of end time prophecies concerning the Babylonian Beast power that the Book of Revelation warns against? What does the Bible teach? A related video would be WTO Trade Deal and the Rise of the European Beast Power.
World War III: Steps in Progress Are there surprising actions going on now that are leading to WWIII? Might a nuclear attack be expected? Does the Bible promise protection to all or only some Christians? How can you be part of those that will be protected? A related video would be Is World War III About to Begin? Can You Escape?
Barack Obama, Prophecy, and the Destruction of the United States-Second Edition for Second Obama Term This is a 160 page book for people truly interested in prophecies related to Barack Obama and the United States, including learning about many that have already been fulfilled (which the book documents in detail) and those that will be fulfilled in the future. It also has a chapter about a Republican choice. This book is available to order at www.barackobamaprophecy.com. The physical book can also be purchased at Amazon from the following link: Barack Obama, Prophecy, and the Destruction of the United States: Is Barack Obama Fulfilling Biblical, Islamic Catholic, Kenyan, and other America-Related Prophecies? What About Republican Leaders? Second Edition for Second Obama Term.
Barack Obama, Prophecy, and the Destruction of the United States-Second Term-Amazon Kindle edition. This electronic version is available for only US$2.99. And you do not need an actual Kindle device to read it. Why? Amazon will allow you to download it to almost any device: Please click HERE to download one of Amazon s Free Reader Apps. After you go to for your free Kindle reader and then go to Barack Obama, Prophecy, and the Destruction of the United States-Second Term-Amazon Kindle edition.