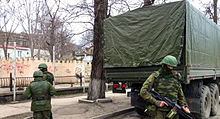 The Ukrainian government in Kiev is claiming that Russia is sending in mercenary troops and building up its military along the border):
July 14, 2104

Ukraine on Monday accused Russian army officers of fighting alongside separatists in the country's east.

"Information has … been confirmed that Russian staff officers are taking part in military operations against Ukrainian forces," President Petro Poroshenko said. http://www.voanews.com/content/reu-ukraine-accuses-russia-of-bringing-troops-up-to-border/1956859.html

July 14, 2014

KYIV —Russia is building up forces on its border with Ukraine, and separatists, backed by Russian "mercenaries", are firing on Ukrainian border guards in an attempt to bring armored vehicles into the country, a Ukrainian military spokesman said on Monday.

Accusing Russia of embarking on a course of escalation in Ukraine's eastern regions, National Security and Defense Council spokesman Andriy Lysenko told journalists: "In the past 24 hours, deployment of [Russian] units and military equipment across the border from the Sumy and Luhansk border points was noticed. The Russian Federation continues to build up troops on the border."

In the early hours of Monday, separatists had fired on border guards and the armed forces near the border settlement of Dyakove, one of several attacks on border guards as "terrorists and Russian mercenaries" tried to bring in armoured vehicles and equipment, he said.

"The events of the last few days show that the Russian side has embarked on a course of escalation of the conflict in the Donbass," he said.

Lysenko accused rebel fighters of being behind the cross-border shelling of a Russian residential area in which a Russian man was killed and which Moscow says was the work of Ukrainian forces.

"The [rebel] fighters systematically fire mortar and shoot into Russian territory which killed a Russian citizen," Lysenko said.

Russia was presenting these shooting incidents as the action of Ukrainian forces but these accusations were "absolutely unfounded," he said.  http://www.voanews.com/content/reu-ukraine-accuses-russia-of-bringing-troops-up-to-border/1956859.html
Notice also the following:
July 13, 2014

MOSCOW— Russia on Sunday accused Ukraine of lobbing a shell over the border and killing a Russian civilian and warned of "irreversible consequences," in a sharp escalation of rhetoric that raised fears of a Russian invasion in Ukraine's east…Ukrainian security officials, meanwhile, said that about 100 military vehicles driven by "mercenaries" had attempted to cross the border from Russia early Sunday, and that Ukraine's military had destroyed some of the vehicles.   http://www.washingtonpost.com/world/russia-warns-ukraine-of-irreversible-consequences-after-cross-border-shelling/2014/07/13/d2be1bb0-0a85-11e4-8341-b8072b1e7348_story.html

July 14, 2014

KIEV, Ukraine (AP) – A Ukrainian military transport plane was shot down Monday along the country's eastern border with Russia, the defense minister said.

Rebels in conflict-wracked eastern Ukraine immediately claimed responsibility for downing the Antonov-26 but Ukrainian Defense Minister Valeriy Heletey said the rocket may have been fired from Russia. http://www.washingtontimes.com/news/2014/jul/14/fierce-fighting-near-rebel-held-city-in-ukraine/#ixzz37SENGwQw
The situation in Ukraine remains volatile and tense.  On April 25, 2014, Kiev accused Russia of wanting to start World War III (see Kiev PM: Russian supporters orchestrating 'real war' and wanting 'WWIII;' Haaretz: 'Putin got just the war he asked for').
Russia is not happy with a Ukrainian government that wants to be part of the European Union.  Russia is not happy with a Ukrainian government that sends troops against Russian-speaking separatists in the area known as eastern Ukraine, which is what the government in Kiev has done.
While Russia does not want European or USA sanctions, Russia is weighing that cost vs. its goals, or at least the goals of Vladimir Putin.
Some believe that the USA does not really understand what the President of Russia truly wants:
Obama doesn't grasp Putin's Eurasian ambitions

Mr. Putin advanced a radical and dangerous argument: that the collapse of the Soviet Union left "the Russian nation" as "one of the biggest, if not the biggest ethnic group in the world to be divided by borders." That, he suggested, gave Moscow the right to intervene in Crimea, and, by extension, anywhere it considers ethnic Russians or their culture to be threatened…

Western officials seem to be betting that Mr. Putin won't dare to extend his aggression beyond Crimea… The Obama administration and its European allies have been too slow to grasp that Mr. Putin is bent on upending the post-Cold War order in Europe and reversing Russia's loss of dominion over Eastern Europe, the Caucasus and Central Asia.

Worse, some in and outside of Western governments may be feeding Mr. Putin's imperialism by rushing to concede "Russian interests" in Eurasia. http://www.washingtonpost.com/opinions/obama-doesnt-grasp-putins-eurasian-ambitions/2014/03/19/89439990-af7e-11e3-9627-c65021d6d572_story.html
Vladimir Putin has long wanted to restore his version of a new Soviet Union which he calls the Eurasian Union. Bible prophecy does show that a Russian-led Eurasian confederation will ultimately form (for details, see The Eurasian Union, the Kings of the East, and Bible Prophecy).
In my view, the current crisis in Ukraine is dramatically showing the Europeans that Russia does not consider Europe a credible military threat without direct USA involvement, and that the USA does not want to militarily engage Russia. This also is showing that the Europeans that if they want to defend hoped for European Union countries like Ukraine, and even actual European Union countries, that Europe needs to have a stronger, more independent, military. Europe has taken some steps and will take more steps in the future (see, for example, Revelation 13:4, Daniel 11:39-43, and European Technology and the Beast of Revelation).
Many in Ukraine are scared and frightened and need our prayers. While many seem to be placing their hope in the European Union, that will not turn out well according to many biblical prophecies (e.g. Revelation 18-19).
Some items of possibly related interest may include:
Russia and Ukraine: Origins and Prophesied Future Where do the Russians come from? What about those in the Ukraine? What is prophesied for Russia and its allies? What will they do to the Europeans that supported the Beast in the end? You can also watch the short video Ukraine in Prophecy?
Russia in the Bible and in Prophecy Is Russia mentioned in the Bible? It it is where is it? Is there any evidence of a people moving to the land that the Russians now occupy? What do Catholic and other prophecies say about Russia? What does the Bible teach? How are Protestants often in error on this? Is there more in biblical prophecy for Russia than war? Does God have a plan to save Russia and her allies? Does Russia have a history involving Sabbath keepers? Does scripture tie Russia in with Armageddon? Will Russia help defeat the end time Babylonian power? What did the Apostle John, and the prophets Isaiah, Jeremiah, and Daniel, write about Russia? This is a sermon-length video.
Bible News Prophecy July-Sept. 2014: The Coming Eurasian Union Here is the latest magazine from the Continuing Church of God. The cover of which shows Vladimir Putin and features an article about the coming Eurasian Union.
When Will the Great Tribulation Begin? 2014, 2015, or 2016? Can the Great Tribulation begin today? What happens before the Great Tribulation in the "beginning of sorrows"? What happens in the Great Tribulation and the Day of the Lord? Is this the time of the Gentiles? When is the earliest that the Great Tribulation can begin? What is the Day of the Lord? Who are the 144,000? Here is a version of the article in the Spanish language: ¿Puede comenzar la Gran Tribulación en 2013 o 2014? ¿Es el Tiempo de los Gentiles? You can also see the English language sermon video: The Great Tribulation from the Mount of Olives.
The 'Peace Deal' of Daniel 9:27 This prophecy could give up to 3 1/2 years advance notice of the coming Great Tribulation. Will most ignore or misunderstand its fulfillment? Here is a link to a related sermon video Daniel 9:27 and the Start of the Great Tribulation.
Blood Moons and Prophecy There are four 'blood moons' expected in 2014 and 2015. Do they signal the Day of the Lord or the return of Jesus Christ? A related YouTube video is also available: Blood Moons, Prophecy, 2014, and 2015.
The Gospel of the Kingdom of God was the Emphasis of Jesus and the Early Church Did you know that? Do you even know what the gospel of the kingdom is all about? You can also see a YouTube video sermon The Gospel of the Kingdom.
Just What Do You Mean the Kingdom of God? A booklet that was written by Herbert Armstrong answers questions about the Kingdom.
Must the Ten Kings of Revelation 17:12 Rule over Ten Currently Existing Nations? Some claim that these passages refer to a gathering of 10 currently existing nations together, while one group teaches that this is referring to 11 nations getting together. Is that what Revelation 17:12-13 refers to? The ramifications of misunderstanding this are enormous.
World War III: Steps in Progress Are there surprising actions going on now that are leading to WWIII? Might a nuclear attack be expected? Does the Bible promise protection to all or only some Christians? How can you be part of those that will be protected? A related video would be Is World War III About to Begin? Can You Escape?
Wars, rumors of wars, and the Apocalypse Jesus foretold a time before the end where there would be wars and rumors of wars. The Apocalypse (the Book of Revelation) warns of the red horseman of war. Now, even secular writers, like Larry Edelson, are worried that wars and rumors of war are the most menacing problem that now haunts the earth? Are they right? What is the solution? This is a sermonette-length video.
Is Russia the King of the North? Some claim it is. But what does the Bible teach? Here is a link to a video, also titled Is Russia the King of the North?
Europa, the Beast, and Revelation Where did Europe get its name? What might Europe have to do with the Book of Revelation? What about "the Beast"? Is an emerging European power "the daughter of Babylon"? What is ahead for Europe? Here is a link to a video titled: Can You Prove that the Beast to Come is European?
The Eurasian Union, the Kings of the East, and Bible Prophecy Is there a Eurasian union that will be formed? Is one being formed right now? Are any leaders working on that in the 21st century? Does the Bible teach that there will be a Eurasian union? If some type of Eurasian union is formed, who might it benefit and who will it destroy? A related video would be Is The Eurasian Union Rising?
Barack Obama, Prophecy, and the Destruction of the United States-Second Edition for Second Obama Term This is a 160 page book for people truly interested in prophecies related to Barack Obama and the United States, including learning about many that have already been fulfilled (which the book documents in detail) and those that will be fulfilled in the future. It also has a chapter about a Republican choice. This book is available to order at www.barackobamaprophecy.com. The physical book can also be purchased at Amazon from the following link: Barack Obama, Prophecy, and the Destruction of the United States: Is Barack Obama Fulfilling Biblical, Islamic Catholic, Kenyan, and other America-Related Prophecies? What About Republican Leaders? Second Edition for Second Obama Term.
Barack Obama, Prophecy, and the Destruction of the United States-Second Term-Amazon Kindle edition. This electronic version is available for only US$2.99. And you do not need an actual Kindle device to read it. Why? Amazon will allow you to download it to almost any device: Please click HERE to download one of Amazon s Free Reader Apps. After you go to for your free Kindle reader and then go to Barack Obama, Prophecy, and the Destruction of the United States-Second Term-Amazon Kindle edition.