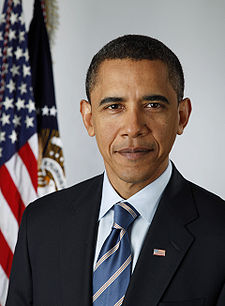 A couple of days ago, USA President Barack Obama put major pressure on the small nation of Israel to resume peace deal talks within 30 days (see Obama Gives Israel Ultimatum on Peace Deal).  Now his Administration is publicly pressuring the Palestinians to make a peace deal with Israel:
Jerusalem Post – 15 June 2011…

The US will not support the Palestinians' plan to unilaterally seek independent statehood from the United Nations in September, US Middle East adviser David Hale told Palestinian Authority President Salam Fayyad in a meeting on Wednesday, Israel Radio reported.

Palestinian goals will only be achieved through negotiations with Israel, Hale emphasize to Fayyad.
In the book of Daniel there is a prophecy related to the end times that states:
26 And the people of the prince who is to come
Shall destroy the city and the sanctuary.
The end of it shall be with a flood,
And till the end of the war desolations are determined.
27 Then he shall confirm a covenant with many for one week;
But in the middle of the week
He shall bring an end to sacrifice and offering.
And on the wing of abominations shall be one who makes desolate,
Even until the consummation, which is determined,
Is poured out on the desolate (Daniel 9:26-27).
The idea of this "week" in Daniel being a seven-year end-time deal has been understood for a long time.  For example, it was also understood by the Catholic theologian Hippolytus (died 235) in the third century:
…the iron and the clay shall be mingled together. Now Daniel will set forth this subject to us. For he says, "And one week will make a covenant with many, and it shall be that in the midst (half) of the week my sacrifice and oblation shall cease." By one week, therefore, he meant the last week which is to be at the end of the whole world of which week the two prophets… will take up the half. For they will preach 1,260 days clothed in sackcloth, proclaiming repentance to the people and to all the nations…(Hippolytus. On Christ and Antichrist, Chapter 43. Online edition Copyright © 2008 by Kevin Knight).
(It may be of interest to note that within Islam, there does exist the idea that an Islamic leader, Imam Mahdi, will be part of a seven-year golden age and will make a peace deal with the Europeans, that the Europeans will break–for details, please see The Arab and Islamic World In the Bible, History, and Prophecy).
Although he has several events out of sequence, even the famed Protestant theologian John Walvoord understood the importance of the deal in Daniel 9:27:
The seven-year peace treaty with Israel; consummated seven years before the second coming of Christ (Dan. 9:27; Revelation 19:11-16). (Walvoord J. The Prophecy Knowledge Handbook. Victor Books, 1990, p. 551)
Why is this believed to be a peace deal?
There are several reasons.  Notice some other scriptures that discuss this leader who "confirms" the deal in Daniel 9:27:
25 And through his policy also he shall cause craft to prosper in his hand; and he shall magnify himself in his heart, and by peace shall destroy many: he shall also stand up against the Prince of princes; but he shall be broken without hand. (Daniel 8:25, KJV).

23 And after the league is made with him he shall act deceitfully, for he shall come up and become strong with a small number of people. 24 He shall enter peaceably, even into the richest places of the province; and he shall do what his fathers have not done, nor his forefathers: he shall disperse among them the plunder, spoil, and riches; and he shall devise his plans against the strongholds, but only for a time. (Daniel 11:23-24, NKJV)
So this leader gives people the impression that there will be "peace" and is involved in some type of deal. Term is translated as "peace" in Daniel 8:25 is from the Hebrew term shalvah and essentially means security. In other words, this leader will destroy "many" who are under the impression that they are secure because of some type of security arrangement. Such arrangements are now commonly referred to as peace deals.
And right now, the USA appears to hoping to make such a deal happen.
Since the Palestinians would like major international recognition of their state in September of 2011, the USA is basically telling them that if they make a peace deal with Israel, it will happen.
We will see if the Palestinians and Israel are ready with these pressures to make a deal now or if there will need to be some type of war first as Iran has somewhat suggested it would take over Jerusalem this summer (see Iran's Ahmadinejad to Conquer Jerusalem?).  Watch (Mark 13, Matthew 24).
Some articles of possibly related interest may include:
Prophecies of Barack Obama? This article has eight reasons why Barack Obama is apocalyptic and eight reasons why Barack Obama is not the Antichrist. It includes many biblical and non-biblical prophecies, from around the world, that seem to discuss Barack Obama. Did Nostradamus predict Barack Obama dealing with the Antichrist? Might Barack Obama set the stage for the kings of the North and South as at least one Shiite prophecy suggests? This is the longest and most complete article at the COGwriter website on Barack Obama prophecies. Read it and decide for yourself if President Obama seems to be fulfilling various prophecies.
Barack Obama, Prophecy, and the Destruction of the United States Some claim that Barack Obama is the prophesied "son of Kenya". Might Bible prophecy be fulfilled since he is to be the USA president?
Will the Anglo-Nations be Divided? Will the lands of the United States, United Kingdom, Canada, Australia, and New Zealand be divided? What does Bible prophecy teach? Are there non-biblical prophecies that support this idea? Who will divide those lands? Who will end up with the lands and the people?
Anglo – America in Prophecy & the Lost Tribes of Israel Are the Americans, Canadians, British, Scottish, Welsh, Australians, Anglo-Southern Africans, and New Zealanders descendants of Joseph? Where are the lost ten-tribes of Israel? Who are the lost tribes of Israel? What will happen to the Jews in Israel? Will God punish the U.S.A., Canada, United Kingdom, and other Anglo nations? Why might God allow them to be punished first?
Canada in Prophecy: What Does Bible Prophecy, Catholic Prophecy, and other Predictions Suggest About the Future of Canada? There are prophecies that suggest involvement with Canada. And many are not positive about its future.
Who is the King of the West? Why is there no End-Time King of the West in Bible Prophecy? Is the United States the King of the West?
Is Tony Blair Apocalyptic? The former Prime Minister of the United Kingdom converted to Catholicism shortly after leaving his office and has been active in European affairs. What role might he play?
The Arab World In the Bible, History, and Prophecy The Bible discusses the origins of the Arab world and discusses the Middle East in prophecy. What is ahead for the Middle East and those who follow Islam? What does Islam teach about the Imam Mahdi?
Is There A Future King of the South? Some no longer believe there needs to be. Might Egypt, Islam, Iran, Arabs, or Ethiopia be involved? Is he the Imam Mahdi? What does the Bible say?
2012 and the Rise of the Secret Sect This is a link related to a book by Bob Thiel (COGwriter). This link also has YouTube videos. This book documents and explains hundreds of prophecies. And since it was published, world events have aligned with at least 14-15 predictions in the book (including some related to Barak Obama ) and many more will to come to pass.
2012 y el surgimiento de la secta secreta 2012 libro del Dr. Thiel en Español.
2012 und das Auftreten der geheimen Sekte (German Edition) 2012 Buch von Dr. Thiel in deutscher Sprache.
2012 e o Surgimento da Seita Secreta (Portuguese Edition) 2012 livro do Dr. Thiel em Português. Este livro documenta e explica centenas de profecias. E desde que foi publicado pela primeira vez, pelo menos 14 já começaram a acontecer.