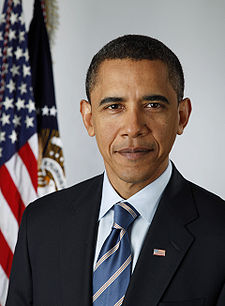 US President Barack Obama tried to defend his latest tax and spend bill:
Obama tries to quell Dem rebellion on tax cut deal

WASHINGTON — President Obama mounted a hard sell Tuesday for his proposed tax cut compromise, moving to quell a growing rebellion among congressional Democrats while appealing directly to the American people about the economic urgency of a deal that mostly pleases Republicans.

Congressional Democrats have yet to embrace the nearly $900 billion deal, and opposition within the president's own party could force the administration to try to enact the tax cuts package with a bipartisan coalition made up mostly of Republicans…

"It's very troubling for all of us," said Rep. John Larson (D-Conn.), the No. 4 in party leadership. The deal would extend the Bush-era tax cuts across the board, even for the wealthiest earners, which angered liberals.

"I think a ransom was paid and it was a very high price," said Sen. Frank Lautenberg (D-N.J.), among the wealthiest members of Congress.

..
The bill basically will stop many (but not all) tax increases from going into effect in 2011, will provide lower payroll taxes for all on payrolls, and extend unemployment benefits for many.
And it may  increase the deficit.  $900 billion is the number guessed (I suspect that this number is too high, though it will have a cost) here and $600-900 billion for QE2 (quantitative easing by the Fed announced a few weeks ago).   After a while it adds up to a lot of money.  Money that will somehow have to be borrowed/pledged (directly or indirectly).   The more the government borrows, the more pressure will ultimately be placed on interest rates which will eventually create havoc for the USA.  And of course, inflation tends to be caused by increasing the money supply without a proportionate increase in productive goods and services.
The Bible warns about an end time people that borrows too much:
3 For the vision is yet for an appointed time; But at the end it will speak, and it will not lie. Though it tarries, wait for it; Because it will surely come, It will not tarry…5 Indeed, because he transgresses by wine, He is a proud man… 6 "Will not all these take up a proverb against him, And a taunting riddle against him, and say, 'Woe to him who increases What is not his–how long? And to him who loads himself with many pledges'? 7 Will not your creditors rise up suddenly? Will they not awaken who oppress you? And you will become their booty. 8 Because you have plundered many nations, All the remnant of the people shall plunder you (Habakkuk 2:3,5,6-8).
The above prophecy will be fulfilled at the time of the end (cf. "The message was true, but the appointed time was long…in the latter days, for the vision refers to many days yet to come", Daniel 10:1,14). Daniel 8:19, 11:27,29,35 use same the Hebrew term for "appointed time" as Habakkuk 2:3, while Daniel 10, using a different term, ties the latter days to the time in Daniel 8:19. Habakkuk 2 was not fulfilled in its entirety anciently. Also, it makes little sense that Habakkuk would be directed towards the modern nation of Israel as it does not have enemy creditors. It must be a nation or group of nations with some prominence at the appointed time of the end.
This problem will cause sudden destruction among those who are spiritually drunk:
3 For when they say, "Peace and safety!" then sudden destruction comes upon them, as labor pains upon a pregnant woman. And they shall not escape. 4 But you, brethren, are not in darkness, so that this Day should overtake you as a thief. 5 You are all sons of light and sons of the day. We are not of the night nor of darkness. 6 Therefore let us not sleep, as others do, but let us watch and be sober. 7 For those who sleep, sleep at night, and those who get drunk are drunk at night. (1 Thessalonians 5:3-7)
Notice that both Paul and Habakkuk seem to have tied drunkenness in with this sudden calamity (so did Jesus in Luke 21:34-35). Truly the USA is not spiritually sober.
Notice how Ezekiel's writings confirm that those who made profits improper will be punished:
13 "Behold, therefore, I beat My fists at the dishonest profit which you have made, and at the bloodshed which has been in your midst. 14 Can your heart endure, or can your hands remain strong, in the days when I shall deal with you? I, the Lord, have spoken, and will do it. 15 I will scatter you among the nations, disperse you throughout the countries, and remove your filthiness completely from you. (Ezekiel 22:13-15)
Borrowing money that will not be paid back is a "dishonest profit" which the American and British peoples (who are also in debt, nearly the highest per capita debt in the world) have been living on for the past several years. They will be scattered for this and their filthiness (see also Will the Anglo-Nations be Divided?). Sexual immorality and abortion are simply some outward signs of this filthiness.
Evangelist Dr. D. Winnail of the Living Church of God wrote about the suddenness of what will happen:
Handwriting on the Wall! On July 4, the United States, currently the most powerful nation in the world, celebrated 234 years of independence. The following day, on Monday, July 5, British-born Harvard professor and economic historian Niall Ferguson opened the 2010 Aspen Ideas Festival with a stark warning that the American "empire" could suddenly collapse—possibly within the next two years—due to the country's rising debt! (Winnail W. LCG World Ahead Weekly Update, July 8, 2010)

The U.S. and the British-descended peoples have enjoyed living off the resources of the world, but the prophet Habakkuk warns: "… Will not your creditors rise up suddenly? Will they not awaken who oppress you? And you will become their booty. Because you have plundered many nations, all the remnant of the people shall plunder you" (Habakkuk 2:7–8). (Winnail D. Sudden Calamities Ahead! Tomorrows' World, Volume 10, Issue 5. Sept-Oct, 2008)

Hebrew prophets also warned repeatedly that the future demise of God's chosen Israelite peoples would come "suddenly" and unexpectedly (Isaiah 9:14–15; 29:5; 30:13; Jeremiah 6:26; 15:8). Modern financial analysts realize this could happen if the nations lending to America decide to dump the dollar and call their loans. The prophet Habakkuk's warning…, "Will not your creditors rise up suddenly?" (Habakkuk 2:7)—may also ring true for debt-plagued nations like America and its Israelite cousins. Prophetic scripture contains a sobering message: debt and disobedience lead to the demise of nations! (Winnail, D. Debt, Disobedience and Demise of Nations. Tomorrows' World, Volume 12, Issue 2. March-April 2010, p. 27)
Yet it is the the United States and its Anglo-allies that have loaded pledges of debt in these end times that they really do not expect to pay back. In that respect they have recently plundered many nations. And while much is owed to nations such as China, Japan, and the Arab World, the Europeans have trillions of dollars invested in the USA–money they may be disappointed to have devalued. Enough so that they may divide the land among themselves and other creditors.
No nation in the history of the world has had as much total debt as the USA and it appears that this debt will increase.  A while back, President Obama properly stated that the USA debt was "unsustainable", yet it has increased dramatically in the past  2 1/2 years or so (and yes, this increased debt rate began BEFORE Barack Obama was elected).  And the rate of debt increase seems to have accelerated in the past 1 1/2 years even more than it did prior.
Now, I suspect that one of the reasons that President Obama did this tax and unemployment deal was to assist him should he run for re-election in 2012 (the "tax cuts" only last until the end of that year).  Because of this deal, he will legitimately be able to claim that he cut taxes for nearly every American (the reinstatement of a new death tax, which this bill also contains, will raise taxes for some), and perhaps distance himself from the "tax and spend" label some have tagged him with.  He also will likely claim that he is compassionate because of his support of extending unemployment benefits for many without jobs.
All of this,  however, may come with a cost.  A cost that he and the bulk of the Republican politicians and Democratic politicians simply do not imagine is possible.  Turning to God by way of national repentance is the only way to prevent this, and it does not appear that the leaders of the USA understand that (cf. Isaiah 9:16).
Some prophetic articles of possibly related interest may include:
Anglo – America in Prophecy & the Lost Tribes of Israel Are the Americans, Canadians, British, Scottish, Welsh, Australians, Anglo-Southern Africans, and New Zealanders descendants of Joseph? Where are the lost ten-tribes of Israel? Who are the lost tribes of Israel? Will God punish the U.S.A., Canada, United Kingdom, and other Anglo nations? Why might God allow them to be punished first?
Will the Anglo-Nations be Divided? Will the lands of the United States, United Kingdom, Canada, Australia, and New Zealand be divided? What does Bible prophecy teach? Are there non-biblical prophecies that support this idea? Who will divide those lands? Who will end up with the lands and the people?
Prophecies of Barack Obama? Eight reasons why Barack Obama is apocalyptic and eight reasons why Barack Obama is not the Antichrist. This article includes many biblical and non-biblical prophecies, from around the world, that seem to discuss Barack Obama. Did Nostradamus predict Barack Obama dealing with the Antichrist? Might Barack Obama set the stage for the kings of the North and South as at least one Shiite prophecy suggests? This is the longest and most complete article on this page on Barack Obama prophecies. Read it and decide for yourself if President Obama seems to be fulfilling various prophecies.
Barack Obama, Prophecy, and the Destruction of the United States Some claim that Barack Obama is the prophesied "son of Kenya", based up an early 20th century writing.