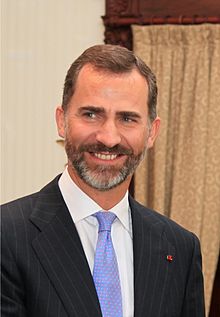 Felipe Juan Pablo Alfonso de Todos los Santos de Borbón y de Grecia (Cancillería Ecuador)
Spain's King Carlos has abdicated in favor of his son Felipe Juan Pablo Alfonso de Todos los Santos de Borbón y de Grecia, who has held the title "Prince of Asturias":
2 June 2014

MALAGA, Spain — Spain's King Juan Carlos unexpectedly stepped down Monday in favor of his son Crown Prince Felipe, Spanish Prime Minister Mariano Rajoy announced in a nationwide television broadcast…
Juan Carlos, who turned 76 in January, said that he was handing power to Prince Felipe, 46, in order to "open a new era of hope combining his acquired experience and the drive of a new generation." Prince Felipe, the monarch's only son, is considered to be well-liked.

"Younger people with new energies (are required) to undertake the reforms that the present juncture demands of us," Juan Carlos said, speaking of his decision to abdicate.  http://www.usatoday.com/story/news/world/2014/06/02/spain-king-juan-carlos-abdicates/9858223/
Felipe is considered to be pro-European Union and has taken steps to continue the connection between Latin America and Spain:
He has made many official visits to European countries and to Latin America, as well as to countries in the Arab world, the Far East, and Australia. He shows special interest in all matters related to the European Union, the Middle East, North Africa, and Latin America. Since January 1996, Felipe has represented the Spanish State at the swearing-in ceremonies for many Latin American presidents. Felipe has also played a very active role in the promotion of Spain's economic and commercial interests and of Spanish language and culture in foreign countries. He frequently presides at economic and trade fairs held by Spain abroad (Expotecnia, Expoconsumo, and Expohabitat), and is especially interested in promoting the creation of Centres and University Chairs to disseminate the history and current situation of Spain in major foreign universities.

Felipe speaks Spanish, Catalan, French, English and some Greek. (Wikipedia, viewed 06/02/14)
As a supporter of the European Union and Spain's connections to Latin America, king-designate Felipe will likely play a role in getting Latin America to support the Beast power that will arise in Europe.  I have long written that I believe that Latin America would end up supporting the European Beast power and leaders such as Felipe will likely play a role in that.
On other Spanish-related matters, received the following links today of COGwriter news items translated into the Spanish language:
The Continuing Church of God puts out a lot of information in the Spanish language and is trying to provide a more complete witness to those that read Spanish.  We also have a Spanish language website: CDLIDD.ES La Continuación de la Iglesia de Dios.
Some items of possibly related interest may include:
Europa, the Beast, and Revelation Where did Europe get its name? What might Europe have to do with the Book of Revelation? What about "the Beast"? What is ahead for Europe?
Who is the King of the North? Is there one? Do biblical and Roman Catholic prophecies for the Great Monarch point to the same leader? Should he be followed? Who will be the King of the North discussed in Daniel 11? Is a nuclear attack prophesied to happen to the English-speaking peoples of the United States, Great Britain, Canada, Australia, and New Zealand? When do the 1335 days, 1290 days, and 1260 days (the time, times, and half a time) of Daniel 12 begin? When does the Bible show that economic collapse will affect the United States? Here is a link to a video titled: The Future King of the North.
Will the UK Lose Gibraltar and the Falkland Islands? Spain wants Gibraltar and Argentina wants the Falklands (also known as the Malvinas). Does the Bible give clues as to what will happen with these 'sea gates'? A related video would be Will the UK Lose Gibraltar and the Falkland Islands? A ver¿Perderá el Reino Unido a Gibraltar y las Islas Falkland (Malvinas)?
CDLIDD.ES La Continuación de la Iglesia de Dios. This is the Spanish language website for the Continuing Church of God.
Mexico, Central America, South America, Brazil, and the Caribbean in Prophecy [Español: México, América central, Suramérica, Brasil y el Caribe en la profecía] [Português: México, América Central, Ámérica do Sul, e Brasil na profecia] What will happen to those of Latin America? Will they have prosperity? Will they cooperate with Europe? Will they suffer in the future? What role might the various Caribbean nations/territories play?