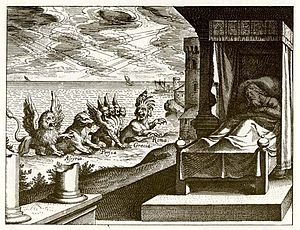 Beasts of Daniel 7
The Continuing Church of God is pleased to announce its suggested sermon for today which is at its ContinuingCOG channel.
The Bible tells of an end time leader called the "King of the North." This video sermon goes through scriptures in Daniel 11, Revelation 13, and elsewhere to identify biblically who this leader is and some of what he will do. Will he destroy the USA, its Anglo-allies, and a coming Arabic confederation? Is he the same leader that Catholic prophets have referred to as the "Great Monarch"? While the Bible warns against him, many will embrace him. What will happen to the King of the North and his followers?
Here is another link to the related sermon: The Future King of the North.
Some items of possibly related interest may include:
Who is the King of the North? Is there one? Do biblical and Roman Catholic prophecies for the Great Monarch point to the same leader? Should he be followed? Who will be the King of the North discussed in Daniel 11? Is a nuclear attack prophesied to happen to the English-speaking peoples of the United States, Great Britain, Canada, Australia, and New Zealand? When do the 1335 days, 1290 days, and 1260 days (the time, times, and half a time) of Daniel 12 begin? When does the Bible show that economic collapse will affect the United States? Here is a link to a video titled: The Future King of the North.
Two Horned Beast of Revelation and 666 Who is 666? This article explains how the COG views this, and compares this to Ellen White.
Europa, the Beast, and Revelation Where did Europe get its name? What might Europe have to do with the Book of Revelation? What about "the Beast"? Is an emerging European power "the daughter of Babylon"? What is ahead for Europe? Here is a link to a video titled: Can You Prove that the Beast to Come is European?
Might German Baron Karl-Theodor zu Guttenberg become the King of the North? Is the former German Defense Minister (who is also the former German Minister for Economics and Technology) one to watch? What do Catholic, Byzantine, and biblical prophecies suggest?
Who is the Man of Sin of 2 Thessalonians 2? Is this the King of the North, the ten-horned beast of Revelation 13:1-11, or the two-horned Beast of Revelation 13:12-16? Some rely on traditions, but what does the Bible teach? Here is a related link in Spanish/español: ¿Quién es el Hombre de Pecado de 2 Tesalonicenses 2? Here is a version in Mandarin: 主编: 谁是'大罪人'?Here is a link to a related YouTube video, in English, titled Who is the Man of Sin?