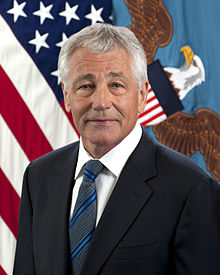 Chuck Hagel
US Secretary of Defense Chuck Hagel denounced Russian actions in the Ukrainian region:
September8, 2014

WASHINGTON—

U.S. Defense Secretary Chuck Hagel has denounced what he calls Russia's "blatant aggression" in Ukraine. Hagel's remarks in Georgia came as the rights group Amnesty International said it was no longer possible for Russia to deny its forces are engaged in fighting in eastern Ukraine.

Speaking alongside his Georgian counterpart, Irakli Alasania, in Tbilisi Sunday, Hagel said Russia's actions in Ukraine, as well as Georgia, pose a long-term challenge that the United States and its allies take very seriously. But, he said, the actions of Russian President Vladimir Putin have also brought the United States and its friends in Europe closer together.

"The deepening ties between NATO and Georgia are especially important given the dangerous and irresponsible actions of President Putin.  His illegal annexation of Crimea, which the United States does not recognize, and the ongoing military campaign Russia is mounting in eastern Ukraine pose a grave threat to regional stability, as had its actions inside Georgia's internationally-recognized borders," the defense secretary said.

Russian forces invaded Georgian territory in August 2008 and, following a five-day conflict, Moscow unilaterally recognized the independence of Abkhazia and South Ossetia.

Enhanced NATO partner

Hagel called on Russia to fully withdraw its forces from Georgia's borders.  He also hailed Georgia's new status as an enhanced NATO partner and said he expects it will lead to full NATO membership.

The rights group Amnesty International Sunday accused both Ukrainian militia and pro-Russian separatists of war crimes, including indiscriminate shelling, abductions, torture and killings. The group's international Secretary-General, Salil Shetty, released satellite imagery alleging the presence of Russian armor and artillery in eastern Ukraine.

"What we have is new satellite images which we've acquired and it's quite clear that there's direct and active influence of Russia. Russia can't deny not being a party to the conflict anymore," Shetty said. "Very systematic, well-organized mobile artillery and armored units in place; there's no way the separatist forces could have organized themselves. On top of that, we also have eyewitness accounts of movement of Russian tanks across the border. So, I think really that it's not deniable anymore. As far as we are concerned, it's an international conflict."  http://www.voanews.com/content/east-ukraine-russia-sanctions/2442125.html
Ukraine's President has vowed to stop separatists forces from taking a key port in the east:
September 8, 2014

President Petro Poroshenko visited the southeastern Ukrainian port of Mariupol Monday in a show of solidarity with its embattled citizens, some of whom have been digging trenches around the city of 500,000 to protect it from pro-Russia rebels.

Speaking at one of Mariupol's metallurgical plants, Poroshenko vowed to defend the city from separatist forces who advanced toward it last week before a fragile cease-fire was announced.

"This is our Ukrainian land and we will not surrender it to anybody," the Twitter account under his name said.

Upon arriving in the city, a key hub for Ukraine's steel exports, Poroshenko promised victory over rebel forces.

He had ordered the military "to secure the defense of Mariupol" with  multiple rocket launchers, tanks and air cover, he said. "The enemy will suffer a crushing defeat."

Observers said rebel advances toward  Mariupol could be part of push to establish a land corridor connecting Russian mainland with Ukraine's Crimea, which Moscow annexed in March.

Poroshenko also announced that under last week's truce agreement with separatist rebels, Ukraine has so far managed to secure the release of about 1,200  prisoners of war. Ukrainian media, quoting military officials, later reported that number could be lower.

The Kremlin reported that Russian President Vladimir Putin discussed the Ukraine crisis with Poroshenko by telephone Monday.

The call was part of efforts "to discuss steps, which could facilitate a peaceful resolution of the situation in southeastern Ukraine," a Kremlin statement said, adding that the dialogue would continue.

Meanwhile, the Organization for Security and Cooperation in Europe, which is monitoring the current cease-fire in Ukraine, has described it as "shaky" and only as a half-measure toward resolving the conflict.  http://www.voanews.com/content/ukraines-coast-guard-admiral-mariupols-port-wont-be-taken/2442182.html
The EU is watching this.  It has agreed to new sanctions depending upon how it believes Russia is cooperating:
September 8, 2014

EU Adopts New Russia Sanctions but Delays Action

BRUSSELS — Sep 8, 2014

The European Union on Monday shied away from slapping new economic sanctions on Russia right away over its actions in eastern Ukraine. Instead, the 28-nation bloc said the punitive measures will come into force "in the next few days" depending on how well the cease-fire agreement in eastern Ukraine will be upheld.

European Council President Herman Van Rompuy said in a statement delaying the sanctions would leave time for "an assessment of the implementation of the cease-fire agreement and the peace plan."

"Depending on the situation on the ground, the EU stands ready to review the agreed sanctions in whole or in part," Van Rompuy said.

Ukraine, Russia and the Kremlin-backed separatists agreed Friday to an immediate cease-fire and an exchange of prisoners. While the truce appeared to hold on Monday, the agreement seemed fragile over the weekend when occasional fighting occurred.

The EU sanctions are expected to be coordinated with a new round of U.S. sanctions, a Western diplomat said. The U.S. sanctions are ready for release, the diplomat said, but the Obama administration wants to wait to act in concert with Europe in order to maximize the impact of the sanctions and present a united front against Russia. http://abcnews.go.com/International/wireStory/eu-formally-adopts-sanctions-russia-25355749
The EU has to announce its willingness to take steps in order to show former communist regions now within its borders that it is disturbed by what is happening in Ukraine.
The EU would prefer to not do too much with sanctions as it is concerned that too much will hurt its somewhat fragile economy.
Russia, on the other hand, really wants Ukraine or at least the land corridor, but does not wish to frighten Georgia, Moldova, and some other lands so much that they will become more difficult to deal with in the future.  Vladimir Putin really would like all former communist regions in Europe and Asia to become part of his upcoming Eurasian Union.
He also probably feels that gaining land access to another port will assist his economic and political objectives.  If Vladimir Putin wants it bad enough, he will ignore the sanctions and related threats and push to control the port of Mariupol.  Ukraine's President is hoping to make it difficult enough that Russia will back off.  And if not, that Russia be clearly shown to be behind the possible takeover.
A European-based power is prophesied to rise up and dominate the world's economy for a time (Revelation 13, 17, 18).  But a Eurasian confederacy, influenced by Russia, is also prophesied to rise up and contribute to its destruction (Jeremiah 50:41-43).  Events are aligning which will cause this to happen, even if there are periods of temporal peace and stability.
Wars and threats of war are not good for the people affected.  My prayers go out for those affected by this conflict.
Some items of possibly related interest may include:
Russia and Ukraine: Origins and Prophesied Future Where do the Russians come from? What about those in the Ukraine? What is prophesied for Russia and its allies? What will they do to the Europeans that supported the Beast in the end? You can also watch the short video Ukraine in Prophecy?
Russia in the Bible and in Prophecy Is Russia mentioned in the Bible? It it is where is it? Is there any evidence of a people moving to the land that the Russians now occupy? What do Catholic and other prophecies say about Russia? What does the Bible teach? How are Protestants often in error on this? Is there more in biblical prophecy for Russia than war? Does God have a plan to save Russia and her allies? Does Russia have a history involving Sabbath keepers? Does scripture tie Russia in with Armageddon? Will Russia help defeat the end time Babylonian power? What did the Apostle John, and the prophets Isaiah, Jeremiah, and Daniel, write about Russia? This is a sermon-length video.
Ezekiel 38: For Russia & Iran in Our Day? Is Ezekiel 38 about to be fufilled? A related video is available titled Ezekiel 38: For Russia, Ukraine, & Iran Now?
The Eurasian Union, the Kings of the East, and Bible Prophecy Is there a Eurasian union that will be formed? Is one being formed right now? Are any leaders working on that in the 21st century? Does the Bible teach that there will be a Eurasian union? If some type of Eurasian union is formed, who might it benefit and who will it destroy? A related video would be Is The Eurasian Union Rising?
Bible News Prophecy July-Sept. 2014: The Coming Eurasian Union Here is the latest magazine from the Continuing Church of God. The cover of which shows Vladimir Putin and features an article about the coming Eurasian Union.
Europa, the Beast, and Revelation Where did Europe get its name? What might Europe have to do with the Book of Revelation? What about "the Beast"? Is an emerging European power "the daughter of Babylon"? What is ahead for Europe? Here is a link to a video titled: Can You Prove that the Beast to Come is European?
World War III: Steps in Progress Are there surprising actions going on now that are leading to WWIII? Might a nuclear attack be expected? Does the Bible promise protection to all or only some Christians? How can you be part of those that will be protected? A related video would be Is World War III About to Begin? Can You Escape?
Wars, rumors of wars, and the Apocalypse Jesus foretold a time before the end where there would be wars and rumors of wars. The Apocalypse (the Book of Revelation) warns of the red horseman of war. Now, even secular writers, like Larry Edelson, are worried that wars and rumors of war are the most menacing problem that now haunts the earth? Are they right? What is the solution? This is a sermonette-length video.
Who is the King of the North? Is there one? Do biblical and Roman Catholic prophecies for the Great Monarch point to the same leader? Should he be followed? Who will be the King of the North discussed in Daniel 11? Is a nuclear attack prophesied to happen to the English-speaking peoples of the United States, Great Britain, Canada, Australia, and New Zealand? When do the 1335 days, 1290 days, and 1260 days (the time, times, and half a time) of Daniel 12 begin? When does the Bible show that economic collapse will affect the United States? In the Spanish language check out ¿Quién es el Rey del Norte? Here is a link to a video titled: The Future King of the North.
Barack Obama, Prophecy, and the Destruction of the United States-Second Edition for Second Obama Term This is a 160 page book for people truly interested in prophecies related to Barack Obama and the United States, including learning about many that have already been fulfilled (which the book documents in detail) and those that will be fulfilled in the future. It also has a chapter about a Republican choice. This book is available to order at www.barackobamaprophecy.com. The physical book can also be purchased at Amazon from the following link: Barack Obama, Prophecy, and the Destruction of the United States: Is Barack Obama Fulfilling Biblical, Islamic Catholic, Kenyan, and other America-Related Prophecies? What About Republican Leaders? Second Edition for Second Obama Term.
Barack Obama, Prophecy, and the Destruction of the United States-Second Term-Amazon Kindle edition. This electronic version is available for only US$2.99. And you do not need an actual Kindle device to read it. Why? Amazon will allow you to download it to almost any device: Please click HERE to download one of Amazon s Free Reader Apps. After you go to for your free Kindle reader and then go to Barack Obama, Prophecy, and the Destruction of the United States-Second Term-Amazon Kindle edition.