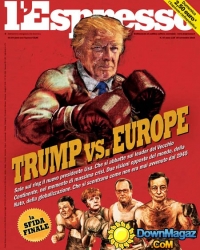 US President Donald Trump has motivated Europe to accelerate actions that will further distance it from the USA. A reader sent me a link to the following:
2019: Need for EU action

As Carl Bildt, the former foreign minister of Sweden, tweeted on 25 December: "The US president is now in open conflict with the US Congress, the US Federal Reserve, the US secretary of defence, China, the EU, the World Trade Organisation (WTO), and a couple of others. Otherwise it's OK."

These events and earlier actions by Trump suggest a gloomy outlook for 2019, in which more political and economic trouble can be expected.

Comrades no longer

"An ally should be dependable", French president Emmanuel Macron has said.

However, Trump's actions again show the US under his leadership is increasingly unreliable: he had not consulted European allies, nor the Syrian Kurds, who are key to fighting the Islamist militant group Isis.

It all follows a pattern of deteriorating transatlantic ties.

Trump has repeatedly picked fights with other Western leaders, questioned Nato's existence, and even called Brexit a great development. …

Political hooliganism

With his 'America First' doctrine, Trump openly defies the multilateral world order the US built after WW2. His trade wars threat to pull out from the WTO underline this.

The mercantilist behaviour shows he perceives global trade as a zero-sum game, in which one either benefits or loses. …

Trouble for Europe

Sadly, Europe will face the consequences of this behaviour. …

Free trade also remains at risk, with European Commission president Jean-Claude Juncker's "ceasefire" with Trump likely to falter.

As the eurozone lacks the infrastructure to withstand economic shocks, it remains vulnerable to a potential economic downturn.

The need for pragmatic big compromises

The changing international environment implies the need for the EU to step up its responsibility.

The problems in its neighbourhood, amidst a rising China, an aggressive Russia and a retreating, isolationist US require focusing outwards. …

Need for unity

Member states should stick together in a world where the EU has been left to fend for itself. …

If populists and nationalists really care about national sovereignty, they ought to realise they can only maintain and leverage real sovereignty in a strong EU that cooperates closely with its allies.

The alternative of an ever more divisive (and lonely) EU in a multipolar world could imply we will end up being rule-takers, rather than rule-setters. 12/31/18 https://euobserver.com/opinion/143806
The EU will take action. But not enough in 2019–but one day it will reorganize and give power to a dictator to deal with its issues per Revelation 17:12-13.
Another reader sent me a link to the following:
The idea of collective EU defense has been around since the abortive European Defense Community of 1952. Yet over 50 years later, the continent still lacks the shared vision and organizational structures required to turn its oft-cited goal of 'strategic autonomy' into a reality. The challenge is compounded by the state of the European defense industry, which is fractured, organized along national lines, riddled with inefficiencies, and largely unable to maintain the extensive manufacturing base necessary to compete with global arms sales giants in the United States and Russia.

Yet the geopolitical shocks of the Ukraine crisis and the Trump presidency have shattered old paradigms, breathing new life into History on a continent that has been happy to ignore security matters since the end of the Cold War. Now the EU has its vision, but can Brussels push through integration in the ever-sensitive security sphere right when populist nationalism is surging across the continent? EU leaders are hoping that by incentivizing voluntary cooperation, they can induce the kind of industrial consolidation that would allow the EU to take greater responsibility for its own defense (and incidentally emerge as a major player in the global arms market). …

Trump has taken a diplomatic hatchet to the transatlantic relationship, savaging relations with the EU on several fronts: trade, climate, the Iran nuclear deal. But most damaging of all has been President Trump's approach to NATO, which has hitherto formed the backbone of European defense. Trump's constant haranguing of European leaders to spend more on defense under threat of ­leaving the Transatlantic Alliance could ultimately produce the opposite of their intended effect. By openly questioning the immutability of NATO, Trump has underscored the need for Europeans to take responsibility for their own security. And so far, EU leaders appear eager to rise to the challenge. 12/24/18 https://www.geopoliticalmonitor.com/the-eu-defense-industry-background/
The Europeans are also frustrated by Donald Trump's regular insults and put downs. They are scrambling to try to figure out what to do next.
In a telephone conversation I had with someone from the Midwest USA in July 2016, I told her that because of how a Donald Trump presidency would affect Europe, prophetically he could get elected. He did and he has been affecting Europe.
Now see some comments in my book, Donald Trump and America's Apocalypse:
3. Europeans are Not Pleased

Has or will Donald Trump affect Europe?

Yes.

He will do so in many ways, including several that few consider.

The Washington Post reported in late 2016 that Donald Trump admired Richard Nixon. It also reported:

Donald Trump appears to have embraced, with gusto, Richard Nixon's "Madman Theory" of foreign policy. He thinks he can use his reputation for unpredictability and lack of respect for long-standing international norms to unnerve and then intimidate America's adversaries into making concessions that they would not otherwise make. (Hohmann J, Deppisch B. The Daily 202: Donald Trump embraces the risky 'Madman Theory' on foreign policy. Washington Post, December 20, 2016)

Donald Trump's foreign policy statements have unsettled many—in the U.S.A. as well as foreign nations. He seems like he will more unpredictable than Richard Nixon.

There is also something referred to as the "law of unintended consequences." There are consequences for the U.S.A., Europe, and elsewhere that have and will occur because of Donald Trump's statements and actions.

Many Europeans Do Not Like Donald Trump

Because of some of them, back in late 2015, Karl-Theodor zu Guttenberg, former German Defense Minister, called Donald Trump "that blonde lunatic named Donald." (Wish List or Reality? Digital Trends in 2016 | Karl-Theodor zu Guttenberg | hub conference. https://www.youtube.com/watch?v=dgdZUA96UBU. Posted 12/11/ 2015)

Donald Trump will not 'make America great again.' His rise is dangerous for many reasons, but prophetically, one of them is that his rise has shown the Europeans that the USA is moving in a direction they do not like (cf. Daniel 11:39).

Climate Change

Donald Trump's views against the 'climate change' agenda have not pleased the Europeans. …

Donald Trump's view of climate change is expected to set up some type of issue between the USA and Europe. Europe will tend to see the USA as an irresponsible polluter of the planet, while Europe will claim to be the protector that the world needs. …

Trade

Donald Trump has stated his firm opposition to the Trans-Pacific Partnership agreement (TPP). …

Some believe that Donald Trump's positions on trade will lead to a global trade war that could trigger some type of international war (Katasonov V. Only One Step Away from a Global Trade War. Strategic Culture Foundation, December 12, 2016). It is my position that trade disputes will be a factor in Europe taking military action against the U.S.A. one day.

Energy and climate policy differences between the Europeans and Donald Trump may increase the negative view many in Europe already have about the USA. …

German Concerns About USA and Donald Trump

Some consider that Donald Trump's rise is a sign that the USA is in decline. …

Germans and others see the USA declining. Europe will go in a direction that USA leaders, including its 'foreign policy experts,' do not comprehend (Daniel 11:39; Isaiah 10:5-11).

When my wife and I were in Europe in late 2016, many of the Europeans we spoke to were essentially of the view that the USA is supposed to be the leader of the West, so how could it possibly elect Donald Trump? We were told this by Europeans from countries like Switzerland, Spain, and the Netherlands. European disdain for Donald Trump and how they perceive his leading of the USA is real. …

There Will be Consequences

Donald Trump indicated that Europe needs to pay for more of its defense or the USA should not have to pay for it (Collinson S. 5 candidates make closing arguments on CNN ahead of Western Tuesday. CNN, March 20, 2016).

Many in the USA do not seem to realize that once Europeans are spending more for their militaries, that they will also expect to have more independence from the USA as to how military might will be used. …

Donald Trump has made statements that will help lead to the rise of a European Empire as well as an Islamic confederation. These are to be led by leaders that the Bible refers to as the King of the North and the King of the South respectively.

The rise of Donald Trump should show 21st century people that the King of the North will be able rise up in Europe.

… prophecies indicate that the "Great Monarch/King of the North" will get a "great army" (Daniel 11:25; that might increase after the USA is attacked), lead a force that will destroy the United States (Daniel 11:39), and will apparently be assisted by the King of the South (Psalm 83:3-8; Daniel 11:27). (Thiel B. Donald Trump and America's Apocalypse. Nazarene Books, 2017)
I warned about "intended consequences" in that book about Europe and we are starting to see this happening. The distancing of Europe from the USA is encouraging them to build their military. Europeans are concluding that they cannot rely on the USA anymore. And this means in matters of not only trade, but defense.
Donald Trump made a tweet today:
What good is NATO if Germany is paying Russia billions of dollars for gas and energy? Why are there only 5 out of 29 countries that have met their commitment? The U.S. is paying for Europe's protection, then loses billions on Trade. Must pay 2% of GDP IMMEDIATELY, not by 2025.

— Donald J. Trump (@realDonaldTrump) July 11, 2018
Notice also the following:
July 11, 2018

White House spokeswoman Sarah Sanders confirmed that:

"During the president's remarks today at the NATO summit, he suggested that countries not only meet their commitment of 2 per cent of their GDP on defence spending, but that they increase it to 4 per cent," Sanders said after the closed-door meeting of NATO leaders. https://www.zerohedge.com/news/2018-07-11/trump-slams-nato-pay-2-gdp-immediately-or-even-4
Donald Trump has been pushing Europe to increase military spending–now he is pushing for even more.
Now his prediction that Europe will increase military spending is right. However, that will play into Europe's unification and military plans. Few in the USA seem to realize that when Europe gets enough power, the USA will lose all of its. And Donald Trump is trying to accelerate that!
Despite real unity problems (cf. Daniel 2:41-43), Europe will reorganize (Revelation 17:12-13).
While some will correctly point out that the USA has the world's predominant reserve currency as well as a large military advantage over other nations, the USA's insults, overconfidence, and debt, combined with its excessive sharing of military technology with Europe, as well as pressuring the Europeans to spend more on military matters, is putting it at risk (Daniel 11:39).
Donald Trump's actions will be a factor in the rise of the European King of the North Beast power. The USA will one day be destroyed per Daniel 11:39 by the power that it is pushing Europe to become.
Some items of possibly related interest may include:
World War III: Steps in Progress Are there surprising actions going on now that are leading to WWIII? Might a nuclear attack be expected? Does the Bible promise protection to all or only some Christians? How can you be part of those that will be protected? A related video would be Is World War III About to Begin? Can You Escape?
Russia and Ukraine: Their Origins and Prophesied Future Russia in prophecy. Where do the Russians come from? What about those in the Ukraine? What is prophesied for Russia and its allies? What will they do to the Europeans that supported the Beast in the end? There is also a video sermon available: Russia in the Bible and in Prophecy and a video sermonette available: Ukraine in Prophecy?
Is Russia the King of the North? Some claim it is. But what does the Bible teach? Here is a link to a video, also titled Is Russia the King of the North?
Ezekiel 38: For Russia & Iran in Our Day? Is Ezekiel 38 about to be fulfilled? A related video is available titled Ezekiel 38: For Russia, Ukraine, & Iran Now? Another could be Russia, Iran, Syria, & the Bible (Code).
Who is the King of the North? Is there one? Do biblical and Roman Catholic prophecies for the Great Monarch point to the same leader? Should he be followed? Who will be the King of the North discussed in Daniel 11? Is a nuclear attack prophesied to happen to the English-speaking peoples of the United States, Great Britain, Canada, Australia, and New Zealand? When do the 1335 days, 1290 days, and 1260 days (the time, times, and half a time) of Daniel 12 begin? When does the Bible show that economic collapse will affect the United States? In the Spanish language check out ¿Quién es el Rey del Norte? Here is a link to a video titled: The Future King of the North.
Does God Have a 6,000 Year Plan? What Year Does the 6,000 Years End? Was a 6000 year time allowed for humans to rule followed by a literal thousand year reign of Christ on Earth taught by the early Christians? Does God have 7,000 year plan? What year may the six thousand years of human rule end? When will Jesus return? 2027 or 20xx? There is also a video titled 6000 Years: When will God's Kingdom Come? Here is a link to the article in Spanish: ¿Tiene Dios un plan de 6,000 años?
When Will the Great Tribulation Begin? 2019, 2020, or 2021? Can the Great Tribulation begin today? What happens before the Great Tribulation in the "beginning of sorrows"? What happens in the Great Tribulation and the Day of the Lord? Is this the time of the Gentiles? When is the earliest that the Great Tribulation can begin? What is the Day of the Lord? Who are the 144,000? Here is a version of the article in the Spanish language: ¿Puede comenzar la Gran Tribulación en 2018 o 2019? ¿Es el Tiempo de los Gentiles? You can also see the English language sermon videos: The Great Tribulation from the Mount of Olives and Can the Great Tribulation begin before 2020? A shorter and newer video is: Might the Great Tribulation start in 2019?
The Times of the Gentiles Has there been more than one time of the Gentiles? Are we in it now or in the time of Anglo-America? What will the final time of the Gentiles be like? A related sermon is available and is titled: The Times of the Gentiles.
Armageddon Who is involved and when will this gathering happen? Here is also a video from Dr. Thiel, from Tel Megiddo in Israel: Armageddon. Another video is related to China's One Belt, One Road Initiative (Silk Road project): watch Is China paving roads to Armageddon?
Europa, the Beast, and Revelation Where did Europe get its name? What might Europe have to do with the Book of Revelation? What about "the Beast"? Is an emerging European power "the daughter of Babylon"? What is ahead for Europe? Here is a link to a video titled: Can You Prove that the Beast to Come is European?
European Technology and the Beast of Revelation Will the coming European Beast power would use and develop technology that will result in the taking over of the USA and its Anglo-Saxon allies? Is this possible? What does the Bible teach? Here is a related YouTube video: Military Technology and the Beast of Revelation.
Must the Ten Kings of Revelation 17:12 Rule over Ten Currently Existing Nations? Some claim that these passages refer to a gathering of 10 currently existing nations together, while one group teaches that this is referring to 11 nations getting together. Is that what Revelation 17:12-13 refers to? The ramifications of misunderstanding this are enormous. A related sermon is titled Ten Kings of Revelation and the Great Tribulation.
WTO/TTIP and the Babylonian Beast Will international trade agreements like WTO/TTIP/CETA lead to the fulfillment of end time prophecies concerning the Babylonian Beast power that the Book of Revelation warns against? What does the Bible teach? A related video would be WTO Trade Deal and the Rise of the European Beast Power.
Anglo – America in Prophecy & the Lost Tribes of Israel Are the Americans, Canadians, English, Scottish, Welsh, Australians, Anglo-Saxon (non-Dutch) Southern Africans, and New Zealanders descendants of Joseph? Where are the lost ten-tribes of Israel? Who are the lost tribes of Israel? What will happen to Jerusalem and the Jews in Israel? Will God punish the U.S.A., Canada, United Kingdom, and other Anglo-Saxon nations? Why might God allow them to be punished first? Here is a link to the Spanish version of this article: Anglo-América & las Tribus Perdidas de Israel. Information is also in the YouTube sermons titled Where are the Ten Lost Tribes? Why does it matter? and British are the Covenant People. A short YouTube of prophetic interest may be: Are Chinese threats against Australia for real?
Will the Anglo-Saxon Nations be Divided and Have People Taken as Slaves? Will the lands of the United States, United Kingdom, Canada, Australia, and New Zealand be divided? What about Jerusalem? What does Bible prophecy teach? Are there non-biblical prophecies that support this idea? Who will divide those lands? Who will end up with the lands and the people? Here is a link to a video titled Will the USA and other Anglo-nations be Divided and Their People Made Slaves? Here is a related item in the Spanish language ¿Serán divididas las naciones anglosajonas?
British are the Covenant People What do 'British' and 'Britain' mean in Hebrew? Are the descendants of the Anglo-Saxons people of the covenant? Does the British royal family connect to the throne of David? What does the Bible teach? What does history show us? Is there any DNA evidence related to British-Israelism? When did Christianity make it to the British Isles? Could Jeremiah have made it to the British Isles? What type of Christians made it to the British Isles? Did the last King of England believe in British Israelism?
Donald Trump in Prophecy Prophecy, Donald Trump? Are there prophecies that Donald Trump may fulfill? Are there any prophecies that he has already helped fulfill? Is a Donald Trump presidency proving to be apocalyptic? Two related videos are available: Donald: 'Trump of God' or Apocalyptic? and Donald Trump's Prophetic Presidency.
Trump Presidency Magic 8 Ball or Bible Prophecy? BBC reported that one might as well use a 'Magic Eight-Ball' to try to predict what will happen in the remaining time of Donald Trump's presidency. What is a 'Magic Eight-Ball'? Dr. Thiel not only explains that, but also briefly goes over 10 biblically-based warnings he wrote would happen if Donald Trump were elected that have already began to come to pass. He also goes over something he wrote back in 2008 that the Trump presidency is also helping lead to fulfillment. Should you trust Bible prophecy or not? Dr. Thiel says that Bible prophecy can be trusted, despite the view of skeptics and others that either overlook or despise the Bible. This is a video.
Donald Trump and America's Apocalypse This 188 page book is for people truly interested in prophecies related to Donald Trump and the United States, including learning about several that have already been fulfilled and those that will be fulfilled in the future. The physical book can be purchased at Amazon for $12.99 from the following link: Donald Trump and America's Apocalypse.
Donald Trump and America's Apocalypse-Kindle Edition This electronic version of the 188 page print edition is available for only US$3.99. And you do not need an actual Kindle device to read it. Why? Amazon will allow you to download it to almost any device: Please click HERE to download one of Amazon s Free Reader Apps. After you go to for your free Kindle reader and then go to Donald Trump and America's Apocalypse-Kindle Edition.