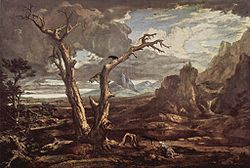 "Elijah in the wilderness"
A reader emailed me the following from an assistant professor of biblical studies:
People have mixed feelings about prophets. Some associate prophets with fanaticism, others view them as revolutionaries, preachers of a new world order. Others still might consider them experts on matters of the occult.

But who were the biblical prophets, and why do they matter for the life of the church in the 21st century?

Prophets rose in prominence during the time of the monarchy in ancient Israel, circa 1020-1000 BCE. The narrative of the monarchy's rise is found in 1 Samuel 8-12. Scholars differ as to whether those chapters support or oppose the monarchy.

In this context, prophets performed a crucial function of counterbalancing royal power. A clear example of this function can be found in the story of David and Bathsheba (2 Samuel 11-12). …


For speaking truth to power, many prophets were persecuted. Their unwavering attitude in face of their suffering became an example for first century Christians (Hebrews 11:32-38).

But what did the prophets mainly criticize? A common theme is disapproval of illicit gains. …


For Amos and Isaiah, religious activities unaccompanied by love of your neighbor are deemed meaningless and even contemptible. Isaiah 1:15 reads, "When you spread out your hands, I will close my eyes to you; when you multiply your prayer, I will not hear it; your hands are full of blood." This last sentence carries an irony with it.

Normally, the hands of those offering sacrifices would be full of animal blood. However, in the context of Isaiah 1:15, it becomes clear the "blood" on their hands is a result of not caring for the destitute (Isaiah 1:17). The same message can be found in Amos 5:18-27 and in the post-exilic prophet Zechariah, chapters 7-8. For these prophets, worship has social implications and true worship must be accompanied by love of your neighbor.

In conclusion, the church has a prophetic role in this world. After all, the church is built on the foundation of the "prophets and apostles, with Christ as the cornerstone" (Ephesians 2:20). More than any other institution, the church bears the responsibility of speaking truth to power and counterbalancing the powers that be.

A native of São Paulo Brazil, Wilson de Angelo Cunha is an assistant professor of biblical studies in the School of Theology and Vocation at LeTourneau University. He teaches Hebrew, biblical literature and primarily Old Testament courses. (Cuna W. Longview News-Journal, August 29, 2015).
Prophets denounced the sins of the people and their leaders.
In the past six plus years, on behalf of the Continuing Church of God, I have been part of videos that denounce both the sins of people as well as the sins of certain specific leaders:
United Nations: Humankind's Last Hope or New World Order? Is the UN the last hope for humanity? Or might its goals end up with sinister results? A related video would be United Nations and Vatican Are Planning the New World Order.
Opioid Crisis Since 1997, over 700,000 Americans have died related to opioids. Does the Bible provide insights related to mind altering substances? Dr. Thiel addresses these issues and more in this video.
Is American Football Evil? Is the most popular spectator sport in the USA something that Christians should watch? What do the Bible and early writings show? There is also a YouTube video available titled Should Christians watch American football?
Gambling and Sin: Is it a Sin for Christians to Gamble? What does the Bible reveal? A related video is Gambling: A Covetous Sin?
Tattoos: History and Biblical Teachings Would you like to know more about the history of tattoos, social concerns about tattoos, health risks of tattoos, and what the Bible teaches about them? Here is a related video titled Should Christians Get a Tattoo?
GMOs and Bible Prophecy What are GMOs? Since they were not in the food supply until 1994, how could they possibly relate to Bible prophecy? Do GMOs put the USA and others at risk? Here is a related YouTube video GMO Risks and the Bible.
Chimeras: Has Science Crossed the Line? What are chimeras? Has science crossed the line? Does the Bible give any clues? A video of related interest is Half human, half pig: What's the difference?
Tithing Questions and Some Answers Answers questions about tithing and also addresses some non-biblical arguments against tithing. Should people tithe? Here is a link to a related video sermon Tithing Answers from the Bible.
Is Evolution Probable or Impossible or Is God's Existence Logical? Part II This short article clearly answers what 'pseudo-scientists' refuse to acknowledge. Here is a link to a YouTube video titled Is There Another View of Evolution? and another titled Quickly Disprove Evolution as the Origin of Life.
God's Grace is For All Is being Jewish a hindrance to salvation? What about not being a descendant of Israel? What does the Bible really teach? Here is a link to a related sermon titled Race and Grace; Do you view race as God does?
Abortion, the Bible, and a Woman's Right to Choose Do you know what the Bible teaches on this? Has the Roman Catholic Church allowed abortions? What about the real Church of God? Some may wish to view the YouTube videos Abortion, the Bible, and US Debt, American Infanticide, and Land of 'Free' Abortions and Debt.
Cross-dressing and other assaults against your children.  What should you do? Is there an agenda to turn your children and/or grandchildren away from biblical morality and towards practices promoted by homosexuals? What does the Bible teach about cross-dressing? What should parents do? If there is an agenda, what has been going on?  There are also three YouTube videos related to this, titled Transgender 'Woe to those who call evil good' and Cross dressing and Other Assaults Against Your Children and USA pushing gender confusion.
The Bible Condemns Homosexuality "Same-sex marriage" for "gays" and lesbians is becoming more acceptable to many. What does the Bible teach about homosexuality? Can homosexuals change? A related video sermon is titled What Does the Bible Really Teach about Homosexuality?
Pornography: A scourge on society Is pornography harmless fun? Does the Bible teach anything about it? What are the views of some involved with it? Here is a link to a YouTube video Pornography: Harmless Fun or a Scourge on Society?
Should Christians Smoke Tobacco or Marijuana? Is smoking a sin? What does the Bible teach? What have COG leaders written? Can smokers change? What about marijuana?
Marijuana: Should a Christian Get High? There is increasing acceptance of the use of marijuana. How should Christians view this? Here is a related video titled How Should a Christian View Marijuana?
The Sabbath in the Early Church and Abroad Was the seventh-day (Saturday) Sabbath observed by the apostolic and post-apostolic Church? Here is a related sermon video The Christian Sabbath and How and Why to Keep It.
Five Rules for Effective Parenting Do you know that there are five simple rules that can make you a more effective parent? Here is a link to a version in Mandarin Chinese 五条简单有效的子女养育规则. There is also a 12 1/2 minute English language YouTube video on this, also titled Five Rules for Effective Parenting.
The Ten Commandments Reflect Love, Breaking them is Evil Some feel that the ten commandments are a burden. Is that what Jesus, Paul, Peter, James, and John taught? For a more detailed discussion of the first four commandments, please see the video The Ten Commandments: Loving God. For a more detailed discussion of the last six commandments, please see: The Ten Commandments: Loving Your Neighbor. Here is a link to a related article in Mandarin Chinese 十条诫命显示爱,违反诫命的就是邪恶的
What is the Origin of the Cross as a 'Christian' Symbol? Was the cross used as a venerated symbol by the early Church? Two related YouTube videos would be Beware of the 'Ecumenical Cross', The Chrislam Cross and the Interfaith Movement, and Origin of the Cross.
Is Halloween Holy Time for Christians? Here are some historical and biblical insight on this question. There are many cultures that have celebrations and observances that are similar to some associated with Halloween. What did the Druids do? Is Halloween one of the most important holidays for Satanists? Do the Japanese, Indians, and Chinese have any practices that are similar to some associated with Halloween? Does the Bible endorse or condemn practices that are associated with Halloween? Here are links to two related sermonette length videos: Halloween: Are there 7 reasons for Christians to celebrate it? and International 'Halloween' Should Christians observe Halloween?
Valentine's Day: Its Real Origins Christianity Today suggests that Valentine's Day is good for Christians to observe. Is this true? There is also a YouTube titled Should Christians Observe Valentine's Day? A more detailed sermon is available and titled Valentine's Day, Christianity, and Islam.
Preparing for the 'Short Work' and The Famine of the Word What is the 'short work' of Romans 9:28? Who is preparing for it? Here is a link to a related video sermon titled: The Short Work. Watch also: Canadian censoring of the Bible and Orwell's 1984 by 2024? and Internet Control, Famine of the Word, and 666.
Mardi Gras: The Devil's Carnival? Is Mardi Gras Christian? Do you know that in Bolivia the carnival/Mardi Gras time is part of a celebration known as the Devil's Carnival? Where did it come from? There is also a related YouTube video Mardi Gras & Carnaval: Are they for Christians?
The Bible and Astrology Should Christians avoid participating in astrology or did God inspire it? Does the Bible encourage astrology? What does the Bible actually teach? What is astrology? How does astrology differ from astronomy? A related video would be Should Christians Be Involved In Astrology?
NBC: 'Exposed in Ashley Madison Hack? Here's What to Do Now' Adultery is wrong. A related video would be Ashley Madison: Your Sins Will Find You Out.
Taxes What caused the descendants of Israel to pay taxes? Should Christians pay taxes? If you prefer, or additionally, you could watch the video Should Christians Pay Taxes?
Alcohol: Blessing or Curse? This is an article from the old Good News magazine that attempts to answer this question.
Binge Drinking, Health, and the Bible Many college students and others overindulge in alcohol. Are there health risks? What does the Bible teach? A related video is also available: Binge Drinking and the Bible.
The New Testament Church, History, and Unclean Meats Are foods considered to have been unclean in the Old Testament considered to be food in the New Testament? This article discusses this from the perspective of the New Testament. It also has a list of clean and unclean animals. It also answers the question, is pork healthy or is pork dangerous? There is also a sermon-length video on this: Christians and Unclean Meats.
Obesity, processed foods, health risks, and the Bible Does the Bible warn about the consequences of being obese? Is overeating dangerous? Is gluttony condemned? What diseases are associated with eating too much refined foods? A related video would be Eating Right, Eating Too Much, and Prophecy.
Mary, the Mother of Jesus and the Apparitions Do you know much about Mary? Are the apparitions real? What happened at Fatima? What might they mean for the rise of the ecumenical religion of Antichrist? Are Protestants moving towards Mary? How do the Eastern/Greek Orthodox view Mary? How might Mary view her adorers? Here is a link to a YouTube video Marian Apparitions May Fulfill Prophecy. Here is a link to a sermon video: Why Learn About Fatima?
Fatima and the 'Miracle' of the Sun On October 13, 1917, tens of thousands of people witnessed what they considered to be a miracle in the sky in Fatima, Portugal. Was this a miracle from God? Can you be certain? A video of some related interest is Fatima and Pope Francis. Here is a link to the sermon: Fatima and the 'Miracle of the Sun'.
United Nations: Humankind's Last Hope or New World Order? Is the UN the last hope for humanity? Or might its goals end up with sinister results? A related video would be United Nations and Vatican Are Planning the New World Order.
The Bible, Christians, and the Environment How should Christians view the environment? Does the Bible give any clues? What are some of the effects of air, water, and land pollution? Is environmental pollution a factor in autism and death? Do pollutants seem to double the autism risk? What will Jesus do? A YouTube video is available titled Air Pollution, Autism, and Prophecy.
Laudato Si: Will Pope Francis' economic actions match his words? Pope Francis' plans are misleading many. A related video is titled Laudato Si: Pope's Agenda or Kingdom of God?
Beware: Protestants Going Towards Ecumenical Destruction! What is going on in the Protestant world? Are Protestants turning back to their 'mother church' in Rome? Does the Bible warn about this? What are Catholic plans and prophecies related to this? Is Protestantism doomed? See also Charismatic Kenneth Copeland and Anglican Tony Palmer: Protestants Beware!
Will the Interfaith Movement Lead to Peace or Sudden Destruction? Is the interfaith movement going to lead to lasting peace or is it warned against? A video sermon of related interest is: Will the Interfaith Movement lead to World War III? and a video sermon is also available: Do You Know That Babylon is Forming?
Donald Trump in Prophecy Prophecy, Donald Trump? Are there prophecies that Donald Trump may fulfill?  Are there any prophecies that he has already helped fulfill?  Is a Donald Trump presidency proving to be apocalyptic?  Two related videos are available: Donald: 'Trump of God' or Apocalyptic? and Donald Trump's Prophetic Presidency.
Trump Presidency Magic 8 Ball or Bible Prophecy? BBC reported that one might as well use a 'Magic Eight-Ball' to try to predict what will happen in the remaining time of Donald Trump's presidency. What is a 'Magic Eight-Ball'? Dr. Thiel not only explains that, but also briefly goes over 10 biblically-based warnings he wrote would happen if Donald Trump were elected that have already began to come to pass. He also goes over something he wrote back in 2008 that the Trump presidency is also helping lead to fulfillment. Should you trust Bible prophecy or not? Dr. Thiel says that Bible prophecy can be trusted, despite the view of skeptics and others that either overlook or despise the Bible. This is a video.
Videos were also made denouncing improper prophetic positions of those who claim to be part of the Church of God as well as those from Protestants:
What is Restrained and Who is Restraining in 2 Thessalonians 2:7? Are sorceries being restrained until the future? What is the mystery of lawlessness? Here is a related article in Spanish: ¿Qué es lo que se restringe y quién lo está restringiendo en 2 Tesalonicenses 2:7?
The Falling Away: The Bible and WCG Teachings Who is 2 Thessalonians 2:3 referring to? Are there multiple falling aways? Here is a related link in Spanish/español: La Apostasía: Enseñanzas de la Biblia y de la WCG. There are also two YouTube videos on the subject that you can watch The Falling Away Part 1: From the Bible and Church History and The Falling Away Part 2: Positions Presented by Others.
Andy Stanley opposes prophesies of Jesus? Protestant preacher Andy Stanley is opposed to using Old Testament prophecies to point to Jesus. He is also opposed to the Ten Commandments. Dr. Thiel denounces those false views in this video.
Who is the Man of Sin of 2 Thessalonians 2? Is this the King of the North, the ten-horned beast of Revelation 13:1-11, or the two-horned Beast of Revelation 13:12-16? Some rely on traditions, but what does the Bible teach? Here is a related link in Spanish/español: ¿Quién es el Hombre de Pecado de 2 Tesalonicenses 2? Here is a version in Mandarin: N;ÿ Œf/'Y'jNº'ÿ Here is a link to a related English sermon video titled: The Man of Sin will deceive most 'Christians'.
Must the Ten Kings of Revelation 17:12 Rule over Ten Currently Existing Nations? Some claim that these passages refer to a gathering of 10 currently existing nations together, while one group teaches that this is referring to 11 nations getting together. Is that what Revelation 17:12-13 refers to? The ramifications of misunderstanding this are enormous. A related sermon is titled Ten Kings of Revelation and the Great Tribulation.
Is the Future King of the South Rising Up? Some no longer believe there needs to be a future King of the South. Might Egypt, Islam, Iran, Arabs, or Ethiopia be involved? Might this King be called the Mahdi or Caliph? What does the Bible say? A YouTube video of related interest may be: The Future King of the South is Rising.
Hope of Salvation: How the Continuing Church of God differs from most Protestants How the real Church of God differs from mainstream/traditional Protestants, is perhaps the question I am asked most by those without a Church of God background. As far as some changes affecting Protestantism, watch the video Charismatic Kenneth Copeland and Anglican Tony Palmer: Protestants Beware! [Português: Esperança do salvação: Como a igreja do deus difere da maioria de protestantes]. A sermon is also available: How Does the Church of God Differ from Protestantism?
Comets, Wormwood, and Planet Nibiru Will the Earth be devastated by Planet X or Comet Encke? What about Planet Nine? Could it happen in 2017? Here is a link to two related YouTube videos Planet Nibiru to Destroy Earth by 2017? and Could Comet ISON be Wormwood of Bible Prophecy?
Blood Moons, Eclipses, and Prophecy There were four 'blood moons' expected in 2014 and 2015. Some claimed that they signaled the Day of the Lord or the return of Jesus Christ. I denounced that view in advance. Some claimed an eclipse in 2017 signaled the end, a "super blue blood moon" in 2018 was a divine warning, as was a 'super wolf blood moon in 2019: Is that true? Two related videos are available: Blood Moons, Prophecy, 2014, and 2015. and Solar Eclipse and the Apocalypse.
Can the Final Antichrist be Islamic? Is Joel Richardson correct that the final Antichrist will be Islamic and not European? Find out. A related sermon is titled: Is the Final Antichrist Islamic or European? Another video is Mystery Babylon USA, Mecca, or Rome?
Wilson de Angelo Cunha is correct that there is still a need for prophets in the 21st century.
Many will not accept that–including most in the COGs.
Of course, there are many false prophets.
False predictions by Protestant-related leaders like Mark Biltz e.g. Knowledge of prophecy helps keep us vigilant, plus let's us know that the world will not end with tonight's blood moon), Jonathan Cahn (e.g. WND: Are you serious about 'The Harbinger Man' movie?), and the late Harold Camping quickly come to mind. Amongst those that claim to be COG, false predictions from Ronald Weinland, Gerald Flurry, and David Pack come to immediate mind. I should also add that the Laodicean COGs have a variety of inaccurate prophetic positions (watch, for example, 17 Laodicean Errors in Prophecy; a longer list is shown in the article The Laodicean Church Era).
The following is from a former Roman Catholic Mike Gendron's newsletter regarding Pope Francis:
Beware of False Prophets in White Robes

As we watched the non-stop coverage of the pope's visit to America last month, many of the scenes appeared to be apocalyptic. We saw multitudes of people flocking to get a glimpse of a mortal man who was unknown just three years ago. The national excitement for this false prophet was overwhelming as gullible people hung on his every word. It was heartbreaking to see such adoration given to a deceiver who holds people captive in his false religious system. Warnings from the true head of the church were ignored. The Lord Jesus said, "Beware of false prophets, who come to you in sheep's clothing but inwardly are ravenous wolves" (Mat. 7:15). Jesus said, "I have come in my Father's name, and you do not receive me. If another comes in his own name, you will receive him" (John 5:43). Clearly, the pope did not come in the Father's name, but he arrogantly wears the title reserved for the one and only "Holy Father" (John 17:11). Tragically, most Catholics do not know the Word of God, and their ignorance makes them easy prey for the worst kind of deception.

Pope Francis did not mention Jesus Christ a single time in his entire address to Congress, yet he claims to be the Vicar of Christ and the Head of Christ's Church. Knowing that the Lord Jesus is the very foundation of the Christian faith, the pope's omission speaks volumes about his worldly agenda. In a message the next day at St. Patrick's Cathedral, the pope did mention Jesus, but in a deceptively misleading way. He said, "We need to remember that we are followers of Jesus… and his life, humanly speaking, ended in failure, the failure of the cross."

Where is the outrage among Roman Catholics? When will they awake from their stupor and run from this blasphemer? … How dare the pope say the life of Jesus ended in failure! The pope, and all other false prophets, are described by Jesus as thieves who come to steal and kill and destroy the sheep (John 10:10). The pope knows the difference between success and failure. No one has been more successful in directing people towards the wide road to destruction with his perverted gospel.

By the authority of God's Word, we know the pope is under divine condemnation for preaching a gospel contrary to the Gospel of God. The apostle Paul warned us: "There are some who trouble you and want to distort the gospel of Christ. But even if we or an angel from heaven should preach to you a gospel contrary to the one we preached to you, let him be accursed" (Gal. 1:6-9).
The pontiff is not a true prophet of God. Could this Marian Focused Pontiff be Fulfilling Prophecy?
Sadly, because of false prophets and false predictions, people are unwilling to realize that God is not finished using prophets and uses at least one now (cf. Joel 2:28; Ephesians 4;11). But all who do so, do so to their own peril (cf. 2 Peter 3:2-3; Revelation 3:14-18).
Norman Edwards, former board member of the old Global Church of God pointed out:
1Jo 4:1-2 Beloved, do not believe every spirit, but test the spirits, whether they are of God; because many false prophets have gone out into the world. By this you know the Spirit of God: Every spirit that confesses that Jesus Christ has come in the flesh is of God,

Note: If there were no true prophets, there would be no need to "test the spirits"—because every prophet would be a "false prophet". But because there are both true prophets and false prophets, we need to "test the spirits". (Edwards N. Need Prophets More than Prophecy. Shepherd's Voice, Fall 2013)
Instead of being "cold,' following false prophets, most in the end times will not be 'hot,' they will rationalize that it is 'safer' to not recognize anyone as a prophet of God, hence they will be lukewarm.
Jesus said:
15 … I could wish you were cold or hot. 16 So then, because you are lukewarm, and neither cold nor hot, I will vomit you out of My mouth. (Revelation 3:15-16)

19 As many as I love, I rebuke and chasten. Therefore be zealous and repent. (Revelation 3:19)
The Bible teaches that God will have prophets in the 21st century (cf. Acts 2:17-18; see also How To Determine If Someone is a True Prophet of God). Those who prefer to be lukewarm are advised to change, quickly.
Some items of possibly related interest may include:
How To Determine If Someone is a True Prophet of God There are many false prophets, yet many overlook what the Bible teaches about how to recognize a true one. How can Christians determine who is a true prophet? This article contains a scripture-based checklist to assist with this determination.
How to determine if someone is a true prophet of God This is a sermon on YouTube addressing a subject that most in the Church of God do not seem to have looked into very much. It discusses scriptures and dispels some improper assertions that some associated with the COG have made about prophets in this time.
Elijah: Past and Prophesied Information about the original Elijah and some information about the Elijah-related prophecies.
The Elijah Heresies Does the Bible teach that there will be a future Elijah? Must it be Herbert W. Armstrong? Two related sermons are available Elijah: Prophecies and Heresies and Elijah, Herbert W. Armstrong, and CCOG.
Why Be Concerned About False and Heretical Leaders? There have been many false leaders–here is some of why you should be concerned about them.
Is There A Secret Rapture for the Church? When and Where is the Church Protected? What does the Bible really teach? Does the Church flee or is it taken up just prior to the great tribulation? Who really is left behind? There is also a YouTube video with information Did Jesus Teach a Pre-tribulation Rapture?
Why is a Jewish Temple in Jerusalem Not Required? Although people like Timothy LaHaye teach a third Jewish temple is required, who is 'the temple of God" in the New Testament? Does the Bible require a rebuilt Jewish Temple? Here is a related item in the Spanish language ¿Por qué no se requiere un templo judío en Jerusalén? Here is a link to a sermon titled The Temple, Prophecy, and the Work.
Protestant and Church of God views of the United States in Bible Prophecy Is the USA mentioned in Bible prophecy? Some Protestants say yes, while others say no. What does the Bible really teach? Learn the truth about this. There is also a video available: Is The United States Mentioned In Bible Prophecy?
Dangerous Protestant Prophetic Errors What are some errors that various Protestants hold to that will tend to prevent them from knowing when the Great Tribulation will begin? A related video is titled Ten Dangerous Protestant Prophetic Errors.
The Dangerous Rise of Preterists Has the Great Tribulation finished? What was the view of early Christians? Why is the preterist view dangerous? A related sermon video is titled Preterism: You've Gotta Be Kidding…Right?
Catholic Prophecies: Do They Mirror, Highlight, or Contradict Biblical Prophecies? People of all faiths may be surprised to see what various Roman and Orthodox Catholic prophets have been predicting as many of their predictions will be looked to in the 21st century.
The Final Phase of the Work What is the final phase of the work? Who will lead it? Do you have the courage to support it? Here is a related YouTube video titled The Final Phase of the Work. The written article has been translated into Spanish La Fase Final de la Obra.
Pope Francis: Could this Marian Focused Pontiff be Fulfilling Prophecy? Pope Francis has taken many steps to turn people more towards his version of 'Mary.' Could this be consistent with biblical and Catholic prophecies? This article documents what has been happening. There is also a video version titled Pope Francis: Could this Marian Focused Pontiff be Fulfilling Prophecy?
The Bible, Peter, Paul, John, Polycarp, Herbert W. Armstrong, Roderick C. Meredith, and Bob Thiel on Church Government What form of governance did the early church have? Was it hierarchical? Which form of governance would one expect to have in the Philadelphia remnant? The people decide and/or committee forms, odd dictatorships, or the same type that the Philadelphia era itself had? What are some of the scriptural limits on ecclesiastical authority? Do some commit organizational idolatry? Here is a Spanish language version La Biblia, Policarpo, Herbert W. Armstrong, y Roderick C. Meredith sobre el gobierno de la Iglesia. Here is a link to a sermon titled Church Governance.
The Laodicean Church Era has been predominant circa 1986 A.D. to present. The Laodiceans are non-Philadelphians who mainly descended from the old WCG or its offshoots. They do not properly understand the work or biblical prophecies and will face the Great Tribulation if they do not repent. One video of related interest is 17 Laodicean Errors in Prophecy.
Continuing Church of God The group striving to be most faithful amongst all real Christian groups to the word of God. To see how CCOG has done so far, here is a sermon Continuing Church of God (CCOG) first year anniversary: What has been accomplished? Here is a written link to a version of that sermon in the Spanish language: Aniversario del primer año de la Continuación de la Iglesia de Dios: ¿Qué se ha cumplido?