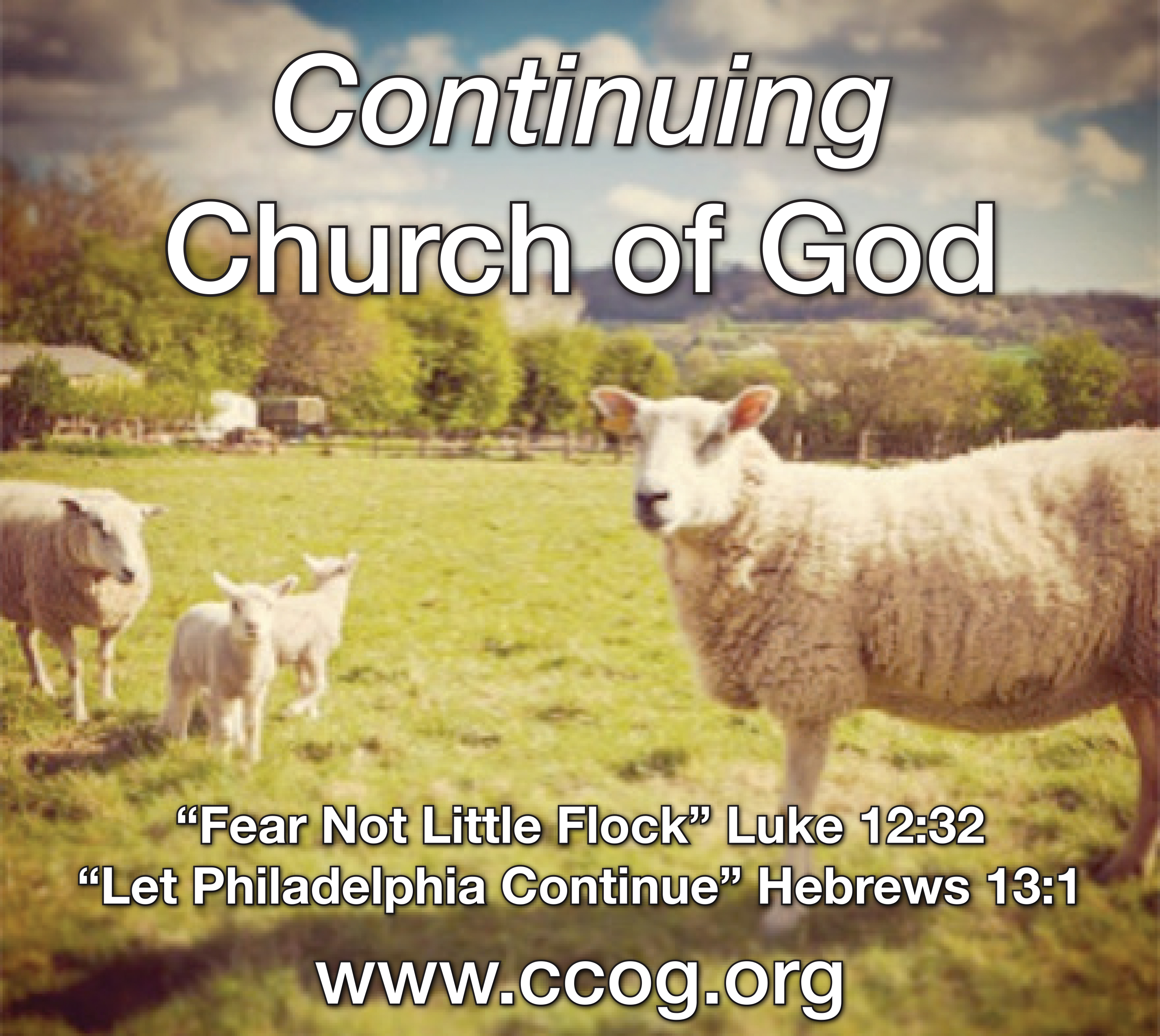 In its Letter to the Brethren: March 19, 2020 the Continuing Church of God announced the following related to COVID-19 and church services:
Because of fear of spreading COVID-19, the Five Cities school district cancelled all classes effective this past Monday. There are school closures throughout the USA, Africa (including Kenya), and Europe (including Serbia). Many countries have also declared a 'state of emergency.'

Yesterday, officials declared a shelter-in-place requirement for San Luis Obispo County (where I am writing this from) and stated that 'non-essential' businesses are to be shut down today. This was also done in many other counties in California a few days ago. The economic, including debt, ramifications of these moves and other actions related to COVID-19 may be staggering.

In our area as well as other parts of California and the USA, shelves in some grocery stores have been pretty bare as my wife and I found out when we tried (and failed because there was none) to buy bread on Sunday:

Trader Joes, Arroyo Grande CA
(Joyce Thiel photos 03/15/20)

Anyway, since we could not buy bread, Joyce made some as we had flour at our house.

Real and imagined fears related to COVID-19 are damaging the world economy, and in the case of the USA and Europe, at least, increasing government debt. Increased USA debt will be a factor in its destruction per Habakkuk 2:6-8. COVID-19 may well be a factor that will help lead to the ultimate reorganizing of Europe and the rise of the Beast as foretold in Revelation 17:12-13.

Several counties in California have essentially put people on quarantine, and now everyone in France is supposed to do some type of filled out form in order to travel outside of their homes (see AP: Government issues historic restrictions amid virus outbreak; Form now needed to leave your house in France).

The restrictions on movement and the discouragement of physical cash because of COVID-19 are paving the way for the acceptance of the 666 Beast and total government financial control. Now, however, as Jesus said, "do not be troubled; for such things must happen, but the end is not yet" (Mark 13:7). Jesus also said:

33 … In the world you will have tribulation; but be of good cheer, I have overcome the world. (John 16:33b)

32 Do not fear, little flock, for it is your Father's good pleasure to give you the kingdom. (Luke 12:32)

While you should take reasonable precautions, you do not need to fear.

Perhaps I should mention that our elder in Serbia, Aleksandar 'Sasha' Veljic told me that a bank basically told him that because of COVID-19 he should use digital forms of payment instead of cash. He related that to the warnings we gave in our video COVID-19 Leading to 666?

As far as physical things associated with COVID-19 go, the following link has information on that as well as other links some may find helpful: CDC: COVID-19 spreading; How to tell if you have the coronavirus, cold, or allergies; Symptoms and preparation recommendations.

Now, with all the quarantines and travel restrictions being imposed, what about attendance at weekly Sabbath services?

Our policy has always been, and still remains, if you have a contagious disease, you should not attend church services.

In this time of COVID-19, if you think you may have a fever, you should not attend services. If you are not feeling well, please stay home.

As far as 'social distancing' goes, church leaders in their respective countries and local groups need to decide the relative safety of holding Sabbath services (though in some places landlords and/or government officials may be placing their own limits–the early Christian church met in houses and that is one thing that can be done when meeting halls are not around and/or there are governmental restrictions) as not only are they closer to their situation, they can react to local conditions in a timely way.

If any person is not comfortable being in a group at this time, they may wish to stay home. And, of course, we do have services available online which is what most native English speakers we have are doing already.

Tuesday, the BBC reported that German, "Chancellor Angela Merkel has banned religious services and told people to cancel any domestic or foreign holiday travel" (https://www.bbc.com/news/world-europe-51918596 03/17/20).

While we cooperate with government authorities when we can, we do not believe that government authorities should interfere with the ability to hold holy convocations or other biblical observances.

As the Apostles said, "We must obey God rather than men" (Acts 5:29).

Hence, yes, we believe that true Christians should, for example, keep Passover next month. Though in some areas, it may be wise to have only very small groups meeting together.

Spring Holy Days

In a few weeks, the Spring Holy Days will begin.

Passover, which is for baptized members only, should be observed shortly after sunset on the Roman calendar date of April 7th. The Night to Be Observed begins at sunset on the Roman calendar date of April 8th and starts the Days of Unleavened Bread? which lasts until sunset April 15, 2020. …

Answered Prayer, Update, and Prayer Request

This morning, Evangelist Evans Ochieng sent the following report:

Pastor Dr Bob ,

Greetings from Kenya.

Since I was having my daughter and my son Emanuel in the hospital, I couldn't manage to travel.  Through the prayers of brethren from all coners and you, they are now doing well and are out from the hospital. Marie and Emanuel are doing better now.  Thank you very much for your prayers.

I got chance yesterday to visit Kisii elderly and women in rift valley.  I gave Kisii them fund to start the project. They promised me that they are going to do better. After that I went to meet Pastor Sawek and some women.  I met him in Kilgoris with the women representatives Mary. I gave them the promised fund.  So I remain with the funds of Nyakach which I'm going to give them tomorrow. They thanked Terry Nelson so much for the help. I give thanks to the church for wonderful work we have done in Kenya.

Another thing we still need more prayers to the daughter of Fredrick Omondi my elder son. His daughter happiness is sick and needs prayer.

Kenya also needs prayer.  The corona virus has invaded Kenya.  This is a serious matter that needs more prayers.

Evans

It is great to hear that our prayers were answered regarding his two hospitalized children. Also, Pastor Sawek sent me a couple of emails today thanking us for the financial support that we had promised. Please remember to pray for Evangelist Ochieng's granddaughter as well as the COVID-19 situation in Kenya. Plus, the locust situation which he did not mention in the above email. …

Suggested Sabbath Service

Here is a suggested Sabbath service for this week:

2-3 hymns (our songbook, The Bible Hymnal, contains the materials from the 1974 Bible Hymnal from the old WCG with new covers, plus ten additional hymns; there is also some Choral Accompaniment online).
Opening prayer.
Sermonette, which for most who receive this letter via email will be a recorded one. The one suggested for this week is: Godly Submission. Other sermonettes are available at the Bible News Prophecy channel.
Announcements (if any; though for many it will be this letter) and one hymn.
Sermon, which for most who receive this letter via email will be a recorded one. The one suggested for this week is: Exodus 37-40: Finishing the Work. Other sermons are also available at the ContinuingCOG channel.
Final hymn.
Closing prayer.

Concluding Comments

With all the reality and hype about COVID-19 (the novel coronavirus) going around, the following came to mind:

1 The Lord is my shepherd;
I shall not want.
2 He makes me to lie down in green pastures;
He leads me beside the still waters.
3 He restores my soul;
He leads me in the paths of righteousness
For His name's sake.

4 Yea, though I walk through the valley of the shadow of death,
I will fear no evil;
For You are with me;
Your rod and Your staff, they comfort me.

5 You prepare a table before me in the presence of my enemies;
You anoint my head with oil;
My cup runs over.
6 Surely goodness and mercy shall follow me
All the days of my life;
And I will dwell in the house of the Lord forever. (Psalm 23)

Brethren, trust God, for we are destined to "dwell in the house of the Lord forever."

At risk of repeat, remember that Jesus said "Do not fear, little flock, for it is your Father's good pleasure to give you the kingdom" (Luke 12:32).
For more CCOG announcements, including recent baptisms, please read the Letter to the Brethren: March 19, 2020.