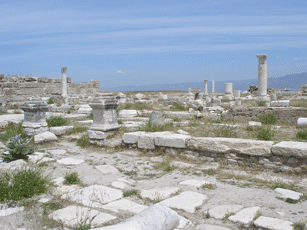 Laodicea Has Many Scattered Structures that Are Relatively Ineffective
UCG's Mike Bennett reported:
UCG Council of Elders Chairman Roy Holladay announced today that Paul Kieffer had resigned from the Council and Dave Baker, who was next in line in the last ballot, has accepted the position. Mr. Holladay wrote:

"On Wednesday, December 9th Paul Kieffer voluntarily resigned from his position on the Council of Elders.  Paul's statement concerning his resignation is copied for your information below.  Paul's sincere desire is to do what is best for the United Church of God.  I know that both he and Monica will appreciate your prayers.

Since my election to the Council of Elders in May 2008, various allegations people have made about me have made me a lightning rod among some in the ministry and membership. Due to the concern this has caused for some, I have decided it is best for me to voluntarily resign from the Council of Elders in the hope that this will lay these issues to rest. It is my sincere hope that this will lead to greater unity in the Church, help all of us focus on our mission of preaching the gospel and preparing a people, and move forward together.–Paul Kieffer

"Paul was one of the three international Council members.  David Baker was the runner-up of the International candidates in the 2009 balloting.  David Baker has accepted the responsibility of replacing Paul on the Council.  We welcome David to the Council of Elders and will look forward to working closely with him in the future.  David and Dorrie will likewise solicit your prayers for these additional duties."
This had been rumored, but now apparently is official.  UCG has had a tendency for governmental leadership changes.
Some articles of related interest may include:

Differences between the Living Church of God and United Church of God This article provides quotes information from the two largest groups which had their origins in WCG as well as commentary.
Polycarp, Herbert W. Armstrong, and Roderick C. Meredith on Church Government What form of governance did the early church have? Which form of governance would one expect to have in the Philadelphia remnant? The people decide and/or committee forms, odd dictatorships, or the same type that the Philadelphia era itself had?
The Laodicean Church Era was predominant circa 1986 A.D. to present. Non-Philadelphians who mainly descended from the old WCG.